An obligatory attribute of any modern home is a good TV. It's usually located in the living room to arrange there such a family place where the whole family can gather at the end of the day to discuss what happened to them during the day with their favorite TV series or just watch a show that everyone has been waiting for. In addition, the TV can be used for games, recreation after work, and even different presentations. I think everyone will agree that having a good TV at home is very convenient.
In addition, many people like to buy several TVs in their home, for example, one for the bedroom or kitchen to fall asleep to a series or watch your favorite movie while you cook food. And if in the case of the living room you need a really good TV which will be a joy to watch, then for a TV which will work as a "background" simple and cheap models will do.
However, in any case, you need to pay attention to quality manufacturers, like Samsung TV or Sony TV. These companies have both expensive premium TVs and different models for the middle segment.
What is the best TV between Samsung TV AU7000 and Sony X80J
At the moment, the home Smart TV market is crowded with many different models and there are dozens of popular manufacturers of these TVs. Each, however, is trying to add something to their devices to make them stand out from the others.
Thus, modern TVs are becoming more and more sophisticated and technological devices. Producers are equipping their devices with powerful processors that are able to process the picture and significantly improve it, in addition, the Smart TV has its own operating system.
Usually, each manufacturer is trying to make their own unique operating system for their smart TV, or to add to all their models available, for example, Android TV.
Already at this point, many users start asking a lot of questions about which TV they should choose and what are the differences or pitfalls when choosing a TV. This is especially true if you're interested in buying an inexpensive TV. The fact is that premium model are actually very similar to each other. All of these devices with excellent color reproduction and a must-have feature set for these TV models.
The most interesting part starts exactly in the section with medium and budget TVs. Such devices can be quite different in their features and functionality. This is especially true for similar models from the same manufacturer, such as Samsung TV AU7000 and AU8000. However, if you don't want to stop only at the TV from Samsung, you should pay attention as well to Sony X80J. This article will help you to understand in more detail the difference between these TVs and which of them is better for you to choose for yourself.
Read also:
What can I say about Samsung TV AU7000 and Sony X80J
Both of these TVs are in the middle segment, which means that they have all the necessary features of an ordinary Smart TV. You shouldn't expect that you will have some incredible image on these TVs. The picture quality will be good as in any TV today, but many points will be implemented noticeably worse than in the TV in the premium segment.
Also, you should understand that both of these TVs were released in 2021, which means that some features that have been added by manufacturers to more modern models in the same segment may not be available for these models, for example, this applies to the new Samsung remote control with a solar panel, it will not be compatible with this version of Samsung TV.
Another thing worth mentioning is that at the moment you cannot find these TVs in any store on the shelves, the market is developing so fast that new models come out every year and the relevance of these TVs has already dropped noticeably.
What Samsung TV AU7000 and Sony X80J have in common
In fact, there are quite a few things these TVs have in common. You can even start with the size of the TV. Both models are available in variations:
43″ (108 cm)
50″ (126 cm)
55″ (139 cm)
65″ (164cm)
75″ (189 cm)
Samsung TV AU7000 also has a 58″ version.
Also, both of these TVs have 4K (3840×2160) screen resolution. Also both of these TVs have LED matrix and HDR 10. Both TVs have the same set of ports such as HDMI, USB, LAN, and Cable TV ports. The screens on these TVs are up to 60 Hertz.
As far as color rendering is concerned these TVs are also similar, they have slightly different image processing technology but the bottom line is that the color display quality is still quite high in both of these TVs.
What are the differences in Samsung TV AU7000
The main difference between Samsung Smart TVs is their Tizen operating system. This system is used in all new Samsung TVs. It is quite convenient and not overloaded with unnecessary functions. It has a built-in app store that allows you to install different programs and streaming services. This makes your TV a really smart device that has a lot of unique features, such as Multiview.
From time to time, however, various problems can occur with this operating system. In particular, the built-in browser in Tizen works rather poorly and users often complain about problems with this TV.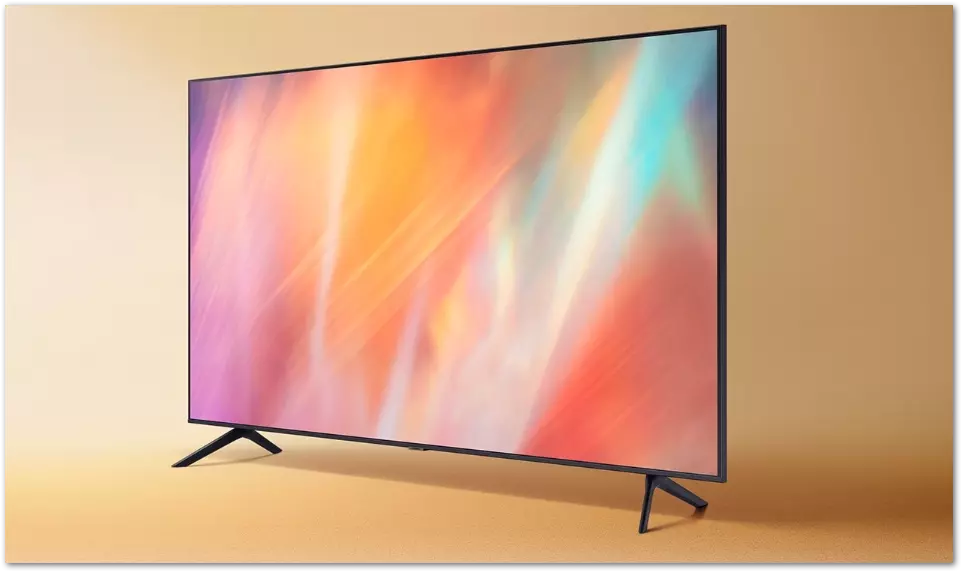 Samsung TV AU7000 has onboard Crystal Processor 4K, which perfectly handles upscaling video to 4K, Samsung processors are able to produce a really good picture in high resolution. In addition, this TV is equipped with the Motion Xcelerator function which helps to fight with frame tearing and makes the picture smoother, which will be quite useful if you want to use the TV for gaming.
Regarding the remote, the Samsung TV AU7000 has the TM2140A. This is the standard Samsung remote for Smart TV. It doesn't have voice input or other special features. It does, however, have special buttons to open streaming services such as Netflix.
You can find a more detailed list of specifications on the manufacturer's official website.
What are the differences in the Sony X80J
If we talk about Sony X80J then it is worth immediately paying attention to the fact that on board the device is installed the Android TV operating system. On the one hand, this means that you have a wide range of apps that you can install on your TV, including different streaming or games, but on the other hand, your TV will experience all the problems that occur in the operating system android. This means that the TV can be overloaded with unnecessary processes and over time you will observe performance problems.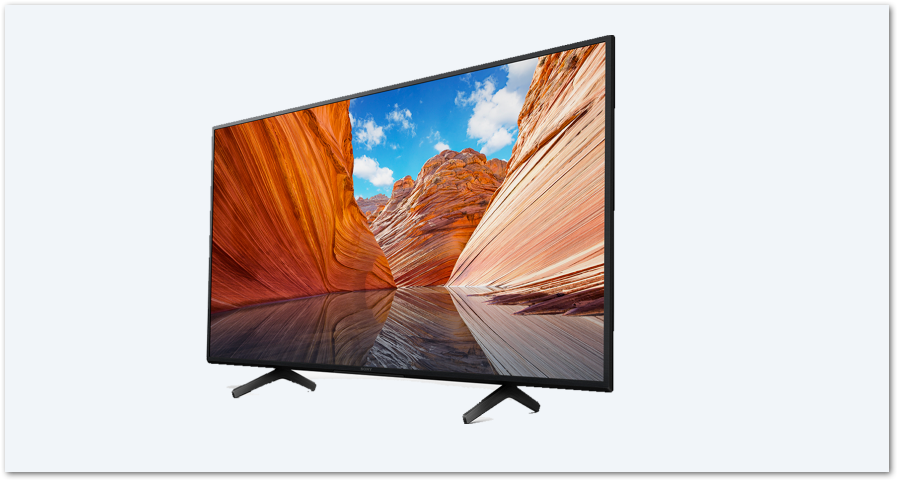 Another disadvantage will be the support for Apple devices. In case you have an Android smartphone or other android devices, you shouldn't have any problems, but when it comes to Apple devices, features like AirPlay can work with different problems. Despite this, the manufacturers claim that AirPlay on Sony TV is available.
The 4K HDR processor X1 is responsible for image processing, which does a particularly good job of suppressing noise in the image and improving various details.
You can find a more detailed list of specifications on the manufacturer's official website.
Read also:
Which TV is better to buy Samsung TV AU7000 vs Sony X80J
First of all, you should pay attention to their price, for Samsung TV AU7000 50″ you will be asked about $900, while Sony X80J will cost about $700.
If you have Apple devices that you would like to use with your TV and you're more interested in gaming on your TV, then you should definitely consider Samsung TV. It doesn't have many extra features, but it has some of the best image processing technology on the market.
On the other hand, if your goal is primarily to watch movies, then Sony is a good choice. They have a lot of extra features that will help you make watching a movie as easy as possible and make it the most enjoyable.
Whichever TV you choose, you should remember that the success of the film doesn't guarantee the TV, but the talent of its creators, enjoy watching it.