Are you tired of watching your favorite shows and movies on a small iPhone screen? Would you enjoy the content on a larger Sony TV display? Fortunately, you can mirror your iPhone screen to Sony TV.
Imagine streaming your favorite show or playing your favorite game on a bigger screen with better audio quality. Whether you're having a movie night with friends or want to relax and watch a show after a long day, mirroring your iPhone to your Sony TV can provide a more immersive experience.
However, there are some nuances that you should be aware of. At least, your Sony TV model must support AirPlay, Apple's mirroring feature.
So let's look at the list of Sony TVs that support AirPlay, as well as how to activate it to watch content from your iPhone on a bigger screen.
What Sony TVs support AirPlay?
AirPlay is a proprietary wireless protocol developed by Apple that allows users to stream media content such as music, videos, and photos from an Apple device (such as an iPhone, iPad, or Mac) to other compatible devices, including Apple TV, speakers, and smart TVs. It uses Wi-Fi and Bluetooth technology to establish a connection between devices. It allows for easy and seamless transfer of media content from one device to another without cables or additional software.
It's important to note that compatibility issues are common with many Sony Smart TVs, which could affect your ability to mirror your iPhone to your TV using AirPlay. Before you go ahead with the AirPlay method, it's crucial to determine if your Sony TV is compatible with AirPlay.
Here's the list of some Sony TV models that support AirPlay:
Sony A9G OLED (2019)
Sony X950G (2019)
Sony X800H (2020)
Sony X900H (2020)
Sony X950H (2020)
Sony A8H OLED (2020)
Sony A9S OLED (2020)
Sony A8 OLED (2020)
Sony Z8H 8K LED (2020)
Sony XR-X90J – XR-X92J (2021)
Sony KD-X91J (2021)
Sony XR-A80J (2021)
Sony KD-X85J – KD-X80J (2021)
Sony KD – X79J (2021)
Starting in 2022, almost all Sony TVs support AirPlay or the enhanced AirPlay2 protocol (developed in 2018). Only low-end Sony TVs (OEM, ODM production), TVs with the Sony logo but manufactured under an outsourcing scheme, do not support AirPlay (only for some countries). If your TV has the OS Google TV, the TV has AirPlay2 support.
It's worth noting that some older Sony TV models may also support AirPlay via a firmware update. However, it's best to check with Sony support or Google to confirm if your specific TV model supports AirPlay.
How to use AirPlay on iPhone with Sony TV
If you want to mirror your iPhone screen to your Sony TV, do the following:
Make sure your iPhone and Sony TV are on the same Wi-Fi network.
On your iPhone, swipe down from the top right corner of the screen to open the Control Center.
Then tap on the Screen Mirroring icon.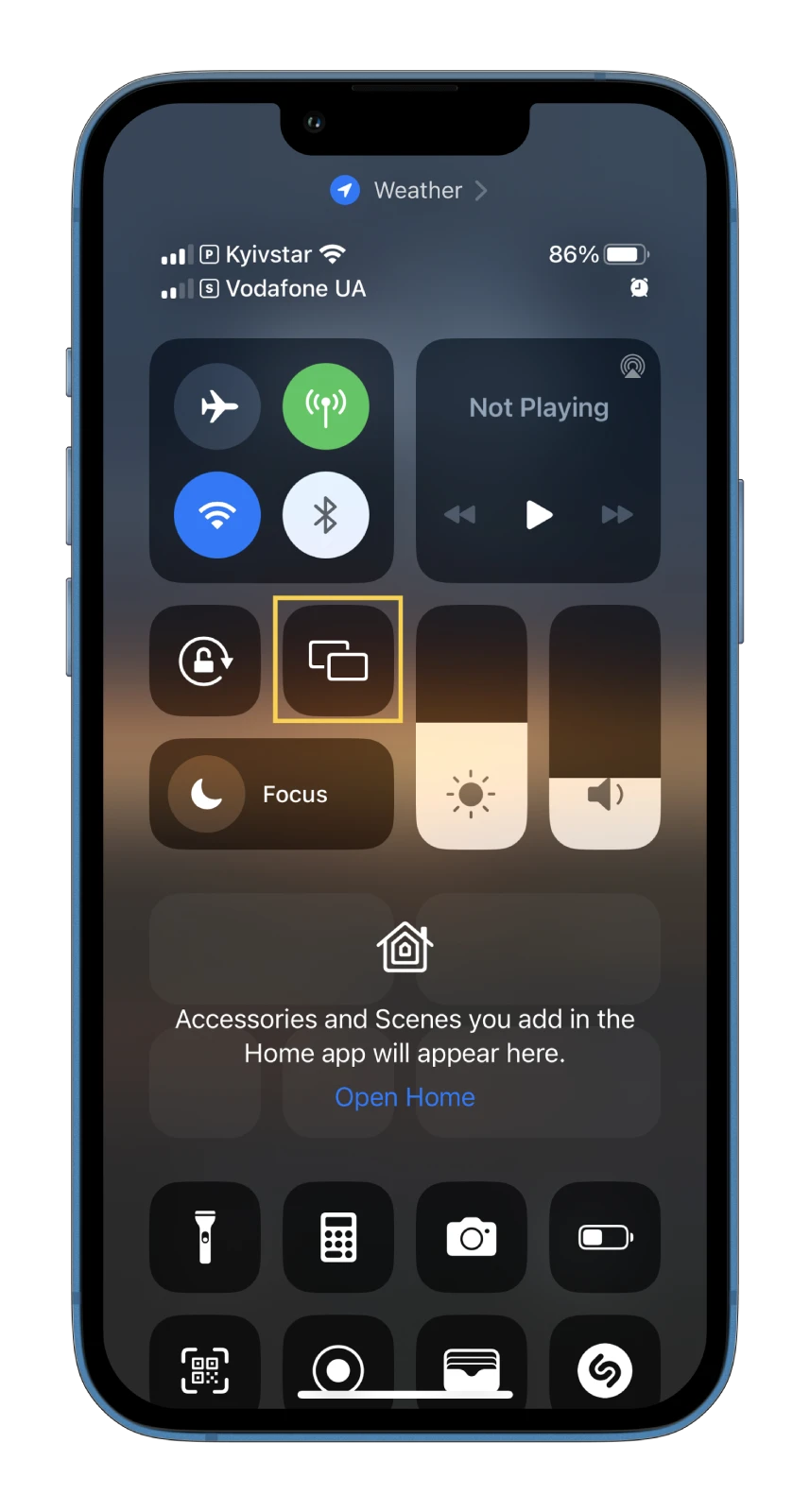 Select your Sony TV from the list of available devices. (It should appear in this list, as shown in the screenshot.)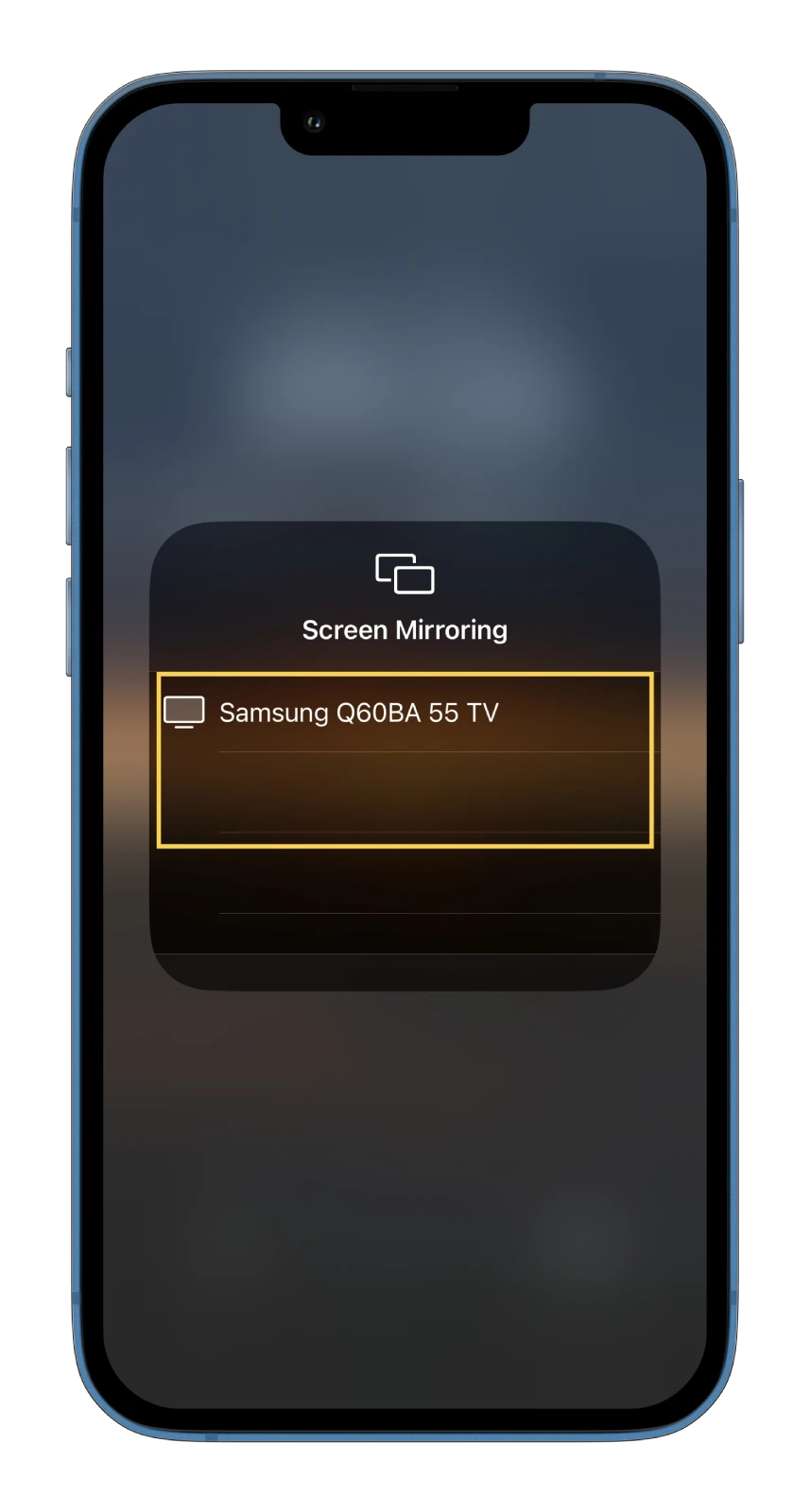 Enter the AirPlay code that appears on your TV if prompted.
Your iPhone's screen should now be mirrored on your Sony TV.
How to use third-party apps to mirror iPhone to Sony TV
If your Sony TV doesn't support AirPlay, you can still mirror your iPhone using a third-party app. Many apps in the App Store allow you to mirror your iPhone to a TV. Here are the steps to follow:
Download and install a third-party app like TV Assist on your iPhone.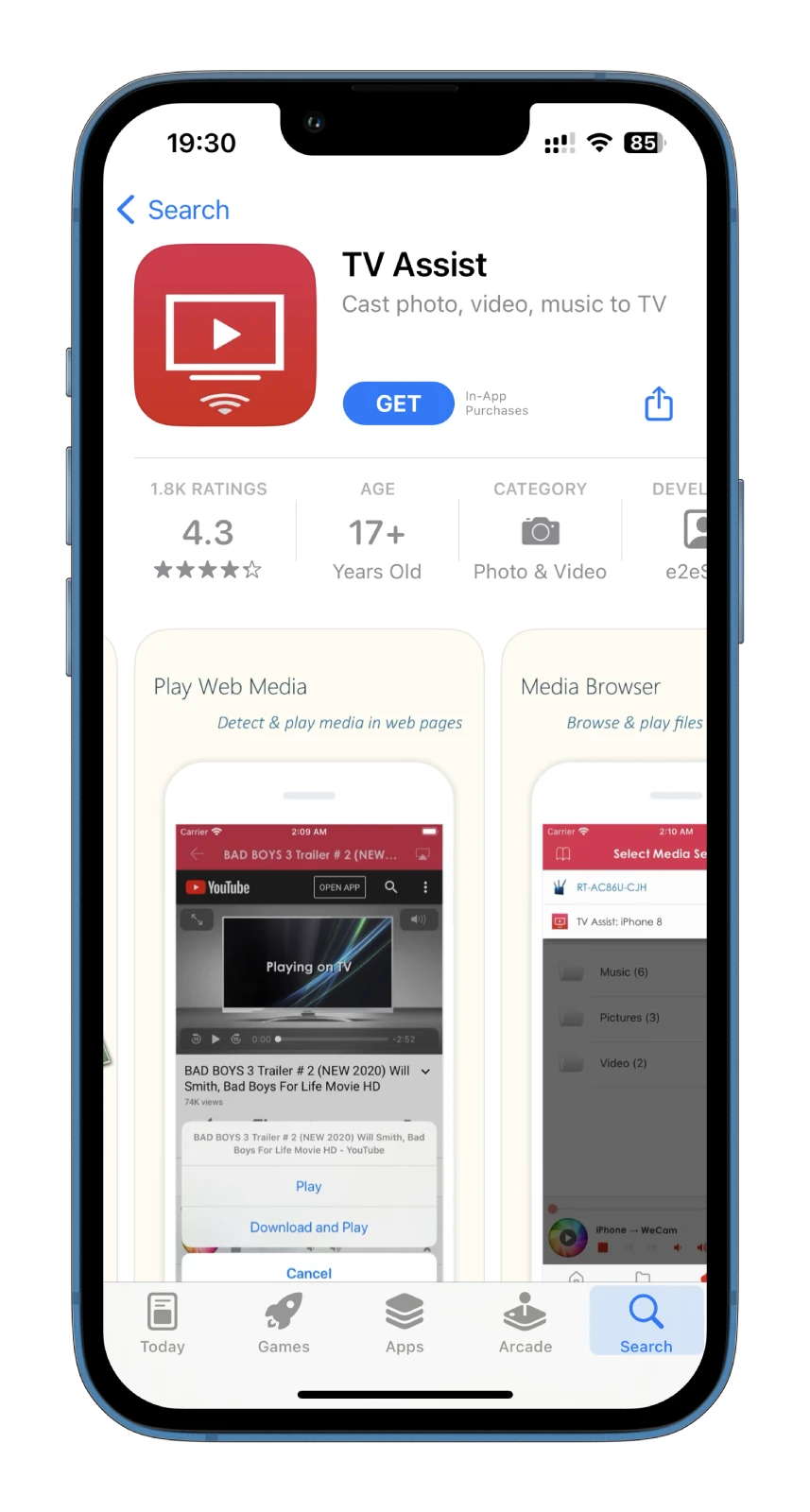 Connect your iPhone and TV to the same Wi-Fi network.
Open the app on your iPhone and tap the Screen Mirroring icon at the top right corner.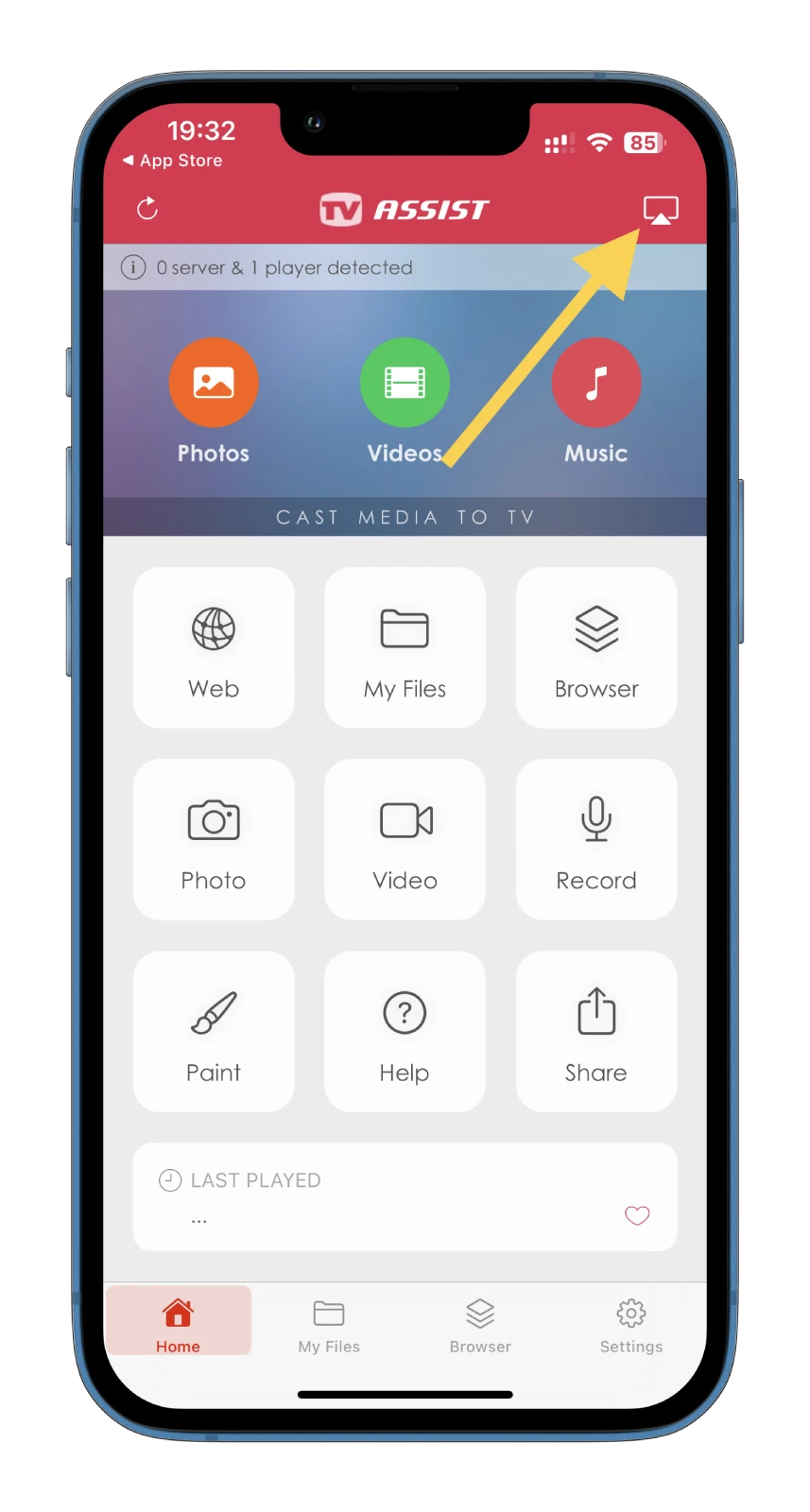 Then select your Sony TV from the list of available devices.
Now, follow the instructions in the app to start mirroring your iPhone's screen to your Sony TV.
How AirPLay works on an iPhone or iPad with Sony Bravia TVs
Use a WiFi network or a wired connection to transfer video. The TV and your Apple device must use the same Internet network. This is necessary for the initial exchange of request packets to establish a connection between iPhone TV and Sony Bravia. 
How the connection happens, you send a request from your phone to the TV to broadcast content, then two options are possible. 
  Broadcasting the iPhone, iPad screen to the Sony TV
If you want to broadcast the entire screen of your smartphone or tablet, the connection is created via WiFi point-to-point. iPhone broadcasts via WiFi to the TV screen of the iPhone screen.
Broadcasting video from an iPhone or iPad to a Sony TV
When watching videos, you may see a sharing icon if you want to stream videos from your iPhone, such as Youtube or Netflix. YouTube has such an icon; you can tap it and choose which available device you want to start streaming videos too. The iPhone will only stream the service information and the video you want to stream on the big screen to the TV. If the TV has the streaming service app pre-installed, it will launch it, get information from the phone about what content to stream, connect to the service servers, and start receiving video directly.
Sony TV AirPlay is not working.
This is a common situation that requires minimal effort to fix. So, if your Sony Bravia TV cannot connect via AirPlay or a mirroring program, do the following.
Check your mobile device; it must be connected to the same network as the TV. This is a must. The TV might be connected to WiFi, and your phone uses mobile data. 
On some Sony Bravia TVs, especially before 2021, you must first turn on and activate Apple AirPlay or the mirroring program before connecting to your phone. 
The AirPlay code doesn't work on your TV; this can happen if you connect to another TV. Remember that you will see all the available devices to connect to your phone; you need to choose the suitable TV—precisely the one you need to connect to. 
If you've checked everything and found no errors, reboot the TV and phone, it's unlikely, but it happens that programs on the devices work with an error. To restart the TV, you need to unplug it for 30 seconds; this is guaranteed to delete the cache, and when you turn it back on, all programs will be loaded in an updated state without browsing history and cookies, and authorization will be saved.
If you want to watch streaming services on your Sony TV and use your iPhone to select a movie, it's certainly more convenient. And then use your phone to send text messages or make calls. This is possible; you must have a streaming service pre-installed on your TV, such as YouTube, Netflix, or Amazon, and if authorization is required, your account in the app on your TV must be active. You must sign in to your account on the TV. You can use your phone normally once the video starts streaming on your TV.