People don't often think about buying a new TV. No wonder most people don't have time to keep up with technological advances. When choosing a new TV, you need to properly understand the parameters in order to buy the best TV at the best cost.
Samsung's AU series of TVs is a line of Crystal UHD TVs. Their screens are made using classic technology. The same applies to the LG UP7000PUA TV model. Overall, both lines of TVs can be classified as a medium-high class. In short, the two lines have more in common than they have differences. You'll get good picture quality for a relatively reasonable price, whichever one you choose.
If you've settled on two models – Samsung TV AU7000 and LG UP7000PUA – and can't figure out what's right for you, read on. This article will help you determine which TV will be best for you.
What is the difference between Samsung TV AU7000 and LG UP7000PUA?
Nowadays it's very difficult to choose a TV set, due to the great abundance of different models. Many people could already be accustomed to having a TV in the living room, where you can turn on your favorite movie or TV series at any time, or a live sporting event to watch with your family or friends. That's why TV has become an integral part of human life.
Since a TV can be found in every home today, it's not surprising that quite a bit of competition has formed in the market of manufacturers. There are dozens of different manufacturers and thousands of different TV models. Some are more luxurious and expensive, while others are devices that everyone can afford.
Some of the most reliable TV companies in the world are Samsung and LG. These companies have been on the market for quite some time and have managed to prove themselves as manufacturers of quality devices. For example, this statement may apply to such Samsung TV models as AU7000 and AU8000 (of course in their price category).
However, even if you've already decided on several brands and models of TVs, you still have to choose one of them (unless, of course, you're splurging on both models to put one TV in your bedroom). Well, let's compare two interesting TV models – Samsung TV AU7000 and LG UP7000PUA.
Read Also
What are the design and features of LG UP7000PUA?
Let's start with the LG TV model. The LG UP7000PUA design has a basic look and does not contain any features that would set it apart from most entry-level models on the market. The border around the screen isn't ultra-thin like most high-end models. Nevertheless, the rims are still narrow enough not to distract from what's happening on the screen.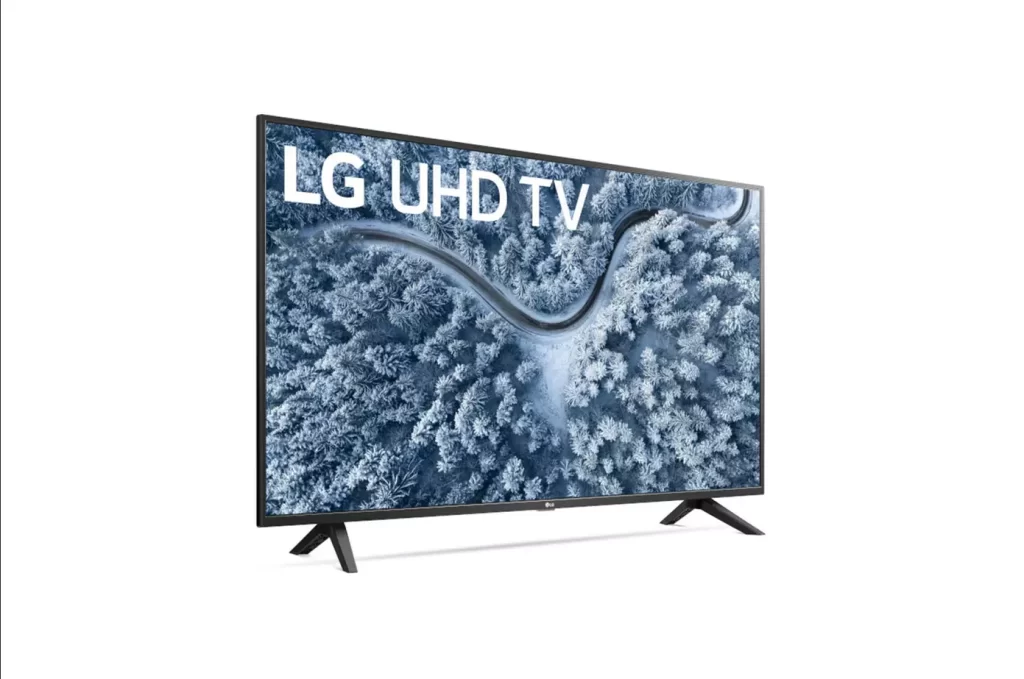 The semi-gloss screen is backlit by a direct LED backlight, but this model doesn't support local brightness adjustment. The overall build quality is pretty good for an entry-level model, and it feels solid. It can also be noted, however, that the panel depth is a bit thick for a flat panel TV, which is due to the straight LED backlighting design of this model.
The stand consists of two angled plastic feet that provide good support for the panel. The feet aren't adjustable.
There is also an important point to note. This can really be considered a disadvantage of this model. The fact is that the LG UP7000UPA doesn't contain the Magic Remote. You must upgrade to the UP8000PUA to use this remote control. The UP7000PUA contains a standard remote control which provides good functionality and easy control of the TV. The remote control doesn't include a voice control function.
What are the pros and cons of LG UP7000PUA?
Well, all in all, let's highlight the following advantages and disadvantages of the LG UP7000PUA.
Pros:
Crisp and detailed 4K and Full HD picture quality.
Good clarity and image depth.
Decent color for an entry-level TV.
The IPS panel allows for good wide-angle viewing performance.
Excellent webOS 6.0 smart TV platform.
ALLM (Auto Low Latency Mode) feature helps deliver very low input lag.
Sufficient peak brightness with SDR content in a moderately lit room (not overly bright)
Motion rendering was generally smooth on this TV. You may experience some slight motion artifacts with some fast action content.
Cons:
Mediocre contrast and black level performance due to IPS panel.
Mediocre black screen uniformity – some clouding visible throughout a completely black screen.
Insufficient peak brightness output when viewing HDR content.
No wide color gamut for HDR content.
Lack of Magic Remote.
It should also be noted that the sound quality leaves much to be desired. Therefore, if you want to buy this TV, the best option would be to buy an LG soundbar or audio system.
What are the design and features of the Samsung AU7000?
The AU7000 looks understated, with virtually no bezel around the top and sides of the screen. The bezel on the bottom, which features a small central Samsung logo, isn't much bigger. And if you don't mount the AU7000 on the wall, its simple plastic boomerang legs with buttons and clicks continue the minimalist feel.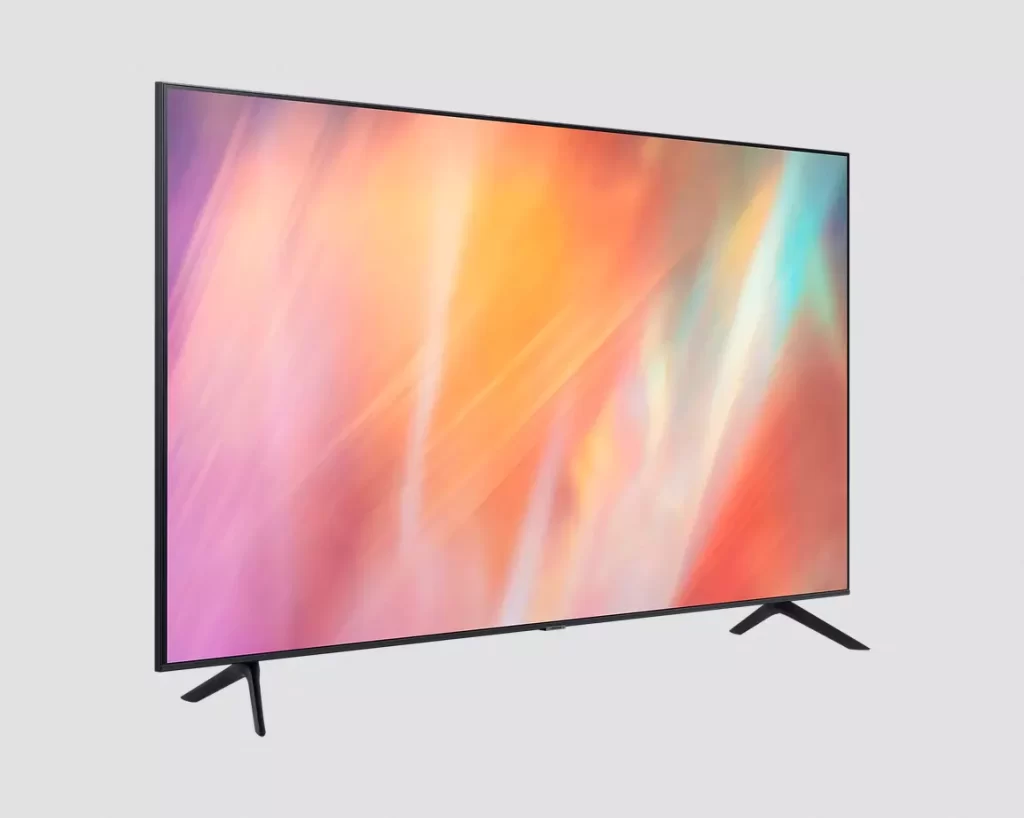 The AU7000 is part of Samsung's Crystal UHD line of screens, and as such, it's a 4K LCD/LED device with backlighting around the edges of the screen. Picture quality is regulated by the proprietary Crystal Processor 4K. As for HDR, it's business as usual for Samsung – that means HLG, HDR10, and HDR10+ dynamic metadata, but not the slightest hint of Dolby Vision.
The AU7000 comes with a pair of remote controls that can be used to navigate the interface, explore the settings menu, etc. One of them (and there are no two ways about it here) is an unpleasant, cheap-to-the-touch, overpowering remote, while the other is a much nicer, much more minimal "essentials only" alternative.
There's no built-in voice control, however, but if your Samsung is in the same network as other devices, you can control it with Amazon Alexa or Google Assistant. Alternatively, there's Samsung's own Smart Things control app, which is just as stable and useful here as it is for all other Samsung TVs.
What is about the picture and sound quality in the Samsung AU7000?
The balance between color and contrast achieved by the AU7000 is satisfying in almost any circumstance, with Samsung being able to handle the nuances of lighting with real skill. Edge clarity is clean, and with 4K images, there's no image noise. Motion is also handled with real confidence. If you need an inexpensive TV that lets you make the most of 4K content, the Samsung AU7000 should be on your top list.
The Samsung AU7000 is equipped with a rather weak audio system. Two full-range speakers with a total output of 20 watts aren't capable of striking the imagination – but, to be fair, the Samsung is far from the worst-sounding TV in the world. It sounds distinct enough, with the kind of midrange precision that makes voices distinctive and dialogue easy to hear.
If you want more "serious" sound and picture quality, you may want to consider Samsung TV models of a higher class.
Read Also
Which one should you buy?
The Samsung AU7000 really stands out more than its competitor, the LG UP7000PUA. At the very least we can note that the Samsung TV model comes with two remotes.
However, it all depends on your preferences. Both TVs are worthy to hang in the living room and enjoy excellent 4K video quality (for their price). A small drawback may be the sound quality, but that can be fixed by buying a soundbar or audio system.
If you choose the Samsung TV, you should know that it's very easy to sync with the Samsung soundbar.