A critical element of your browser that improves the user experience is third-party cookies. However, they may be disabled in your Google Chrome for various reasons. It will be straightforward to enable it on different devices.
In the case of Android and PC, it's pretty simple. You can activate them in the security settings. In the case of iOS, it's a little bit more complicated. Let's take a closer look at this problem.
How to enable third-party cookies on Google Chrome desktop
Google Chrome for computers looks pretty much the same for Macs and PC. Although third-party cookies should always be enabled by default, they can sometimes be disabled for various reasons. To allow third-party cookies, you will need to use the privacy settings. To do this, you will need to:
Click on the three dots in the top right corner.
In the drop-down menu, select Settings.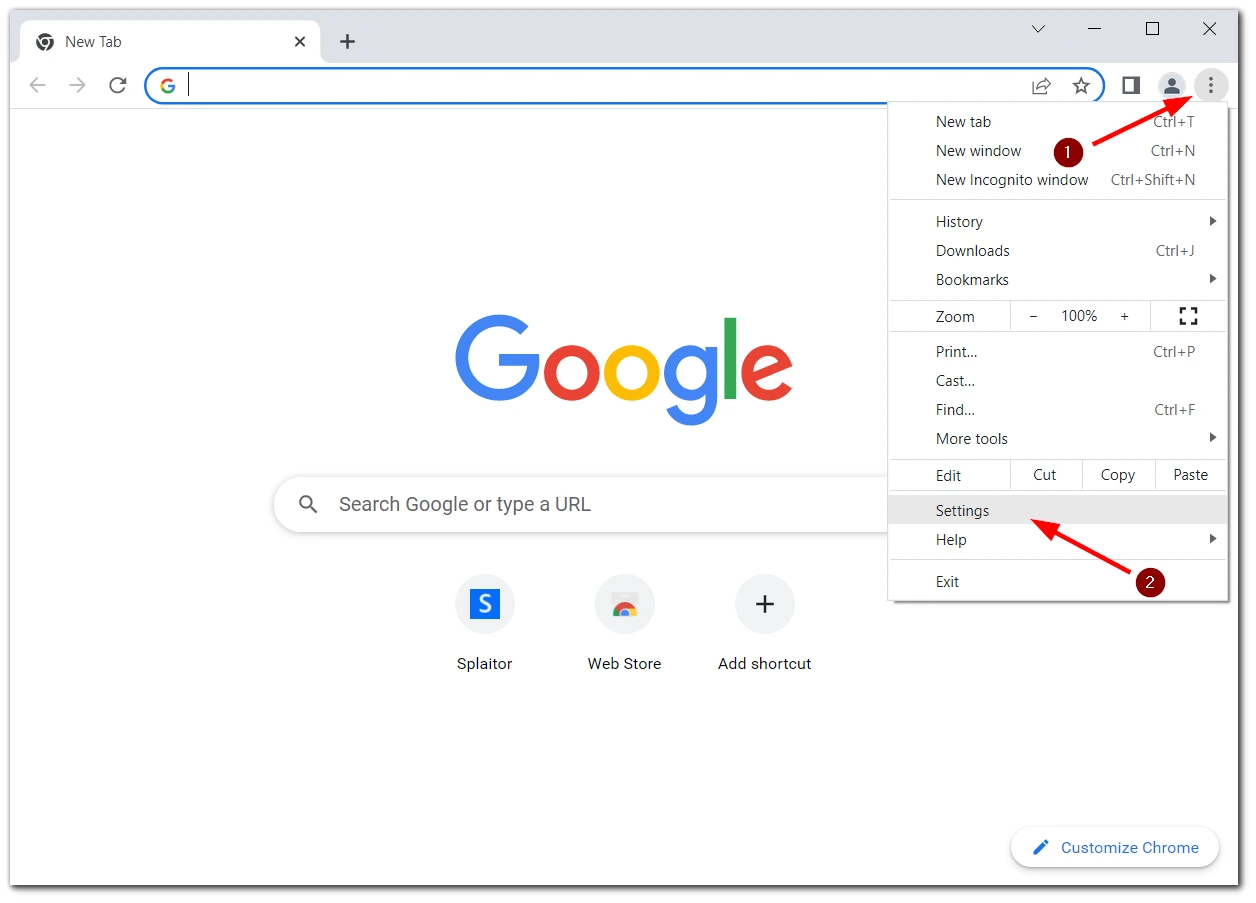 Click on the Privacy and Security tab and choose Cookies and other site data.
To enable third-party cookies, select Allow all cookies or Block third-party cookies in Incognito. In this case, they will be blocked only in Incognito mode.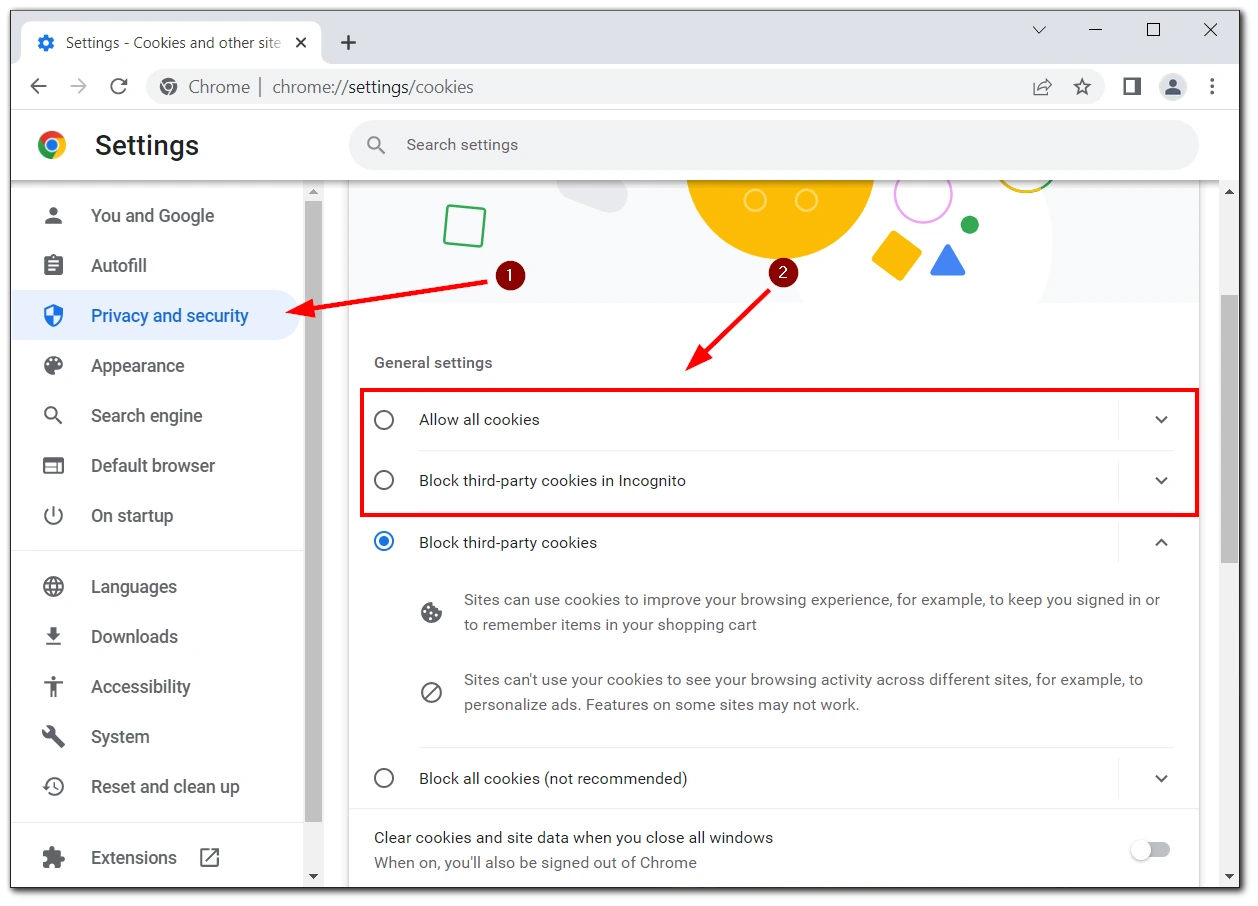 You can also block third-party cookies from the same tab. To do this, you need to check Block third-party cookies. You can block all cookies, but the website may run with errors. If you notice that third-party cookies don't work after you've enabled them, you should try reinstalling or updating your Google Chrome.
How to enable third-party cookies on Google Chrome on Android
In the case of android devices, just as with PCs, regardless of the model of your smartphone or tablet, the app must be identical. If third-party cookies are disabled by default, you need to enable them:
Click on the Three Dots at the top left of the screen.
In the drop-down, tap Settings
Then select the Site settings tab.
On the following menu, select Cookies.
Like in the Desktop version, you need to select Allow all cookies or Block third-party cookies in Incognito to allow the browser to use third-party cookies.
After that, I advise you to restart the app. If the third-party cookies are not activated after that, try updating the app or reinstalling it if they are still not working.
How to enable third-party cookies on Google Chrome on iPhone or iPad
For iPads and iPhones, third-party cookies will be enabled automatically on any browser on Apple devices. So you don't have the option to disable them, and so you don't have to re-enable them.
If you notice that they've stopped working, there are a few options that you can pull off. The first is to restart your device. There may have been a system error, and the feature just went off.
If that doesn't help, then try reinstalling the Google Chrome app. I would also advise you to check your internet connection and see if your device supports the latest version of Google Chrome. I wouldn't exclude the possibility that the site has simply disabled third-party cookies for the safety of its visitors.
Read also:
What are third-party cookies, and why should you enable them?
Third-party cookies on websites are temporary data that third-party services receive when you use some websites. Examples include various advertising inserts. Reclaimers collect information about what products you visit in online stores and then give you targeted ads.
Some sites are also connected to third-party services and take information from them, such as statistics from games, and may use third-party cookies to work correctly.
Among the disadvantages, I would note that they hurt your privacy. The data you provide on sites you visit and sometimes even information on where you were staying gets into the hands of third-party companies, who can use it as they see fit.
In general, I would say that if you are comfortable with your privacy and you don't mind that some of your activity data may fall into the hands of third-party companies, you can activate third-party cookies to increase your comfort with the Internet. Since targeting ads can often show you discounts on precisely what you need. In addition, some services you need may not work correctly without third-party cookies.