People don't often think about buying a new TV. No wonder most people don't have time to keep up with technological advances. When choosing a new TV, you need to properly understand the parameters in order to buy the best TV at the best cost.
Samsung's AU series of TVs is a line of Crystal UHD TVs. Their screens are made using classic technology. The Q80A model is a TV with QLED technology. If the first line can be attributed to the medium-high class of TVs, the Q line refers to the high class. Nevertheless, you will get good picture quality for a relatively reasonable price, whichever model you choose.
If you've settled on two models – Samsung TV AU8000 and Samsung Q80A – and can't figure out what's right for you, read on. This article will help you determine which TV will be best for you.
What is the difference between Samsung AU8000 and Q80A TVs?
Nowadays it's very difficult to choose a TV set, due to the great abundance of different models. Many people could already be accustomed to having a TV in the living room, where you can turn on your favorite movie or TV series at any time, or a live sporting event to watch with your family or friends. That's why TV has become an integral part of human life.
Since a TV can be found in every home today, it's not surprising that quite a bit of competition has formed in the market of manufacturers. There are dozens of different manufacturers and thousands of different TV models. Some are more luxurious and expensive, while others are devices that everyone can afford.
One of the most reliable TV manufacturing companies in the world is Samsung. This company has been on the market for quite some time and has managed to prove itself as a manufacturer of quality devices. For example, this statement can apply to such Samsung TV models as AU7000 and AU8000 (of course, in their price category).
However, even if you have already decided on TV models, you still have to choose one of them (unless, of course, you splurge on both models to put one TV in the bedroom). Well, let's compare two interesting TV models – Samsung TV AU8000 and Samsung Q80A.
Read Also
What are the design and features of the Samsung Q80A?
The Samsung Q80A TV has a thin metal frame with a minimalistic Samsung logo at the bottom and a slightly convex black textured plastic back panel. At its thickest point, it's just over 2 inches thick. The Samsung Q80A stands on a center stand, which looks nice. However, the screen can sway slightly if the furniture underneath the TV isn't perfectly stable.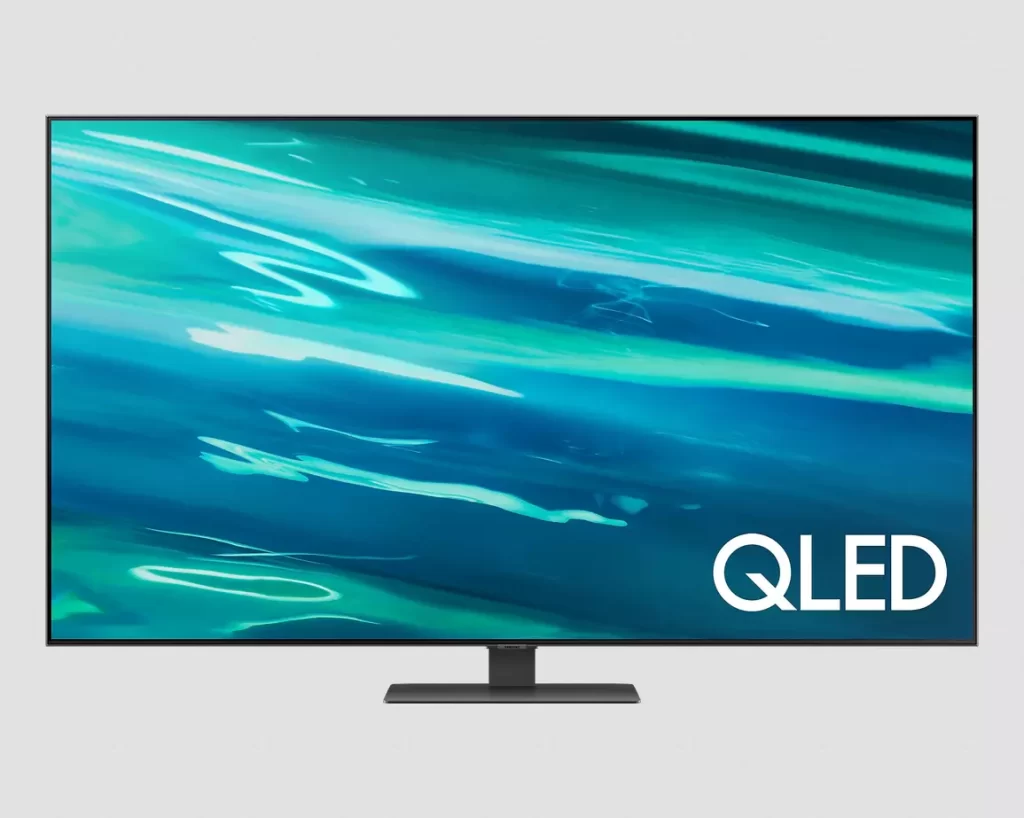 The foot is a little tricky to install, with a total of eight screws to tighten. All the connections are on the side in a row on the left side of the back panel. There are tracks for routing cables, which can then be routed out through the foot. The only thing that limits the tight fit of the Q80A to the wall with this installation option is the protruding power cable. The frames are thin and the build quality is generally excellent.
Samsung's Smart TV system is, as usual, Samsung's own Tizen 6.0 OS. It's a neat and easy-to-use system. By default, there's a small but good collection of installed apps such as Netflix, Youtube, Prime Video, and Apple TV.
The system has some other smart features, such as screen sharing when mirroring vertically from your phone and automatic pairing if you have a Samsung smartphone. All of this is controlled by a small remote control. You can also use the Samsung SmartThings mobile app instead of the remote.
What are the display and sound features of the Samsung Q80A?
As previously mentioned, the Samsung TV Q80A has a QLED display. The Q80A uses direct backlighting. However, the local dimming function is rather poor. It suppresses black, causing a loss of detail on bright objects. You can see blooming around them, and the screen doesn't look uniform, as entire horizontal areas can sometimes glow. There's noticeable watering around the subtitles, which gets worse when viewed from an angle.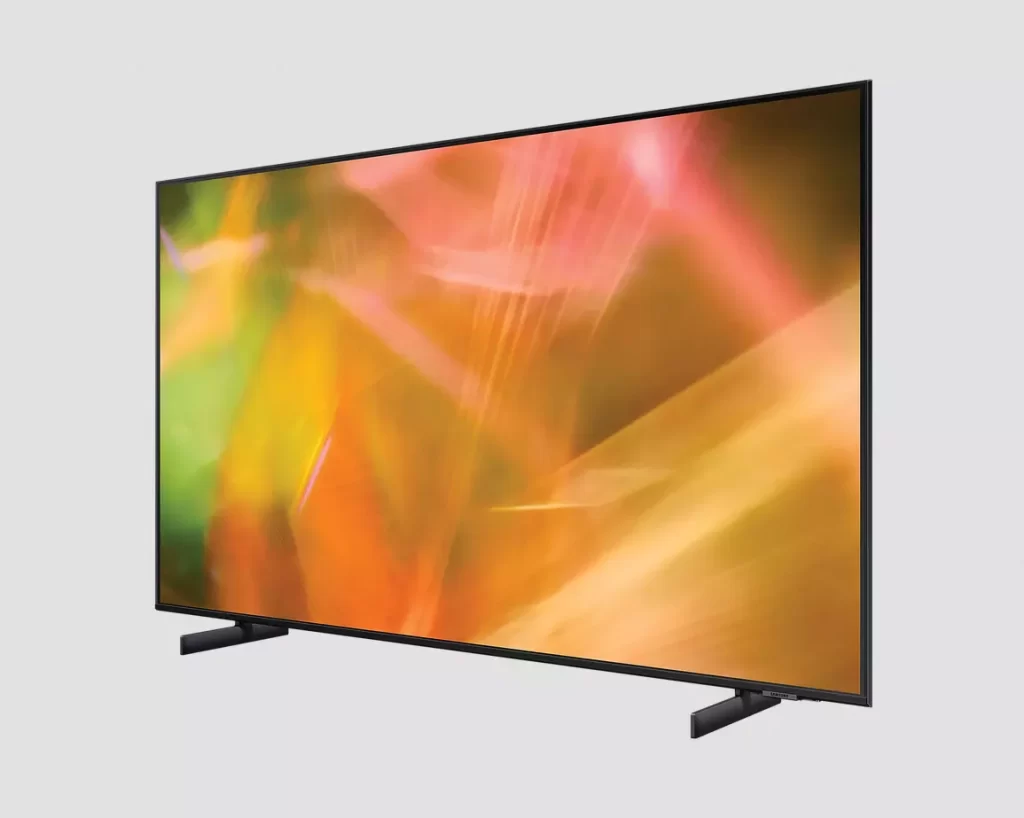 The blackout zones turn off slowly when there are fast-moving objects on the screen. However, the TV also turns the zones on ahead of time, so moving objects don't look good overall. This is a bit disappointing for a high-end model. Grayscale uniformity is okay, something black can't boast at all.
The Q80A has three automatic sound tuning functions that optimize sound based on ambient noise and room acoustics. Their disadvantage is a little more background noise. However, in some cases, they pay off a hundredfold. Especially the feature called Active Voice Amplification (AVA), which temporarily maximizes voice range if the room is noisy, so you won't miss important dialog in the movie.
The sound is really good, with only six speakers, two of which are up, for added surround sound effect. It's clean, detailed, and quite rich sound, suitable for music as well as for games and movies. Of course, it lacks a subwoofer a little, but then you should already think about a Samsung soundbar.
What are the display and software of the Samsung AU8000?
The AU8000 boasts a 4K resolution, which is optimal for a TV of this size. While it's definitely not an OLED TV, you still get HDR10+ support, and the overall picture quality is up to the expectations of a 4K TV.
The Samsung Crystal Processor 4K is capable of scaling all content to 4K for a better viewing experience. It also kind of makes content that normally goes at 30 frames per second look like it's going at 60 frames per second. While this works well for some videos, there's no option in the settings to turn this feature off, which can be a problem since some videos are designed to be viewed at the original frame rate.
These Samsung TV models run TizenOS 6.0, which provides a very minimalistic and clean look. Setting up the TV is very simple and straightforward. You can set it up with the remote control, but also using your smartphone.
The user interface navigation is smooth and the apps open quickly. If you have an iPhone, iPad, or Mac, you can use AirPlay to stream content to the TV. In addition to this Samsung TVs have quite interesting and unique features, such as the Multi View function.
Read Also
What are the design and sound features of the Samsung AU8000?
It can be said about both models are quite slim. Samsung's AirSlim design provides an extremely slim profile. This also allows the device to fit well in a living space, a workspace, or a small room with a cool atmosphere. In terms of material, the back panel is definitely plastic, but the surrounding frame is metal.
The slim frame of the screen provides more immersion but leaves little room for control, which can be inconvenient when moving the TVs. The glossy look of the screen also makes it prone to smudges. The parts of the stand attach easily to the back of the TVs with a sliding mechanism and are very sturdy to the touch.
The speakers are capable of producing enough bass to provide decent bass. Vocals have good clarity, but can sometimes be a bit harsh. High frequencies have good brilliance and airiness, but can be a bit shrill depending on the content. The sound is loud enough for a small room, with little to no distortion at high volume.
Of course, the Q80A is ahead of the AU8000 in many ways. However, it all depends on your preferences. Both Samsung TVs are definitely good in their price range, so they are worth considering.