You've probably faced the situation when you open a website, and there are a lot of ads, or when viewing videos on YouTube at the most exciting place of the video begins advertising. You may use adblocker programs in your browser or phone.
But you should know that this is not always a good thing; some sites may not work correctly because the necessary information can be blocked as ads, and you are limiting yourself in some aspects of life without knowing it.
For example, when your area opens a new store or any service to attract customers, they offer a massive discount for the first 100 customers, such as 90%. The company has decided to announce this via the Internet, running ads targeting your city (these ads will only be seen in your city). But if you install an ad blocker, you won't know anything about it and will miss out on the benefits. But there is another solution. You can limit the display of advertising, making its number to a minimum, but you will be aware of all the news. In addition, this advertising restriction will work on all your devices through which you log into your Google account. I learned about it very recently, because there is a lot of information and I don't have enough time to study it.
Where Google ads appear
Google ads are shown in three segments:
Search – these are the ads shown to you when you search on Google; currently, several answers to your query are at the beginning of the results page and marked as ads.
YouTube – these are ads on the video hosting site, ads while watching, and videos at the beginning while watching and at the end of the video.
Web – These are the ads you see on websites when you view them with your browser. It also includes ads in apps (phone games, etc.).
Limiting Google ads to one device or browser
Now about restricting ads. If you want to set your ads to restrict certain ads, you will need to make settings by logging into your Google Account; if you are not logged into your account, you can enable or disable personalized ads only for a specific device or browser, but it will not limit the display of ads.
Go to ad settings at https://adssettings.google.com/; on this page, you can set the settings for the device or browser from which you choose to set up ads. On this page, you can sign in to your Google account. This setting is useless for restricting ads, but if you sign in to your Google account, you'll get higher-level settings.
Limiting the display of Google ads on all devices
If you sign in to your account, you will be taken to the ad display settings at https://myadcenter.google.com/. This is where you can configure your ad display settings. Enter the ad settings, and you will have three settings available.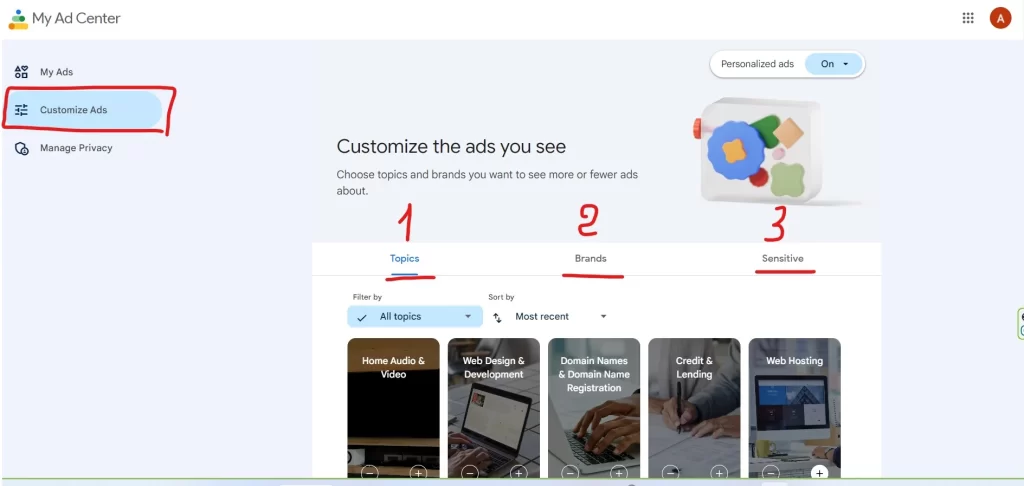 Topics – this is the setting of advertising by category; you can reduce interest in a topic or increase it—press minus if you want to show that you are not interested in this topic. Press plus if you are interested in the topic; there are 60 categories available to manage for customization.
Brands – You can show your interest in a brand in this setting.
Sensitive ads – this is a setting where you can altogether disable sensitive ads. This is a perfect setting to limit your children from bad ads. Available to disable ads in the following categories.
Dating
Gambling
Pregnancy and parenting
Weight loss
After the settings display ads (personalized settings), the number of ads shown to you will be significantly reduced. For example, if you are not interested in web design and development or web hosting and told Google about it, why should you show ads such as WIX website builder or GoDaddy.
The settings in your account apply to all devices, including YouTube, but remember to sign in to your account. I, for example, checked how it works, so if I watch YouTube with the logged-in account, I am shown one ad for 4-5 clips. And if I enter as incognito, I'm shown two or three ads in one video.