You may encounter a problem with limiting Adsense ad impressions on your site. Many people panic and do not know what to do. Yes, you will see a message in your AdSense account, and after a while, you will receive an email with the title (Ad limit placed on your AdSense account). The meaning of the letter will be that invalid traffic has been detected on your site, and Ad impressions are limited. Your account will be periodically evaluated, and the limit will be automatically revised and updated. It will be further clarified that you will not be given a detailed explanation of the violation, as this may help you bypass Google's systems. So if you don't know what to do, I advise you to read this article, you will learn a lot of exciting things, and you can quickly restore the display of ads on your site.
What does it mean to limit AdSense ads on a site.
You should know that this restriction is effective at the account level and will affect your sites. When the restriction goes into effect, your ad impressions will be reduced by a factor of ten or so. Some have more, and some have less; this is a very abstract figure. If you have a lot of sites, it will be difficult for you to determine which one is sanctioned and causes the restriction. You need to check all the sites for violations. But as a rule, in the first place, you should pay attention to sites with high attendance.
The application of sanctions in the form of restrictions on advertising can be interpreted as follows. The violation is not critical (there is no clear malicious intent), so your account is not blocked. This can be understood as follows: Google tells you: there are violations on your site, which may lead to unnecessary costs for advertisers; eliminate violations, and we will continue to show ads on your site. Google gently steers you in the right direction, but you must do most of the work yourself.
What should I do if my AdSense account has restrictions on displaying ads?
Now let's talk about what steps you need to take to resume showing. There are a few basics – the interaction with the displayed ads should be on the part of the interested reader of your site. Natural ad views are the norm, but if there's anything that can provoke unwarranted clicks, that's not good.
Look at where the traffic to your site is coming from. They say it's bad when the primary traffic comes from social media. But it's probably not about where the traffic is coming from; it's about the quality of the traffic. If the visitors come to your site through a link from a social network and 99% of the time they leave your site after 5 seconds, that's terrible traffic, and the system may treat it as an abnormal increase in views. Never buy traffic or links to your site; don't use different traffic exchange systems. If you have analyzed your traffic and your visitors mainly come from search engines or other sources, and they are quality visitors, then there is nothing wrong with the traffic on your site.
Many people are lost on this question; a person says: my site traffic is 90% from search. This is good traffic; why am I told there is invalid traffic? But you should know that this is a generalized name for the problem. There are also times when your site violates Adsense rules or publisher policies, which can lead to restrictions.
Violation of publisher policy and AdSense rules
It would help if you studied the rules of AdSense and the publisher's policy. You need to know these rules and periodically review them; Google will send you messages if there are any major changes, for example, due to new legislation, but with minor changes, you have to keep track of yourself.
You need to study the rules more, there may be a violation on your site; for example, let's talk about the most common violations. Since most sites are created with WordPress, I will focus more on this system, but you can apply it to other CMS.
You can not show ads on pages without content – for example, you have created a site made an excellent menu, but when you go to the section, the user will be shown a page without content.
You can not show ads on a 404 page – the page with the error is considered a dead end. In most cases, the visitor will leave the site.
You can not show ads on pages that have no value – like thank you for reading us, and so on.
You can't place ads in places where it can lead to unintentional clicks – a widespread problem, by the way; for example, your site has a drop-down menu that covers some ads when you open it, the appearance of ads on a page next to interactive elements, where they can be confused with site navigation.
How to stop displaying AdSense ads on certain pages.
If you use the manual placement of ads, you can remove the code from the desired pages. But if you have auto-display ads set up, you need to add pages to the excluded ones.
You can easily prohibit displaying ads on certain site pages by doing the following.
Determine which pages you need to block ads.
Login to your AdSense account
Left-click on Ads
You'll be shown a list of your sites; click the pencil to the left of your site's name.
You'll see the "Ad Settings Preview."
Scroll down the right-hand column; you'll find "Excluded pages" at the bottom.
Click Excluded pages "Manage"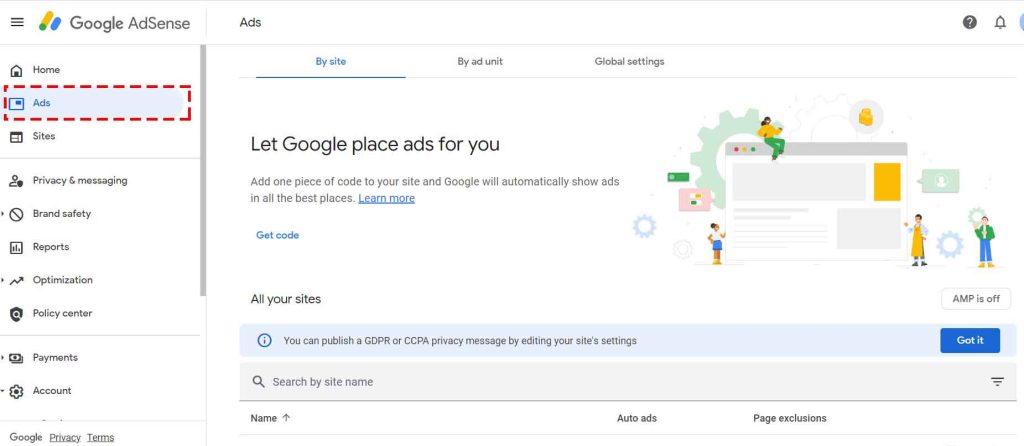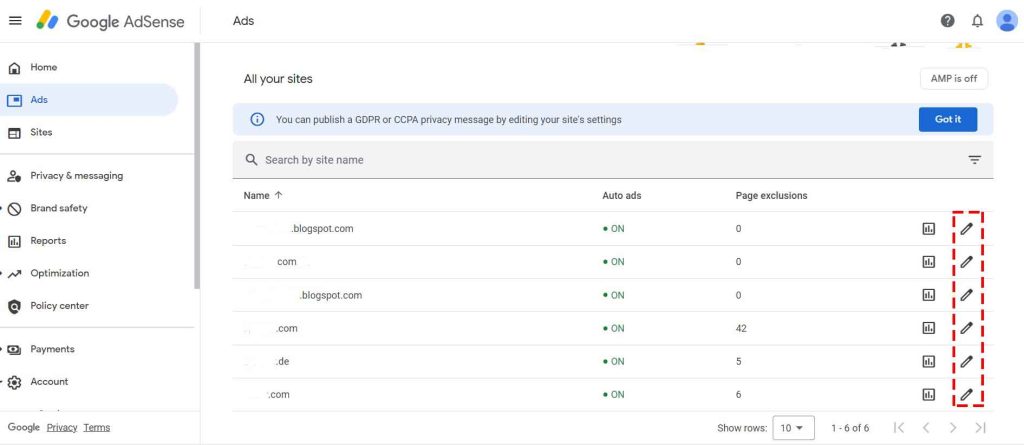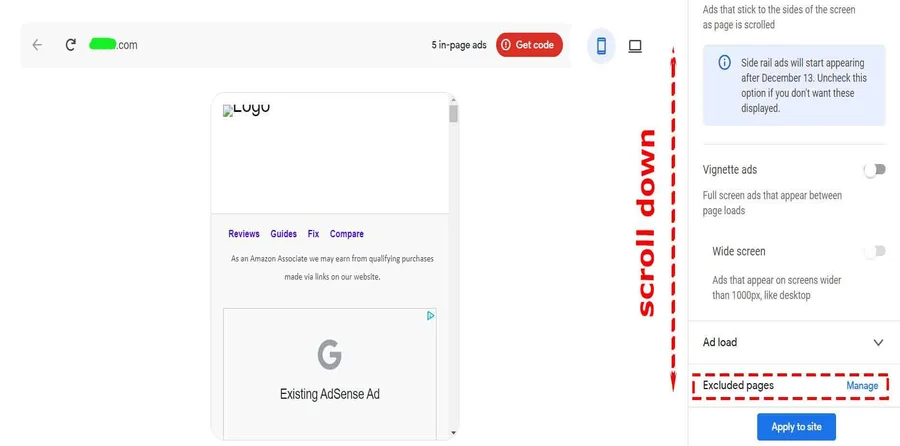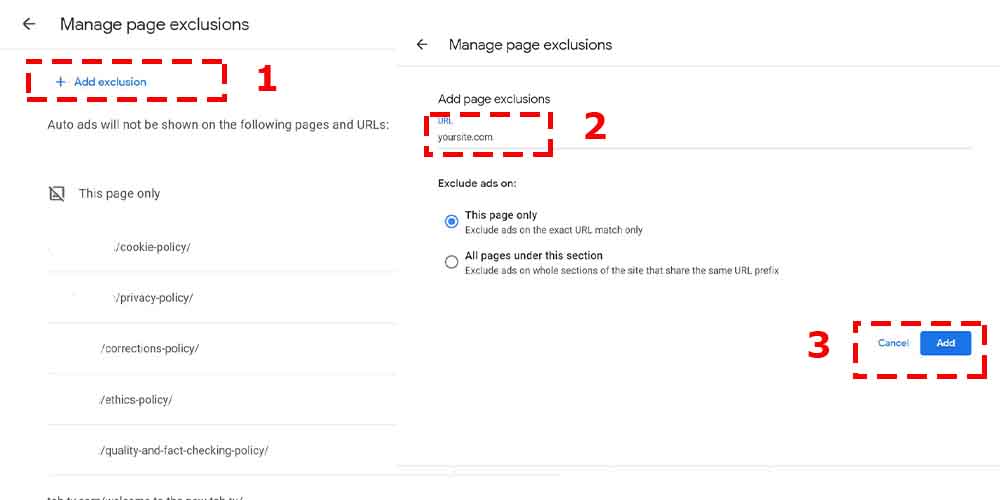 You can add the pages you want to the excluded pages. These pages will stop showing ads in a couple of hours. You can do this with all the sites you have in Adsense.
How to limit ads on a 404 page (page not found)
In WordPress, the 404-page display is usually generated by your theme using PHP code. There are several ways to limit ads, such as installing a plugin redirecting or banning ads. But I put as few plugins as possible; not only do they slow down the site, they can break the site after global updates. So I use a manual way to prohibit displaying ads on 404 pages.
Find the 404.php file in your theme; it generates a page not found message, and then add the following code to that file.
Between the tags (google_ad_section), you need to insert code that should not be executed on this page. The code between the tags should match exactly what will be generated on the page. In this case, I gave an example of code that automatically inserts Adsense ads on your site; you must insert your code with your AdSense ID. This will cause the code execution to be blocked for execution on any 404 page. On the 404 page, the display of the ads will be blocked. I like this method best – check how the code works on the page in incognito mode.
How is the display of ads on your site restored.
If you have checked your site, making sure there are no violations, and if there were violations, you have eliminated them, then after a few days, gradually restore the advertising. You will see that advertising on your sites has started to appear, and in a few days, the warning about advertising restrictions will disappear from your account. Now your task is to monitor compliance with the rules on your sites.
How to secure your AdSense account in the future from advertising restrictions.
Now, if the display ads are restored, consider how to protect your account from possible problems in the future. You may not know that there are certified Google partners. These are companies that help publishers make money from advertising. They do some of the work, such as monitoring your site for compliance with policies and speeding up your site. Automatically block ads on pages with irregularities, such as someone leaving a comment with profanity; that page will be blocked from displaying ads. I recommend you try the company Ezoic. This is an American company that will increase your advertising revenue.