Two-factor authentication on Discord is an additional protection that ensures the security of the program and reduces the likelihood of hacking your account. Almost all social media platforms now have the option to enable two-factor authentication (2FA). Once this security measure is enabled, platforms request a unique one-time code that is only available to the account owner.
Activating and using 2FA in Discord is easy enough. You can do this using the app settings on your PC or mobile device. You can even add a 2FA on your Discord server. Well, if you want to enable this security feature on Discord, here's how you can do it in a few simple steps.
How does 2FA work on Discord?
Two-factor authentication is a method of user identification in any service by requesting authentication data of two different types, which provides two-layer and, therefore, more effective protection of the account against unauthorized intrusion. In practice, this usually looks like this: the first layer is a login and password, and the second layer is a special code that comes via SMS, email, or a mobile app.
In general, the essence of the approach is very simple – to get somewhere, you need to confirm twice the fact that you are you, using two "keys", one of which you possess and the other keep in memory. You can read more about 2FA here.
As for Discord, two-factor authentication works no differently from other social media. In the settings, there is a special menu where you can activate this function. And then just follow the instructions.
Read Also:
How to turn on 2FA on Discord using a desktop app
If you want to turn on 2FA on Discord using your PC – follow these steps:
First of all, open Discord and sign in to your account, if needed.
Then click on the "Settings" icon and go to the "My Account" tab.
After that, scroll down and click "Enable Two-Factor Auth".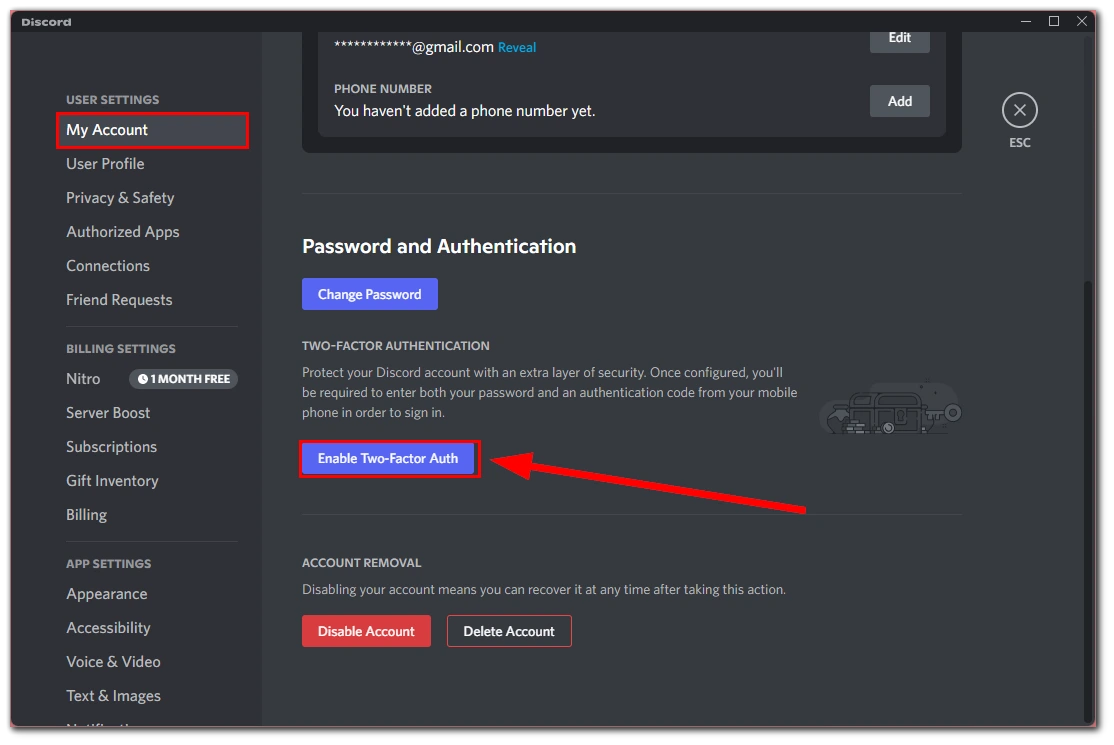 Enter your password and click "Continue".
Now, you will see a window where you will be prompted to download an authentication app. I will use Google Authenticator, but you can use Authy too.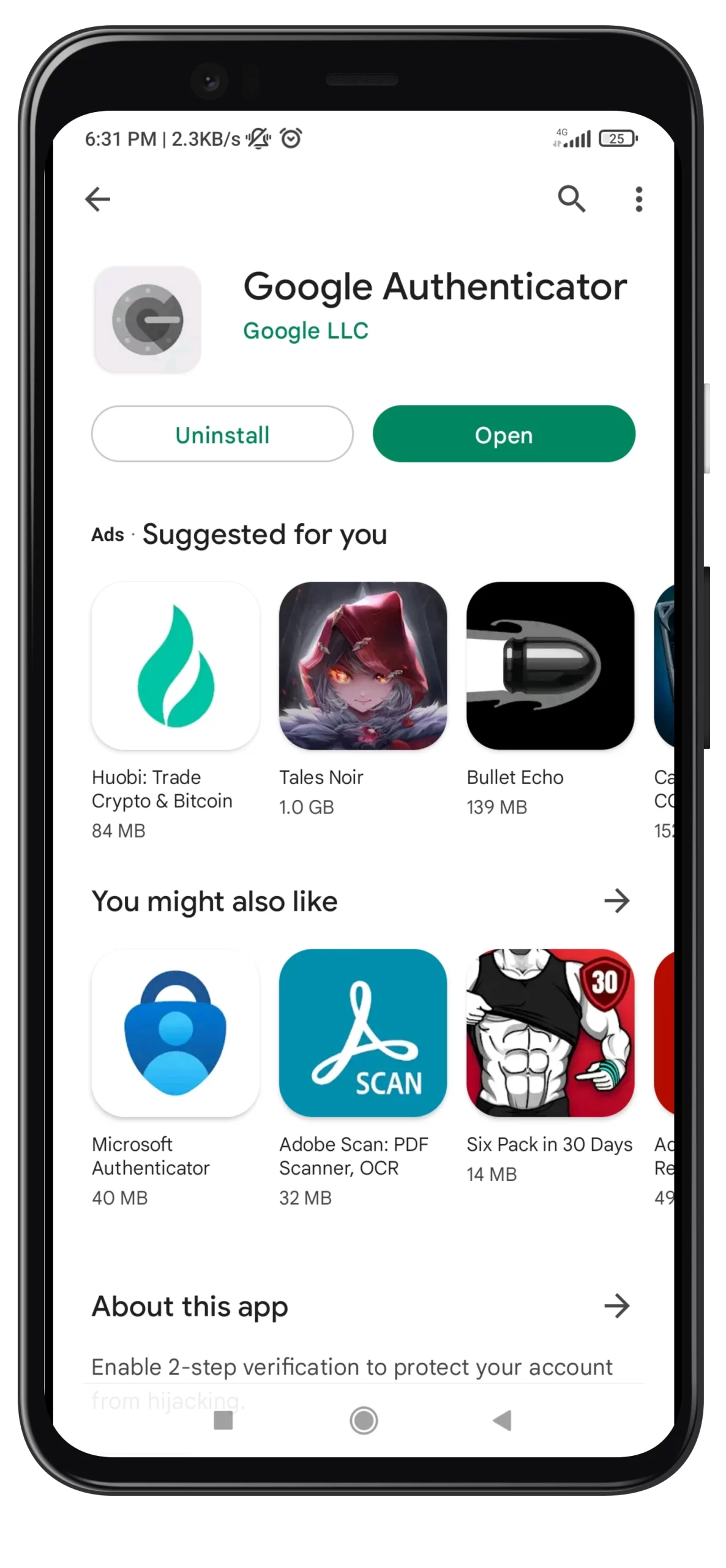 So, open Google Authenticator on your mobile device and tap "Scan a QR code".
You can also enter a special 2FA key to set up the authenticator.
Next, you have to receive a code in Google Authenticator. Enter it in Discord and click "Activate".
Once you have completed these steps, you will be also prompted to enable SMS authentication. To do this, you have to add your phone number. So, click "Add Phone Number", select your country code and enter a number. Finally, just confirm actions by entering a code that you receive on your mobile phone and entering a password from your Discord account.
As you can see, there's nothing complicated. Almost in the same way you can also add 2FA to your Telegram account.
How to enable 2FA on Discord using a mobile app
If you want to enable two-factor authentication on Discord on your mobile device – just follow these steps:
At first, open Discord on your smartphone and sign in to your account, if necessary.
After that, tap on your profile icon and select "My Account".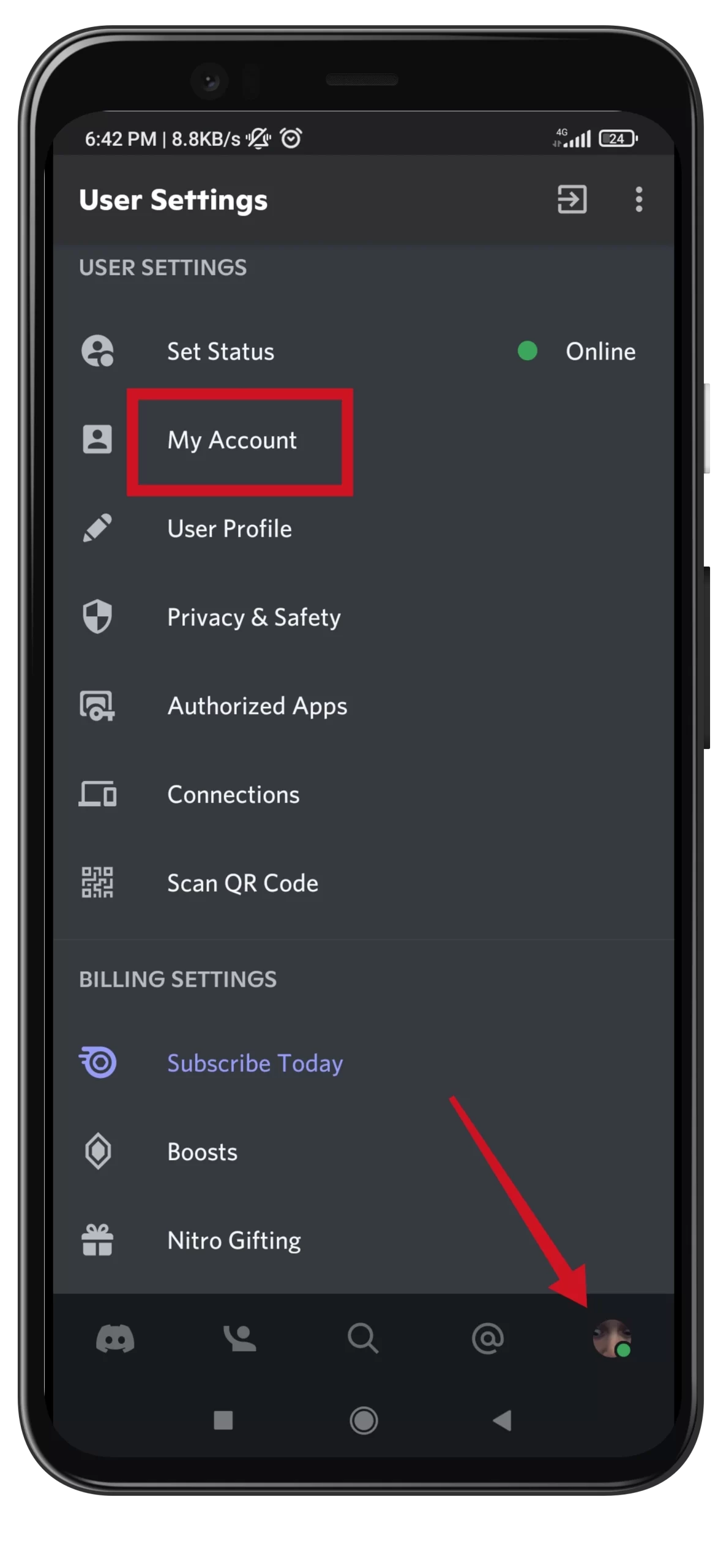 Then scroll down and tap on the "Enable Two-Factor Auth" button.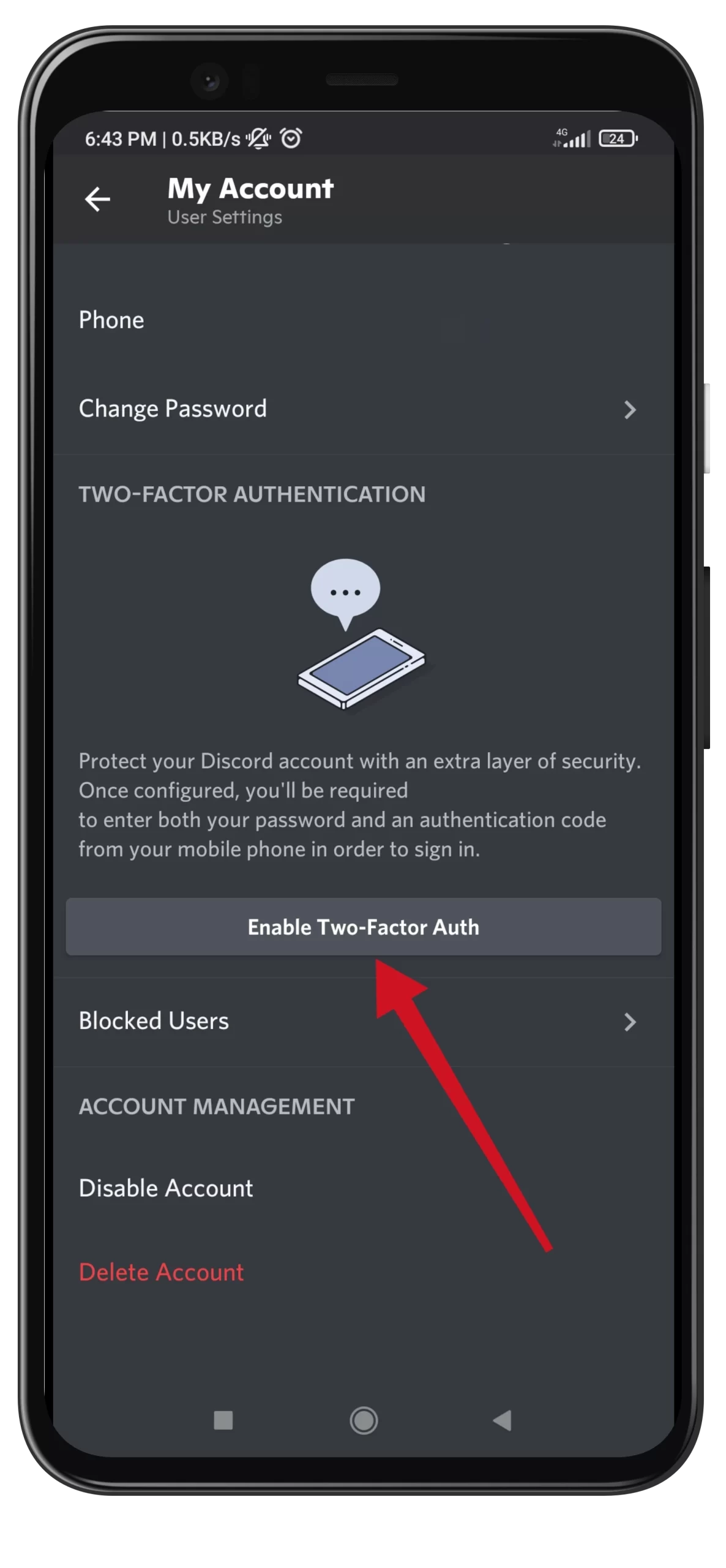 Now, enter your password and tap "Confirm".
Tap "Next" if you already have Google Authenticator.
Copy a code and tap "Launch Google Authenticator".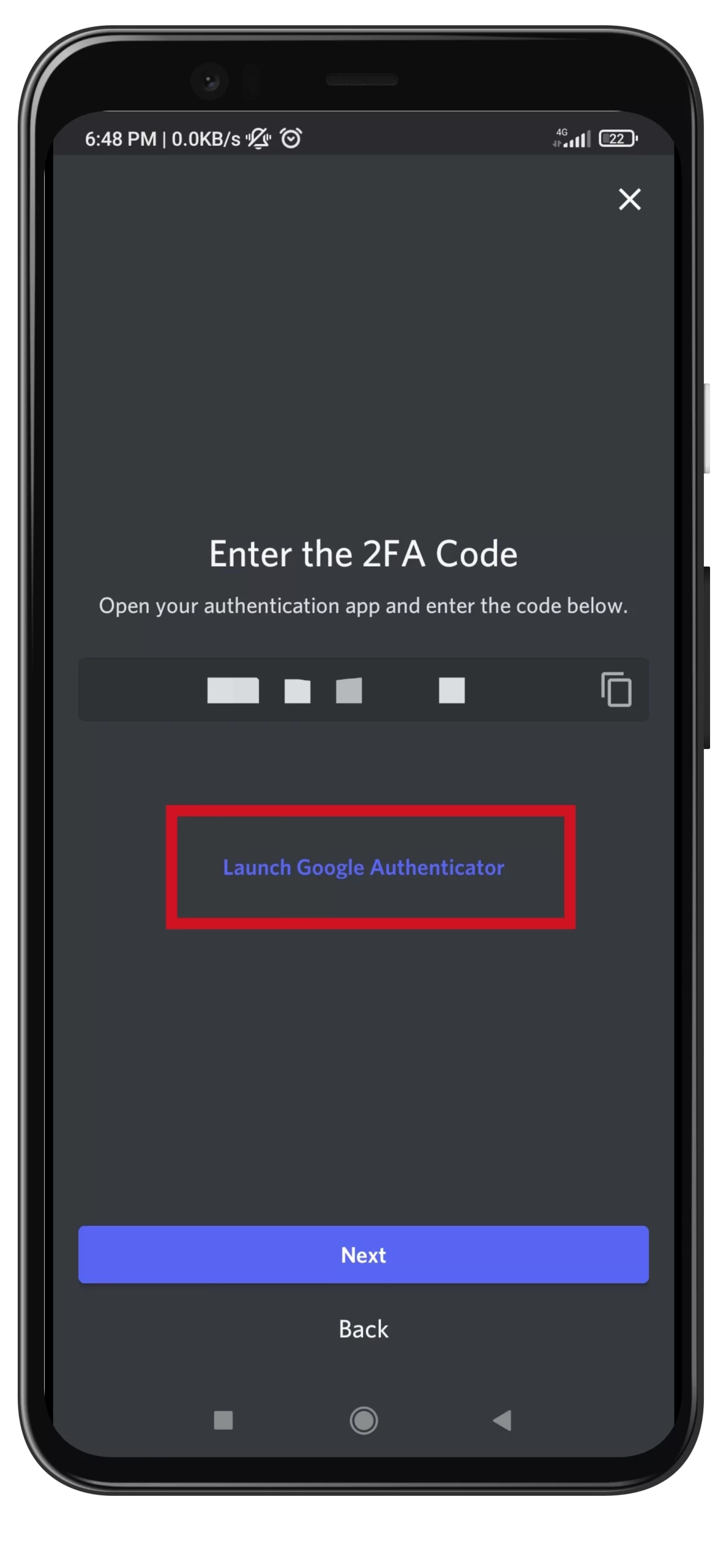 Next, in the Google Authenticator app, tap on the "+" button and select "Enter a setup key".
Enter your account name, and key, and tap "Add".
Copy a special code from Google Authenticator and get back to the Discord app.
Finally, tap "Next" and a code will be automatically pasted. Tap "Done".
Once you have completed these steps, you will enable 2FA on Discord mobile. Just like on the PC app, you can also set up SMS Authentication on your mobile app. Tap "Enable SMS Authentication", and enter your number. Then just confirm the actions.
How to enable 2FA for a Discord server
Users of Discord servers can enable additional security protections to prevent other users from harming the server. Well, if you want to turn on two-factor authentication on your Discord server, you can follow these instructions:
Go to your server settings menu and select "Safety Setup".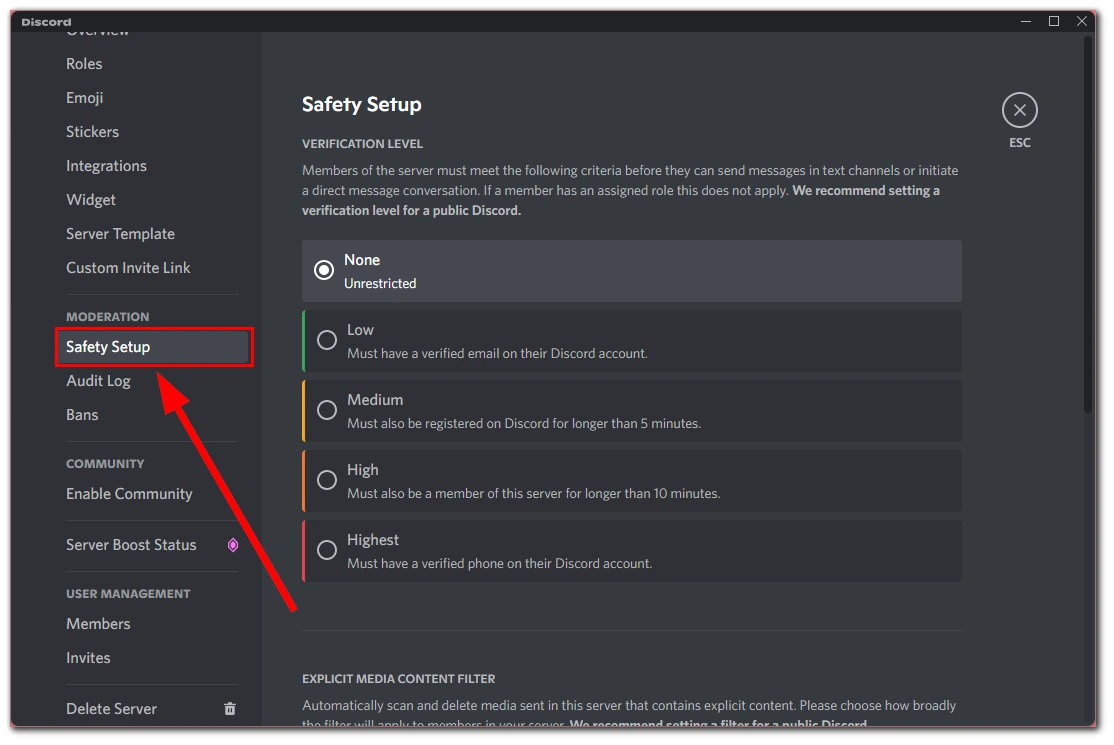 After that, scroll down and click "Enable 2FA Requirement".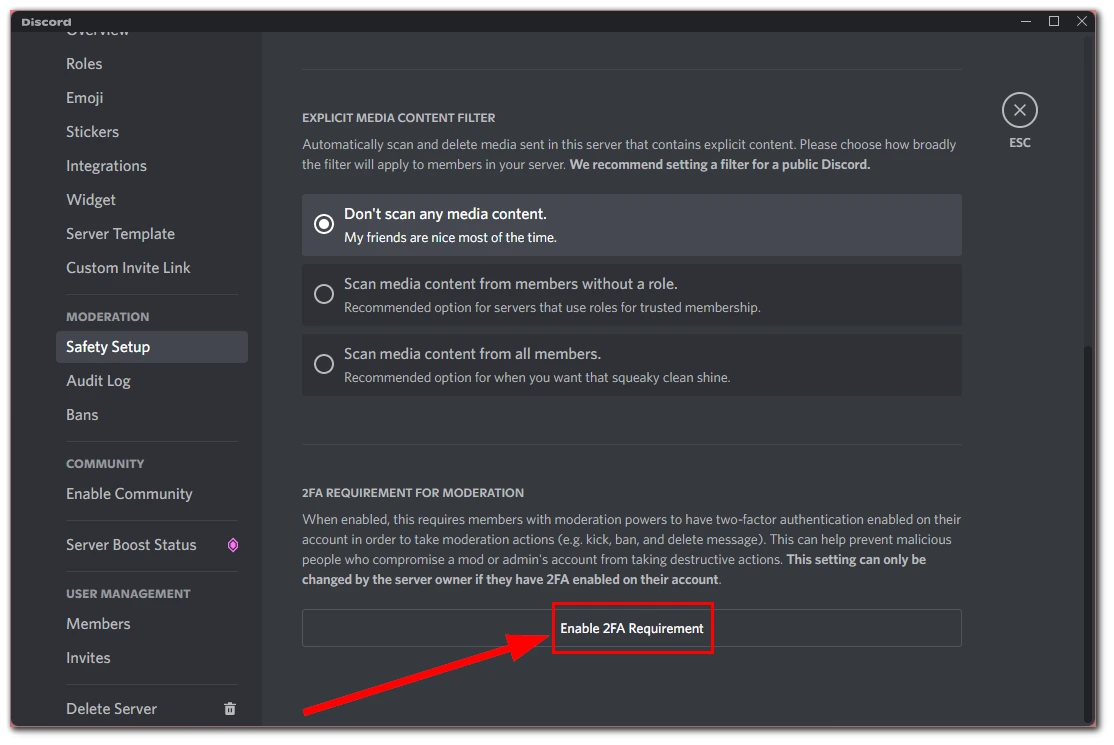 Finally, just enter your authentication code and press Enter.
Now, your Discord server requires members with moderation permissions to have 2FA enabled on their accounts to continue taking moderation actions. This will help to prevent malicious people to compromise a mod or admin's account from taking destructive actions.
To be frank, I never used 2FA on Discord, because for me, it only slows down the process of entering the app and signing in. I don't save and store sensitive data on Discord. That's why it's better for me when I can launch Discord fast and start communicating, adding reactions to different messages, and playing video games with my friends.
Read Also:
Why is 2FA important?
If your account is protected by two-factor authentication, it's harder for attackers to get to your account data. Unlike a username and password, which can still be picked up, 2FA requires codes that only the user has access to. These codes also change after some time (with Google Authenticator, for example, it takes about a minute).
Sometimes you have to disable 2FA. Some users do this because they lose access to their phones and cannot log into their accounts. With the backup codes, you can disable 2FA and log back into your account.
Keep in mind, however, that you will have to create a new account if you don't have the backup codes. The reason is that Discord doesn't have access to your codes, and they can't provide you with new ones either. Thus, it is best if you keep all important codes in a safe and accessible place.