Nowadays, more and more people prefer streaming services instead of regular TV. After all, the benefits of streaming services are obvious and lay on the surface. You can really feel them.
Of course, if you want to watch your favorite movies, series, or sporting events in comfort and without commercials, you will have to pay for them. Often you can buy a subscription, for which you will have to pay a monthly fee. One such streaming service is Hulu.
Sometimes, everyone wants to relax and watch an interesting movie with friends or family. However, it's not always possible for everyone to be in the same room. In recent years, mankind has become accustomed to living at a distance due to the coronavirus pandemic. Programs like Discord are a great help in this.
You can actually stream your favorite movie or TV series on Hulu using Discord. Let's get into the details of how you can do this.
What does streaming mean on Discord?
The most important advantage of streaming services is that you don't have to depend on the schedules made by TV channel executives. You can watch your favorite movie or TV series whenever you want. You could say that a streaming service helps you become truly independent.
However, there are times when you want to watch a movie with your significant other, but she is unfortunately far away from you. Obviously, you can't do it together sitting on a comfortable couch. Nevertheless, there's a way out.
All you need to do is start a screencast session using the Discord app on your PC or laptop. That way, the person on the other side will see the image as well as hear the sound your device is playing. It's very simple. Unlike the Hulu app for the TV, if you watch content from your PC or laptop, you won't be bothered by very loud Hulu ads (assuming you have the appropriate subscription).
Well, here's how you can stream Hulu on Discord.
Read Also:
How to stream Hulu on Discord
If you want to start streaming Hulu on Discord, you will have to solve some significant problems. The main problem here is the DRM protection issue and the black screen when you start streaming. If you use Discord, you've probably tried streaming Hulu or other streaming services like Netflix to Discord, but end up getting a black screen. By the way, Netflix has different hidden settings you may want to try.
Anyway, if you want to stream Hulu on Discord without any black screen problems, you have to follow these steps:
First of all, open the Discord app on your PC or laptop and sign in to your Discord account, if needed.
Then, start a call with your friend or go to the server's voice channel, where you want to stream.
After that, click on the "Screen" button to start streaming.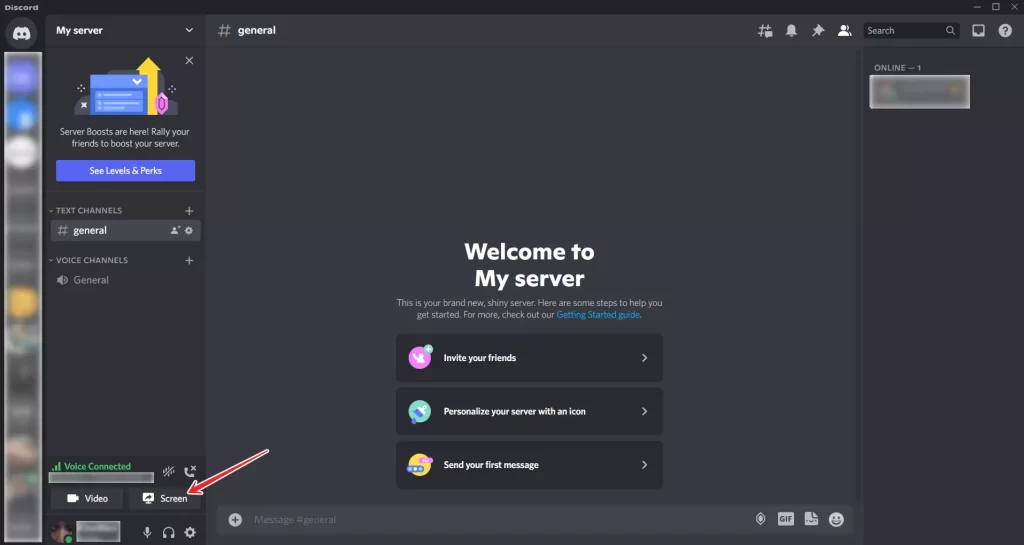 Next, select the screen or your browser window and click "Go Live".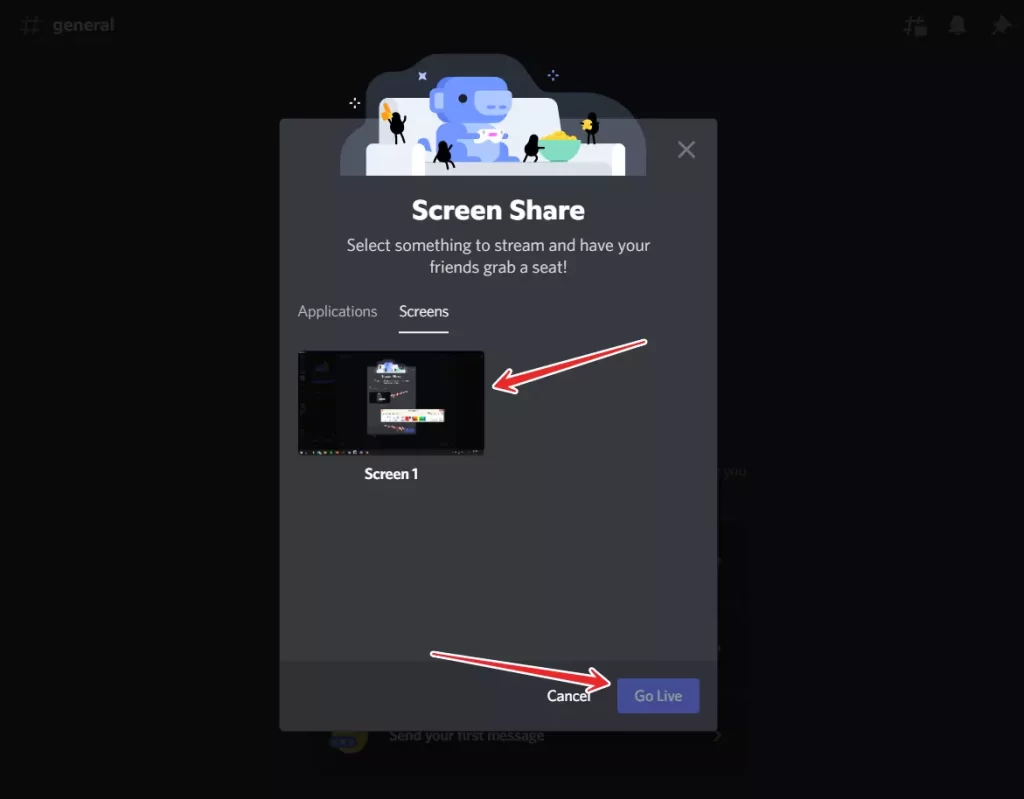 Finally, go to the Hulu official website and start playing the content you want to watch.
Once you have completed these steps, you will be able to stream Hulu on Discord.
How to disable hardware acceleration on Google Chrome
The most common problem with streaming Hulu to Discord is the black screen problem. When you stream any content to Discord with Hulu as the source, all you see at first is a black screen and nothing else on the receiving end.
If you don't want to see a black screen when watching Hulu on Discord, turn off hardware acceleration on your Google Chrome browser.
First, launch your Google Chrome web browser on your PC or laptop.
After that, select "Settings" from the three dots menu in the top right corner.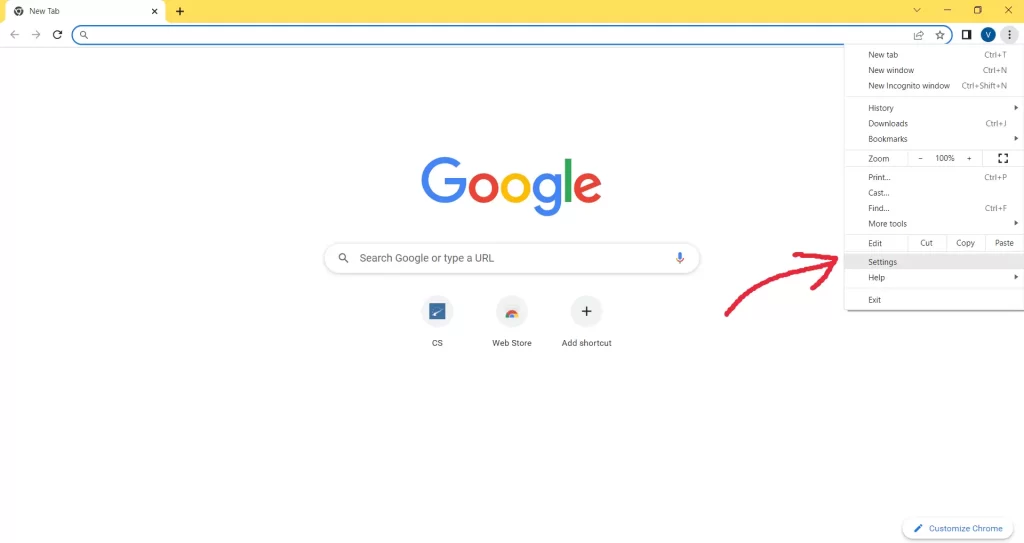 Then, choose the "Advanced" options and click on the "System" tab.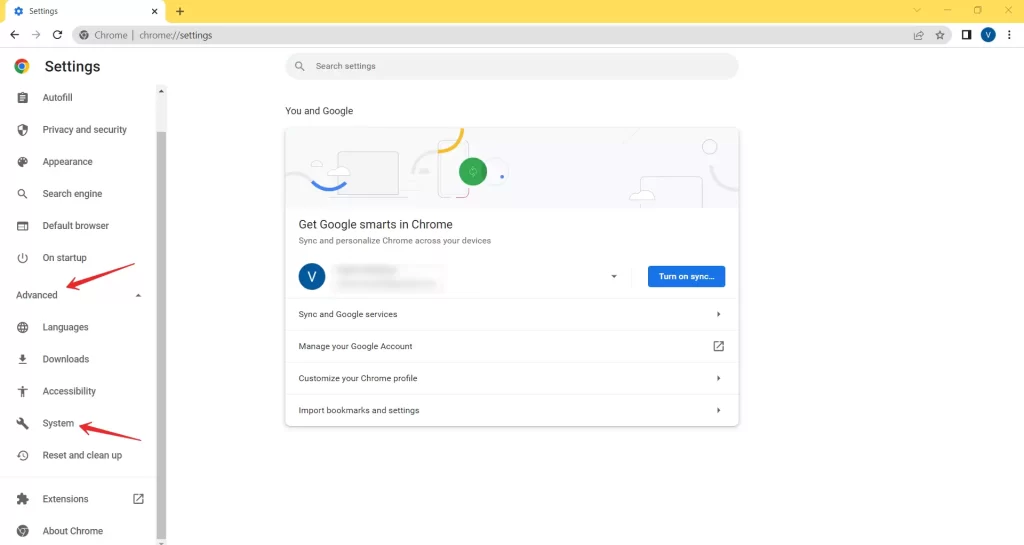 Finally, turn off the "Use hardware acceleration when available" option.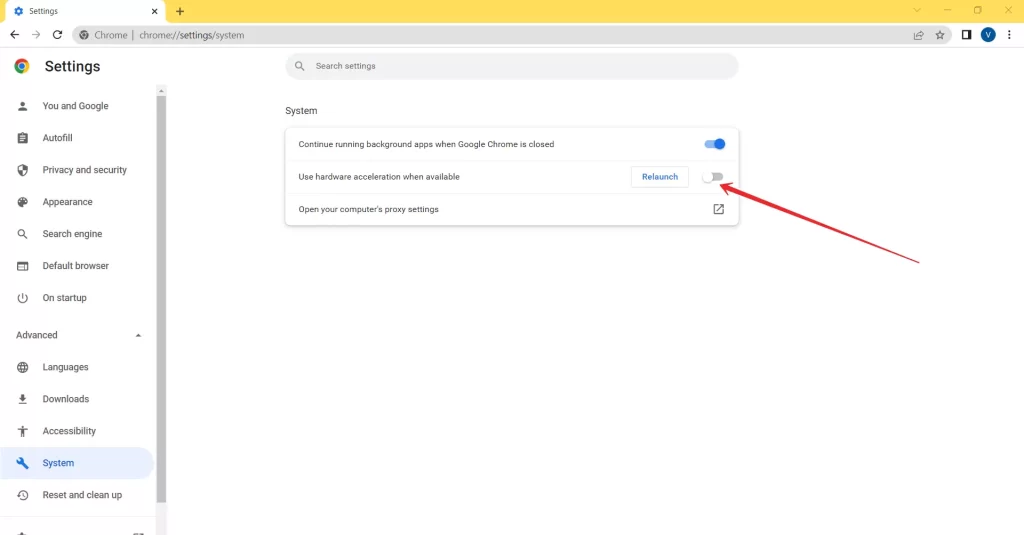 Once you have completed these steps, you will be able to turn off hardware acceleration on Google Chrome.
Furthermore, you have to be aware that you can also play music on Discord and listen to it with your friends.
Read Also:
How to stream Hulu on Fire TV Stick/Android TA on Discord
As for how to stream Hulu via Discord without a black screen, in order to stream Hulu with friends on your Fire TV stick using Discord, first set up the movie or program on Hulu and then just go live on Discord as described above. All you have to do now is connect your PC or laptop to the TV after you set up the Discord connection.
The most common method is to connect the HDMI port to the TV. This method is fantastic, although the only drawback is that few people have HDMI long enough to video chat and watch movies at the same time. Yes, sometimes HDMI has audio problems, but they can be solved.
So, if you want to watch Hulu on your Fire TV Stick using Discord, you have to follow these steps:
To use the Alexa key on your Amazon Fire TV controller, say "Air screen".
Then, you will see a list of apps.
Next, select the first one and download it to the Fire TV Stick. You can get apps from the Google Play store if you have a Smart TV.
Open the "Air Screen" app. This will enable Chromecast and Miracast properly on your Amazon Fire TV Stick or Android TV. If your TV is already equipped with these features, you may not need to use this software.
After that, you can mirror the PC to the Android TV using the Air screen app.
Create a Hulu watching party on your PC or laptop. Now, on the bottom right of your Windows PC or laptop, go to the Action Center and select "Project". You can also select "Connect" and directly select the device you want.
Now select your Fire TV from the drop-down menu.
You can now use your firestick to host a Discord party. You can use your computer's webcam and microphone to chat with friends while watching a movie on the big screen and hearing their voices.