Spotify is a popular music streaming service that offers users a wide range of features. One is Spotify Premium, which provides ad-free music streaming, offline playback, and high-quality audio. However, there may be times when you want to cancel your Spotify Premium subscription.
To begin with, it's important to note that after canceling Spotify Premium your account will automatically revert to the free version. This means you'll have to listen to ads and won't be able to download songs for offline playback. Also, if you cancel your subscription before the end of your billing cycle, you will still have access to Premium features until its end.
So let's look at how to cancel your Spotify Premium subscription.
How to cancel Spotify Premium via the website
The easiest way to cancel your Spotify Premium subscription is through the website. Here are the steps to follow:
Go to the Spotify website and log in to your account.
Click on your profile picture in the top-right corner of the screen.
After that, select Account from the drop-down menu.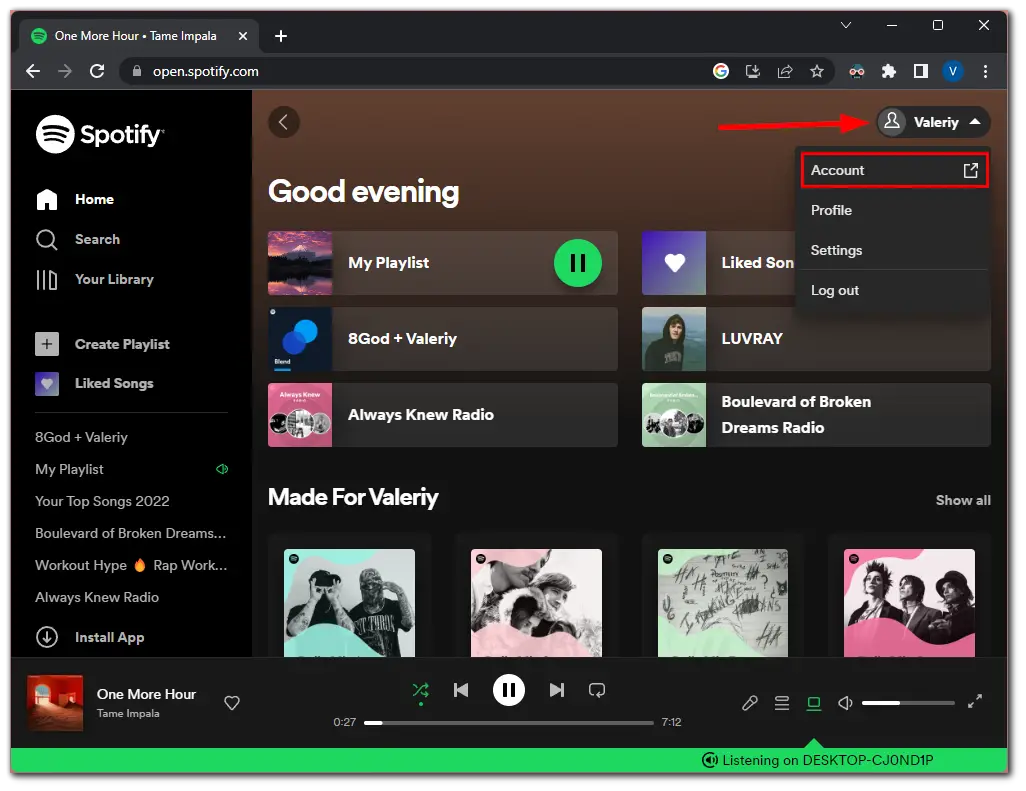 Scroll down to Your plan section and click Change plan.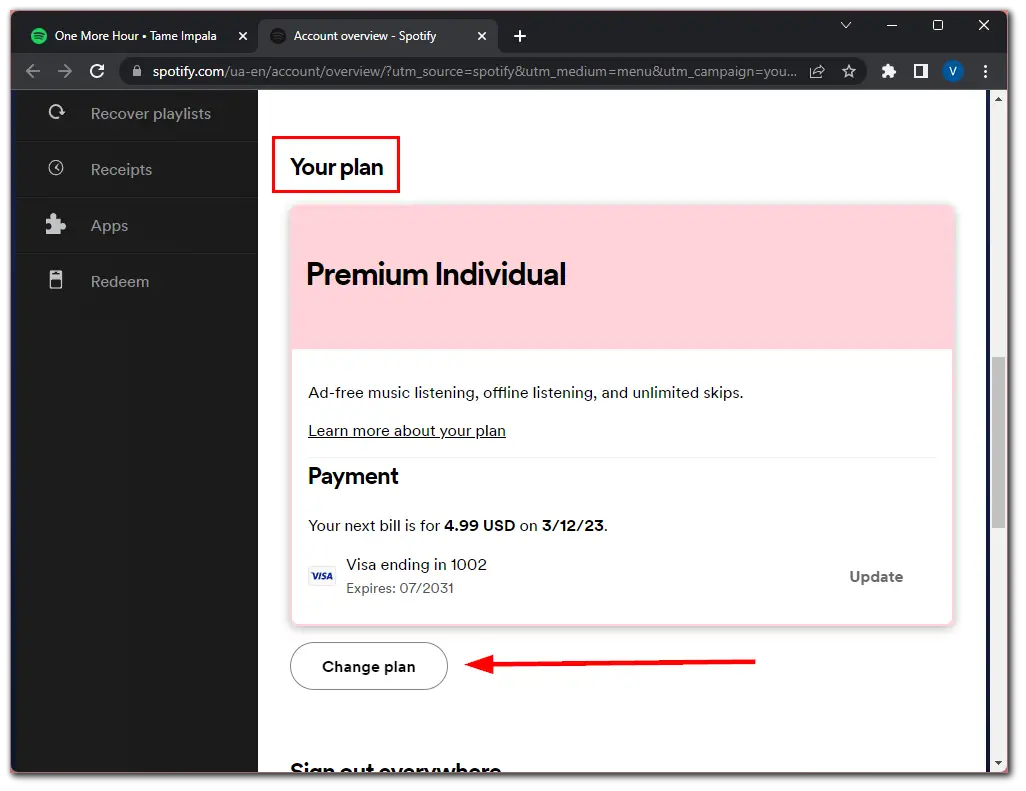 Then scroll down to the Spotify Free plan and click Cancel Premium.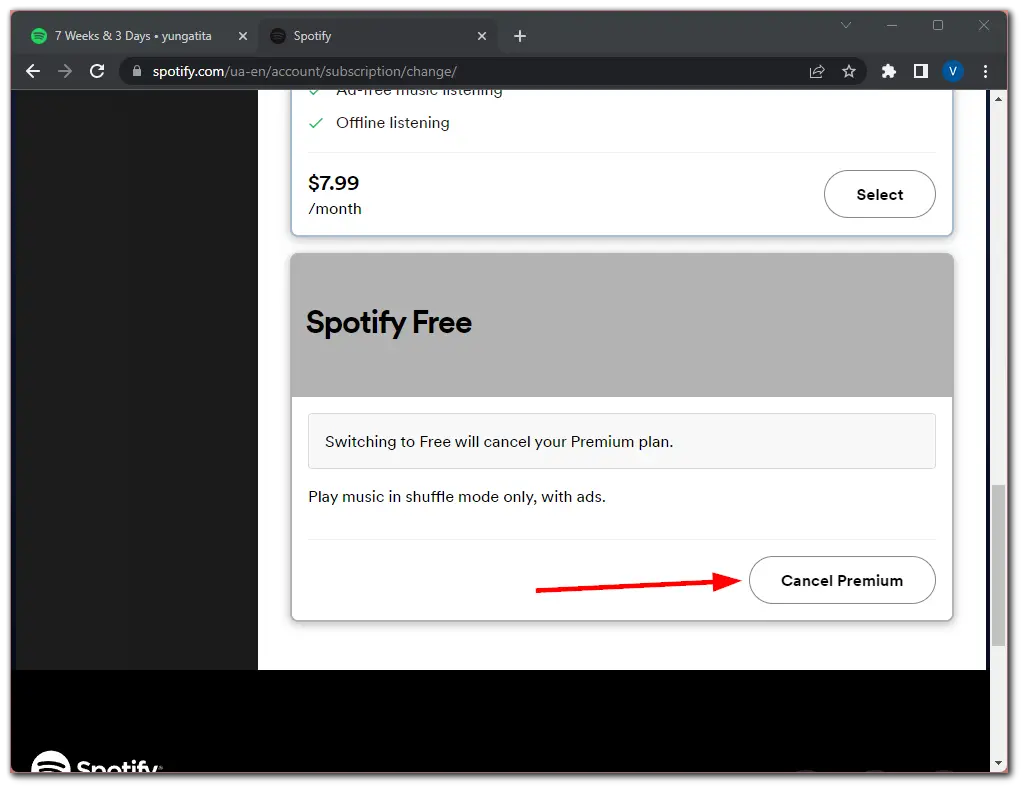 Finally, follow the prompts to complete the cancellation process.
Once you have completed these steps, you will still have time to enjoy the Premium until your billing cycle ends. Remember that you can renew your subscription at any time.
If you're having trouble canceling your Spotify Premium subscription or if you signed up for Spotify Premium through a different method, you can contact Spotify Support for assistance. Also, you should know that if you're part of a Family Plan, you can leave the plan but not cancel the subscription. Only the owner of the plan can do that.
How to cancel Spotify Premium on iPhone
You can cancel Spotify Premium if you initially used your iPhone to subscribe to it. But Spotify doesn't offer to do this via the app. That's why you should use your iPhone's Settings. So follow these instructions:
Open Settings on your iPhone and go to your Apple ID profile.
Then select Subscriptions.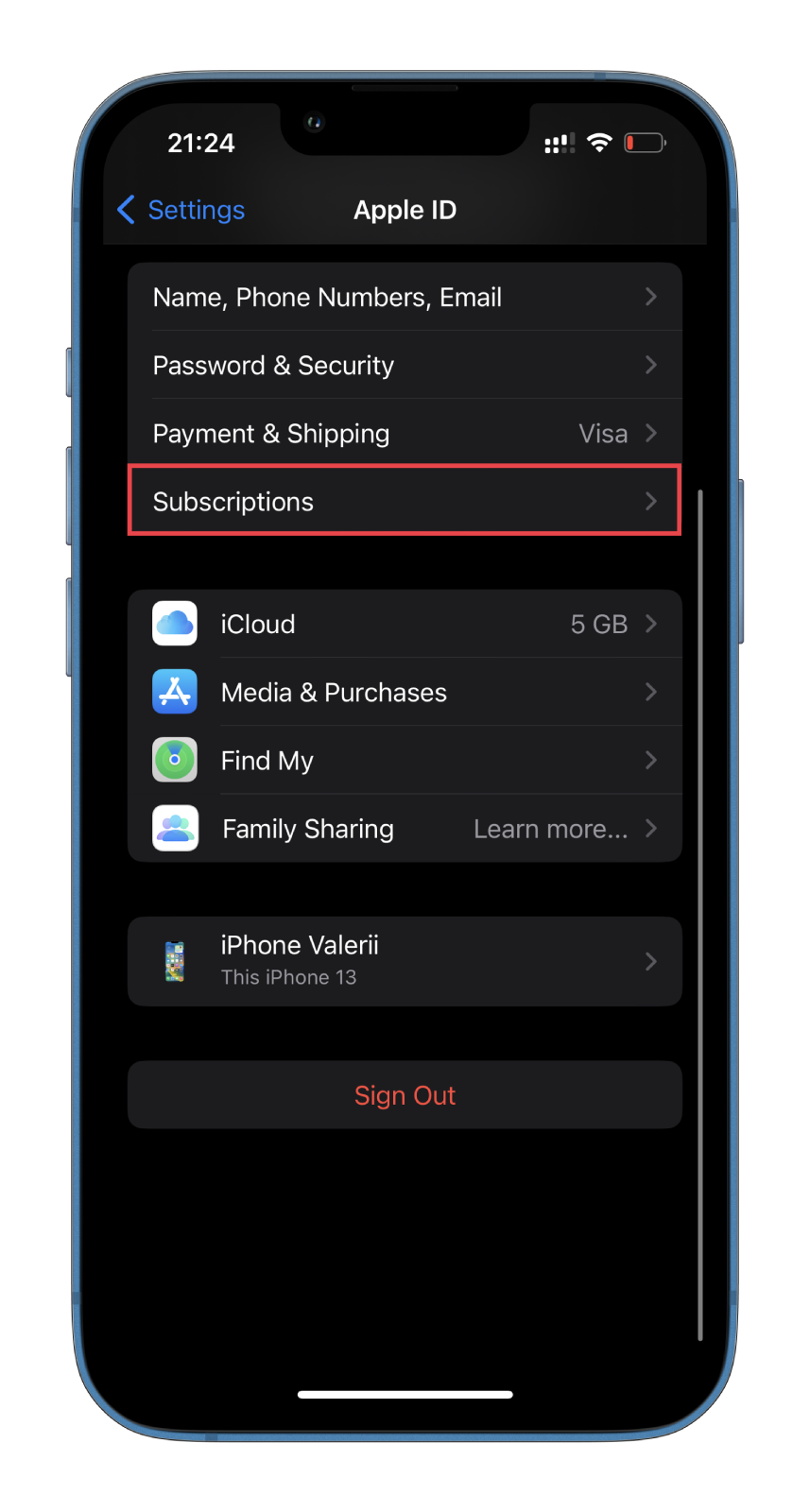 After that, select your Spotify Premium subscription.
Finally, tap Cancel Subscription.
If you subscribed to Spotify Premium using another device, you can't cancel it via your iPhone. Therefore, you'll need to use the website (this method always works). Regarding Android, you'll also have to use the Spotify website to unsubscribe.
How to find the Premium billing date in the Spotify mobile app
To find the billing date for your Spotify Premium subscription, you can follow these steps:
Open Spotify and go to Account.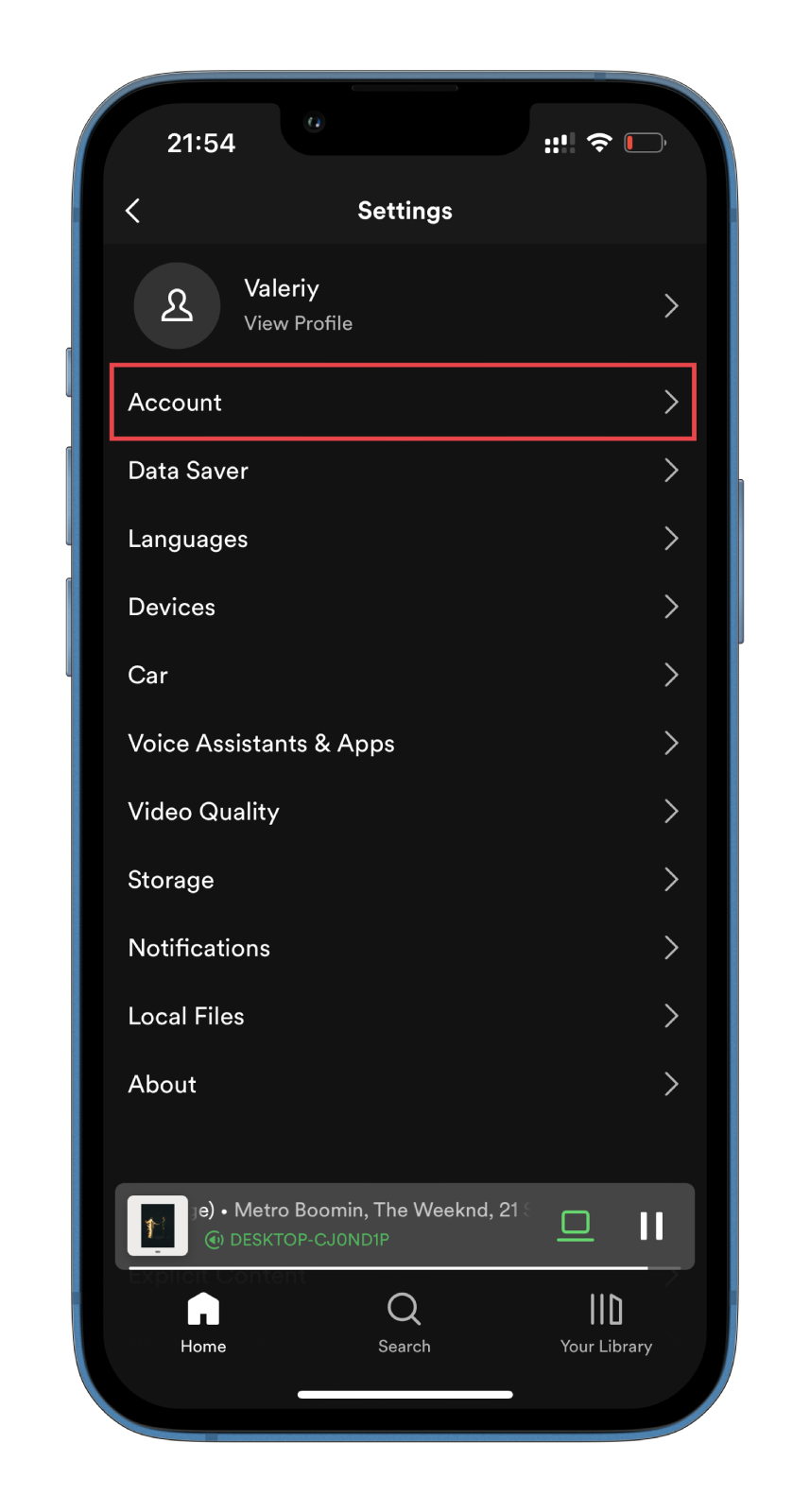 Then select your Premium plan.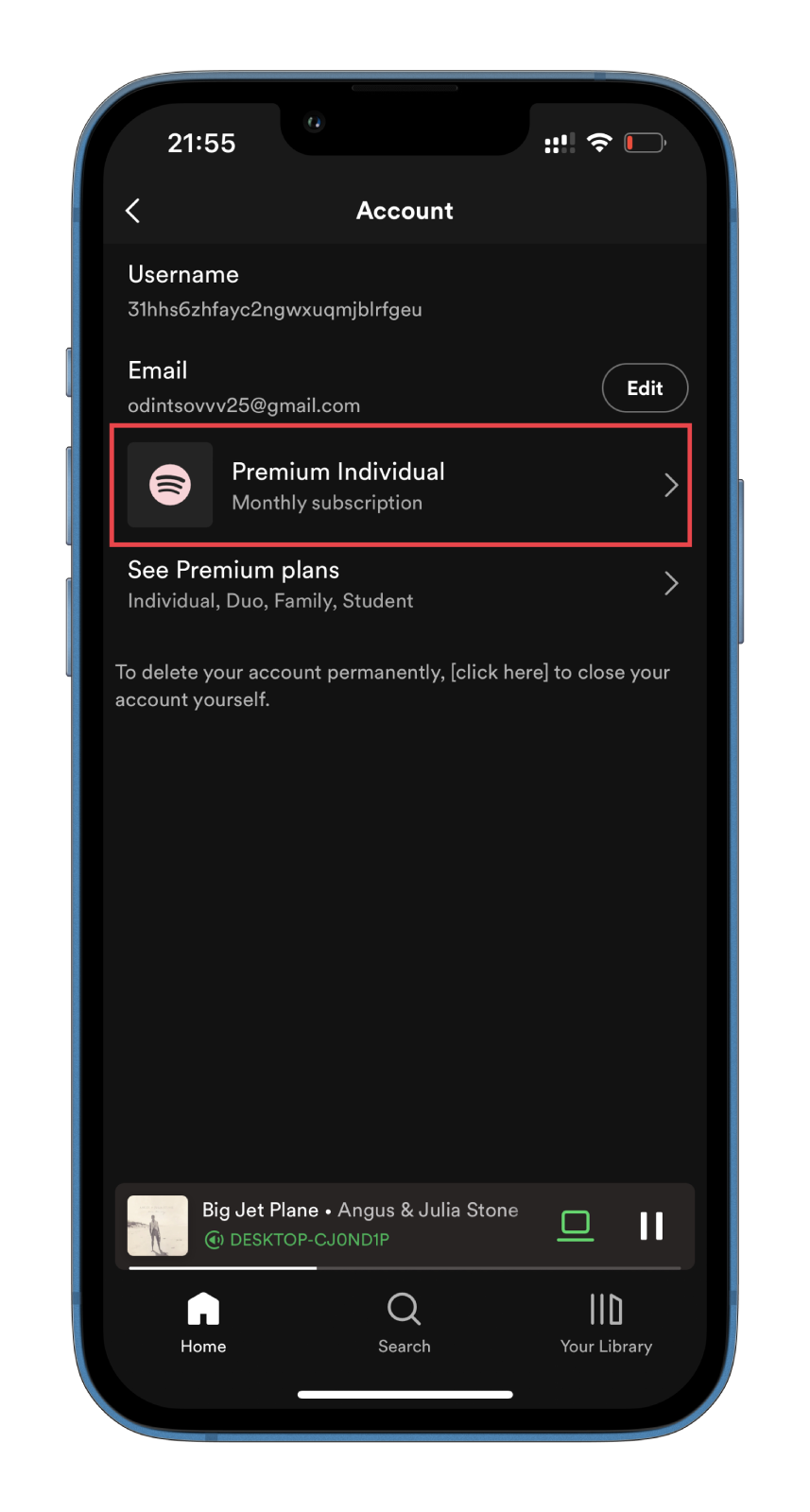 Finally, you should see the details of your subscription, including the billing date.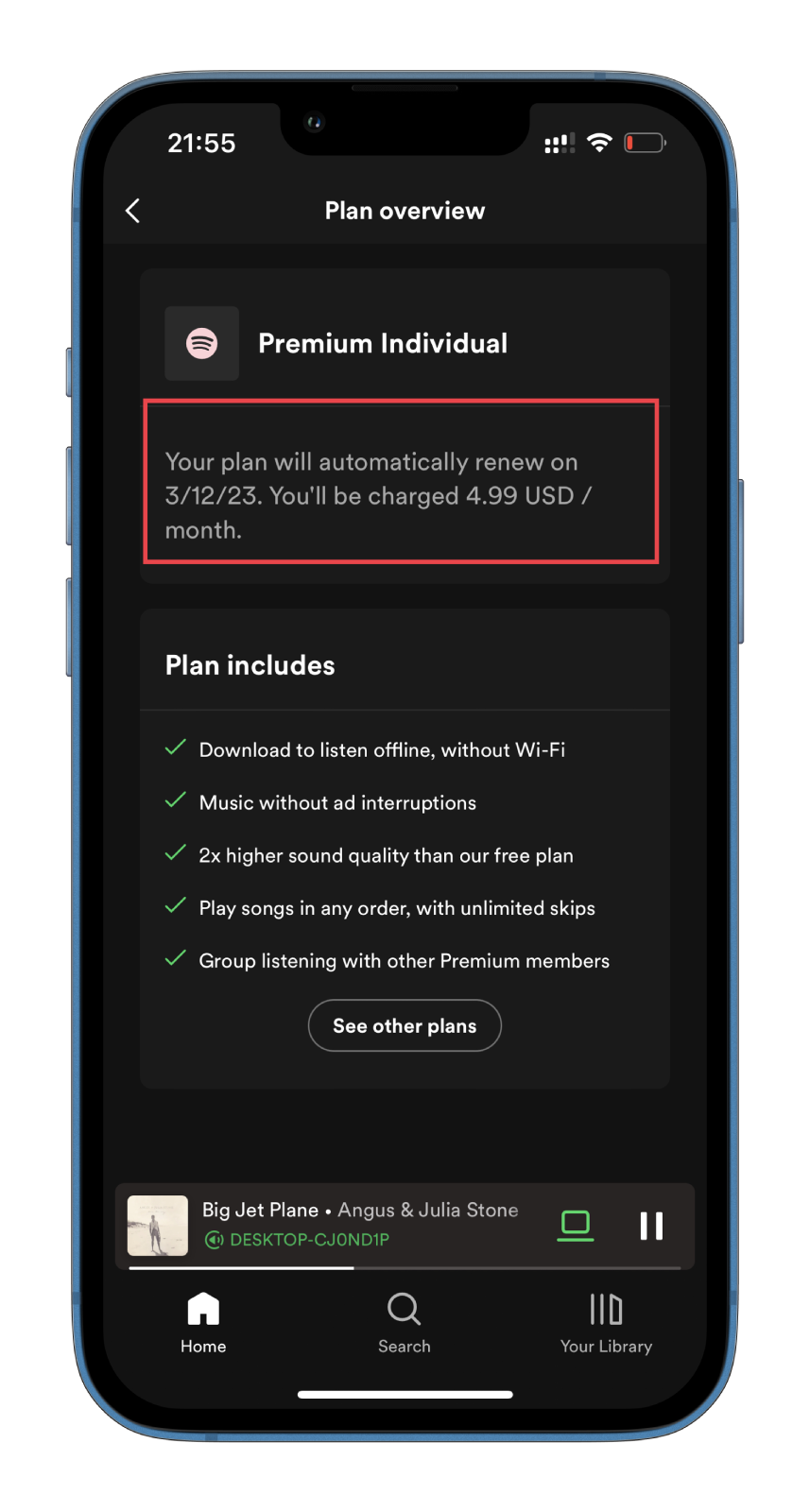 Now you can correctly calculate by what date and how much money you need on your bank card to pay for your Spotify and other subscriptions if you have them.
What are the reasons for canceling Spotify Premium?
You may choose to cancel your Spotify Premium subscription for several reasons. Here are some of the most common:
Cost: Spotify Premium is a paid service, and some users may find the cost too high or not worth the additional features. In that case, you can entice your friends or family members to join the Family Plan and pay less. You can also pay half as much if you are a student (Student Plan).
No longer using the service: You may have initially signed up for Spotify Premium but have since stopped using it or switched to a different music streaming service.
Technical issues: You may be experiencing technical issues with the service, such as difficulty accessing certain features or problems with playback.
Dissatisfied with the service: You may be dissatisfied with the service for various reasons, such as a limited selection of songs, poor audio quality, or difficulty finding new music.
Ultimately, deciding to cancel your Spotify Premium subscription is personal, and you should do what's best for you and your situation.
What are the reasons for staying subscribed to Spotify Premium?
You may stay subscribed to Spotify Premium for several reasons. Here are some of the most common benefits of the service:
Ad-free listening: With Spotify Premium, you can listen to music without any interruptions from ads, which can be a major annoyance for many users.
Unlimited skips and downloads: Spotify Premium allows you to skip as many songs as you want and download as much music as you want for offline listening, which is not available in the free version.
High-quality audio: Spotify Premium offers higher-quality audio streaming than the free version, which can make a significant difference in the overall listening experience.
Access to exclusive content: Spotify Premium subscribers have access to exclusive content, such as early album releases, behind-the-scenes content, and live sessions from famous artists.
Personalized recommendations: With Spotify Premium, you can use personalized recommendations based on your listening history and preferences, which can help you discover new music and artists you may not have otherwise found.
Compatibility with multiple devices: Spotify Premium can be used on multiple devices, including smartphones, tablets, laptops, and smart speakers, making it a versatile and convenient option for music lovers.
If you value ad-free listening, high-quality audio, and personalized recommendations, then the premium service is worth the cost.