Advertising on TVs became a massive phenomenon in the early millennium, the era of the memorable dot-com. And today, with Smart-TV capabilities almost as good as smartphones in terms of functionality, Sceptre TVs are no exception when it comes to ads.
Television advertisers are having another feast: in addition to the traditional demonstration in TV programs and in the intervals between them, there is now a demonstration of commercials that aren't actually connected to the content. Of course, such aggressive advertising suits few ordinary viewers. Whether it's possible to get rid of such intrusive marketing things as Demo mode (Store Mode), you'll find out here.
What is Demo or Store Mode
The smart TV receiver is gradually replacing the conventional ones. It's not hard to guess why. With a high-quality Air Mouse, this TV becomes more than just a functional media player – with it you can turn your TV into an almost full-fledged replacement for your smartphone and even your PC. Add to this the possibility to connect a wireless keyboard and install a huge variety of applications, and you really get a smartphone on a big screen with a resolution inaccessible to mobile gadgets or laptops.
Alas, but for all these conveniences you have to pay for an additional portion of advertising, the dominance of which is already a lot of unpleasant moments.
Why does this happen? It turns out that most models of TV sets with a Smart set-top box can operate in two modes. One of them, the demo mode, is actually for use in stores that sell TV equipment. You probably know what these TVs look like in stores, with bright and impressive commercials running tirelessly.
There is also a second mode, home mode, on which there are no commercials. When you buy a new Smart-TV, sometimes it happens that salespeople forget to turn off this mode. Sometimes it also happens at home, when a curious household member activates demo mode accidentally. In such cases, the usual display of TV programs every 5-10 minutes is interrupted by the display of advertisements.
However, as you have already understood, it's possible and necessary to cope with this problem – just change one TV mode to another. How to do this, we will tell you.
Read Also:
How to get rid of Demo mode on Spectre TV
On your remote find the Menu button, find Setup and scroll down till you find TV MODE. The last one allows the user to select between RETAIL MODE (Store mode) or HOME MODE.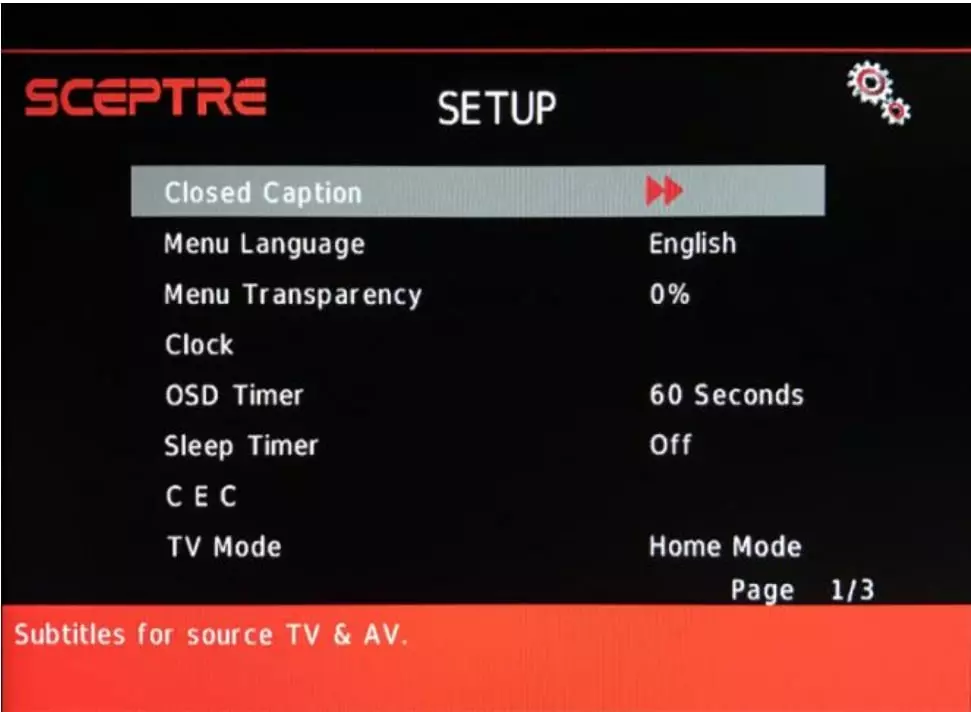 By the way, the Retail mode uses more electricity however offers better performance. On the other hand, the Home mode offers less power usage at the expense of just regular performance.
How to reset Sceptre TV with or without remote
Technology is not always reliable, so when you encounter bugs or glitches in your Sceptre TV, the best solution is to try restarting it. This method is the most reliable and simple if the TV started to work with malfunctions, etc. In addition, it takes only a few minutes.
There are only two ways to reset your Sceptre TV – a hard reset and a factory reset. The first option is fast and works properly if you first encounter a problem and you want to safely reset the TV to fix issues like bugs and glitches, your screen turning on and off constantly, or issues relating to volume or channel controls. The second option is suitable for more severe problems or when the first method did not help.
In order to perform a hard reset:
Using your remote, click the 'Menu' button.
From there, it will bring up a list where you can find 'Settings'.
Scroll through the menu and find the section that's labeled 'Device Preferences', select that option and you'll now see a few different choices – 'Reset' or 'Reset to Factory Settings. 
Choose 'Reset' to do a general reset and wait when your TV will turn off for a few seconds, then turn back on.
However, when a reset didn't fix the problem, it might be worth trying a factory reset. This is a reset option where your TV resets all the settings you have selected yourself after purchase and returns to the state when you first unpacked it. Here is how to do it:
Click the 'Menu' button on your Sceptre TV remote and access the 'Settings'.
Scroll down to where you see 'Device Preferences' and select it.
You'll then see a choice, depending on your Sceptre TV model, that will either say 'Factory Data Reset' or 'Erase Everything'.
Select this and when prompted, press 'Okay'. 
This way all bugs should disappear.
How to turn off demo mode on different brands of TVs
The essence of the method is very simple: you need to set the home mode in the settings instead of the store mode. However, on different models, it's not always easy to get into these settings, so it makes sense to describe this process in detail for different well-known TV brands.
Canceling demonstration mode on Philips TVs
If after buying a TV panel of this European brand you start periodically spinning ads of this brand – it means that the device has turned on store mode. To disable it, you need to perform a number of simple manipulations:
The first step is to check if the software version of your TV is up to date – this might be the reason
In any case, disable the demo mode. To do this, press the "Menu" button on the remote control.
In the list that appears, select "Frequent Settings".
Then successively press "All" and "General".
Now you need to click on the item "Location". The option "Home" will become available, this is what you should select instead of "Store".
The only thing left is to switch off the TV, after switching it on, the changes you made in the settings will work and the display of advertisements will stop.
Turning off demo mode on Sanyo TV
Try pressing the "Menu" button on the unit and hold this button for about 15 to 20 seconds. This should release the demo mode.
As you can see, the general scheme is the same everywhere: you need to get to the display mode settings and select home mode.
Read Also:
How to connect a Sceptre TV to Wi-Fi via Settings
In case you have a Sceptre Android TV, you are able to connect your TV to Wi-Fi via network settings. Here's how you can do it:
From your home screen, navigate to the Settings icon located in the top right corner of the TV screen.
Under Settings, select Network & Internet and make sure the Wi-Fi option is activated (using the slider button)
Under available Wi-Fi networks, scroll down and choose your network. You will be prompted to enter a password.
Enter your password using the remote and then click Okay. The TV will automatically connect to the Wi-Fi, and you can now start streaming.
That's how you install Sceptre TV and adjust it to your preferences. If you have a model that is not on the list and you could not disable the demonstration mode, share the problem in the comments specifying the brand and model.