Amazon gift cards are a lifeline when you don't know what to gift a person. They can be either physical or eGift cards, which you receive via email or as a text message. However, while you can send physical cards to your friends or family members as a gift, it's not so simple with the e-version.
You can buy anything you want with the money you get from a gift card. Moreover, you can send eGift cards to other people. However, if you're going to have already applied the bonus to your Amazon account, you can't transfer those funds to someone else or your other account.
Well, let's take a closer look at how it works.
Can you transfer your Amazon eGift balance to another account?
The answer is no. Unfortunately, there's no option to transfer your Amazon eGift Card balance to another account because of the company's policy and rules. It restricts transferring the gift card balance to another Amazon account once the claim code has been redeemed. There are also other restrictions. Here are the main ones:
Sell or exchange a gift card for cash or other prepaid payment instruments.
Give or receive gift cards as payment for goods or services outside of Amazon. An organization or individual who isn't an Amazon employee asking for Amazon.com gift cards or third parties as a payment method for goods or services may be fraudulent.
Purchase gift cards from unauthorized third parties, as Amazon cannot guarantee their legitimacy.
Redeem the gift card on the account if you aren't the recipient.
Use the gift card for any illegal or unauthorized purpose.
The only option on how to redeem your Amazon eGift card or its balance to another account is to contact customer service. However, since the company explicitly warns users to make sure the account they are logged into when redeeming the gift card is correct, there is almost no chance they will cancel the redemption and allow it to be redeemed in a separate account.
It's still worth a shot, though.
How to contact Amazon customer service to transfer your eGift card balance to another account
So if you want to get the Amazon customer support team to ask for eGift card redemption reverse, you can follow these steps:
First, visit the Amazon website and sign in to your account if needed.
Then click on the Customer Service tab at the top.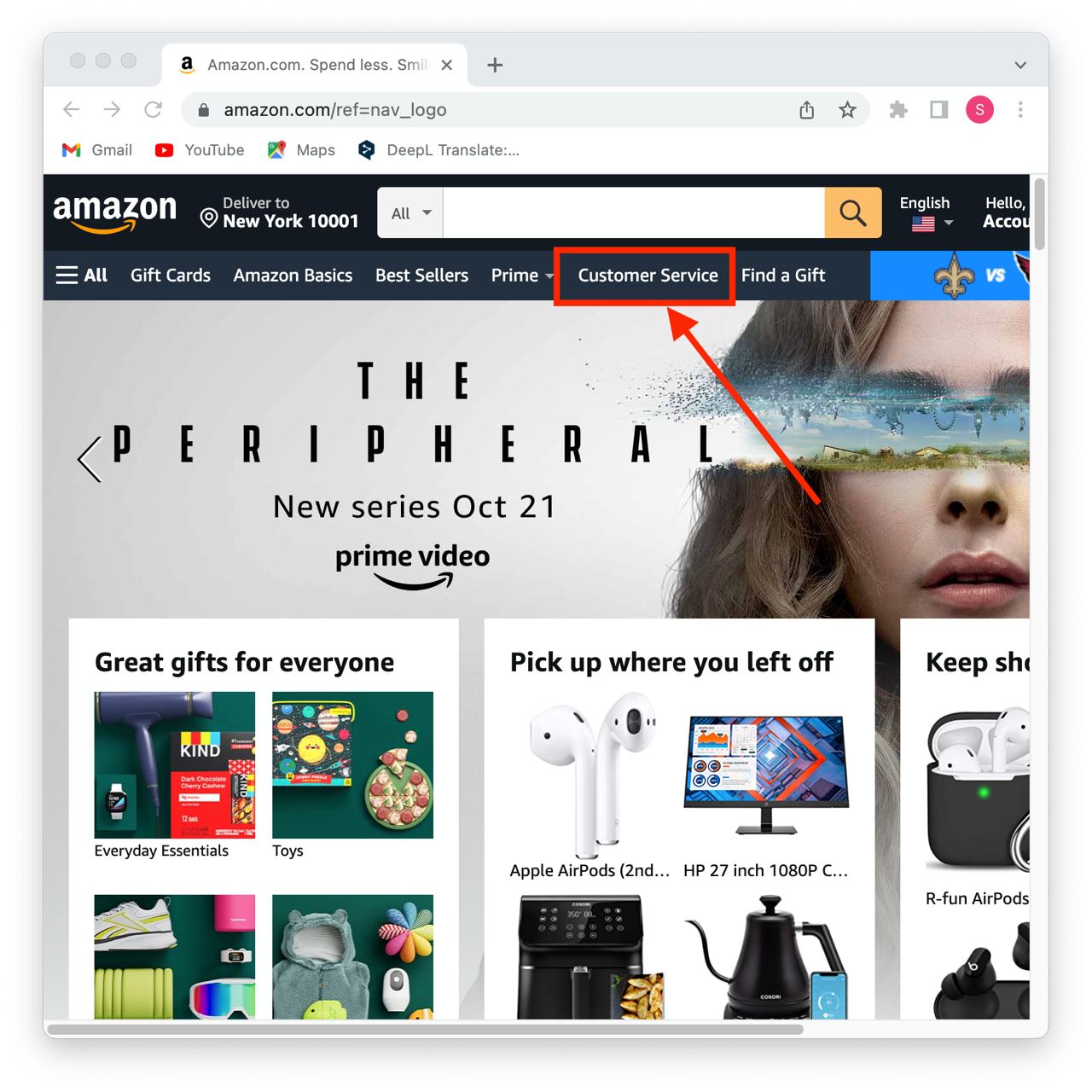 After that, choose Payments, Charges, Invoices & Gift Cards.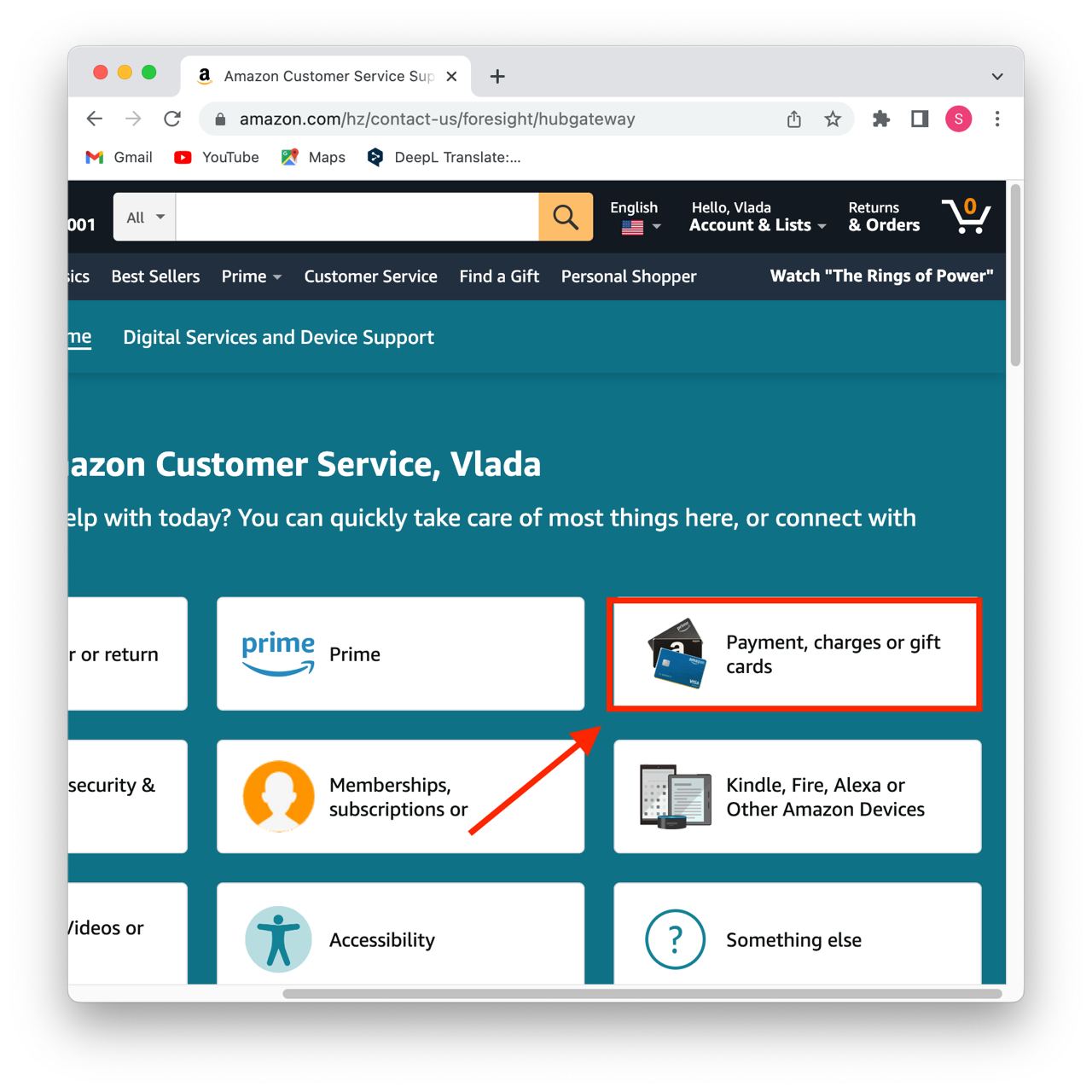 Next, click Problem with a Gift Card.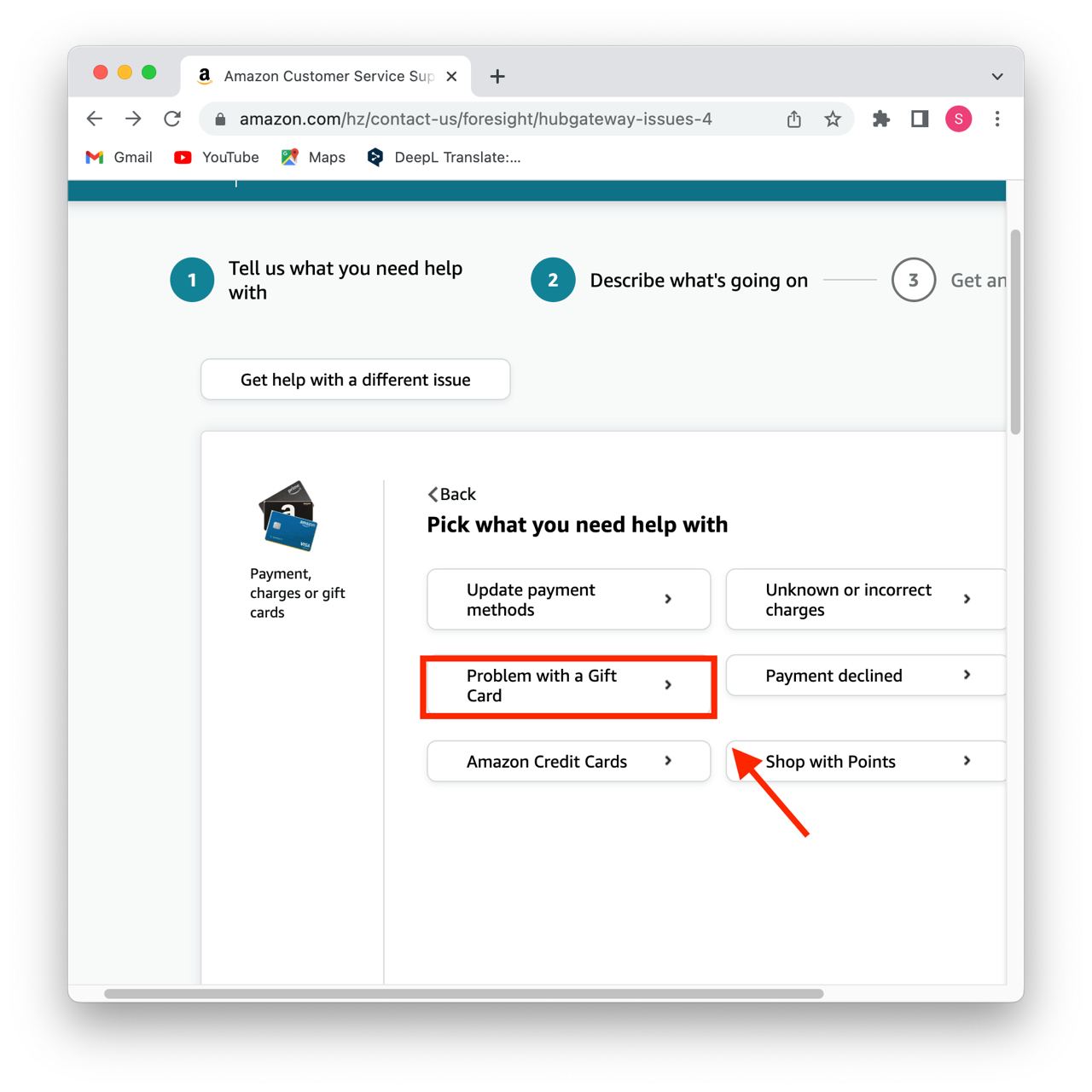 In the following section, select Applied to wrong account.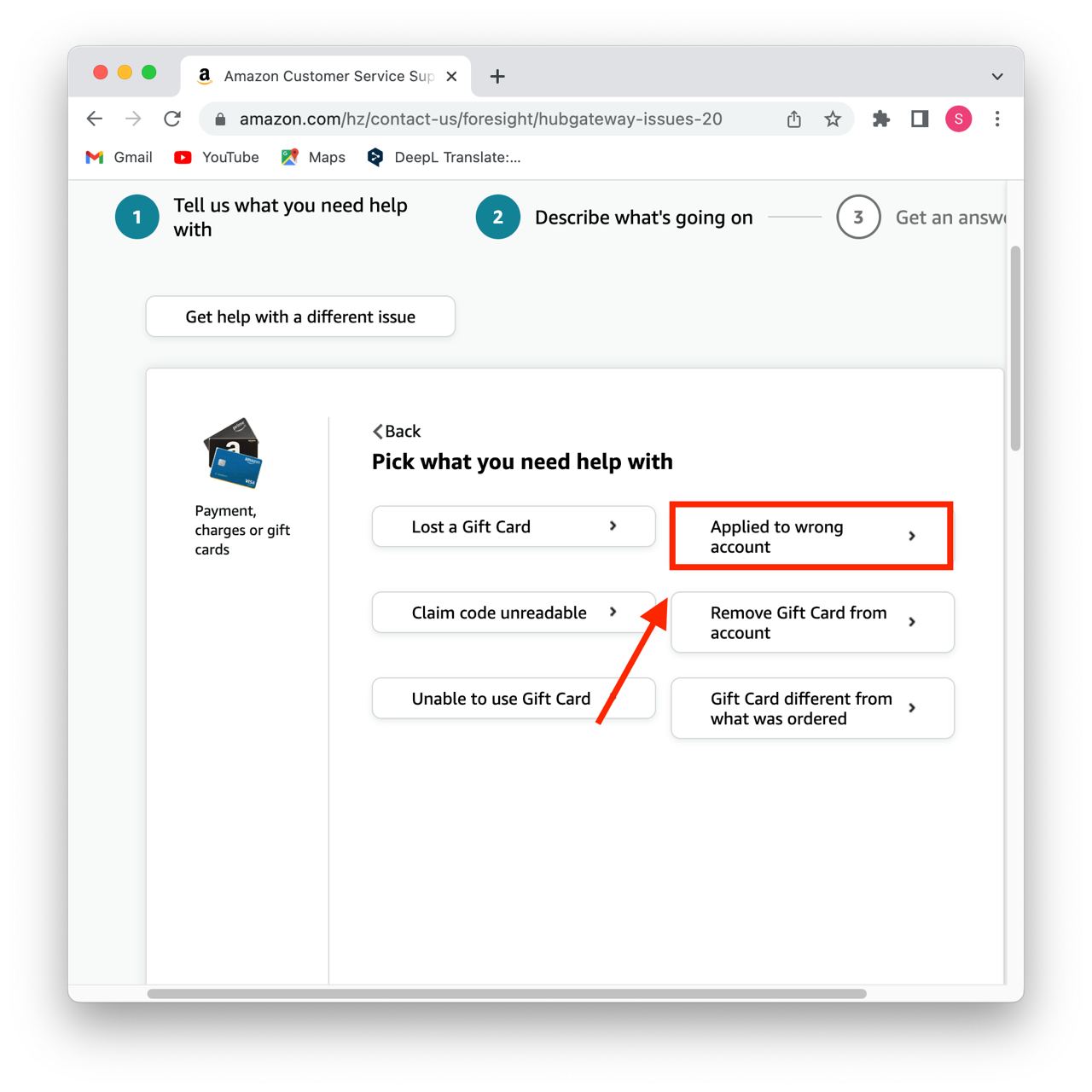 Now, click on the I need more help button.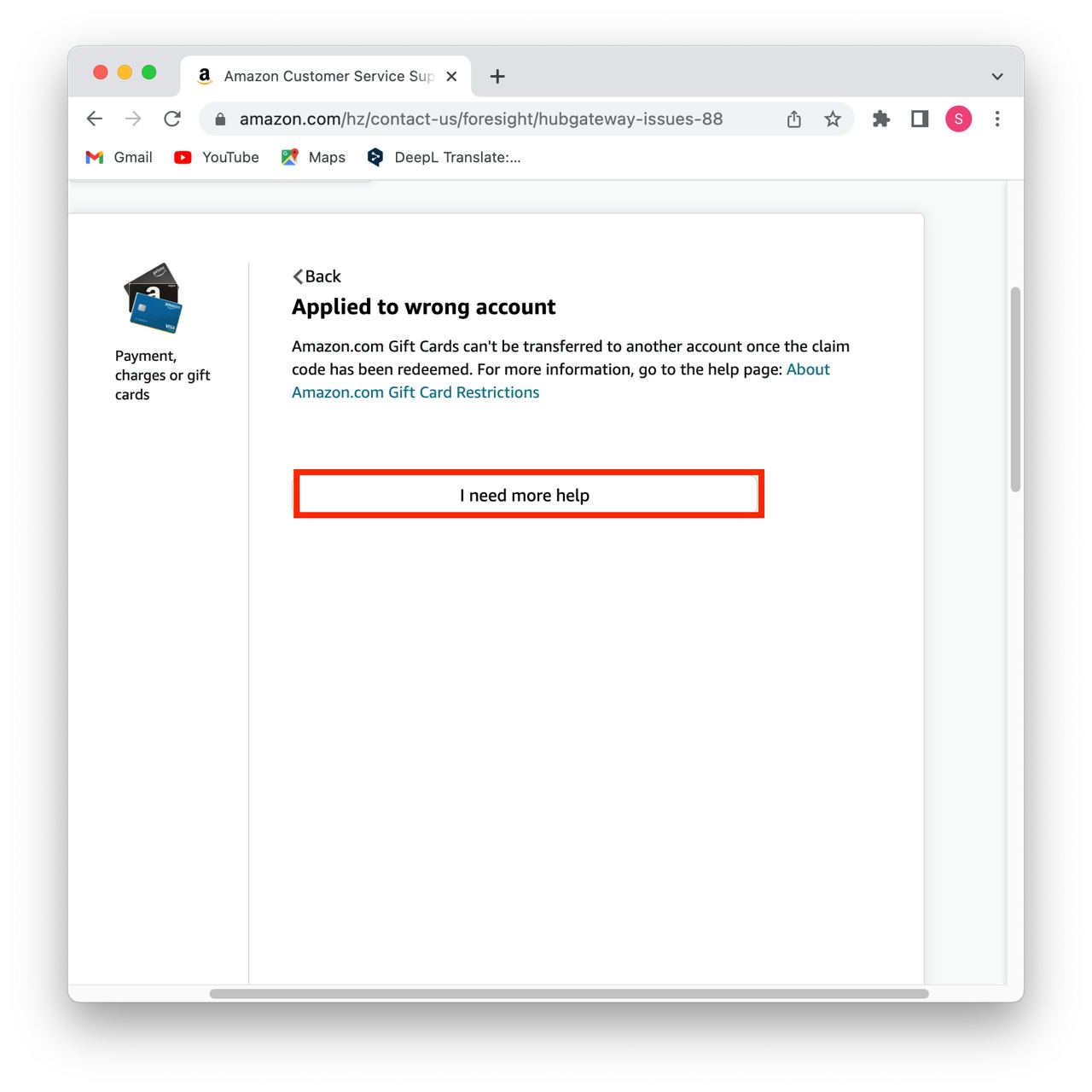 Finally, you can Request a phone call or Start chatting.
As mentioned earlier, remember that it is unlikely that Amazon will grant your request. However, as an exception to their policy, they may decide to redeem it back. It depends on the individual case. Also, you should know that this is only possible if the eGift card balance is untouched. If any eGift card balance has been spent, you won't be able to return it under any circumstances.
Read Also:
How to send an eGift card to your friend's account on Amazon
If you were able to convince Amazon customer service to redeem the eGift card back, then you're the lucky one. Now, you can redeem it to another account. Furthermore, you can send this card as a gift to your loved ones on Amazon. To do so, follow these instructions:
Navigate to the Amazon eGift Cards webpage.
Then select the card design. You can choose from Standard and Animated designs or upload your own photo or video.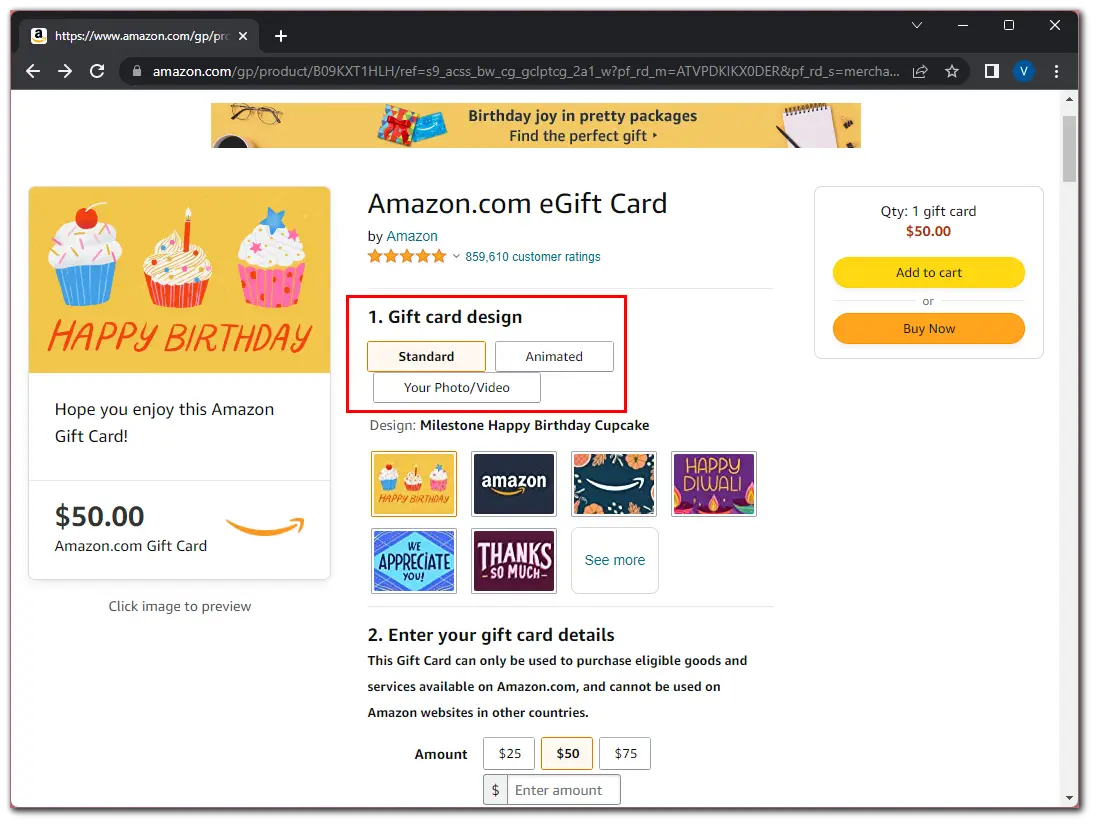 After that, select the amount and fill in all the necessary information.
Finally, click Buy Now and complete the payment process to send the eGift Card.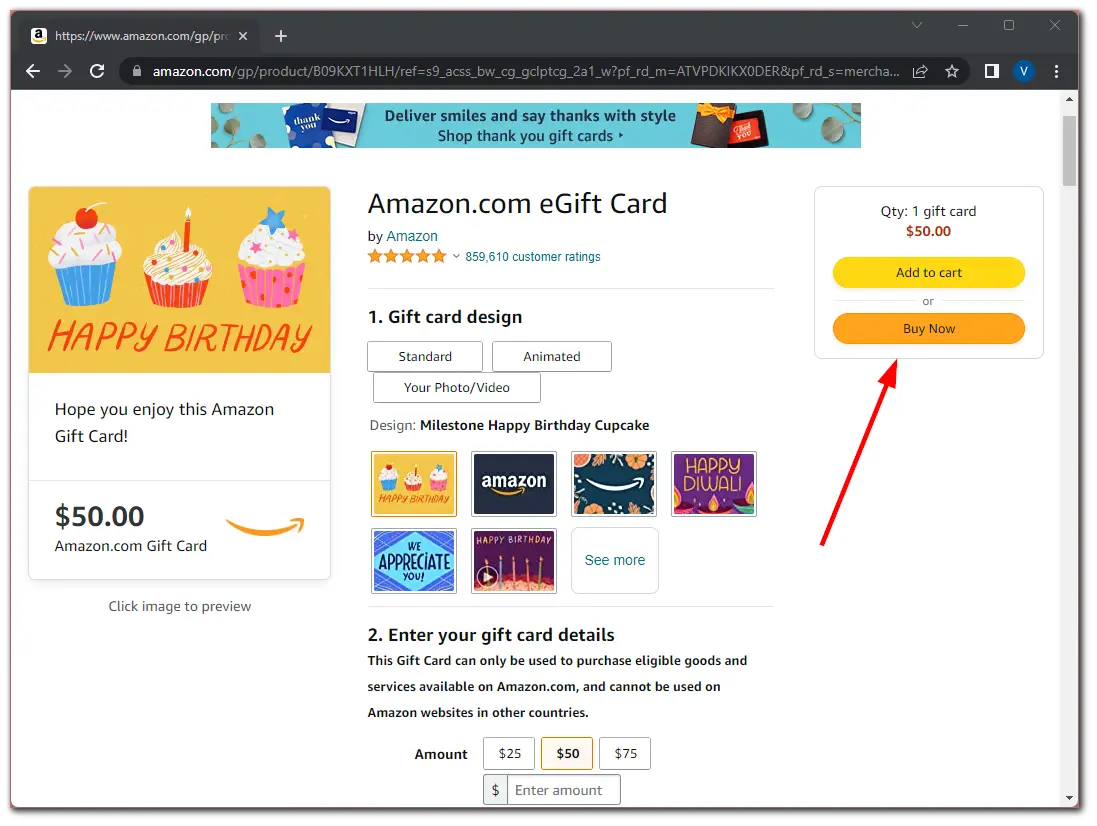 The person on the other end will receive the amount in their Amazon Pay account.