I can't say that I'm a gamer, so I haven't spent a lot of money on Steam games. However, I'm playing Dota 2 and spending a lot of money on cosmetics here, as well as on Dota Plus subscriptions and Battle Pass (every year pass that comes with The International). And it was interesting to check out how much I've spent on Steam because I have no clue about the sum.
You may spend even more if you're a gamer playing different titles. And both the good and bad thing is that we forget how much we have spent. Although sometimes the money is enormous, that's usually tiny but frequent transactions.
So your spending's Steam report can remind you how much you've invested in your fun.
In Steam, you can check your transaction history; almost everyone knows about this. However, that doesn't give you the complete picture of your spending. And here's another way to see the report of all your money used.
How to check how much you spent on Steam
This option is hidden inside Steam, and I can't believe some users can find it without a suggestion.
It's hidden behind menus and tabs, so you need to know what to do to reach your total funds spent on the Steam report. This amount includes both Steam purchases and Steam Wallet top-ups. In other words, it includes everything you've ever spent on Steam: from games to loot boxes or in-game subscriptions.
How to find Steam money spent report
Think once again: "Do you want to see this figure? Maybe you would be disappointed?" Well, if you want to see your money spent report, here's what to do:
Open Steam and click on Help in the top-left corner of the window.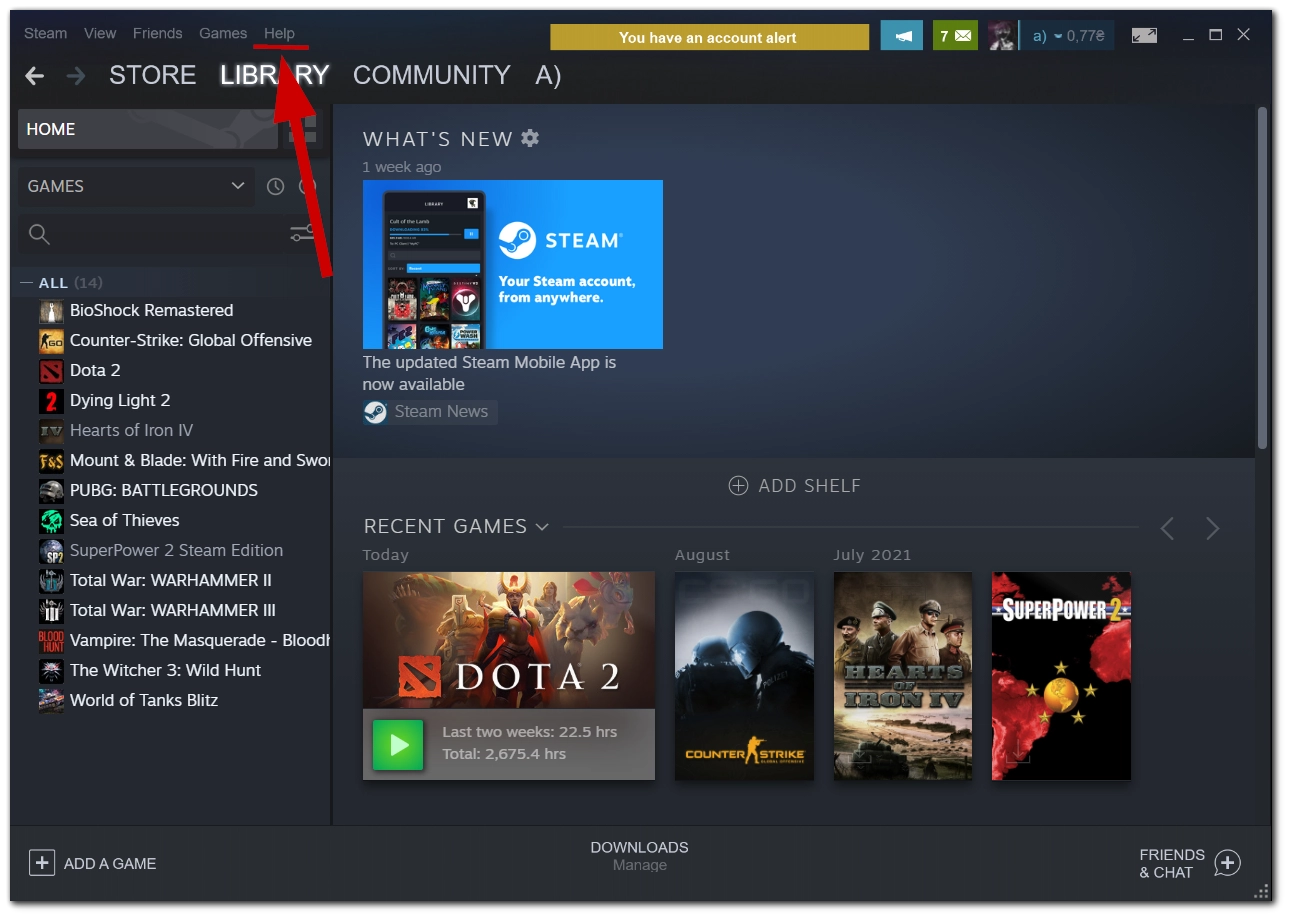 In the drop-down menu, click on Steam Support.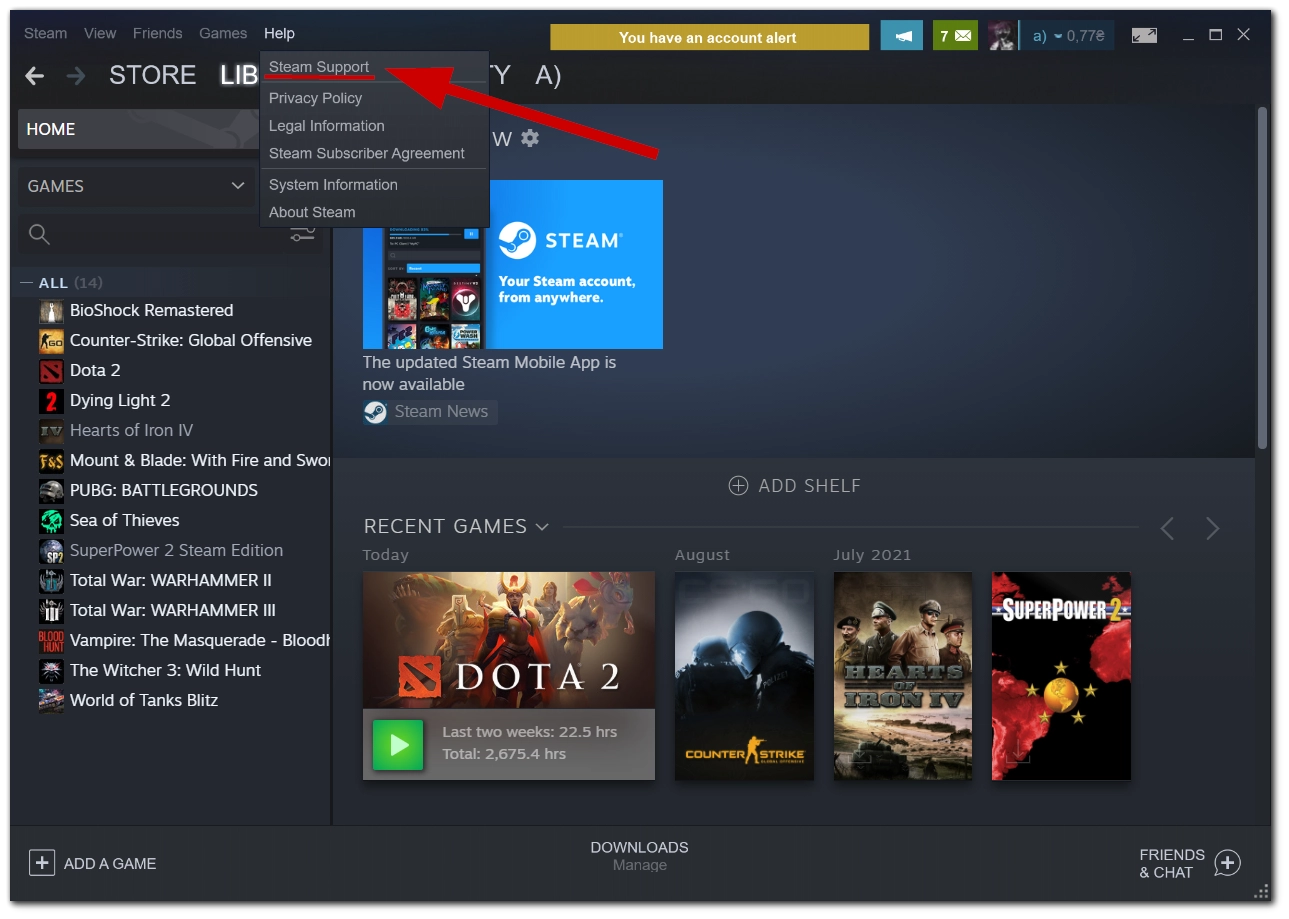 On the Steam Support page, scroll down to find My Account.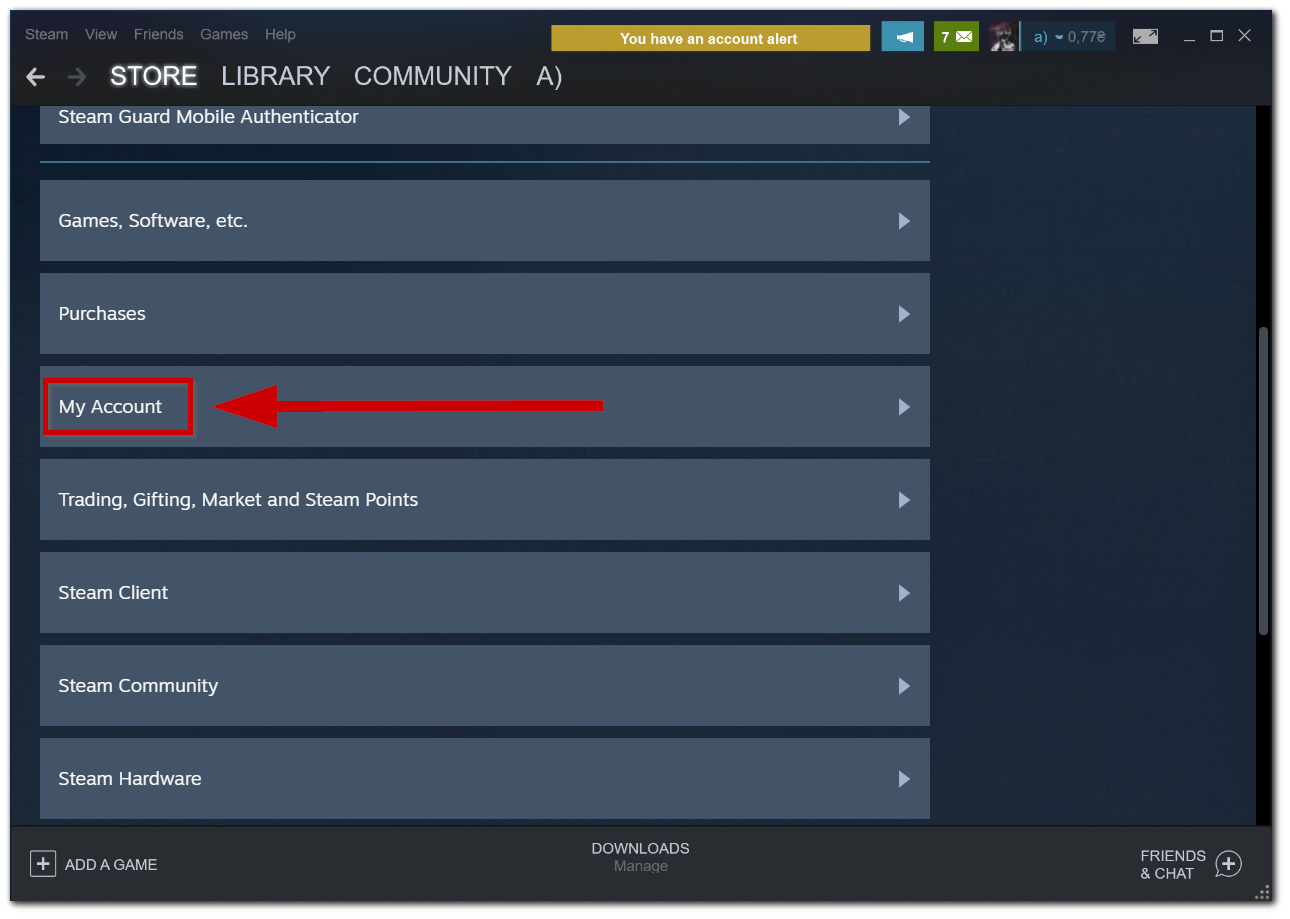 In the next window, click on Data Related to Your Steam Account.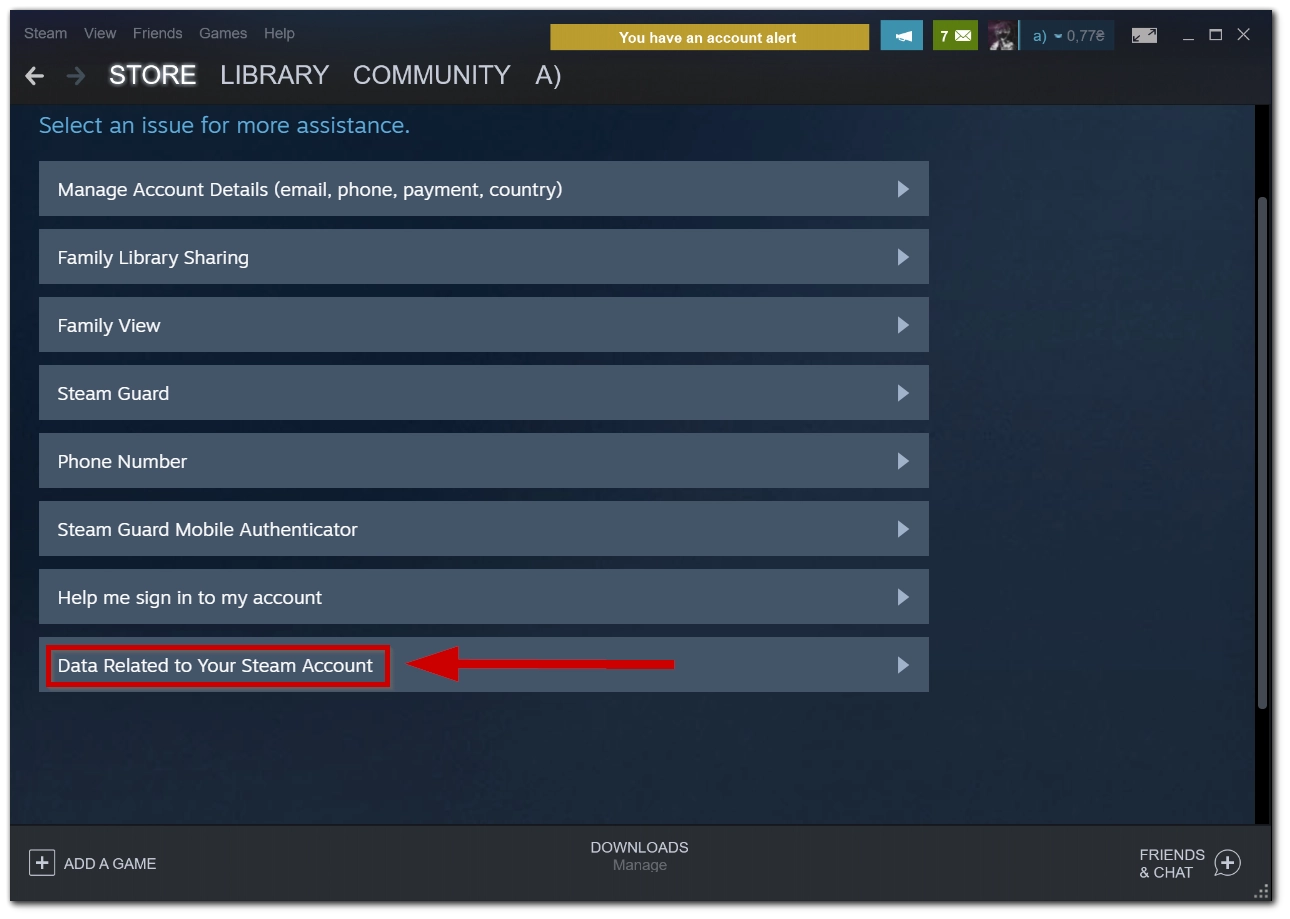 And in this window, scroll down and go to External Funds Used.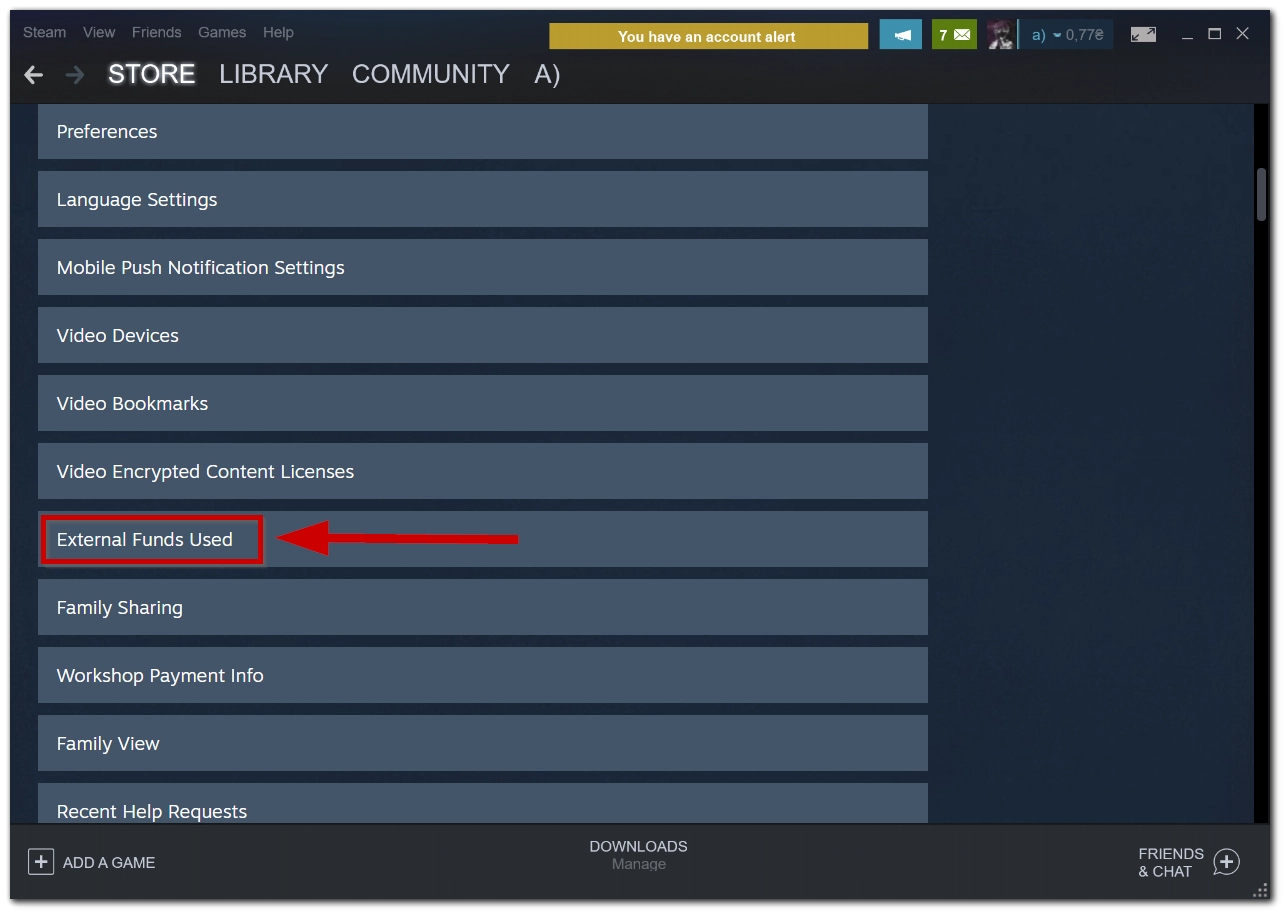 Here you will see the total money spent on Steam.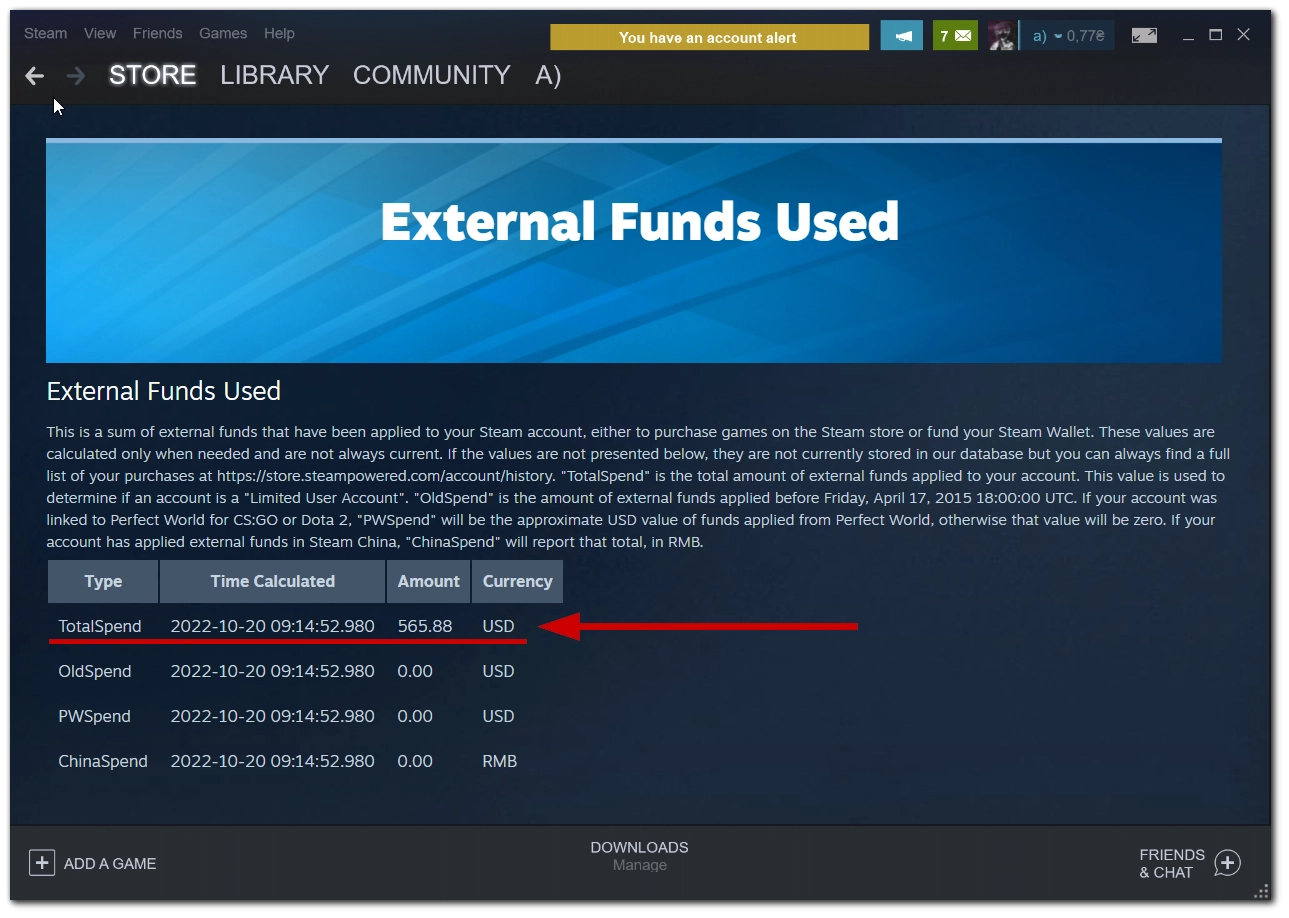 TotalSpend is all money spent on Steam.
OldSpend is funds spent before April 17, 2015.
PWSpend is funds spent via Perfect World in China.
ChinaSpend is money spent in the Renminbi.
Also, the report includes all funds applied to your Steam account, so it will show money that was topped up to your Steam Wallet but not spent yet.
You can also go directly to this page by clicking on this link. It will redirect you to the page as on the screenshot above, you just need to log in, and you will see your External Funds Used report.
How to see your purchase history on Steam
You can also check your Steam purchase history to see the report of every purchase you've made through your Steam account. Here's what to do:
Open Steam and click on your profile icon in the top-right corner.
In the drop-down menu, choose Account details.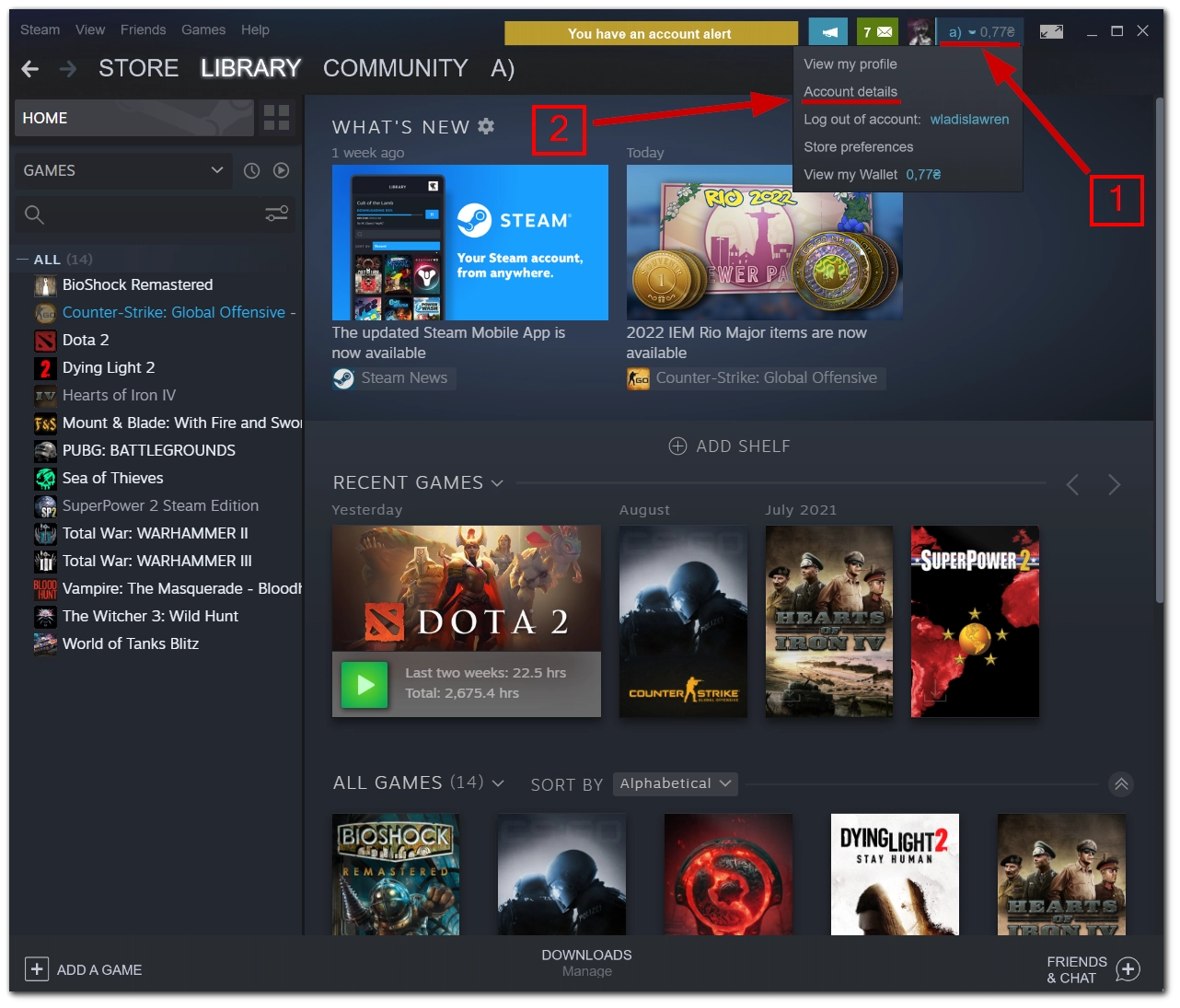 In this window, click on View purchase history.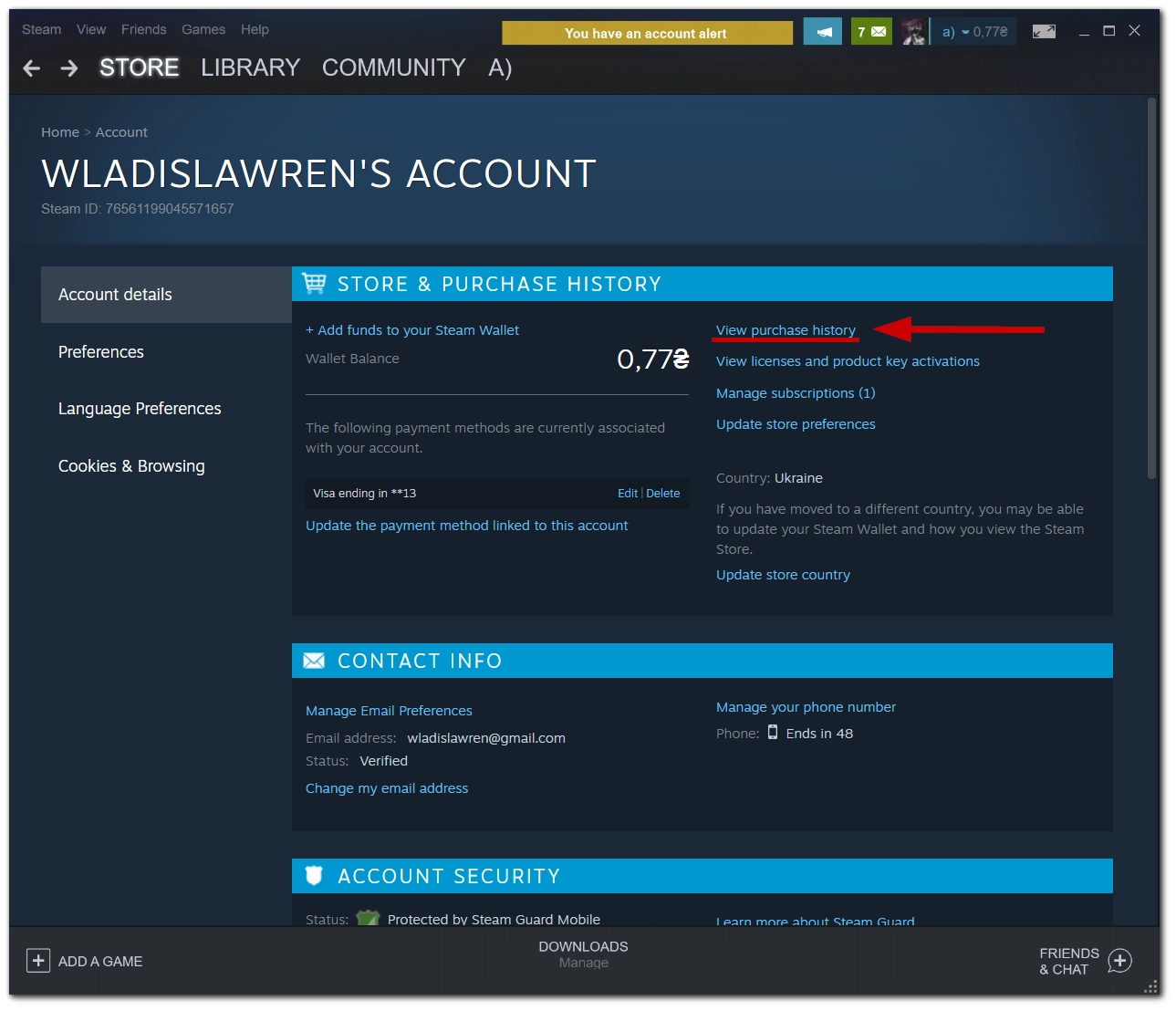 Here you will see the complete list of your purchases, including top-ups and community market transactions.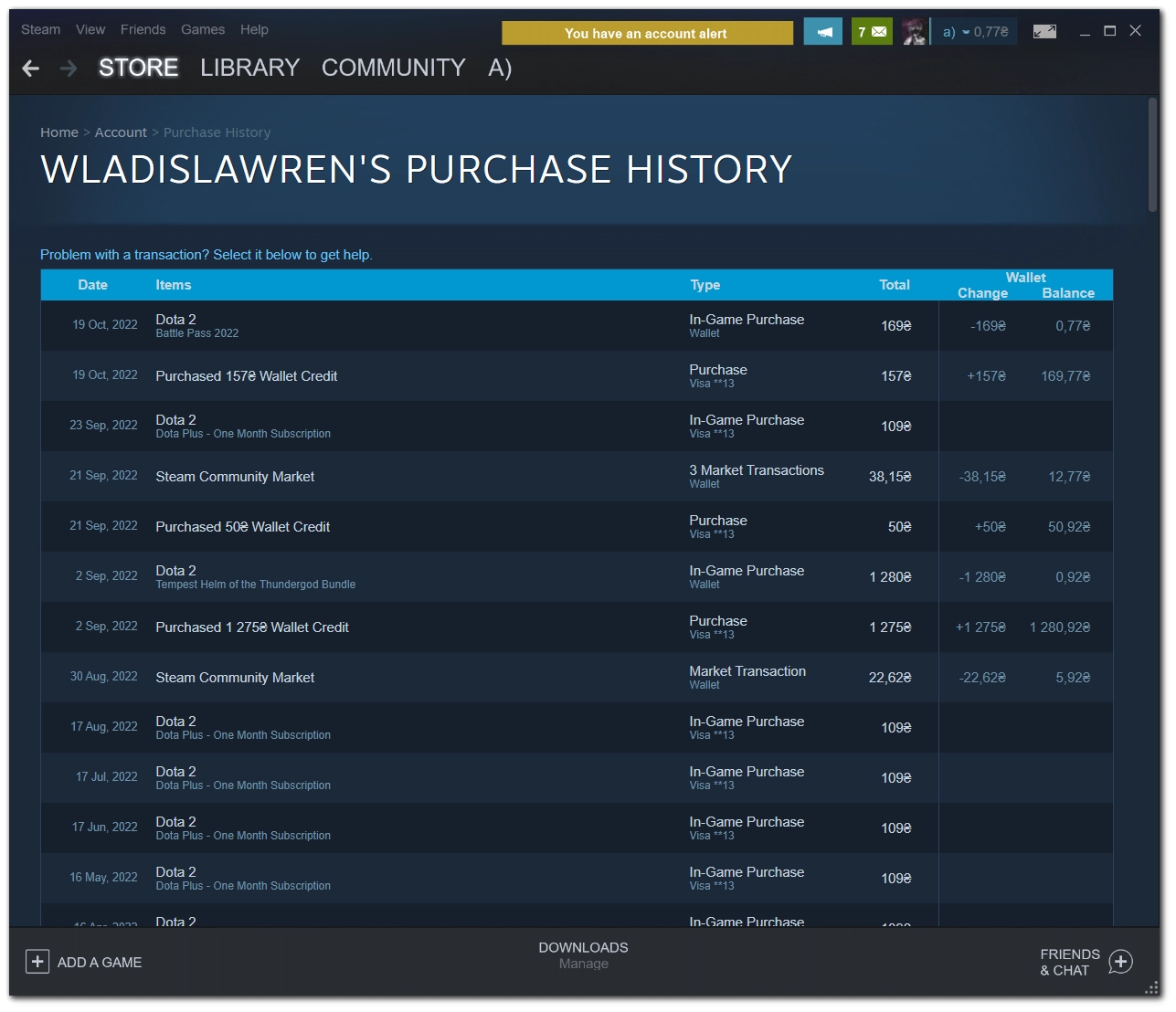 In this report, you can see the following:
Date of purchase
Items (the description of your purchase).
Type of your purchase (in-game purchase, game purchase, market transaction, or wallet credit purchase).
The total price of purchase.
Also, you will see the change in your wallet funds (whether it was spending or topping up your Steam wallet).
And the total balance of your steam wallet after the purchase.
How to resolve an issue with Steam Purchase
You can also click on any purchase to see the purchase details and assistance field for your purchase. It looks like this: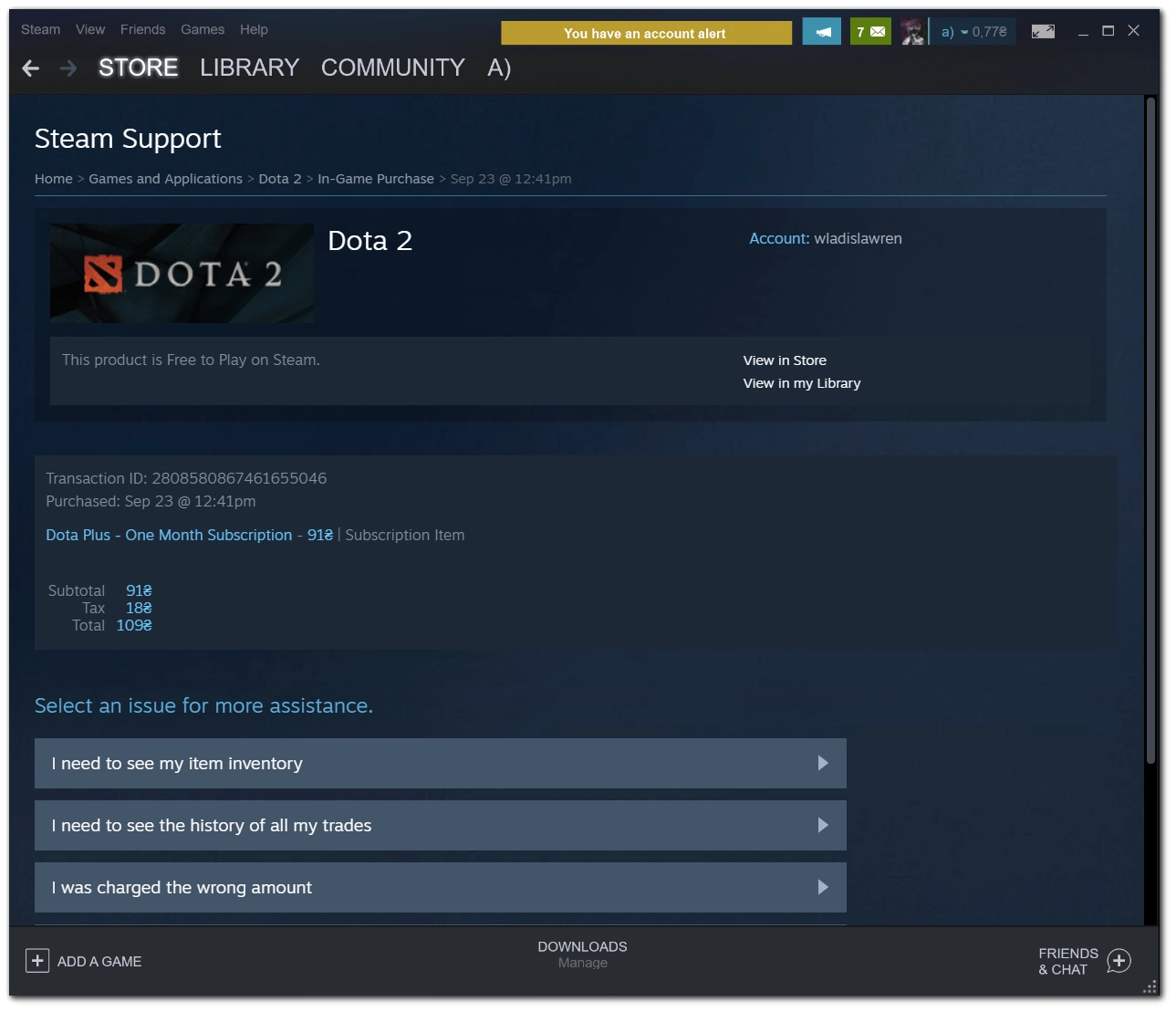 Here you can also see the tax included in your purchase price.
Also, here you can see your transaction ID, which means you can use this information as proof of purchase, for example, when contacting Steam Support.
You can even print a receipt for your purchase; you only need to scroll down this window.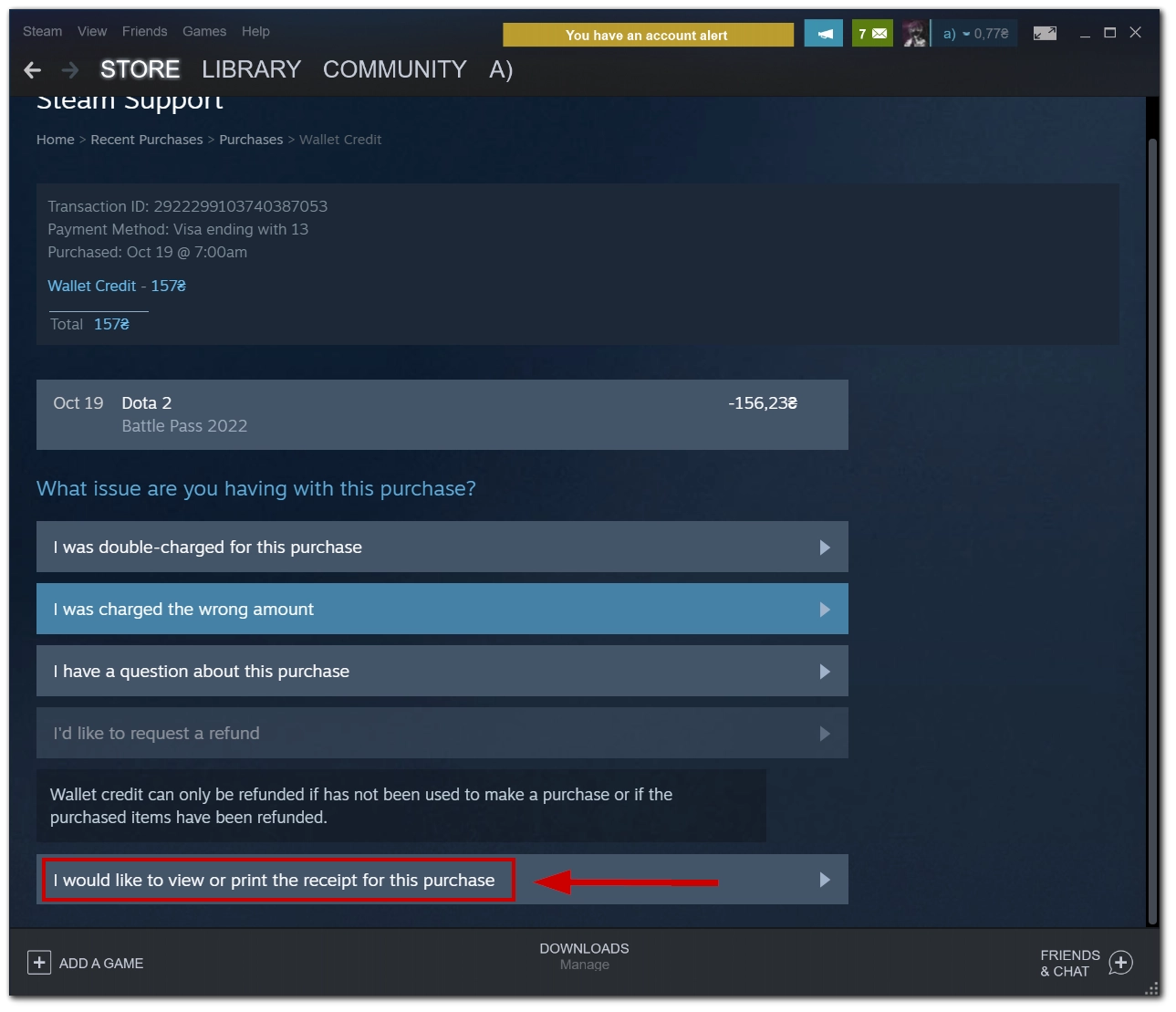 You will see the receipt in the new window, which includes your billing address and invoice number. The receipt looks like this: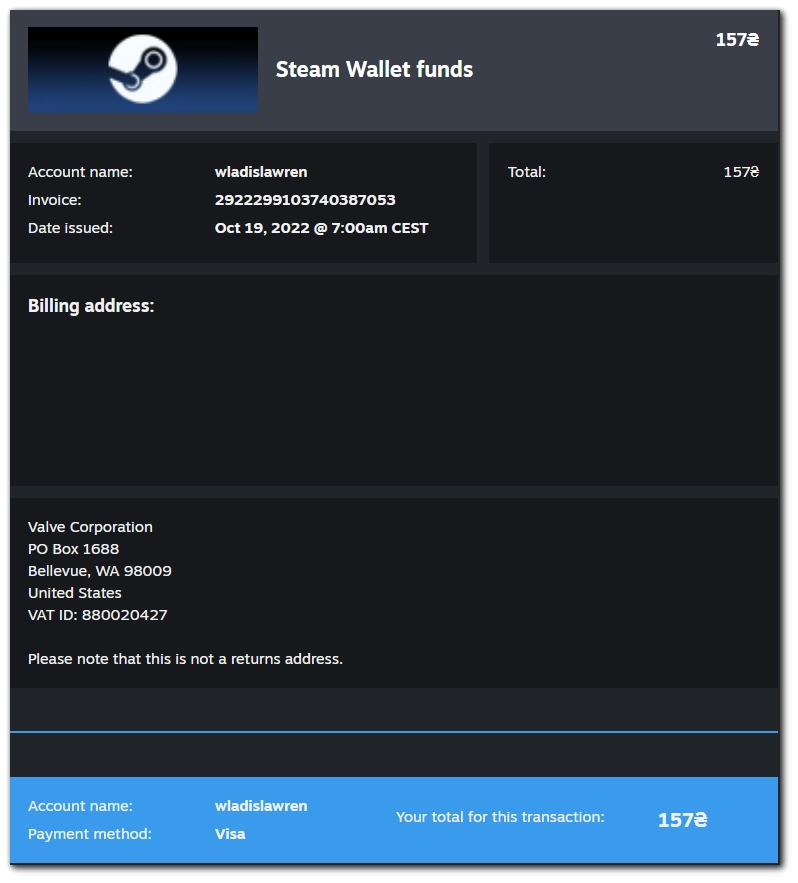 How much should you spend to add friends?
Steam users that haven't spent $5 have restricted accounts. That means they can't send friends invites (but can accept them) and do some other actions. To 'activate' your Steam account, you need to spend $5, but this cannot be money spent for some purchases inside Steam; you can just top-up your Steam Wallet with this money.