Steam purchase history is a complete record of a user's wallet transactions. Anyone can see when and how much money was spent on certain games or inventory.
What do you need to view your purchase history on Steam
If you're an active user of Steam, you know that the amount of available content there's huge. As a consequence, many people spend a huge amount of money on the platform.
Steam purchase history is a detailed listing of transactions that were made by the user within the platform. The user can get information that will be sorted by certain parameters:
Date.

The day, month, and year of the transaction.

Items.

Information about the purchased item/inventory/game.

Type.

Type of the past transaction.

Total.

The total amount of purchase.

Wallet: change.

The amount of money withdrawn from the balance after the acquisition.

Wallet: balance.

The balance of funds on the balance after the transaction.
Keep in mind that you can't change the information on the page, since the list is presented in unchanged form. Flip through it, look, but you can't edit it.
Sometimes the number of purchases made by one person is so large and has such a long history that it's not enough just to look at the game library to make sense of it. Fortunately, there's a new way to view the entire purchase history.
Well, here's how to view your purchase history on Steam in a few easy steps.
How to find your purchase history in Steam on your account page
If you need to find out what and when you bought on Steam, you can do it as follows:
First, on your PC, launch the Steam app and sign in to your Steam account, if needed.

If you don't have this app installed for some reason, download it from the official Steam website. You can also use this method with the help of the website, but it will be better if you will install the app.

Once you're logged in and the Steam app loads, click on your profile in the upper right corner of the Steam home page.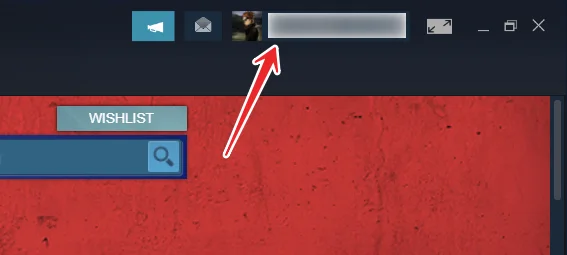 A small window will appear under the profile icon with several options to choose from in it. Among them, select "Account Details".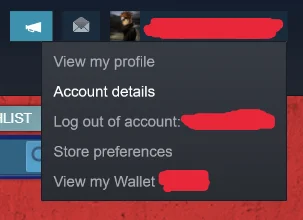 Clicking on the mentioned point will take you to the details page of your account. On it, find the "Store & Purchase History" section.
Once you're in the right section, locate and click on the "View your purchase history" option.

Once you click on the above button, Steam will show your entire purchase history in the next window.
In this section, you can see all purchases and market transactions you have made on Steam. All you have to do is scroll down the page. This information is so detailed that it even describes your purchases and sales in the Steam community marketplace.
This kind of, detailed approach to data collection and storage guarantees users complete transparency. You can use the steps above at any time to get full access to your payment history.
How to explain all categories in payment history on Steam
As mentioned above, Steam has an extremely meticulous approach to collecting payment information. This is also due to changes in EU legislation.
Due to certain requirements of this association's legislation, the Steam purchase history now has a very detailed table of contents.
You can easily view transactions and find out when, where, and how you spent or earned money on Steam. Learn more about which table of contents below:
The "Date" section, as the name implies, shows the exact date of your purchase.
Under "Items" you can see what games or programs/apps you have purchased. The problem with the "Items" section is that it shows all sales and purchases in the Steam Community Market in the same way, without clearly distinguishing what you have sold or bought. Because of this, the information in it's not detailed enough. Maybe Valve will update it in the future.
Thanks to the section "Type" you can always find out how you earned or spent money. There you can also see the total amount of money earned or lost and changes made to your Steam Wallet.
Overall, Steam's purchase history is a fantastic tool and a great addition, and now keeping track of all your Steam payments is even easier.
Sure, Steam always emails you notifications when you make a sale or purchase on the platform, but no one can keep track of their purchase history over a long time.
Is it possible to use Steam purchase history as proof of purchase
Steam purchase history isn't just a good description of all your Steam transactions. It can also be used as proof of purchase in case something goes wrong. In the rare event that you pay for a game on Steam but the game doesn't show up in your library, you'll need proof of purchase.
You can use a Steam purchase email or click "Game" in your Purchase History and take a screenshot of the "Purchase Details"
Steam offers you several options here. You can request a refund, ask a question, complain about a surcharge, request a receipt, etc. This menu is very useful, especially if something goes wrong.
Viewing your Steam purchase history can be stressful for some, but useful for everyone. Valve is constantly improving the platform, introducing new features, and increasing transparency. Today, most people don't consider buying non-Steam games.
Buying, giving away, and selling are perfect, and now everything is perfect in one place. Steam's new purchase history section also follows suit.