In addition to the fact that Apple makes many of their branded devices, they are also very much developing its system. If you use an iPhone, an iPad, or a mac, likely, almost all the services or applications you will use all the time are Apple services. For example, the most popular messenger for iPhone users is iMessage. It happened because iMessage has many features and tools that make it the perfect messenger. For example, you can play games directly with your friends in iMessage chat.
One of the games you can play in iMessage is Archer. This game requires you to be attentive and accurate. Its essence is very accurately reflected in its name. To play this game, you must install the appropriate addon called GamePigeon. Let me tell you more about how the process works and what you need to do.
How to add Archery to your iMessage
As I wrote above, to add a game to iMessage, you need to download the appropriate add-on. Some games are available as separate add-ons, but Archer is part of a collection of games called GamePigeon. You will need an active iMessage and an internet connection to download it. To do this, you will need the following:
Open any iMessage chat.
Click on the AppStore icon next to the text box.
This will open the toolbar. In the toolbar, find AppStore.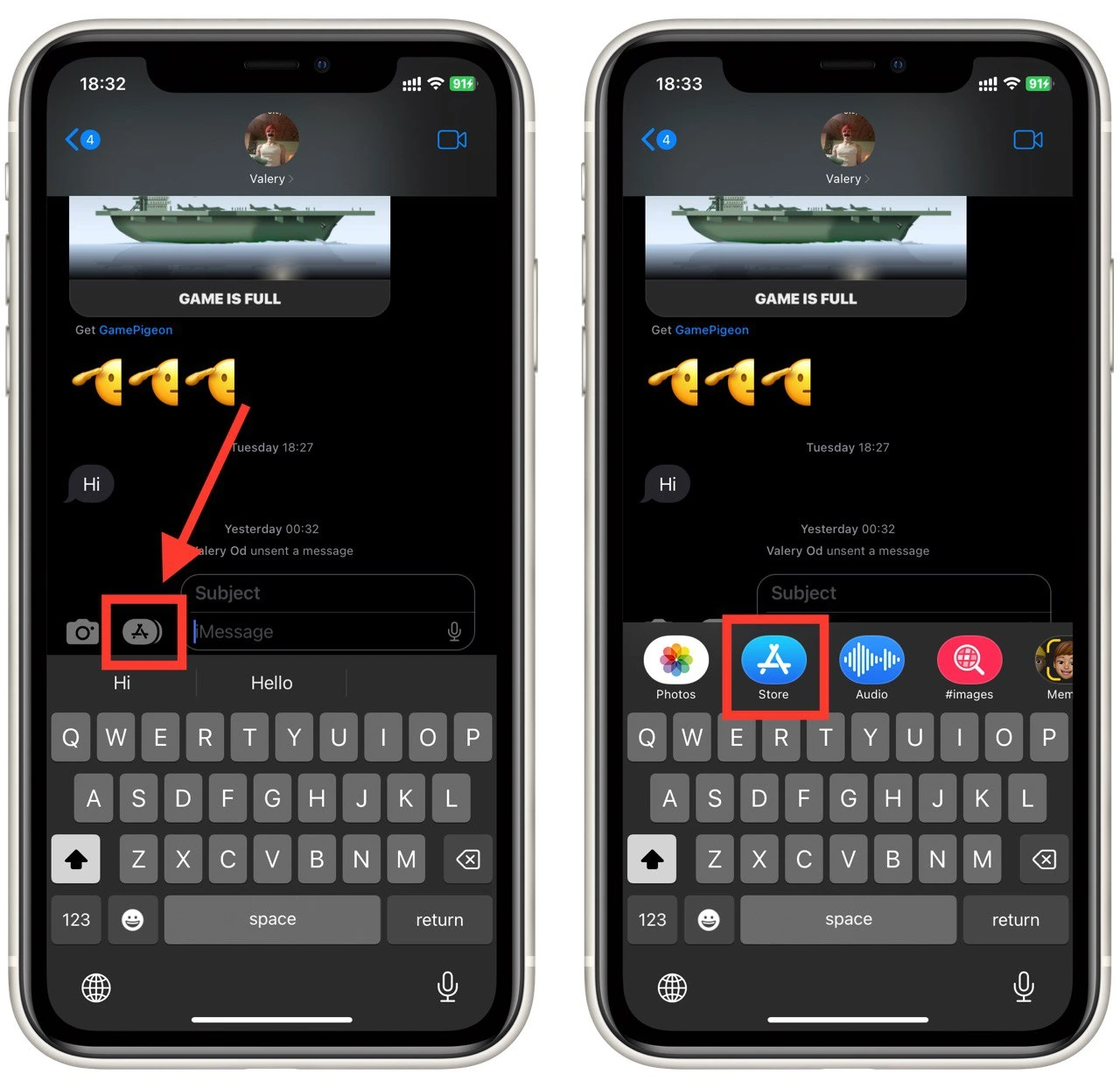 In the add-on list, find GamePigeon and tap Get.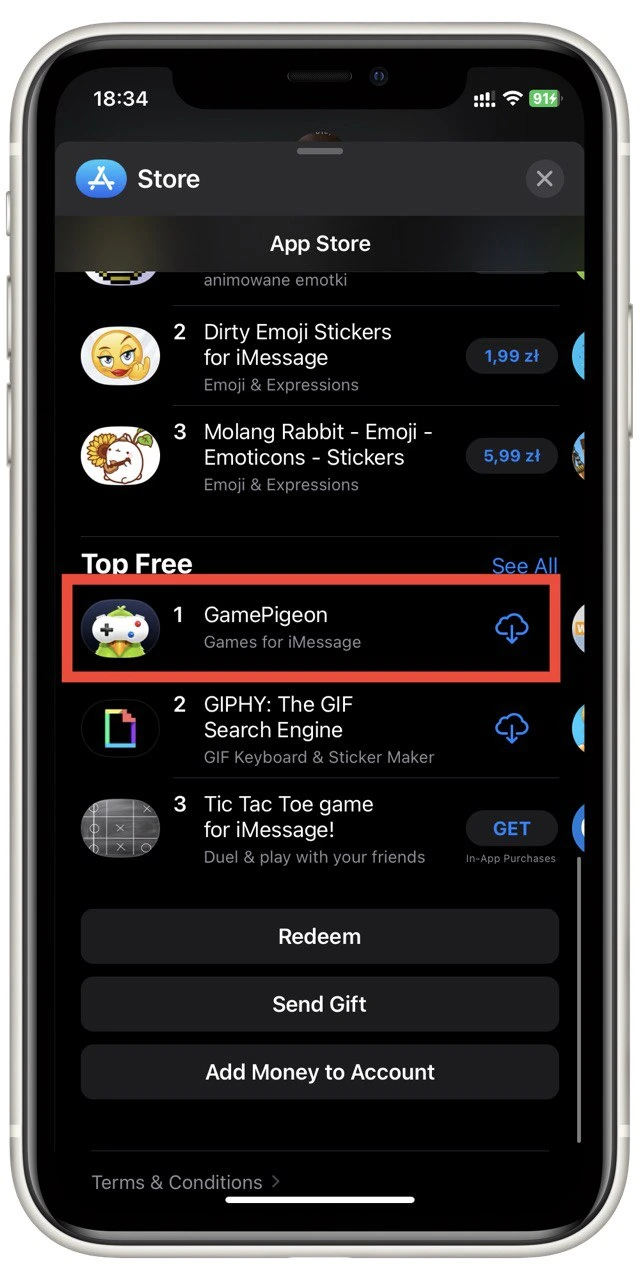 Wait for the addon to download, and then open the toolbar. Select GamePigeon.
In the game list, find Archer (it's on the top line) and click to send a challenge to your friend.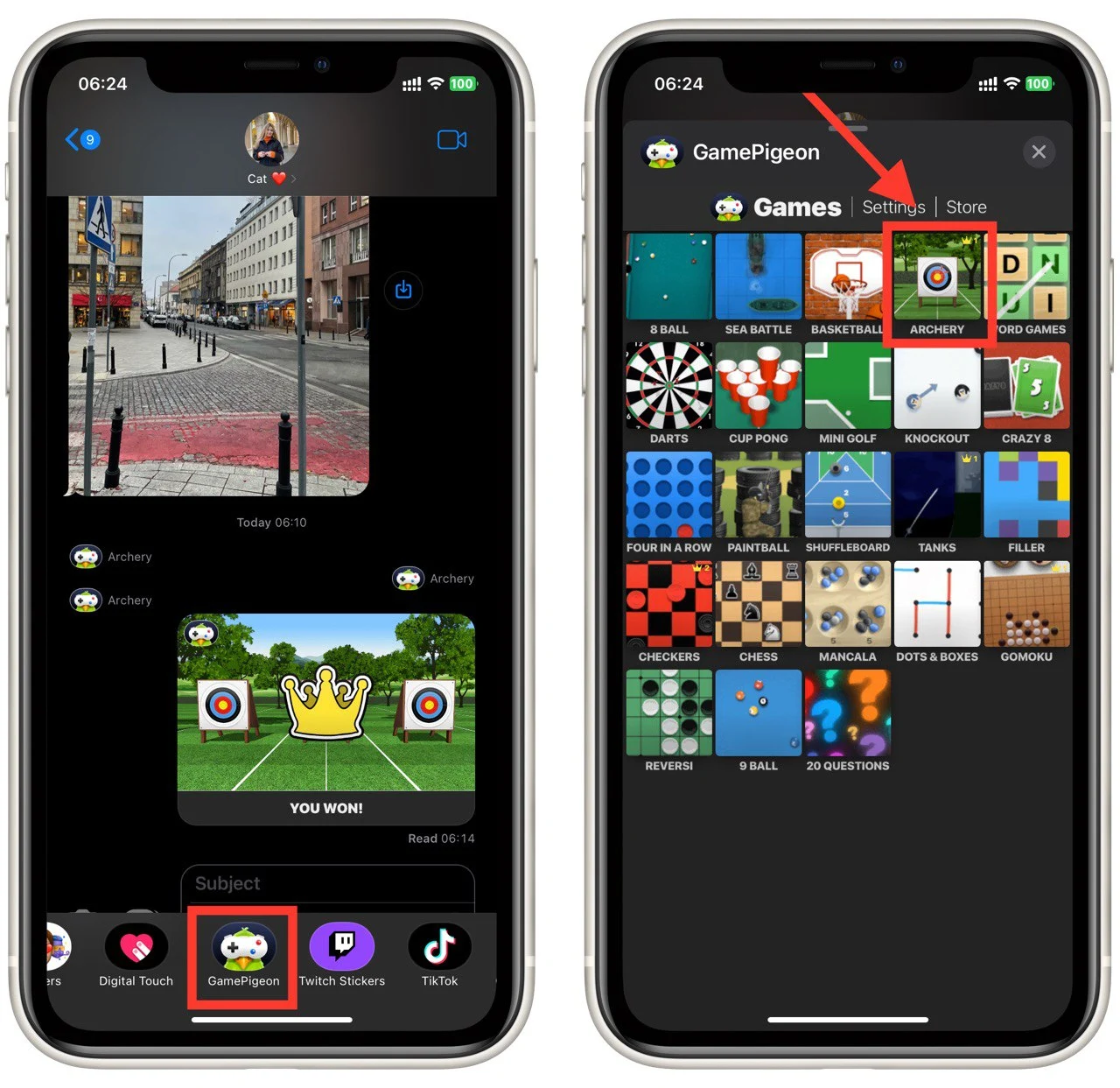 The other person in the game will also need to download GamePigeon to play the Archer. In addition, the call can only be sent to another user's iMessage, as this game is only available in this service; you can not send calls by SMS. Also, remember that Archer is a one-on-one game, and you can't send a challenge in a group chat.
What are Archery rules?
The Archer's rules are pretty simple. To win, you have to hit the target with your bow. The closer to the center you hit, the more points you score. The target is divided into ten fields. The center field has 10 points, the following 9 points, and so on until the last field has only 1 point.
You take turns making your moves. This means that while one player shoots, the other must wait. There is no time limit. You can make your shots right away, or you can make your shots a week later. Each turn has three shots, after which the other player passes the turn.
To win the game, you must win in 2 sets. There can be up to 3 sets in one game. The winner is the one who scores the most points in 2 sets. Points between sets are not added up, so if you made the first shots bad, then do not worry; you will have a chance to start from the beginning and win.
The bottom of your screen is used for Archery. You have to tap on the screen to draw the bowstring. After that, you will see a red crosshair that will move as your finger moves, point it to the center and release it to make the shot. It is important to remember that you cannot keep the bowstring pulled all the time; you will have about 10 seconds to make a shot, after which the arrow will shoot automatically.
What hints can you use to win in Archery?
Let's break down how you can win at iMessage more often. There is no one-size-fits-all advice that will allow you to win every time. However, there are some tricks that I feel will give you a slight advantage.
The first thing I suggest is to challenge first. If you challenge, your opponent will be forced to shoot first in all sets. This will allow you to see your opponent's score when you take your shots, which means you'll know the minimum number of points you need to win.
In addition, I advise you to put your iPhone on the table to aim more accurately. Also, near the target, you can see a big circle with an arrow. Please pay attention to it before you shoot. It shows the wind direction and will help you calculate how much the arrow can deflect because of the wind. Always try to take this into account when shooting, and you can win more often. Also, remember that each set counts separately, so you should not get upset if you lose the first set or if you won the first and lost the second. You have another chance. The main thing is not to fall into tilt.
What other games can you play in iMessage GamePigeon?
As I said, there are quite a few other games in the GamePigeon addon that you should also pay attention to. Let's not tell you about each game. I'll list all the games that are available at the moment:
Sea Battle
Basketball
Archery
Word Games
Darts
Cup Pong
Mini Golf
Knockout
Crazy 8
Four in Row
Paintball
Shuffleboard
Tanks
Filler
Checkers
Chess
Mancala
Dots & Boxes
Reversi
9 Ball
20 Questions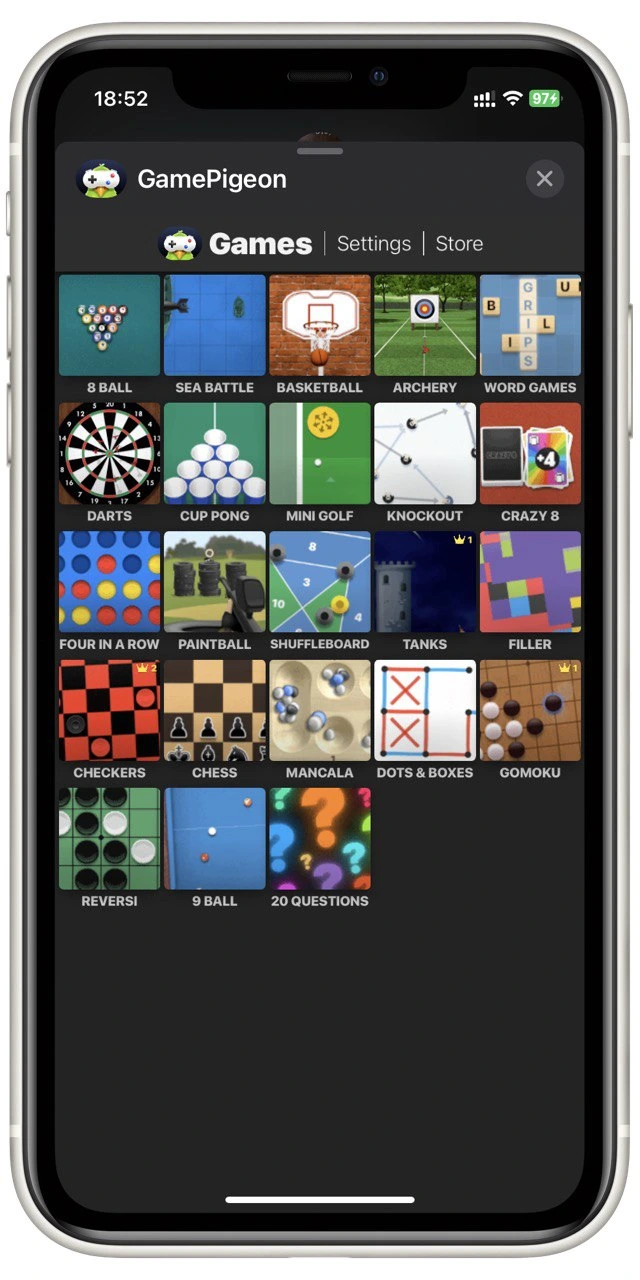 I personally especially liked the 9 Balloon Game and Battleship. I am sure you will have a lot of fun playing them. On the other hand, the game of Cup Pong and Tanks turned out to be very difficult and uncomfortable. You won't lose anything if you don't run them.