Don't know where to find and view your saved websites and pages in Chrome? Or do you want to get rid of a bunch of unnecessary websites? This article will help you manage your bookmarks in Chrome.
Is it possible to delete bookmarks in Google Chrome
You've probably had to deal with the Google Chrome browser. This browser is appreciated by many users for its ease of use, for the fact that accounts can be synchronized with different devices and can be quickly accessed from any of them.
It should be understood that synchronization means access to your data – Google Drive, autofill data, passwords, browsing history, and including your bookmarks. If you don't use it often, you probably had to save certain sites and pages in order to quickly open them at the right moment.
However, if you have accumulated quite a lot of such bookmarks and at one point you realized that they only disturb you – then it's time to clean them out and free up your browser a bit.
Google Chrome has a function to remove bookmarks, and you can do it in several ways. Even when you have too many of them, Google Chrome will take care that you can get rid of unnecessary junk in one click.
Below you'll learn what methods can be used to remove bookmarks from your browser, how to clear the history correctly, and from which devices it will be more convenient.
How to delete bookmarks separately via the Bookmarks Bar
You'll not always use the web pages and sites you have bookmarked. Nevertheless, whatever your purpose, you can always adjust your workspace in Google Chrome in any convenient way. This includes deleting your bookmarks, displaying them on your Chrome home page, etc.
By the way, if your bookmarks are displayed on the browser homepage, you can get rid of some of them right there. Here's how to do it:
Right-click the bookmark on the bookmarks bar
Select Delete from the context menu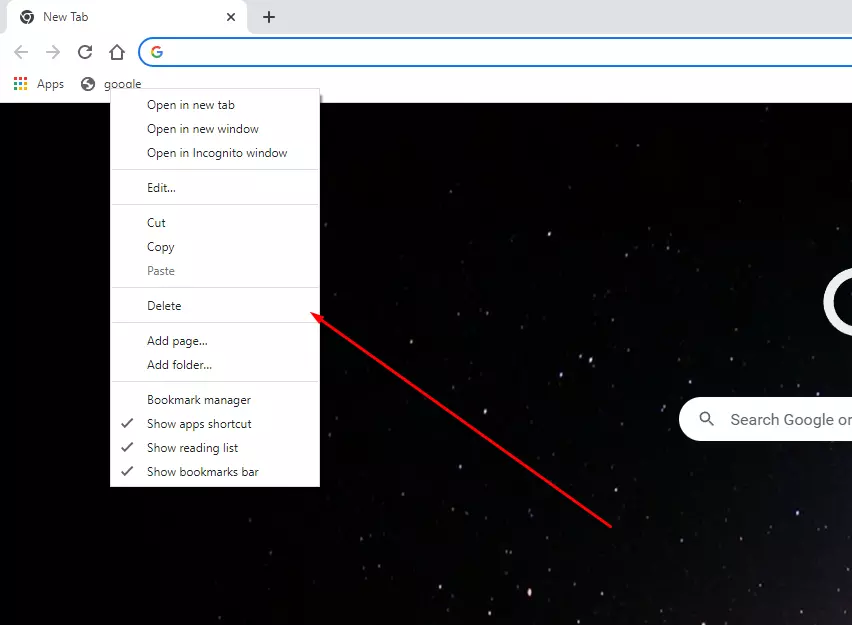 Try not to rush to delete everything at once, because you'll not be given a chance to get it all back. So make sure you don't need them again.
How to delete bookmarks by using the Bookmark Manager
Well, if you need to see a list of your bookmarks and be able to customize them, then Chrome has an option where you can manage your bookmarks. It's through Bookmark Manager that you'll find it most convenient to understand the details and specific bookmarks. If you often use a mobile device, for example, you'll probably have a couple of bookmarks under the "Mobile Bookmarks" tab. Pay attention to it in case you can't find a particular bookmark in your regular tab.
Here's how to find the Bookmark Manager:
In Chrome, click on the three vertical dots in the right-hand corner
Then, go to the Bookmarks pulldown menu and select Bookmark Manager, you can also type Ctrl+Shift+O
Click on the three vertical dots to the right of the bookmarks you wish to delete
Note: There won't be confirmation dialogue so be sure you're deleting the one you won't need.
By the way, if you can't access it from the Chrome preferences menu, you can still access the Bookmark Manager via chrome://bookmarks. Just type this address into the address bar of your browser (Chrome only).
Is there an option to remove all bookmarks on Google Account
As mentioned above, you have access to bookmark folders from a variety of devices and other types of bookmarks. If you sync from another device, you'll have access to your bookmarks from other devices. In Bookmarks Manager you have the ability to manage these folders and to delete all bookmarks from a particular folder, follow this guide
Click on the profile icon in the upper right-hand corner of Chrome. Sign into your Google account and make sure that Sync is turned on
Once signed in you'll see all of your bookmark folders on the left. Right-click the folder and click Delete to remove all bookmarks in that folder
Also, don't forget that Bookmarks Manager has a search box where you can enter a keyword to find a certain bookmark and view or delete it.
What about deleting browsing history
It is always possible and convenient to delete your browsing history from your browser. Don't forget that when clearing history you can choose from which time to set the history clearing. This can be the last two weeks, the last day, etc.
In the same window, you can also delete the cache and other information such as autofill, etc. So if you don't want to re-enter passwords on sites, it is better to uncheck those boxes.
How to remove the Bookmarks Folder via Windows
If you need to clean all of your Chrome data on a certain device, in this case, a Windows device, you can do it with this guide:
Open the Run dialog box or Search box, you can hit the Windows key + R or type run into your Start menu
Type %LocalAppData%\Google\Chrome\User Data\Default and press Enter
Locate the Bookmarks file, you might have to scroll down until you see it
Right-click it and choose Delete
Thus you'll not only delete your bookmarks in the browser Chrome but also from the device itself, thus eliminating all the information from the device. Keep in mind, however, that you won't delete the same information from another device that was previously synchronized with the same Chrome account.
How to get rid of Bookmarks Folder via MacOS
It's also possible to do this operation on the macOS. If you know how to use the command line, just call the Terminal and go to the following directory in your user account.
$ cd ~/Library/Application Support/Google/Chrome/Default/
After this remove the Bookmarks file with this command:
$ rm Bookmarks
When you have deleted all unnecessary bookmarks, you can now go to this address ~/Library/Application Support/Google/Chrome/Default/, to control your bookmarks and remove them if they bother you.
Now you know more about how to manage your bookmarks, how to change them, how to find them in different ways, and from which device it's more convenient for you to do it. Don't forget that you can also view and delete your bookmarks on mobile devices, although this method of bookmark management isn't as convenient as the PC or laptop versions. All you need to do is launch Google Chrome on your mobile device and open the Menu (three vertical dots) at the top right and select Bookmarks. And now you know all about bookmarks in Chrome!