Facebook has long played an important role in people's lives in today's world. It's no longer just a social network that is needed for simple communication. For many people, Facebook is a full-fledged job that brings in a good income. For other people, it's a tool to promote their business, a tool for development. However, all these people have in common is that Facebook is sometimes used for recreation and entertainment.
Even for these purposes, someone may need to create a poll on Facebook. In fact, a Facebook poll is a unique tool to understand what your public wants. It's good for business and sales. If you touch on personal topics and politics you can create a poll anonymously so that more people take part.
What to do to make a secret poll on Facebook
Facebook polls are a convenient way to get the opinions of your friends or everyone in your social circle on a variety of topics for professional or personal use. Every user of this social network has seen something similar on the pages of others. It helps you keep track of what your audience of followers wants. In this way, you will see what can interest your readers and then move in that direction, as it's a good tool in development.
Simple polls are closed-ended questionnaires, the answers to which are recorded. To create a simple poll on your Facebook page you can read about it in this article. That way you will know what steps you need to take to do it using your Android device or iPhone. In fact, there is more than one way to create a poll on Facebook.
You can do it with minimal steps, just click in the create new post section, or you can do it with third-party apps. In order to create an anonymous poll, you need to do it a little bit differently and before that, you need to understand a little bit about it, but nevertheless, after that, you will have a strong tool with which you will be able to know the wishes of the audience better.
Read also:
What would a Facebook poll be for
Facebook polls are valued by SMM professionals. Anonymous polls are less often used as a tool to promote Facebook. However, in general, it is a good way to develop a page or post. Also more often these polls are used for promotion rather than personal pages for communication. So if you look at this situation from a marketing perspective, the situation would look a little different.
If your goal is to run a business account, a tool like polls will help you keep in touch with your customers. If you just write a question, it's not likely that many people will want to formulate an answer for themselves and write it in the comments. Instead, your audience will just click on the answer. In return, you'll get audience contact and audience interest.
You'll get feedback from your customers, you'll find out what their needs are. You can also show them that you're interested in their opinion and involve them in the process. In addition to all of this, you will be able to increase the number of visits to your group or page on Facebook several times. In addition, if you're in the business of promoting your personal brand or it is your job, it's useful to read about using Facebook polls for marketing.
What steps to take to create an anonymous poll on Facebook
If you're trying to create anonymous polls for a business, if your goal is to promote your account, then you'll need to follow a few steps. To create an anonymous poll on Facebook, follow these actions:
Open the Facebook website in your browser.
Then log in to your account.
After that, open a group chat or create a new one to meet other members of your group as well.
At the bottom of the window, click the '+' icon.
Next, click on the Facebook poll icon.
After that, you will need to fill in all the fields with options.
Read also:
How to create an anonymous poll on Facebook using third-party resources
In fact, all the services that help you create a template for anything you want, including polls you can find a lot. However, the most popular and easy to use is Google Forms. Another way to publish a poll on Facebook is to use Google Forms to create the poll and then Facebook to share it. To create a poll using Google Forms you need to:
To create an anonymous poll, open Google Forms.
Then select the '+' icon on the home page to create a new poll.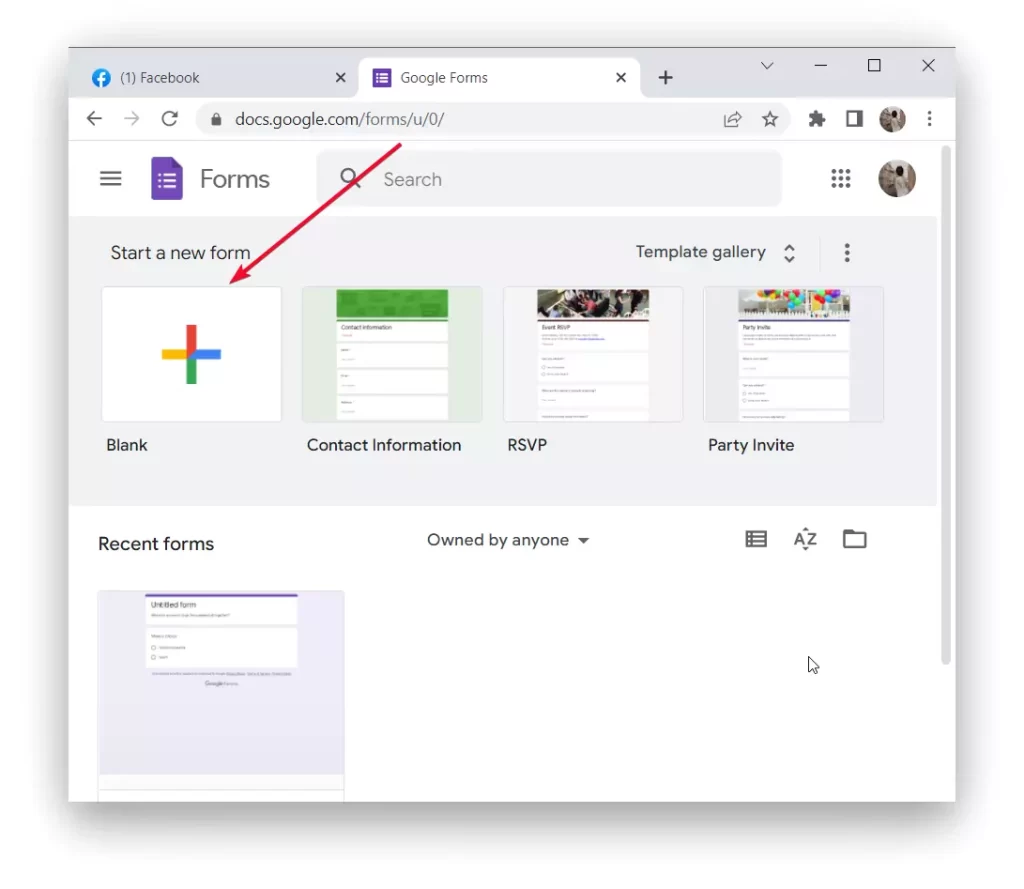 Fill out your poll.
Then click on 'Settings'.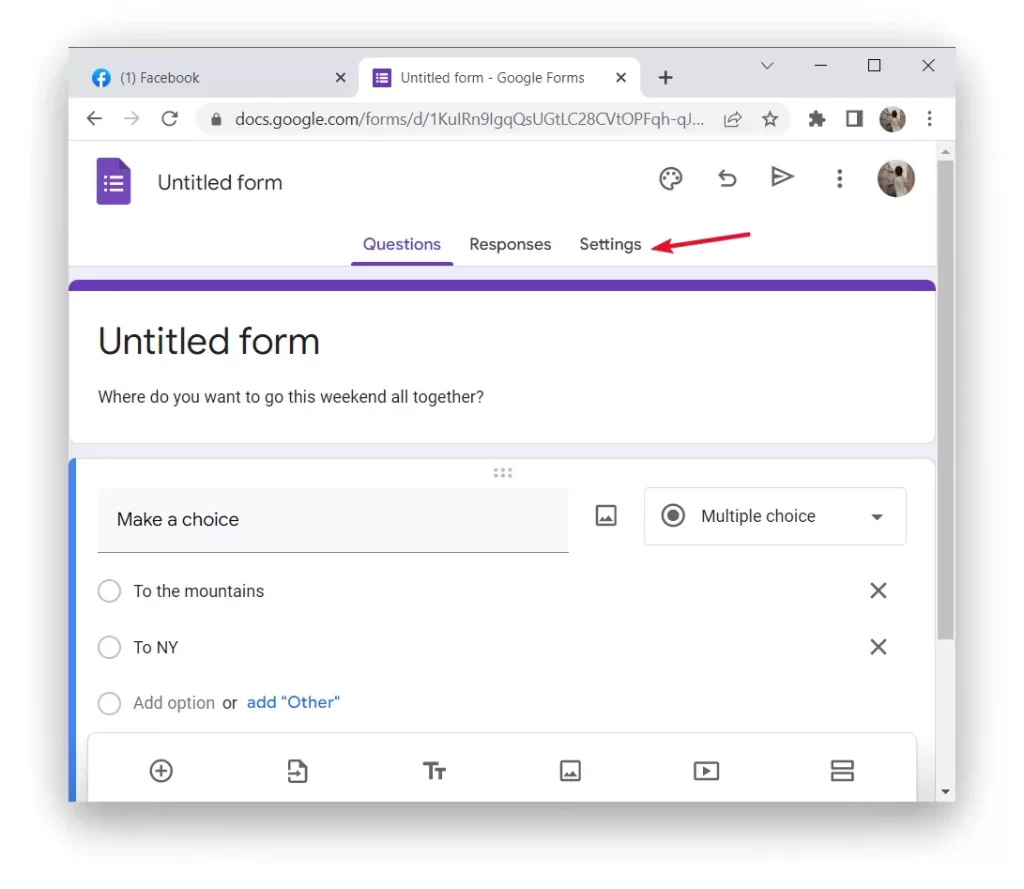 Next, scroll down and make sure 'Collect email addresses by default' and 'Make questions required by default' are turned off.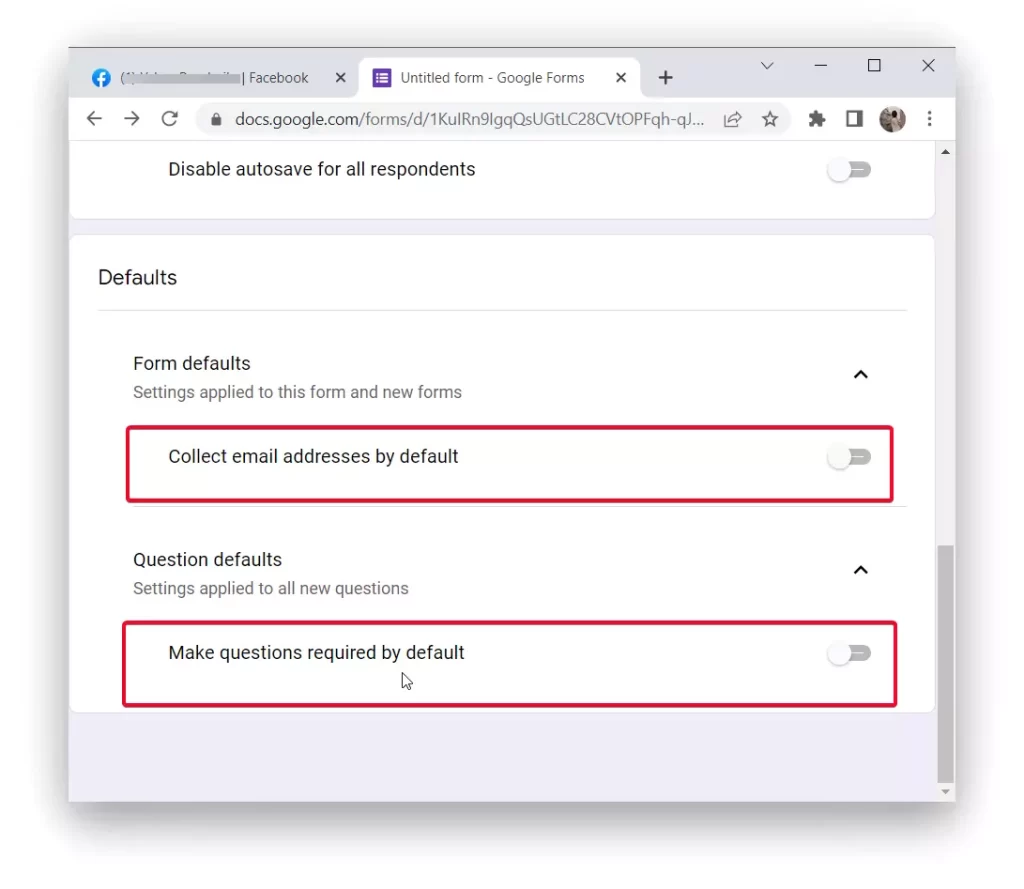 After you finish your poll to publish copy the URL and post it as a new Facebook post. This option has two key advantages: responses can be easily transferred to Excel, and Google Forms offers more personalization options than the Facebook tool.
Why create Facebook polls and what to get out of it
Usually, people take advantage of polls on Facebook to get maximum feedback from the public. That is, it can be for entertainment, work, or research. In addition to that, often in general Facebook Messenger chats, people create polls to make some sort of decision faster with that group of people. So if you too are in such a situation when you needed to create a poll on Facebook Messenger you can about it in the article.
If you look at Facebook as a promotional tool, the first thing you have in front of you is an opportunity to find out how your customers, clients, or other target audiences want to see your product or brand. You can regularly involve them in the process of creating your product and in parallel observe whether your customers like it.
That is, you can use your social and professional networks on Facebook to find out what your customers and clients think about the market for potential products and services. In addition, you can create a poll for your customers to rate their experience with customer service representatives. If you bring it up in terms of personal use, not for promotion or business purposes, then you can create a poll on absolutely any topic for friends.
You can ask them anything you want, right down to the details of organizing a party. Since Facebook has been an important part of our lives for a long time, you may want to be aware of its many features. Since Facebook has long been more than just entertainment, for many businesses Facebook is one of the most important tools for promotion. Therefore, many people may need to know how to create a poll on Facebook Event. In fact, if you follow the steps described in the article, you won't have any difficulties.