No matter what the display diagonal of your Apple device is, it will never compare in terms of usability to a full-size TV screen. It has long been an open secret that you can easily connect your smartphone to your Smart TV and mirror the screen. The same goes for your iPhone and Samsung TV.
Most of the big streaming services implement the ability to stream content to the TV in their apps. And HBO Max is no exception. On the iPhone, this is possible thanks to the AirPlay feature. In addition to it, you can also use just Screen Mirroring or connect your phone to the TV via HDMI.
Frankly, Apple has made AirPlay as easy to use as possible. So you won't have any trouble, primarily if your Samsung TV supports it.
Let's take a closer look at how to cast HBO Max from your iPhone to Samsung TV.
How to cast HBO Max on Samsung TV using AirPlay
If you want to cast HBO Max from your iPhone to Samsung TV using AirPlay, you have to follow these steps:
First, ensure that your Samsung TV and iPhone are connected to the same Wi-Fi network.
After that, enable AirPlay in the settings of your Samsung Smart TV.

To do this, go to Settings and select General.
Now, go to Apple AirPlay Settings and select AirPlay.
Finally, turn it on.

Open the HBO Max app on your iPhone and start playing the movie or TV show you want to watch on your Samsung TV.
Tap on your iPhone's screen, so the app's controls appear.
Next, tap the AirPlay icon at the top of the screen, immediately to the left of the volume slider.
In the AirPlay pop-up window, select the AirPlay device to which you want to send the video.
If the access code appears on your Samsung TV, enter it in the pop-up window on your iPhone.
Once you have completed these steps, the video from your iPhone should appear on your Samsung TV screen.
How to sync iPhone and Samsung TV using a special app
The only thing you need to do before you start synchronizing your Samsung TV and iPhone is to install a special app on both devices. AllShare Cast allows you to use the TV display to stream user content stored on your smartphone. It's available for free on App Store.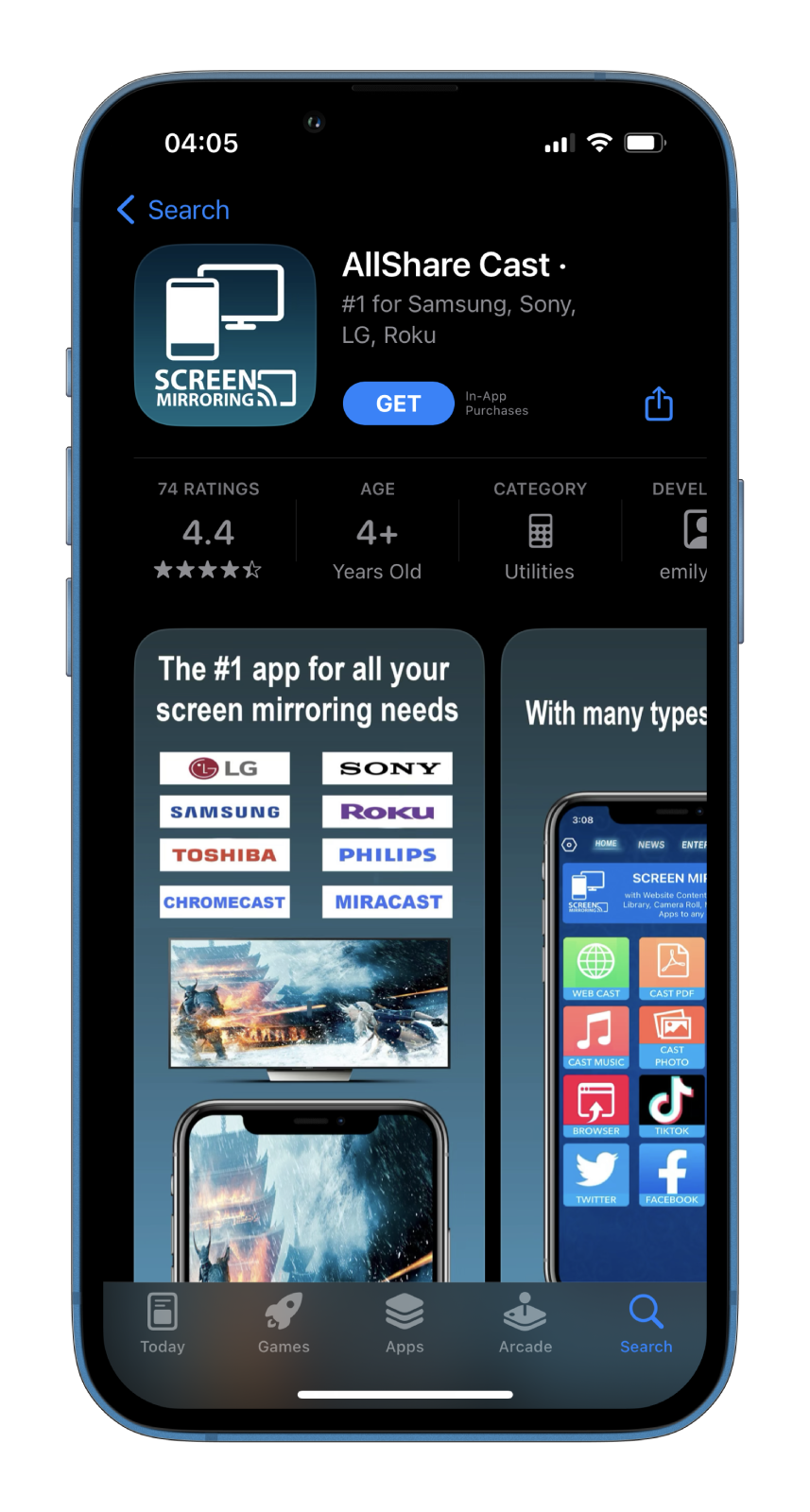 And if this app is missing on your Samsung TV, you can download it yourself from the Samsung Apps store.
To pair, both devices must be on the same Wi-Fi network (connected to the same router with the same SSID) and be visible for synchronization. To display content on the TV screen, you need to open AllShare Cast, select the desired media file, and send it to the connected screen using a special button.
How to connect iPhone to Samsung TV via HDMI and adapter
You need an HDMI cable and a special Lightning-to-HDMI adapter to connect your smartphone and Samsung TV.
An ordinary HDMI cable is easy to find. You can find it in almost every electronics store or order it on Amazon. The main thing is not to buy a too cheap one.
As for the Lightning-to-HDMI adapter, you won't find it everywhere. Moreover, if you want everything to work properly, buying it from an official Apple Store is better. An adapter may be a bit expensive ($50), but you can avoid sudden connection problems.
So follow these steps to connect your iPhone to Samsung TV via HDMI and Lightning-to-HDMI adapter:
Connect the HDMI and Lightning-to-HDMI adapter.
Then connect the Lightning end to your iPhone and the HDMI end to your Samsung TV.
After that, select the right input on your TV and start playing the desired content on your iPhone.
That's it. As you can see, there's nothing complicated about mirroring your iPhone's screen to the Samsung TV, even without AirPlay.