The iPhone doesn't support every video format. Initially, it can only play videos in MP4, MOV, M4V, and AVI, but only if they have been compressed using MJPEG, MPEG-4, or H.264 standards. 
For example, you've sent a video from your computer to your iPhone, but the video still won't play. If you encounter this problem, it is most likely caused by the wrong kind of codec. 
Here's how you can fix it.
Use of third party video players
The first thing that will help you is to download a third-party video player. We have selected 5 apps that play almost any video format, including mp4.
VLC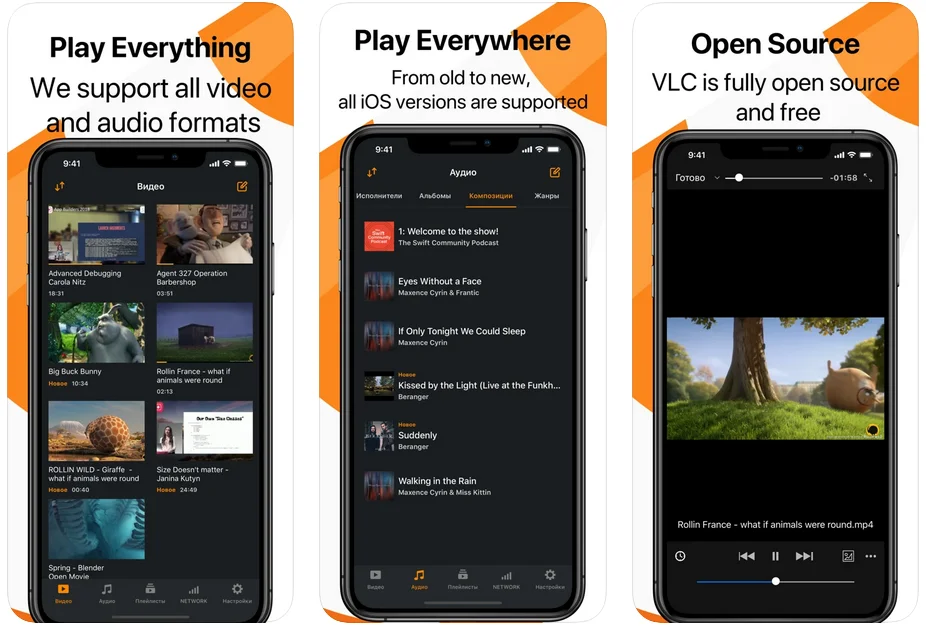 VLC is generally considered one of the best video players. The app supports a large number of video formats, including all the most common file types and codecs. Importantly, for Mac and iOS users, VLC also supports AirPlay streaming video and audio. 
VLC is also integrated with Dropbox and other cloud storage services. Other nice features such as captions support, multitrack audio, and speed control are also available.
KMPlayer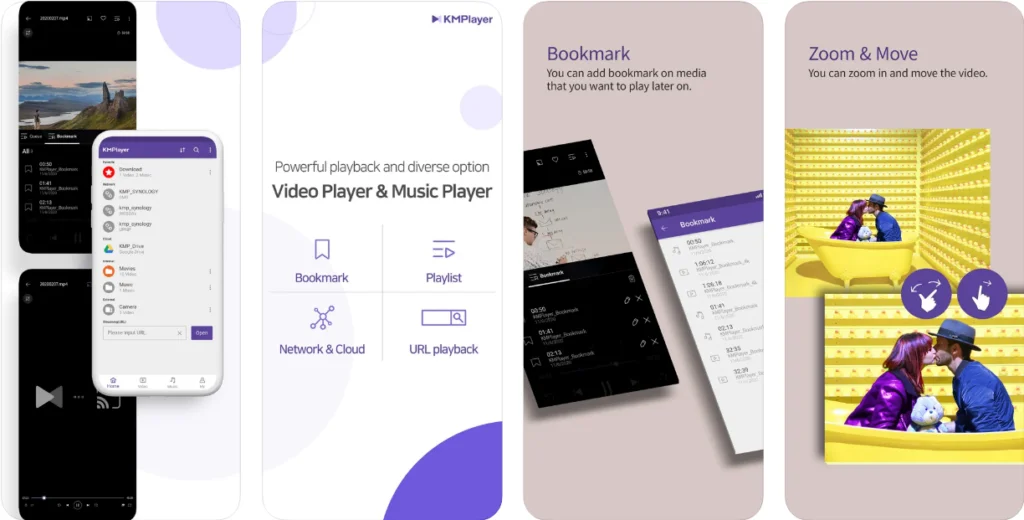 KMPlayer is a great app for the iPhone. It's suitable for anyone who wants to stream content in high resolution. You can use it to watch 4K, UHD, and FHD videos (if your iPhone model supports it). The app can potentially play even 8K content.
The video player works with over 60 video formats including MP4, MOV, REC, TOD, VRO, WTV, AVI, GVI, M4V, WMV, VOB, MT2S, MPEG, NSV and MKS. It also supports more captions formats than almost any other video player for iPhone. 
KMPlayer is free to download and use.
PlayerXtreme Media Player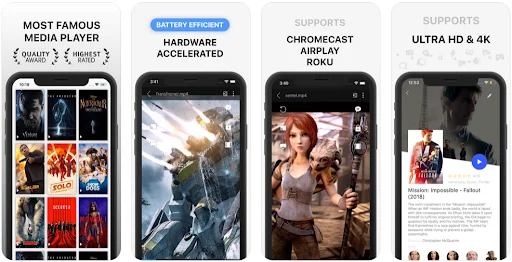 PlayerXtreme Media Player is a widely used video player for the iPhone. It has one of the most extensive feature lists of any video player in the App Store.
All major file formats are supported, including 3GP, ASF, DIVX, M2P, M4V, MOV, MP4, MPEG, MPG, OGV, PS, QT, VOB, WEBM and VIDEO_TS. 
AirPlay and Google Cast support lets you stream video from iOS to your Apple TV or Google Chromecast, and you can use the app to download captions and movies in real-time.
Infuse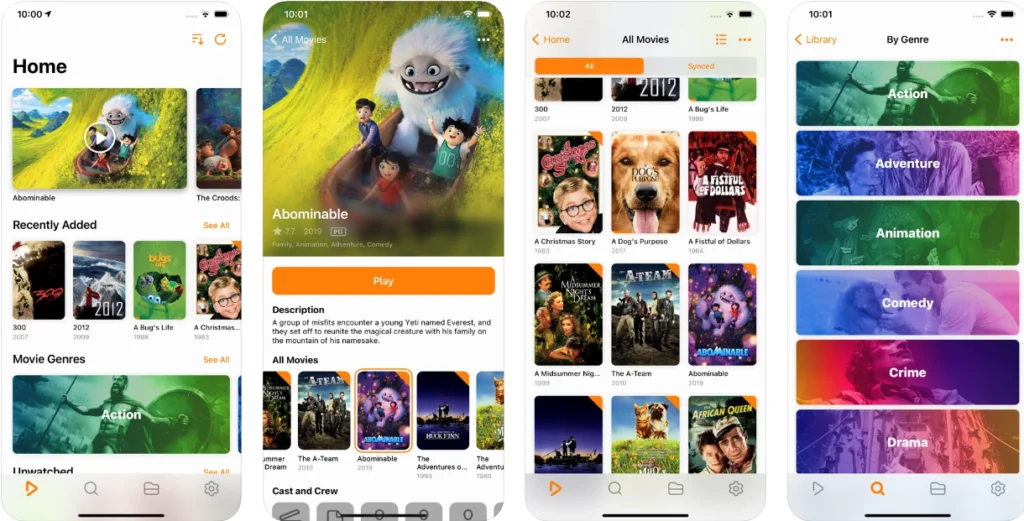 Infuse is another app you should check out. It has been available for several years and is considered one of the best video players for the iPhone. Thus, it's a direct competitor to PlayerXtreme Media Player. 
Supported file types include MP4, M4V, MOV, MKV, AVI, WMV, MTS, ISO, VIDEO_TS, FLV, OGM, OGV, ASF, 3GP, DVR-MS, WEBM and WTV. You can view locally stored iOS videos, but you can also use Infuse to stream video from external sources. 
Infuse has AirPlay and Google Cast integration, free captions and video chapters support, multiple audio tracks, and non-stop playback.
GPlayer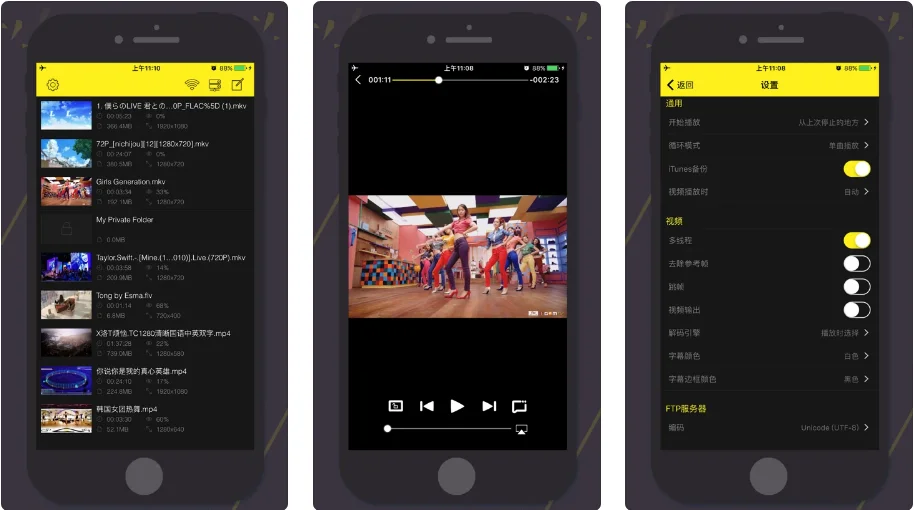 If Infuse is considered a competitor to PlayerXtreme Media Player, GPlayer is the closest challenger to being a VLC analog. Because it gained a lot of fame before the VLC port finally arrived on iOS, it imitates many of VLC's best features. 
For example, as well as VLC, GPlayer has a Wi-Fi download function. It allows you to transfer video files between your PC and device over Wi-Fi so that you can watch them when you are not connected to the Internet. Especially for Windows users, this is one of the best ways to transfer video files from PC to iPhone. 
Other important features include AirPlay support, gesture support, and iTunes integration. File types such as AVI, WMV, RMVB, ASF, H264, MKV, TS, and M2TS can be played in the application.
How to convert video
If you prefer to watch the video in the native app, you have to convert it to the right codec, such as H.264. 
In this case, we would recommend using the Any Video Converter (AVC). This program is free and very popular among iPhone users. In just a few clicks you can get the result you want:
Download and install Any Video Converter on your computer.
Open the converter.
Click "Add video" and choose the file you want to convert.
Select output video format from the "Output Profile" drop-down list.
Click on the "Convert Now!" button to start conversion.
Next, using iTunes you can easily copy your video file to your iPhone.
Featured image credit: Getnavi