Smart devices have become indispensable assistants in everyday life today. Everyone has smartphones, smart vacuum cleaners, smart bracelets, smart TVs, and more. Separate from any other smart appliances are smartwatches. In today's world, it's still an accessory that works perfectly paired with your smartphone and offers many options to help you simplify the use of your phone.
For example, you can use your smartwatch to pay for purchases, control your phone, send messages, answer calls, start the music, track your health, and more. These devices do have a staggering number of different built-in features.
However, as mentioned above, they work best when paired with your smartphone. Many people have probably heard of Pixel Android smartphones. These are phones that Google itself makes, and they have the purest version of Android installed on them. These phones are also the first to implement many features available for other Android smartphones. Many owners of Pixel phones wonder what kind of smartwatch is best to choose for stable work with the Pixel.
Is there a Pixel Watch
If you've been interested in the smartwatch market, you've probably heard that many smartwatch companies are also releasing their smartwatches. For example, Apple (Apple Watch) or Samsung ( Galaxy Watch) have such devices. Not so long ago, Google also released its smartwatch. Of course, the best accessory for your Google Pixel will be the new Pixel Watch.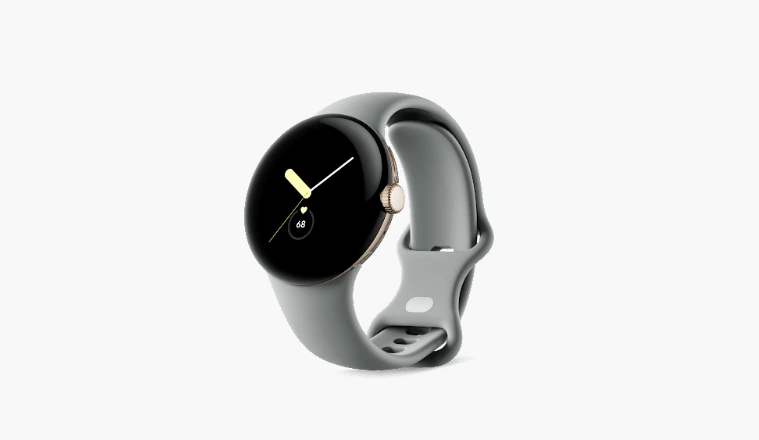 Google has released its new Google Pixel Watch smartwatch. It is currently the best device in terms of compatibility with Google Pixel devices. It has full support for Google Services. Users also note that this Watch has the best implementation of the Wear OS so far.
However, on the other hand, we have a relatively high price and not a giant battery. Although the smartwatch still captivates with its minimalistic design. This Watch will cost you $350 for the model without LTE and $399 for the model with LTE.
If you're willing to splurge a little on the most appropriate premium device, I recommend you get a watch made by Google. Because their devices will be the most compatible with each other, on the other hand, since the Google Pixel is still an Android smartwatch, it is also compatible with any other smartwatch.
What are the best smartwatches to use with your Pixel smartphone?
As described above, the Android operating system allows you to use various devices with your Pixel smartphone. Below you will find a list of the most popular smartwatches on the market. These watches are proven options and will work well with any Android smartphone. Including the Pixel smartphone. Let me show you a comparison chart of all popular Smartwatches to your Google Pixel.
| | | | | | |
| --- | --- | --- | --- | --- | --- |
| Tech Specs | Pixel Watch | Samsung Galaxy Watch 4 | Samsung Galaxy Watch Active 2 | Huawei GT 2E | Huawei GT 2 Pro |
| Price |  $349 (LTE), $399 (Cellular) | $249 | $259.00 | $99 | $299. |
| Size | 41mm | 41mm | 40mm, 44mm | | 46.7mm |
| Compatibility | Android 8.0 or higher | Android 5.0 or higher | Android 5.0 or higher | Android 5.0 or higher | Android 5.0 or higher |
| Water Resistance |  5 ATM |  5ATM + IP68  |  5 ATM | 5 ATM | 5 ATM |
| Battery life | 24 hours | 40 hours | 24-60 hours | up to 14 days | up to 14 days |
Samsung Galaxy Watch 4
One of the most popular smartwatches worldwide is Samsung's Galaxy Watch lineup. Of course, it fits best with Samsung devices, but it can work with any phone.
These watches are controlled by a spinning wheel on the front of the Watch. This is a very stylish and practical solution.
This is a high-quality and reliable watch. They work under Wear OS, created in cooperation with Samsung. And this means you can access all applications and Wear OS functions from any android device.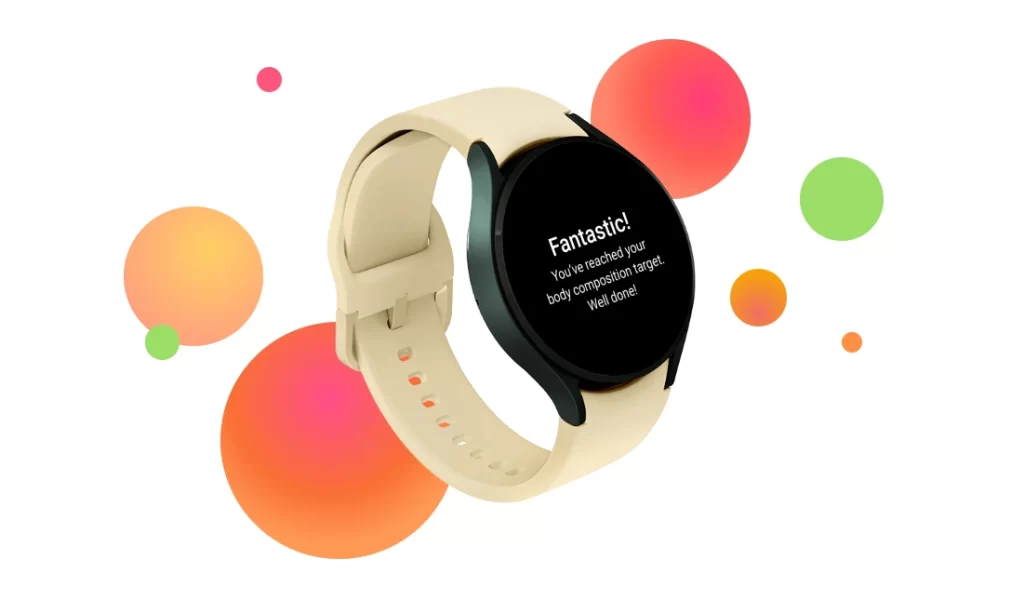 You can also install apps on it through the Samsung smartphone store. Among the additional options, this Watch also presents Super Amoled Screen, BIA sensor (bioimpedance analysis), geomagnetic sensor (compass), PPG sensor (photoplethysmography), electrocardiography (ECG), accelerometer (up to 32 g), gyroscope, barometer, light sensor, hall sensor.
This Watch is also equipped with the functions of the NSF and a smart eSIM. The price of this Watch starts at $249.99, which makes them a relatively inexpensive choice. You get excellent quality and guaranteed software support from Samsung for that money.
Samsung Galaxy Watch Active 2
This Watch is similar to the Samsung Galaxy Watch line of watches. However, it's the most optimized for fitness. If you like an active lifestyle, it will also fit your needs.
The design of the Galaxy Watch Active 2 has abandoned some of the classic elements of their watches. Such as the rotating ring on the front side. The ring has been removed, and the overall dimensions of the Watch have been made a little smaller to make it lighter and more comfortable for you to wear.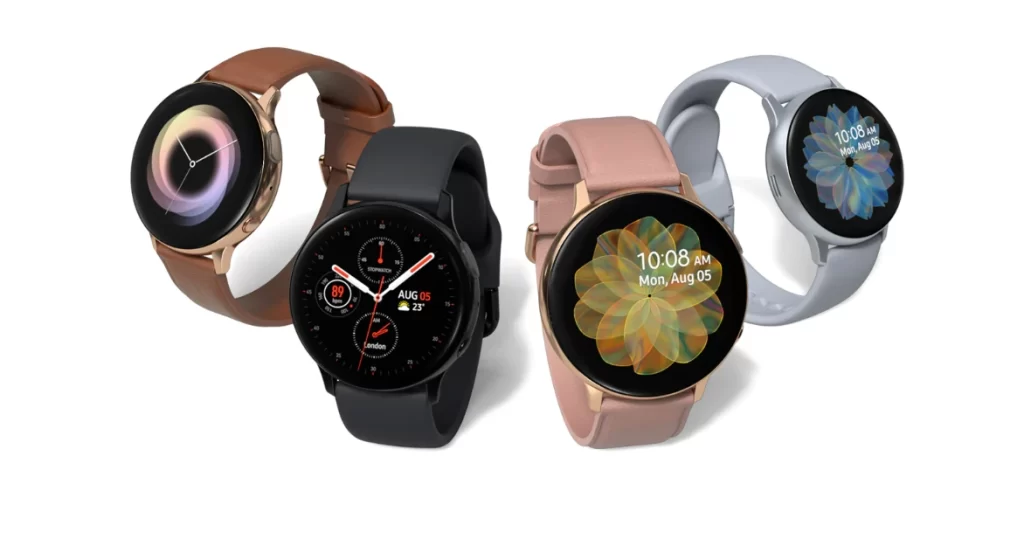 They use the Tizen system from Samsung. You will get the same features and configuration options as in Wear OS from Google, but the software will be much better and more stable.
Notifications and messages can also interact with different tools, such as the on-screen keyboard or voice commands. Some essential functions can also be accomplished with Samsung's voice assistant, Bigsby.
In addition, the Watch has many different health and fitness features. And even with all its parts, the Galaxy Watch Active 2 maintains two-day battery life. The cost of such watches will cost from $249.99.
Huawei GT 2E
Huawei also has a line of pretty good smartwatches. For example, Huawei GT 2E is a mid-range fitness smartwatch. The price will be a little lower. Like the Watch Active 2, it is more suitable for sports and training.
The GT 2E is more pristine and looks like a classic digital watch. This makes it ideal for exercising because of its small size and lightweight.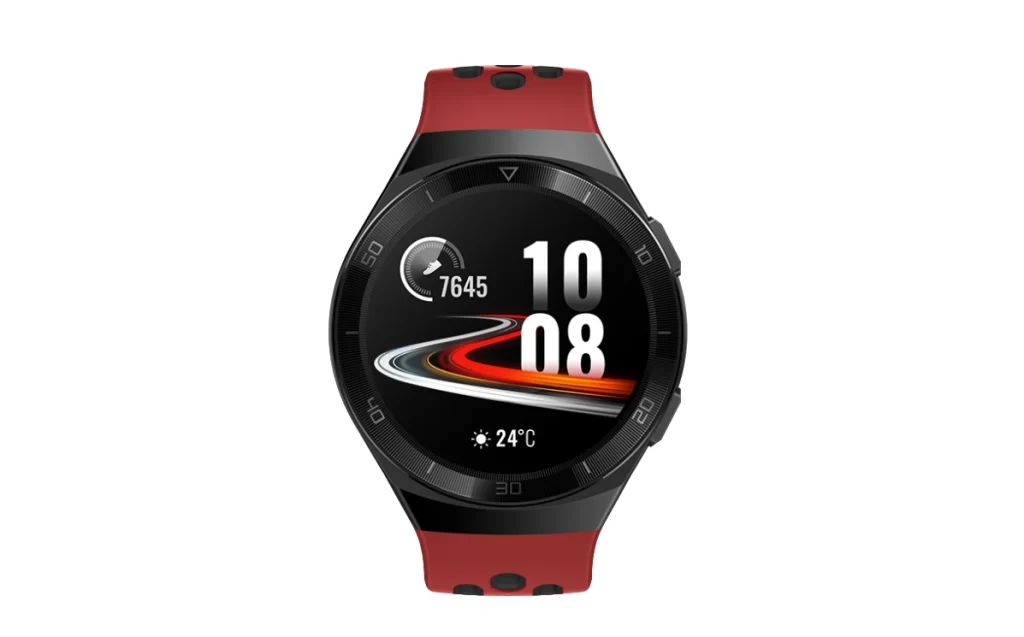 It also has smaller buttons and strap locks to make exercising more comfortable. The wrist bracelet is more optimized for sports activities. Holes in the bracelet provide better air exchange.
There is no speaker or microphone, and the amount of RAM is reduced. However, all in all, if you're looking for a more budget-friendly and sports-optimized version of the GT 2, this Watch is a great choice. The price for it starts at $99.
Huawei Watch GT 2 Pro
If you're looking for a watch in the more premium segment, the Huawei Watch GT 2 Pro is perfect for you.
This Watch is the successor of the highly successful Huawei Watch GT 2 or GT 2e. It has everything in its previous models, but several features previously unavailable in Huawei watches.
For example, the build quality has been noticeably improved. In the case of, the Watch now uses high-quality materials such as titanium. Also in the Watch is a 1.3-inch AMOLED display, protected by a sapphire crystal stronger than glass.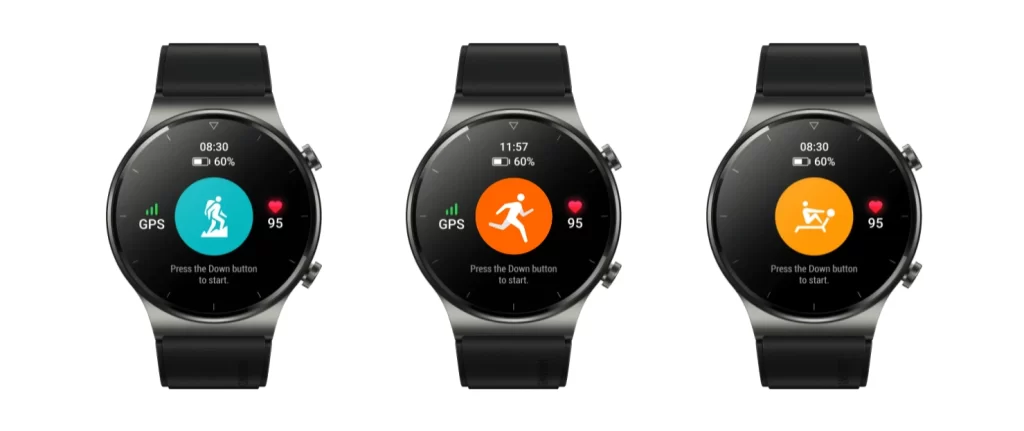 The user interface remains the same user-friendly and fast as in previous models. Still, only in this version is there the ability to install applications that extends the functionality of GT 2 Pro. In addition, the number of different possible workouts has been expanded, such as snowboarding, skiing, cross-country skiing, and a driving range for golfers.
The GT 2 Pro has a fully customizable notification system like its predecessors. They also have a built-in microphone and speaker for calls and potentially for the future Celia voice assistant.
This Watch has a battery life of up to two weeks. And you can charge it with either wireless or magnetic charging. The cost of such watches will start at $299.