Apple is known for its unique ecosystem. Apple develops devices that work only under their operating system, but in addition, Apple also produces a lot of software exclusively for their devices. For example, among iPhone owners, the most popular messenger is iMessage. But is it free?
In short, yes. iMessage itself is free, and it will be accessible all over the world. However, because iMessage is integrated into the Messages app on your iPhone, you may notice that they charge you for sending messages. Let's understand the difference.
Do you need to pay for iMessage?
You don't have to pay for iMessage. It's a real messenger. It doesn't require paying for specific messages or media files, but you need an Internet connection. In addition, iMessage will be linked to your phone number or email address.
Please note that you may only need to pay extra for additions to iMessage. For example, sets with custom stickers or extensions for your messenger provide unique functions you did not have in iMessage before.
On the other hand, your iMessage account can sometimes be de-logged or deactivated on your smartphone. In this case, in the Messages application, you still will have to pay for SMS according to your operator's tariffs.
Does iMessage free outside your Apple ID region
One question that I constantly face is: what happens if I go on vacation abroad? For example, to another continent, and the message would still be free? Even if I'm in a different region than where the iPhone is registered?
The answer to this question is YES. The iMessage service is free anywhere in the world. If it is activated on your iPhone, it will work everywhere. Of course, there are exceptions where local laws may block iMessage, and you'll have to use WAPN to send a Beslapatnoe message.
Let's summarize, the only thing you need (and may have to pay for) is Internet access. If you are offline, no messages can be sent. Of course, you can still send regular text messages, but you will have to pay for them according to the terms and conditions of your mobile operator.
What are the differences between green and blue messages on iPhones?
Let's deal with another question that many users are interested in and often have them stumped. What is the difference between blue and green messages in iMessage on iPhone? There is nothing complicated here. Let's deal with them one by one.
The fact is that the Messages app is not equal to iMessage. The iMessage service is one of the functions of the Messages app. So if you see blue messages, a user is coming to your messenger account using his messenger account.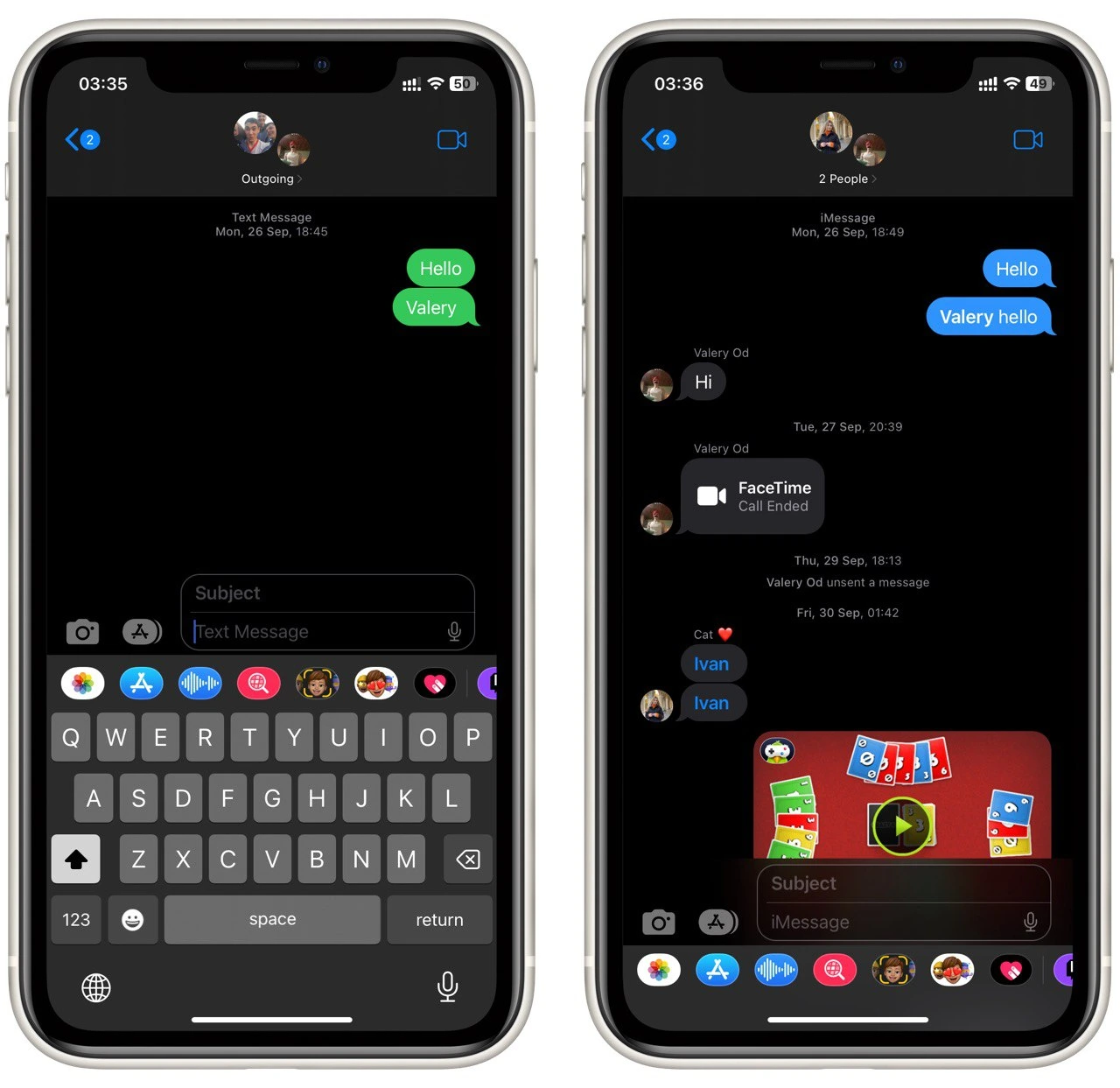 On the other hand, if you see green messages, the user has sent you a regular SMS. You can see what type of message you will send in the text bar. It will either say Text Message or iMessage before you type. Also note if you are doing a group chat and at least one member does not have an active iMessage account, the chat will send Text messages by default.
How to turn on or off iMessage on iPhone
As I said before, iMessage is one of the services available to you on the Messages app on your iPhone. This means you can activate or deactivate iMessage on your iPhone anytime. To do this, you need to:
In the settings on your phone, go to Messages.
Toggle the switch to grey(off) or green (on) next to iMessage.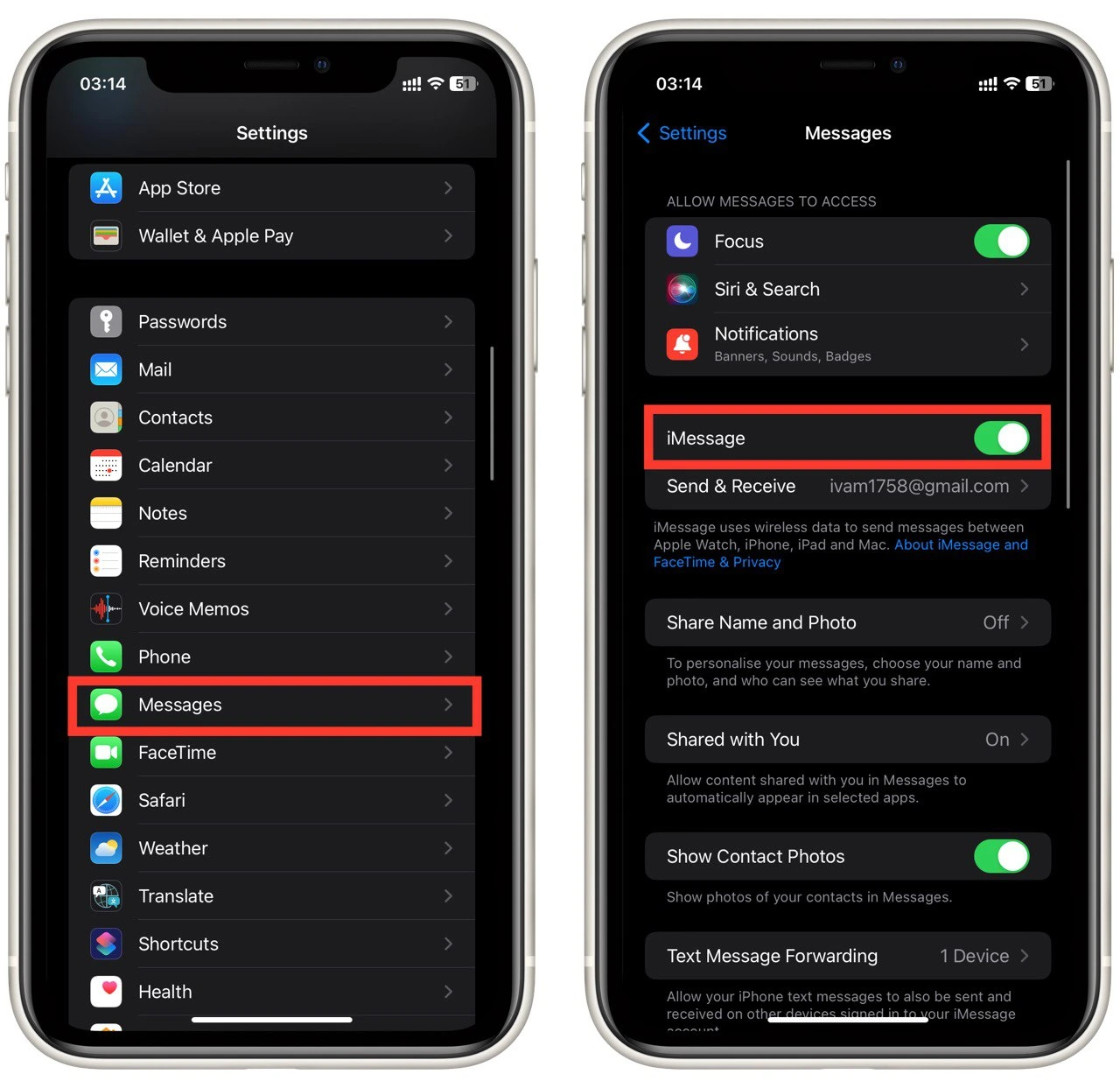 Pay attention that here you can also choose a phone number or mail to which the message will be attached. By default, it will be enabled and linked to the SIM card marked in the iPhone as the Primary SIM card. I recommend keeping iMessage enabled because if you communicate with other Apple users, you can save money on messaging.
Does iMessage available only on iPhone
Another question I often get is, is iMessage only available on iPhones? The answer is both yes and no. iMessage is open on all Apple devices. However, there are a few BUTs. Let's take a closer look at how it works.
First, iMessage is also available on devices like iPad, Mac, or iPod touch. There is the same Messages application as on the iPhone. The only difference is that these devices can not insert a SIM card, which means that in the Messages, you can only receive messages andMessage or duplicate SMS with your iPhone. If you don't have an iPhone, you will not be able to link your account to your phone number. You will only have the option to link iMessage to email.
Regarding devices on Android or, for example, Windows, there are no official methods of getting an iMessage on these devices to date. Of course, you can use some tricks. For example, you can stream your iPhone or iPad screen to your computer and access iMessage. But you can't fully access it on a non-Apple device.