Watching different content on Hulu can make it easy to lose track of what you've already watched and what you want to watch next. That's where Hulu's viewing history comes in.
It is called Keep Watching and is located in the collections list on the Home screen. You can find it on the Hulu website as well as the mobile and TV app. There will be a list of movies and shows you've recently watched or are still watching.
But is there any way to get the whole history of what you watched on Hulu? Yes, you can request a special report about your personal information. This should also include an entire viewing history.
Well, for a more detailed guide, check it out below.
How to check your Keep Watching list on Hulu
Let's go through the steps to view your Hulu watching history on different devices.
On website
To see your Keep Watching list through Hulu's website, follow these steps:
Visit hulu.com and sign in to your account if needed.
After that, go to the Home tab and scroll down.
While you're scrolling, you should see the Keep Watching section.

There you'll see all the movies and shows you've recently watched.
On app
Here you need to do almost the same steps as on the Hulu website.
Open the Hulu app and sign in to your account if necessary.
By default, you should appear in the Home tab.
You should see a list of tabs at the top. Scroll through it until you see Keep Watching.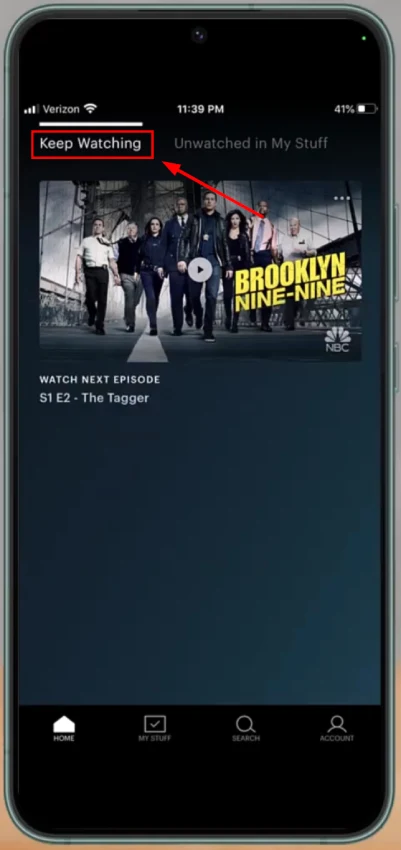 On Smart TV
If you want to check your Hulu watching history on your Smart TV, do the following:
Open the Hulu app on your TV.
Use the remote control and navigate to the Home tab.
Then, scroll to the right to open the Keep Watching section.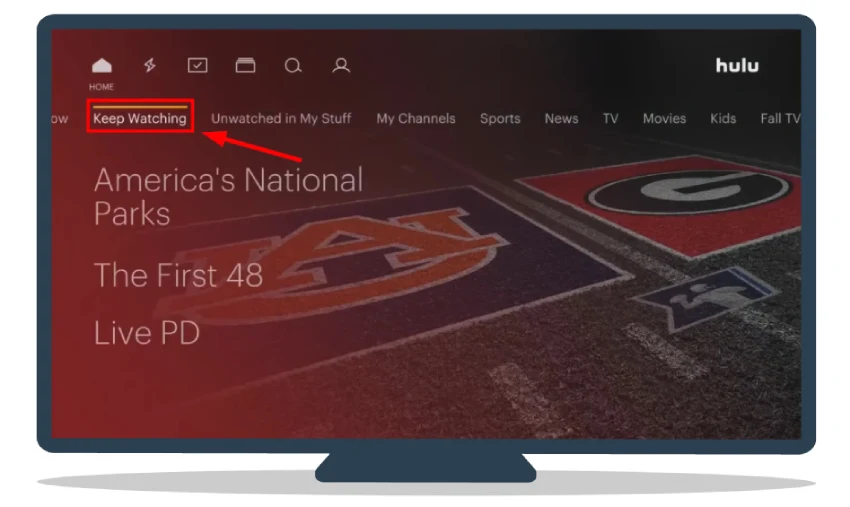 And that's it. This way, you don't have to remember and search again for shows you've recently watched. All you have to do is open the Keep Watching list.
You should also know that if you have multiple profiles on Hulu, the Keep Watching list will be separate for each profile.
From Keep Watching, you can resume exactly where you left off in each show and movie, or you can navigate to the Details page for additional information and options.
What's more, you can always clear your Hulu watching history.
How do I get a complete list of what I watched on Hulu?
As I said in the intro, while getting a list of all the content you've ever watched on Hulu isn't intuitive, it still exists. Here's what you need to do:
Go to the Hulu website and sign in to your account.
Then click on your profile icon at the top right corner and select Account from the drop-down list.
After that, scroll down and click California Privacy Rights.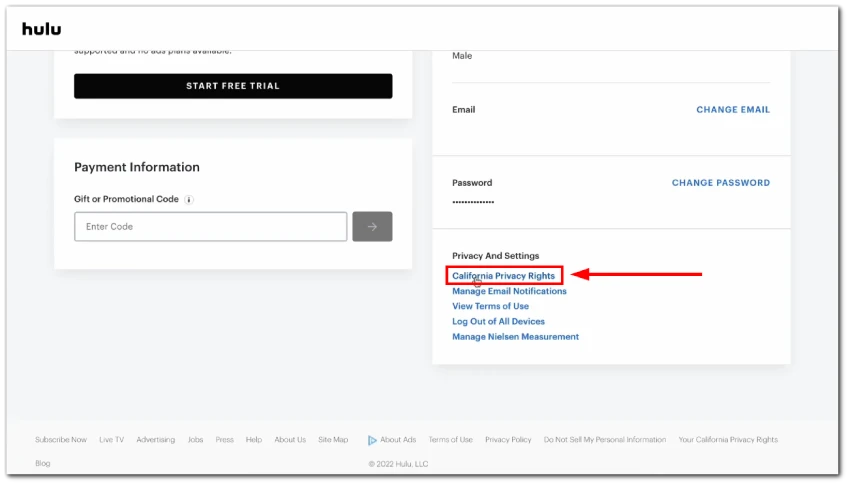 Next, go to the Right to Know section and click Request Report next to it.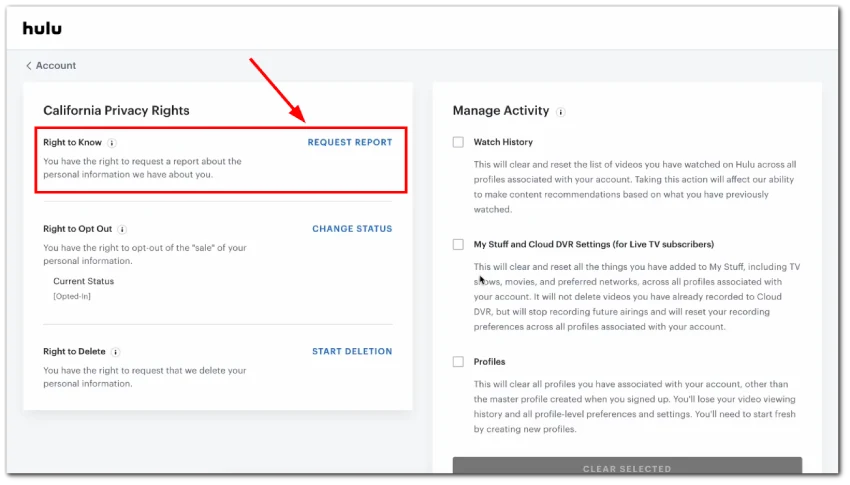 From there, you need to follow the instructions provided by Hulu.
This enables you to get a comprehensive report of all content that has ever been watched on your account.
Why aren't individual episodes showing up on Hulu?
If you're wondering why individual episodes aren't appearing in your Hulu interface, it's because the Keep Watching section only displays shows and movies that you've recently watched, not specific episodes.
To find out which episodes you've already seen, you'll need to go to the Details page of the respective series. You can also add the series to My Stuff for more detailed information.
In the My Stuff hub, you'll find a quick overview of how many episodes you have left to watch for each show you've saved. As you make your way through a series, the badge indicating unwatched episodes will update accordingly.
This badge will disappear once you've caught up with the latest episode. On the Details page, features like the watch progress bar and other badges help you identify episodes you've already watched.
How to save specific shows or movies for future watching on Hulu
If you come across a show or movie that you'd like to watch later, you can add it to the My Stuff section. Simply click on the Add to My Stuff icon on the show or movie details page.
Alternatively, you can click on the three dots icon near the content image and also select Add to My Stuff.