Are you a fan of streaming your favorite movies and TV shows using Chromecast? But what should you do if your Wi-Fi suddenly stops working? Is it possible to use Chromecast without it? The answer is a resounding yes!
While Chromecast primarily relies on Wi-Fi for its streaming capabilities, alternative methods exist to use it without a wireless internet connection. In most cases, you will need the Google Home app. So make sure you have it installed on your mobile device.
Moreover, you can also use an Ethernet Adapter to connect your Chromecast to the Internet. However, this isn't simple, and you will need additional hardware. For this reason, I will cover this method at the very end.
Well, let's look at everything in order.
Method 1: Mobile Hotspot with one phone
The first and probably most trivial method is to connect your Chromecast to the mobile hotspot on your smartphone. Of course, this is only possible if you have a cellular data plan. But first, you'll need to factory reset your Chromecast. So follow these steps:
Ensure that your Chromecast is connected to the TV or monitor and powered on.
Then locate the physical button on the Chromecast device. The button is usually on the side or back, depending on the Chromecast model.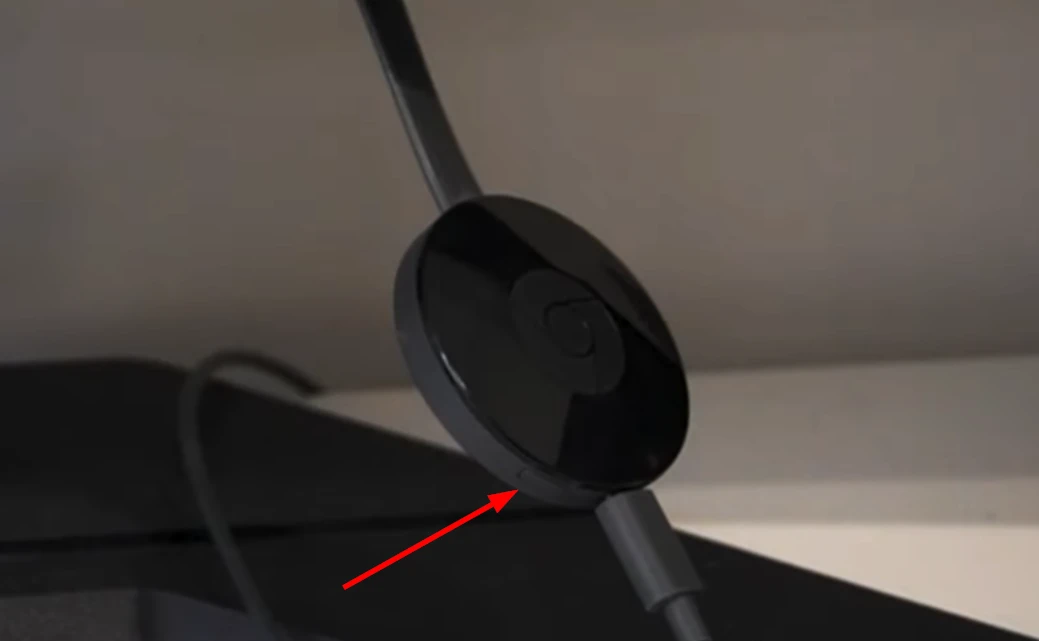 Hold down the button. The LED should begin to blink orange. When the LED light turns solid white, release the button.
Chromecast will reboot and return to its initial setup screen.
Now, you can enable the hotspot on your iPhone or Android and set up Chromecast again like a new device.
Once the mobile hotspot is turned on, open Google Home on your smartphone.
Tap on the + icon and select Set up device.
After that, tap New Device and select your home.
Google Home should start searching for an available Wi-Fi network. But don't select any of them and tap Done.
Now, the app should automatically find your Chromecast device. Select it and tap Next. Ensure it has the same name as on your TV or monitor screen.
The connection process will start. A code will appear on your smartphone and TV screen. Tap Next if it matches up.
Select your Chromecast location.
Next, you need to connect it to your mobile hotspot. If it's not on the main list, tap Other Wi-Fi network.
Enter its name, select the security type, and enter a password. Tap Connect. It may take some time to connect, so be patient.
Once connected, your Chromecast should appear on the Local Devices list in the Google Home app.
Finally, select it to start casting your mobile device screen.
You can stream content directly from YouTube, Netflix, or another similar app.
The advantage of this method is that you only need one phone. However, it may not work for everyone. If it's you, then move on to the next solution.
Method 2: Mobile Hotspot with two phones
It may sound weird, but here's the thing. You will use one phone as a hotspot. So it must have a cellular data plan on it. And with the second one, you will control the Chromecast.
So here's how it works:
Grab your first phone and enable a mobile hotspot.
Now take your second phone and connect to that hotspot.
After that, open Google Home on your second phone and connect your Chromecast to the mobile hotspot network.
Finally, open the app or media you want to cast, look for the Cast icon, and tap it. Your Chromecast device should appear in the list. Select it to start casting.
A mobile hotspot allows you to create a local network where your Chromecast and casting device can communicate. This method can be handy when traveling or when your primary Wi-Fi connection is unavailable.
Method 3: Ethernet Adapter
Chromecast doesn't have a jack for an Ethernet cable. But Google came up with a workaround. They made an Ethernet Adapter for Chromecast. It costs $15 in the official Google Store and looks like this: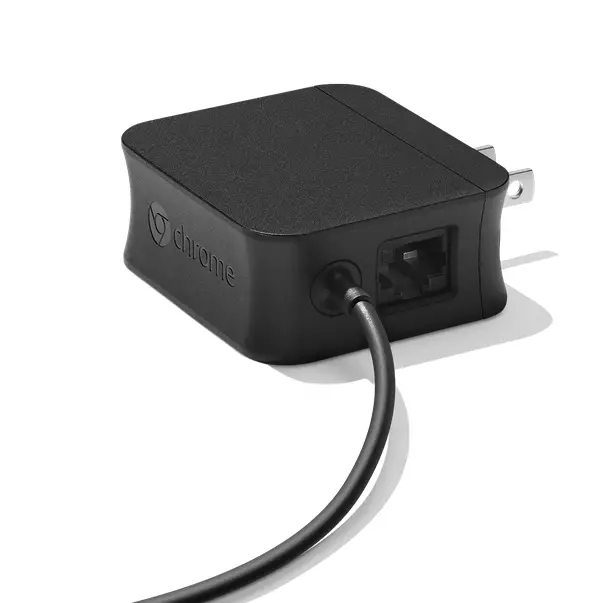 So how does it work?
Ethernet Adapter provides power and internet connectivity to your Chromecast device. Follow these steps to set it up:
Plug your Chromecast into an HDMI slot on your TV or monitor.
Then, plug the Ethernet Adapter's cable end into your Chromecast micro-USB port.
Connect the Ethernet cable to the Ethernet Adapter.
Plug the Ethernet Adapter into the AC power source near the display to which you plan to connect your Chromecast.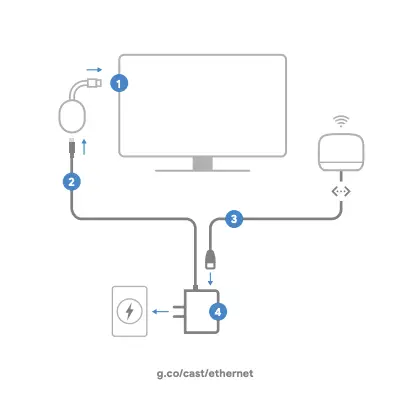 Open the Google Home app from the device you wish to set up your Chromecast and follow the setup instructions.
You will be prompted to choose a Wi-Fi network during the setup process. At this stage, your Chromecast will detect the Ethernet connection and allow you to connect via Ethernet. Select this option to establish a wired connection.
Remember that Ethernet Adapter won't provide internet access to your Chromecast unless it is connected to an active router with internet access.
Also, you should know that it is normal for the Ethernet Adapter to get warm. However, if it becomes excessively hot, it is recommended to disconnect the cable end of the Ethernet Adapter from your Chromecast. Let the Ethernet Adapter cool before unplugging it from the power source or resuming operation.
What is Guest Mode on Chromecast?
Guest Mode is a feature that allows people not connected to your Wi-Fi network to cast content to your Chromecast device. You can enable it if you don't want your friends or guests to connect to your home network. At the same time, they will be able to cast content to your Chromecast device.
Although your guests don't need Wi-Fi, Chromecast will. Therefore, make sure that it is stable. Or set up a hotspot, as shown above.
Well, here's how to set up Guest Mode on Chromecast:
Open the Google Home app on your mobile device.
Tap on the Chromecast device you want to enable Guest Mode for. It should be listed on the main screen.
Tap on the gear icon in the top-right corner of the device card to access the Chromecast settings.
After that, go to Recognition & Sharing.
Find the Guest Mode option and tap on it.
Toggle the switch to enable it.
Note: Guest Mode is not available on Chromecast with Google TV.
Once Guest Mode is enabled, your Chromecast will emit a unique Wi-Fi signal for guests to connect to. They can then cast content to the Chromecast using supported apps on their devices. But still, they must be connected to the Internet (cellular data, different Wi-Fi).
Why is my Chromecast not connecting to Wi-Fi?
Since you're trying to find a way to use Chromecast without Wi-Fi, you might be having some problems with it. So let's figure out what might be causing it and how to fix it.
There are a few reasons why your Chromecast might be unable to connect to Wi-Fi. So check these things first:
Check your Wi-Fi password. Make sure you're entering the correct password for your Wi-Fi network. You can find your password on your router or by contacting your internet service provider.
Restart your router. Sometimes a simple restart can fix a Wi-Fi connection problem. Unplug your router from the power outlet for 30 seconds to restart it, then plug it back in.
Move your Chromecast closer to your router. The further away your Chromecast is from your router, the weaker the Wi-Fi signal will be. Try moving your Chromecast closer to your router to see if that fixes the problem.
Update your Chromecast's firmware. Google regularly releases firmware updates for Chromecast devices. These updates can improve performance and fix bugs.
Factory reset your Chromecast. If you've tried all of the above and your Chromecast still won't connect to Wi-Fi, you can try factory resetting it. This will erase all your settings and data, so back up anything important first.
How to manually update Chromecast
To update your Chromecast's firmware, follow these steps:
Open the Google Home app and go to the Devices tab.
Then select your Chromecast device.
Tap on the More icon (three dots) and select About.
If there is an update available, tap Update.
After that, try reconnecting to your Wi-Fi.
How to factory reset Chromecast
To factory reset your Chromecast, do the following:
Hold down the Reset button on the back of the Chromecast for 25 seconds.
The LED light will flash amber and then white.
Your Chromecast will be reset to its factory defaults.
If you're still having trouble connecting your Chromecast to Wi-Fi, you can contact Google Support for help.