Gifts at Tik Tok are a way to thank or just make nice to Live streamers. They're available to every user and help bloggers develop their channel and earn money from it.
What do you need to know about TikTok gift points and their price
TikTok is a rocking app in 2021-2022 that becomes more and more popular around the world, especially among Gen Z. In case you're new to TikTok – the idea behind it is quite simple. There's a never-ending stream of short videos and you can always swipe up to watch a new one.
However, there always was a problem with monetization for creators and that's why TikTok has launched TikTok Gifts. You can send them to your favorite creators to support what they're doing.
You can buy badges for different amounts of money and gift them during TikTok Live video streams.
What is a TikTok gift?
Once you reach 1,000 subscribers, TikTok lets you accept gifts from your fans during live broadcasts. The virtual gifts are actually icons, ranging from pandas to drama queens.
Each of these gifts represents a different dollar amount. Once you collect the gifts, you can exchange virtual icons for virtual diamonds. You can then use the diamonds to get real money using PayPal or another secure payment method.
The gift is purchased in the TikTok app with coins. These coins are the only monetary purchase allowed in the app. After purchasing coins, you can click the pink gift icon while watching a TikTok Live video to send the virtual badge to another user.
It's important to note that only people over the age of 18 can send gifts to TikTok. After several public protests, the company was forced to implement a policy to protect young users from fraud.
How to send TikTok gifts to your favorite creators
The first thing to know – you can send TikTok Gifts only to the creators during their live streams.
To find the live streams, you should tap on the button in the upper-left corner of your TikTok home screen.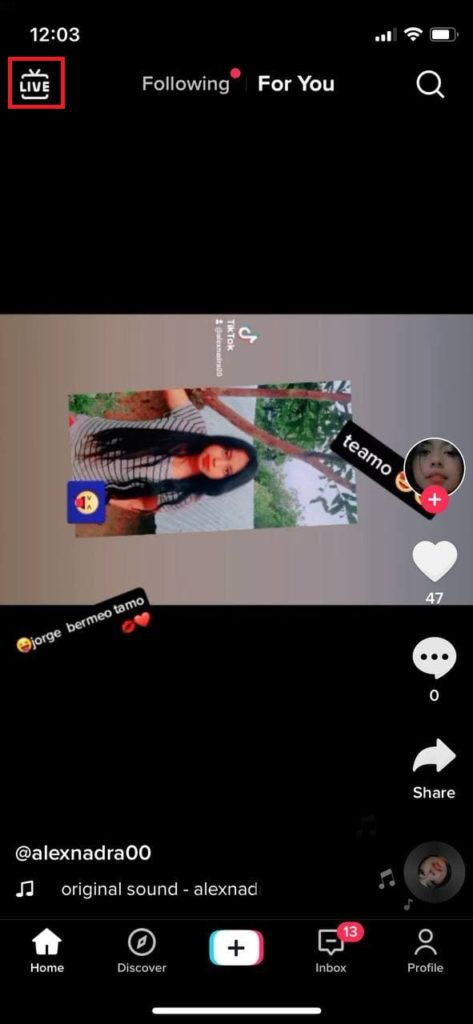 Then, you will need to find the stream you want to support and tap on the Gift icon in the bottom-right corner.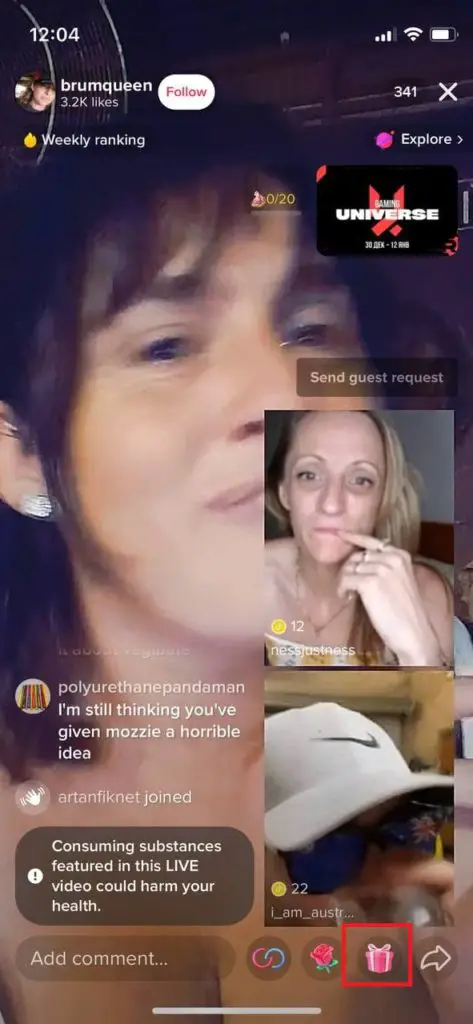 Here, you can find different gifts with different prices in TikTok coins.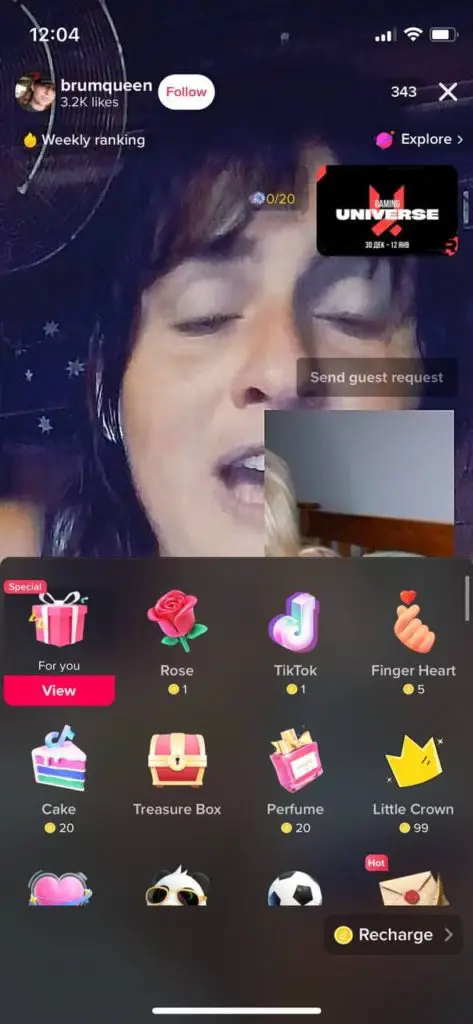 After that, the TikTok creator will receive diamonds, that cannot be bought, only received for the gifts. However, they can be exchanged for cash. After the creator reaches $100 in cash, they can withdraw money via PayPal.
So, by sending gifts, you can reward your favorite creators in cash. Of course, if the creator would receive enough gifts to exchange diamonds for at least $100 in cash.
What are the eligibility requirements for gifts on TikTok
What are the eligibility requirements to send gifts on TikTok
The only requirement for those, who want to send gifts is to be 18+ years old. In case you're an adult – you can buy TikTok coins and send gifts to your favorite creators. However, there are much more requirements for creators who want to receive gifts.
What are the eligibility requirements to receive gifts on TikTok
If you're a creator and you want to receive gifts, you must comply with the following requirements:
Be 18+ years old.
Get at least 1,000 total views on your videos in the past month.
Post at least 3 videos in the past month.
Comply with TikTok's community guidelines (your account shouldn't be suspended or banned).
Be located in the US, UK, France, Italy, Spain, or Germany.
Comply with the minimum followers' requirements (they vary for different countries).
In case you meet such requirements as a creator, you can receive TikTok gifts.
How much do TikTok gifts cost?
Actually, there are around 100 different gifts, so that will make the article too long (and boring) to list them all, so I will highlight only the most popular ones. However, you always can check the TikTok gift price after tapping on the 'Gift' button.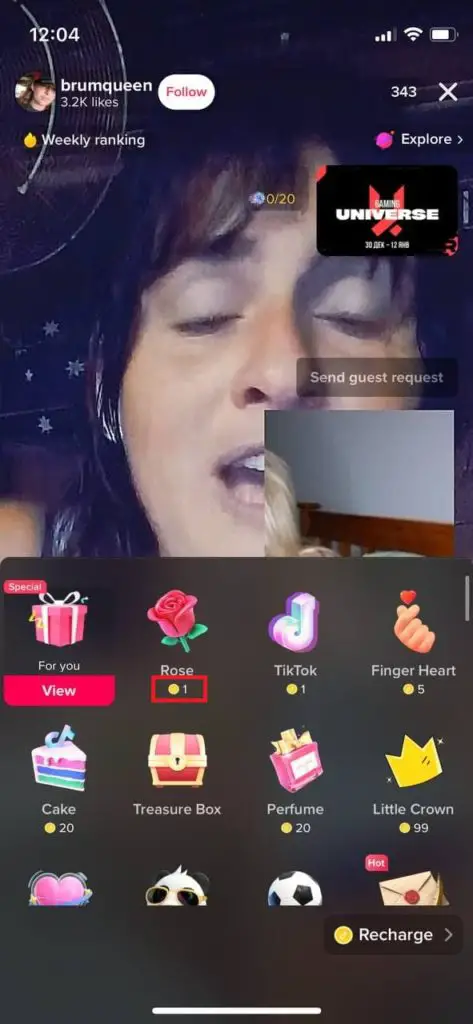 How much are tiktok gifts worth. The most popular TikTok gifts and their price:
Rose – 1 coin
TikTok – 1 coin
Panda – 5 coins
Fire – 5 coins
Hi – 5 coins
Applause – 9 coins
Doughnut – 30 coins
Confetti – 100 coins
Birthday cake – 300 coins
Gold Mine – 1000 coins
Planet – 15000 coins
The coins price looks like this:
100 coins – $1.29
500 coins – $6.49
2000 coins – $26.99
5000 coins – $66.99
10000 coins – $134.99
How to turn TikTok gifts into cash
If you're a creator – you're probably interested in how to turn TikTok gifts into cash.
Well, when you cash in your diamonds, TikTok will retain a commission of 50%. TikTok diamonds cost around $0.05 per diamond. With simple calculations, we can understand that to reach the withdrawable amount of $100 you will need around 4000 diamonds (as TikTok will keep 50% of the diamonds' value as a commission).
Basically, this means that if you send someone a drama queen bought for five thousand coins, they will get a few diamonds worth about 0.5 cents each. That's not really much if you think about it from that perspective, but outstanding writers can earn multiple gifts during a single live broadcast, so there's money to be made on that.
Creators can participate or create tasks in the giveaway app. Fundraising is also popular on social media. These fundraisers have a 'donate' option and help those in need.
Before you send a gift to TikTok, be aware that there are scammers within the app. Some users catch gifts by offering likes and subscriptions in the digital form of in-game currency. TikTok gifts are meant to support your favorite authors, not use them as a tactic to make you more popular yourself.