Google Docs is one of the most popular custom text editors. In particular, this success was achieved because Google provides the ability to access Google Docs from any device connected to the Internet and your account, as well as many features that simplify the process of creating a document.
However, one of these features is auto-capitalization. At first glance, it seems that this is very convenient, and why would anyone want to turn it off? But in Google Docs, there is such a feature, and you can do it with the help of a toolbar in two clicks. Moreover, several reasons will convince you that it is functional. Let's take a closer look at how it works.
What is auto-capitalization in Google Docs, and why do you need to turn it off
The auto-capitalize function is clear from its name. It is used to automatically capitalize the first letter of a word or the first letter of a sentence under certain conditions. However, in certain situations, you may want to turn it off.
You can turn off automatic capitalization if you learn to type quickly and intelligently. Not all places have autocapitalization, so it is good to develop the skill of not relying on google docks so you can capitalize words at the beginning of sentences or phrases that start with uppercase letters. So if you want to develop your keyboard typing skill, hurry to disable this feature.
Besides, it can only help if you write informal letters using punctuation as an emoji. Also, when communicating informally, people often purposely access errors for humor. It would be very annoying if you intentionally want to put a small letter, and Google Docs decides that it should be corrected to a capital letter.
How to disable auto-capitalization in Google Docs
As I wrote above, disabling auto-capitalization is very easy in the case of Google Docs. All you need to do is to uncheck one checkbox. After that, you will no longer automatically capitalize at the beginning of sentences and in the names of some cities or characters. To do this, you need to:
Go into any document in Google Docs.
In the toolbar, select Tools.
In the drop-down menu, click Preferences.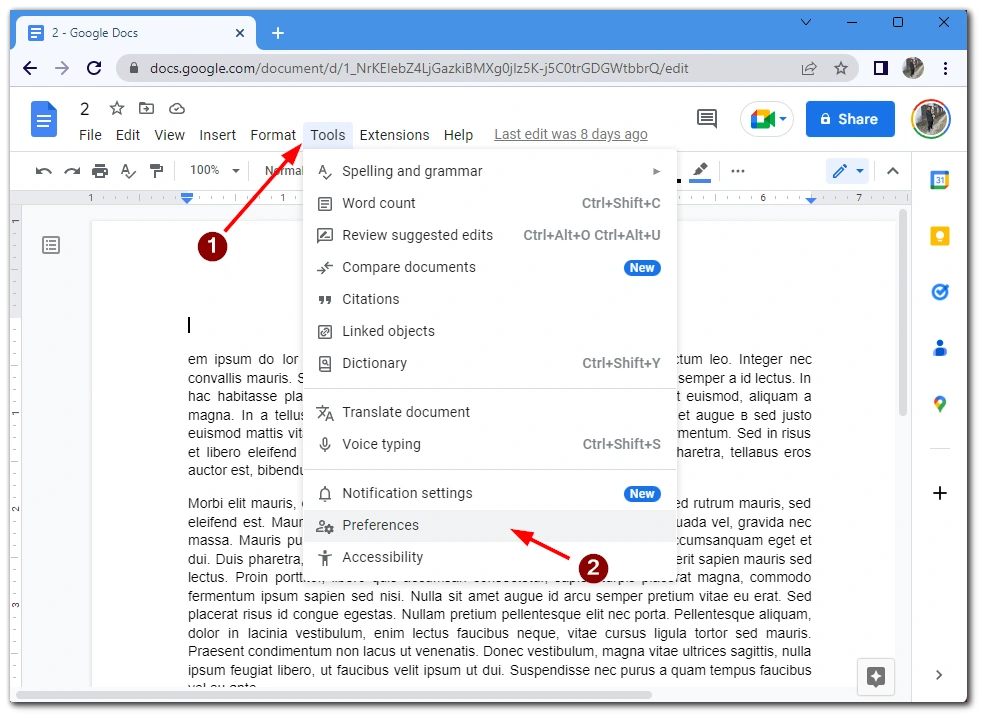 Then in the menu, you need to uncheck Automatically capitalize words.
When you are done, click OK.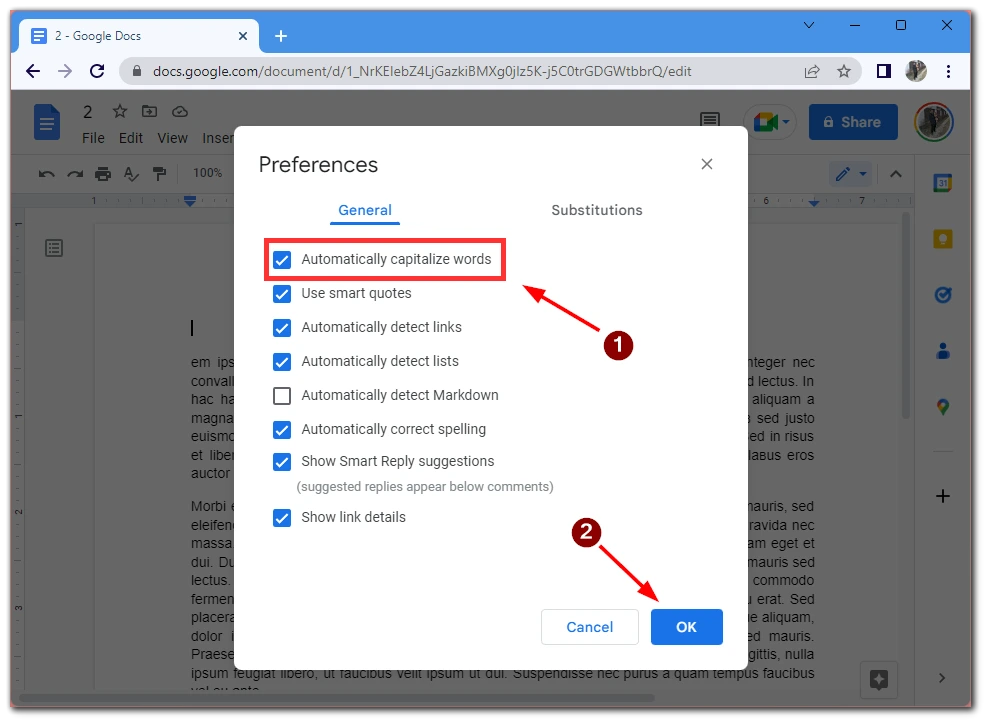 After that, auto-capitalize letters will be turned off immediately. Note that this change does not apply to your account but to a specific device. This means that on another computer, you will need to turn off autocapitalization again if it bothers you. Besides, this setting is not available on Android and iOS mobile systems.
How to turn off auto-capitalization in Microsoft Word
The same function is in another popular text editor – Microsoft Word. However, like many other functions in Word, it is in a very unobvious place. In addition, this feature is a little more advanced. You can choose where to include an auto-capitulate letter and where not. To do this, you will need the following:
After you have opened your Word document, click on the File button.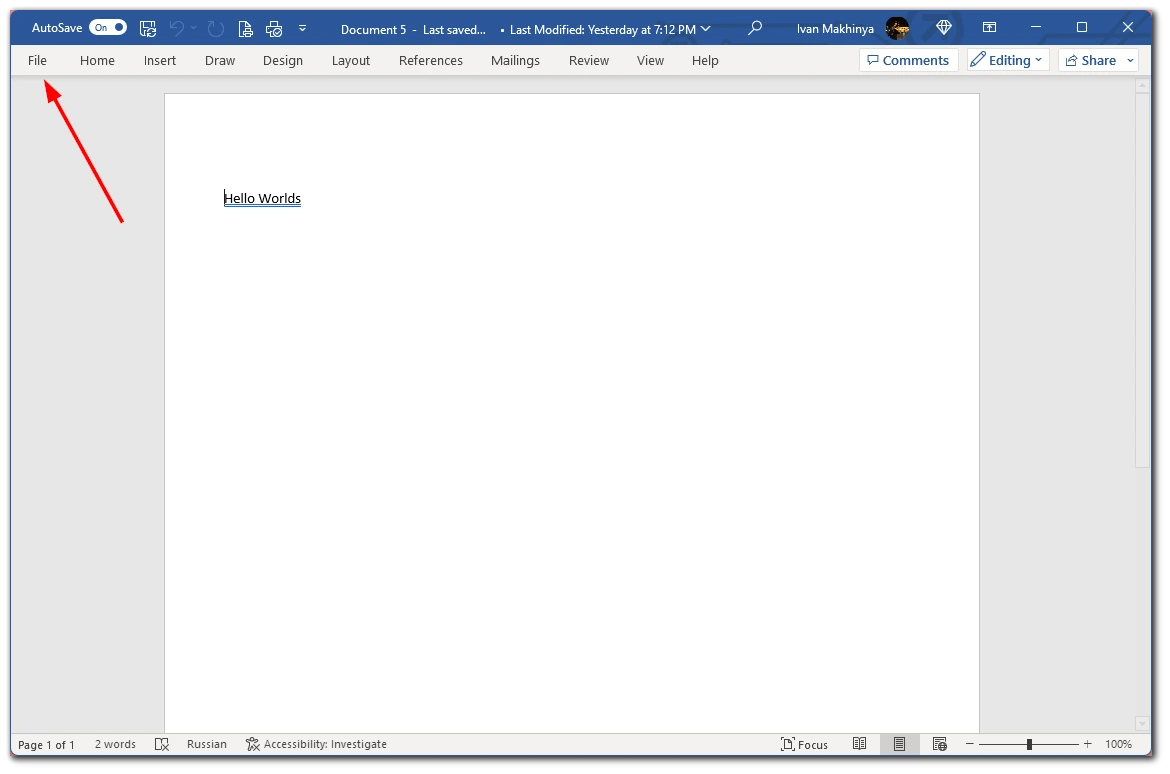 Select Options at the very bottom of the side list on the left.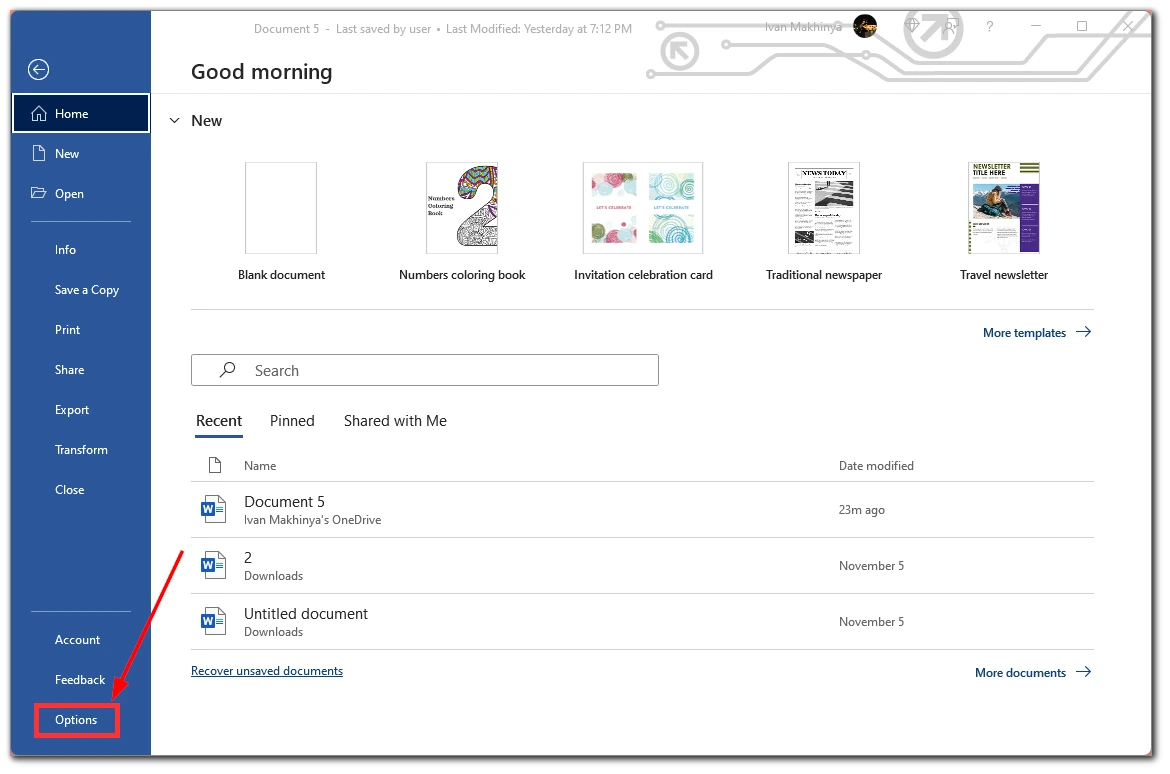 From the menu on the left, choose Proofing.
Then click on the AutoCorrect Options button…
You will see three options in front of you that begin with Capitalize. Choose which of these you want to disable and click OK.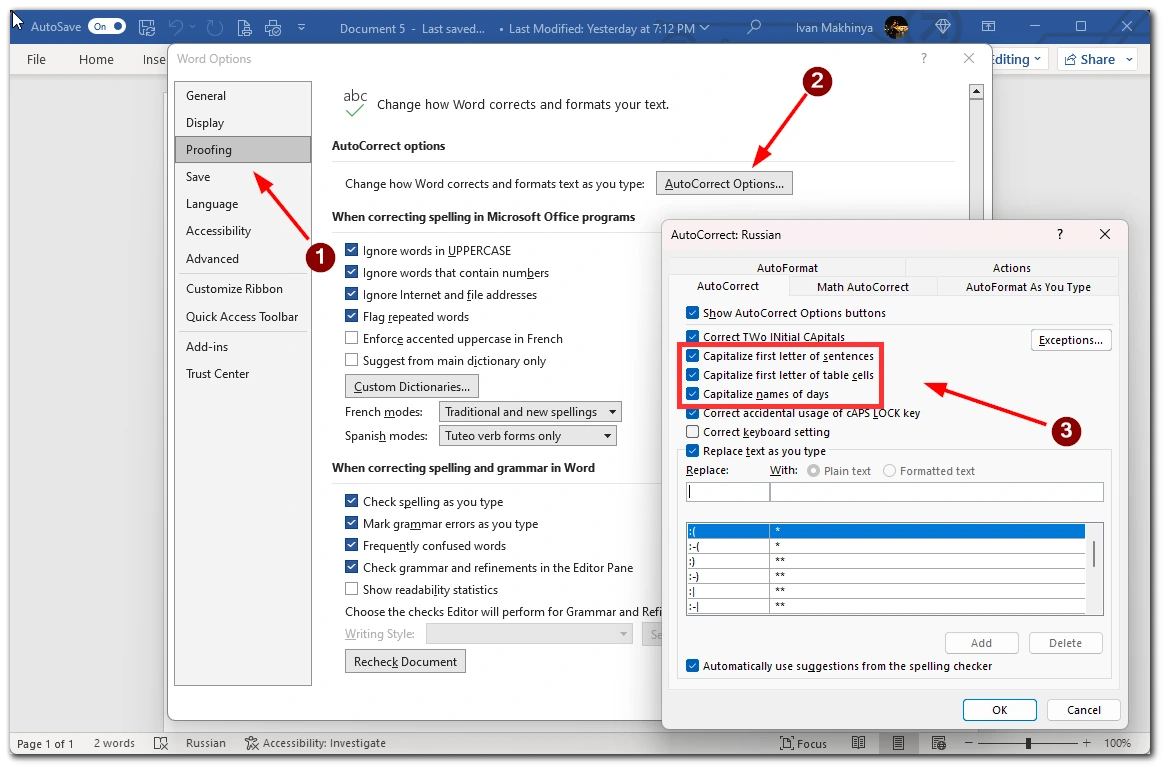 As you can see, Microsoft Word is more finely tuned. You can enable auto-capitalize in only one specific option or disable only one scenario where auto-capitalize is allowed. Also, here works the same option as in Google Docs, change is applied only on one device, and this function does not work on mobile devices.
How to turn off auto-capitalization on iPhone
As I wrote above, this function is not available on mobile devices through the app, but this is because, on mobile devices, the Keyboard is responsible for this. For example, on the iPhone, you can disable auto-capitalization you can with the following:
In Settings, click on General.
Select the following menu Keyboard.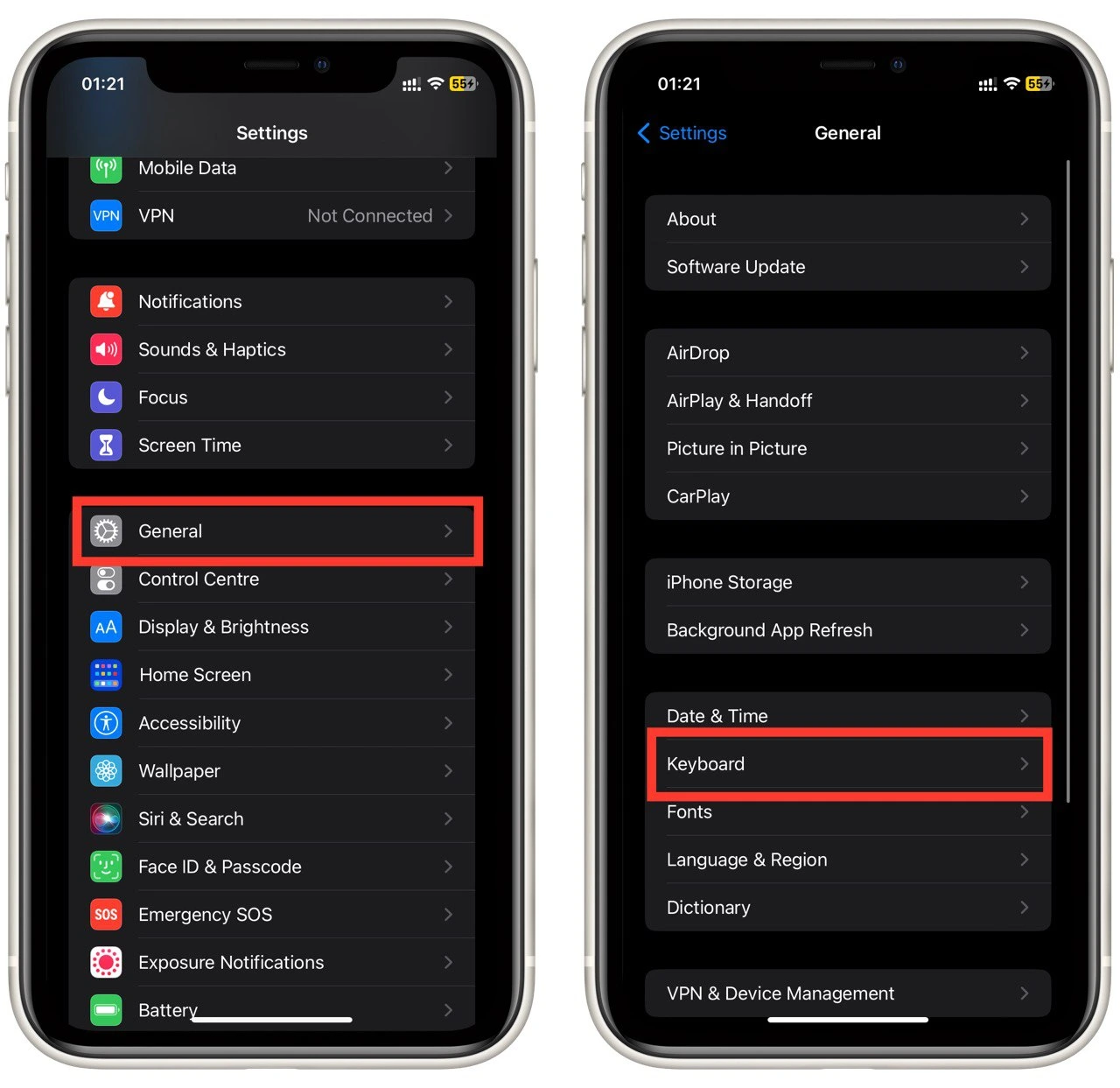 And here, you can turn off the Auto-Capitalisation option.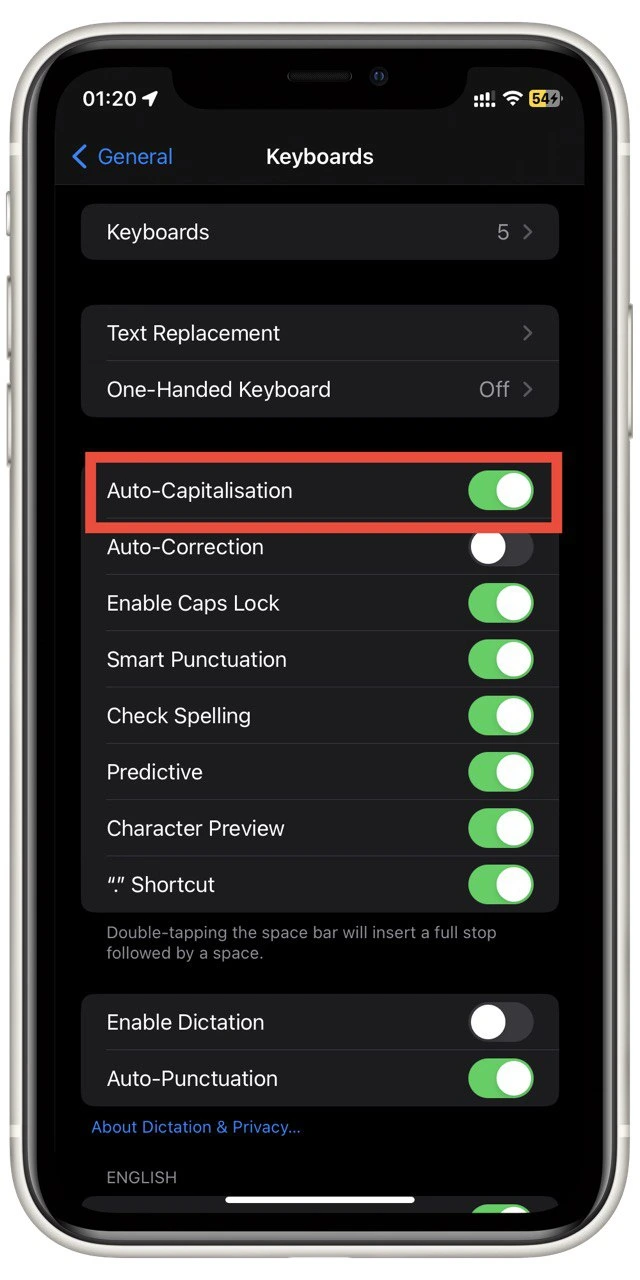 Also, in this menu, you can adjust miscellaneous functions, such as auto-correct text and intelligent punctuation. You can turn on auto-capitalization later at any time using the exact instructions.
How to turn off auto-capitalization on Android
In the case of android smartphones, the process may be a little more complicated because Android is an open system that provides the ability to install a custom keyboard. In addition, different manufacturers often install their default keyboards. However, if you are using the most popular Gboard keyboard, you need to:
Open the Keyboard in Notes or any messenger.
Click on the gear icon at the bottom of the Keyboard.
A settings menu will open where you will need to select Text correction.
Scroll down and click on Auto-capitalization.
Turn off the switch next to Auto-capitalization.
For other keyboards, the instructions will be about the same. Often the settings are invoked with a long press on the spacebar or the language change button. After that, you need to find Auto-capitalize text or something similar. Most likely, that's where the auto-capitalize feature is located.