If you're running your own YouTube channel, you've probably encountered the statistics in YouTube Studios more than once. Most of the parameters of these statistics are straightforward. But lately, more and more new Youtubers have begun encountering Impressions and can't figure out what they are.
Everything is quite simple. Impressions are the number of views of your video preview on any YouTube page. Although on one side, it may look unclear why it is needed, YouTube has explained in detail how it works and what a creator can get out of it. Let me explain in more detail why you should not ignore Impressions on YouTube.
What does it mean to make an Impression on YouTube?
As I described above, Impressions are the number of views of your video preview. The preview of your video is its splash screen on the YouTube home screen (or any other YouTube section, except for some exceptions). You get an impression if a user stays on your preview for a while.
It's just another tool to interact with your audience. I'd say it's aimed more at those who need to come to your videos from recommendations rather than those who are already subscribed to you. It's a pretty handy tool that can do you a lot of good if you learn how to use it properly.
However, several situations still do not count as Impressions, although the user has viewed a preview of your video. So, for now, this statistical tool is not perfect, but the YouTube team promises that it will be improved more in the future.
What count as an Impression on YouTube
First, let's understand what counts as an impression and what doesn't. This is the first thing you should know about this section of statistics. Because many exceptions fall outside the Impression concept, even when someone has viewed your screensaver, to start with, consider that an impression is if your screensaver was viewed for more than 1 second. You won't get an impression if the user clicks through the list with your video. Let's break down some more examples:
| Impression | Not an impression |
| --- | --- |
| Video preview viewed on YouTube on PCs, TVs, video-game consoles, and mobile devices (in the official app or web browser if it's a Desktop) | Previews viewed on YouTube's mobile website, YouTube Kids, YouTube Music, or preview videos embedded on any other website. (embedded videos or social media links) |
| Previews on YouTube's search, homepage, playlists, and feeds | Previews in Emails or any notifications |
| Previews in YouTube recommendations. | Previews that were less than 50% visible (example such as in the screenshot below) |
| | Previews were shown on YouTube player. |
| | Previews that have been shown while YouTube is in the background. |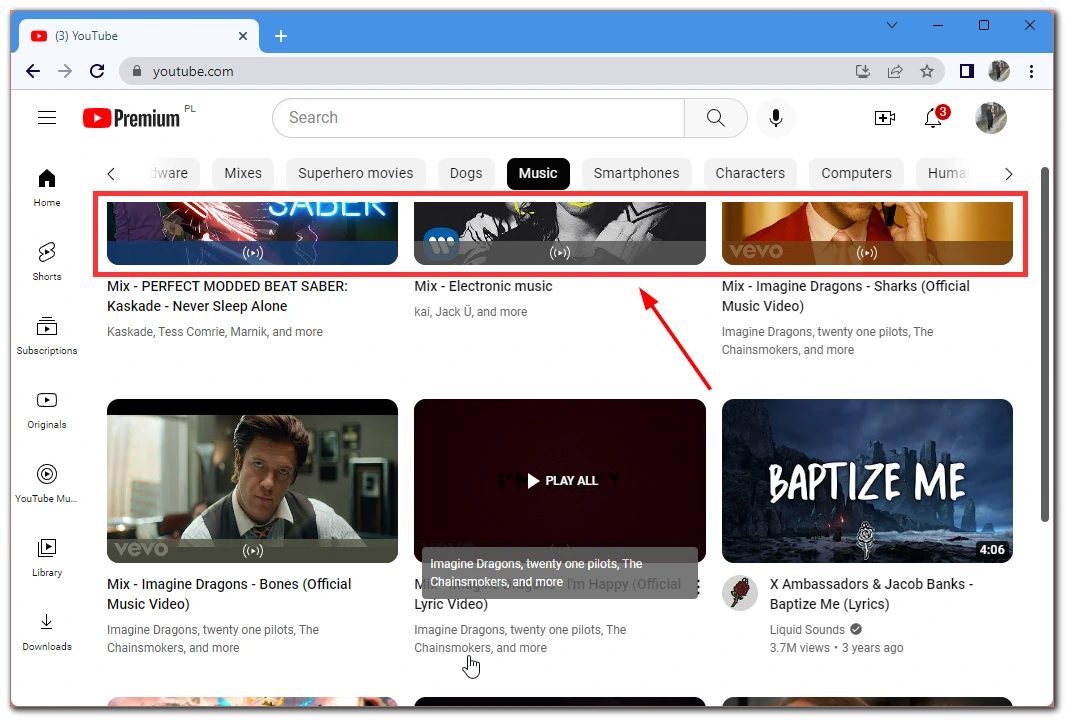 This is a list of conditions that the YouTube team presented. They have also stated that they are already working to provide an account of the viewing experience on other sites or the YouTube player. So these rules are likely to change in the future. But for now, you should analyze your preview stats and see how you can increase your Impressions based on what gets counted.
Why Impression is important on YouTube
Let's talk about how essential Impressions are in the overall statistics of your channel. There is no official information about what channels are promoted on YouTube and how Impressions will affect it, but it is clear that the higher your channel statistics, the better for you.
The most critical parameter is not even Impressions themselves but Impressions click-through rate. This shows how many people clicked on your video after watching the previews. For example, if your Impressions click-through rate is 1%, it means that out of 100 people, only one clicked on your video.
So with Impressions, you can figure out which video covers will get the most attention, and that way, you can attract new people to your channel. I would recommend taking Impressions seriously. Even if you don't like drawing previews, you better start doing it to boost your channel stats, especially now it's easy to track which way you should go.
Where you can check your Impression statistics on YouTube
Suppose you're a YouTube content creator, but this is the first time you've heard of YouTube Impressions. In that case, you should check your account urgently to familiarize yourself with this tool, which is likely to become an essential statistical element in the future. To do this, you need to:
On YouTube, click on your account icon.
On the pop-up menu, click on YouTube Studio.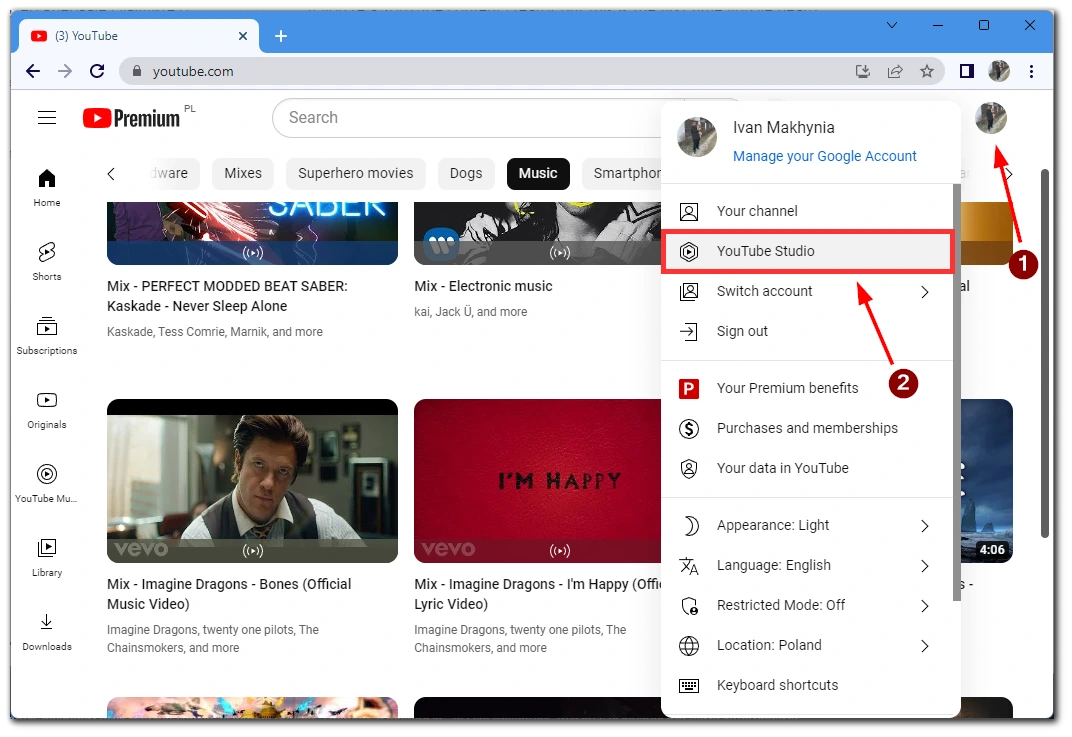 Afterward, select the Analytics button in the menu on the left screen side.
Then click the Content tab.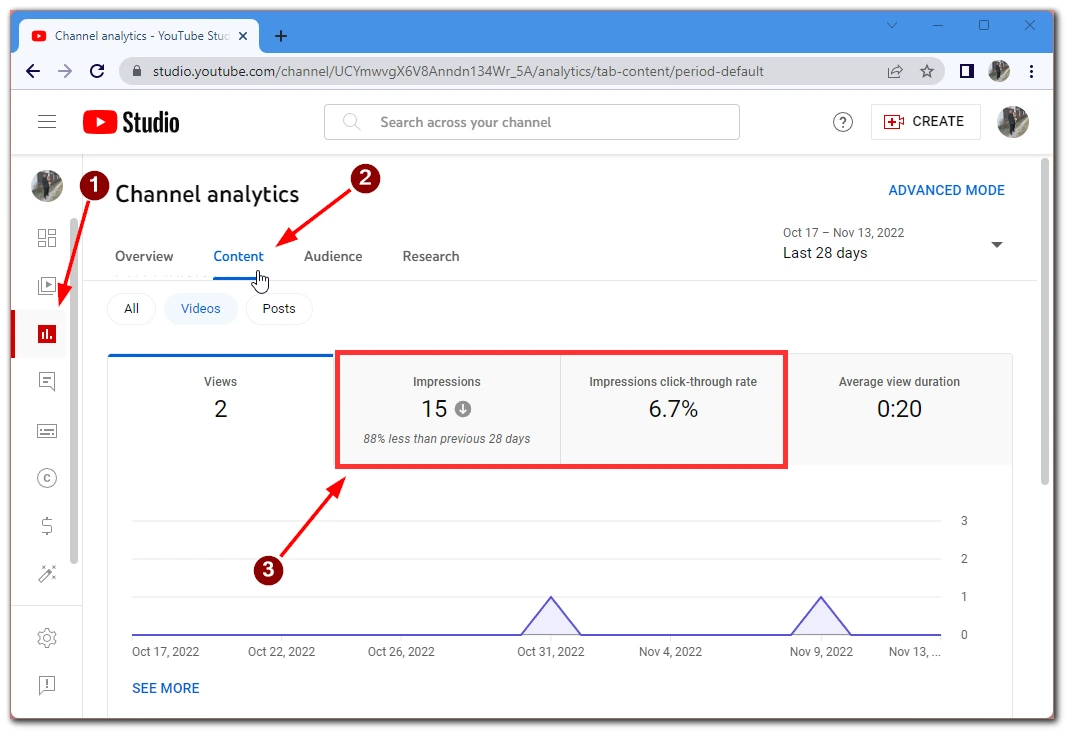 This is where you can see impressions on your channel or individual videos. It would be best if you also understood that no one else has access to this information except YouTube. So this information is primarily for your internal use.