If you have a hard-of-hearing person in your family, watching TV together becomes difficult. The good news is that as of 2021, Samsung TVs now have a setting that allows you to simultaneously output sound to the TV speakers and Bluetooth headphones (Multi-output Audio). At the same time, the sound volume can be adjusted separately. This allows people with different hearing levels to watch TV together, which is especially important for older people.
Samsung Bluetooth TV models for the hearing impaired
As I mentioned above, Samsung TVs, starting in 2021, will support co-browsing for people who are hard of hearing, and we're talking about TVs running Tizen 6.0 or later. Here's a list of Samsung TV models with this feature.
Year
Lineup (TV Model Name)
Platform version OS 
2023
QN800C, QN900C
Tizen 7.0
QN700C
LS03C QN80C, QN80CD, QN80TL, QN83C, QN85C, QN85CD,  QN88C, QN8*C, QN90C, QN90CD, QN90CTL, QN95C, QN95CD, QN95CTL, QN9*C, S90C, S90CD, S90CTL, S95C, S95CD, S95CTL, S9*C
M70C, M80C, QN70C
Q70C, Q70CA, Q70CD, Q70C
M50C, Q60C
LS3C,CU7000
CU8000D, CU8000
2022
QN900B, QN850B, QN800B, QN100B, MBWS1, GN97B
Tizen 6.5
QN700B, GN85B, GN75B, GN95B
LS04B, LS03B, QN75B, S95B, S90B,QN90BD, QN9*B, QN9*BD, QN95C, S90B, QN8*BD, QN85BD, QN85B, QN83B, QN80B, QN7*B, QBQ70, LS01B, LS05B, GN65B, GN70B, GN8QB, M80B
GN65B, G65B, GN70B, G70B,  
QA70B, QA70BD, QA90B
QN60BD, QN63B, QN60B,  QN60B, M70B,  M50B, UAU8000
QN60B, UAU850D, LS03BS, BU7000, BU8000, LSP3B
2021
QN9*A, QN90A, QN95A,  QAQ90, QN8*AD, QN85A, QN85AD, QN85A, QN80A, QA80A, QN7*AD, QA70A, QN70A, LST5A, QN7*A, LS03A
Tizen 6.0
QN900A, QN850A, QN800A, QN700A
QA700A
AU9070, AU9000, QNQ60, AU850AD, AU8000, LS05A
QN6AD, QN60A, QN50A,  AU7500, AU7000, AU850AD, AU8000, AU7700, LSP3
The availability of multi-output audio on your TV also depends on the region. For example, some Samsung TV models in Australia have supported multi-output audio since 2016.
How Multi-output Audio sound works on Samsung TV
When the "Multi-output Audio" feature is activated, audio is delivered both through the TV speakers and any connected Bluetooth headphones. With this setup, you have the flexibility to adjust the volumes independently. The TV remote will regulate the speaker volume, while the headphone's volume controls will manage its sound level. If you prefer a quieter room, simply hit the Mute button on the TV remote, silencing the TV speakers and leaving you with sound only through your Bluetooth headphones.
How to enable Multi-output Audio 
If you need to set up the sound in your TV to listen to sound in headphones for a deaf person and also receive sound in the TV speakers, you need to turn on Multi-output Audio. Here's how to do it: 
Press the Home button on the remote control, then select Menu.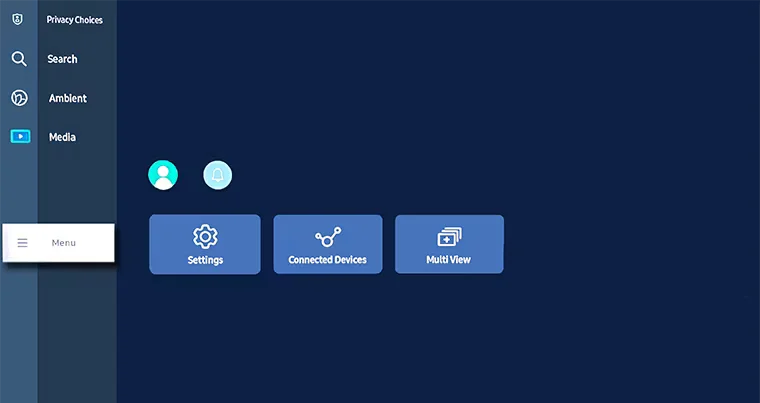 Scroll to Settings, then All Settings.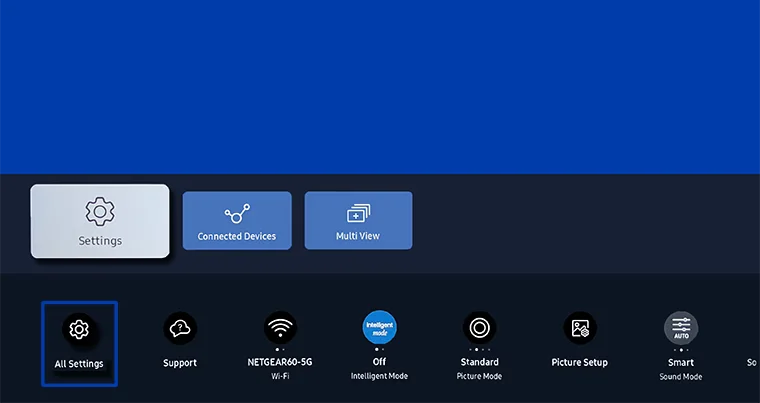 Select General & Privacy, then Accessibility.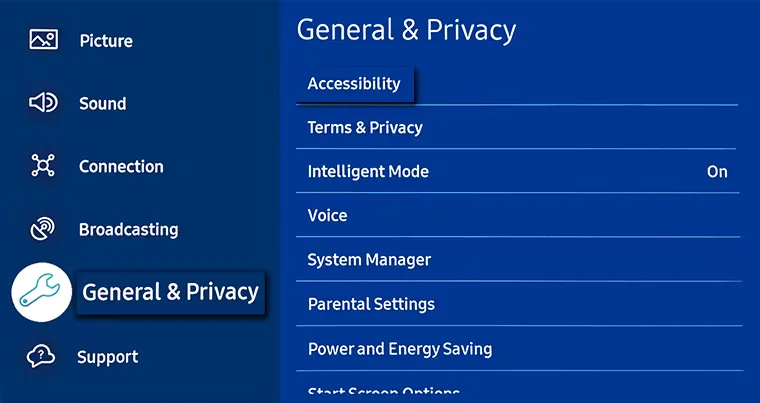 Select Multi-output Audio.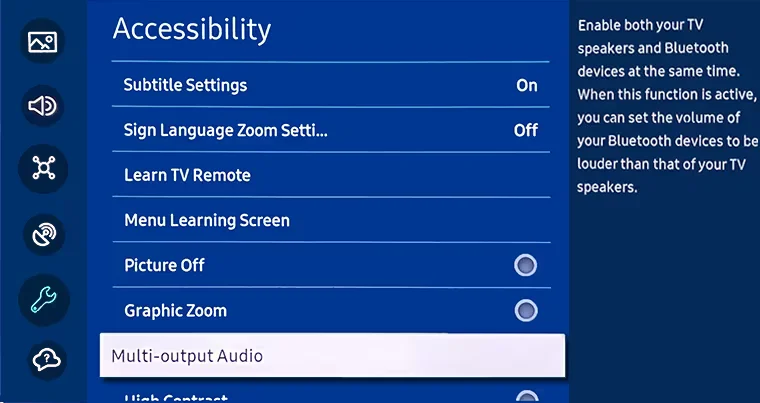 The TV will search for nearby Bluetooth devices.
Note: Make sure the Bluetooth audio device is in pairing mode. The headphones may already be paired with the TV; if they are already paired with the TV, they will immediately appear as available devices. 
Select a Bluetooth device from the list and select Pair and connect.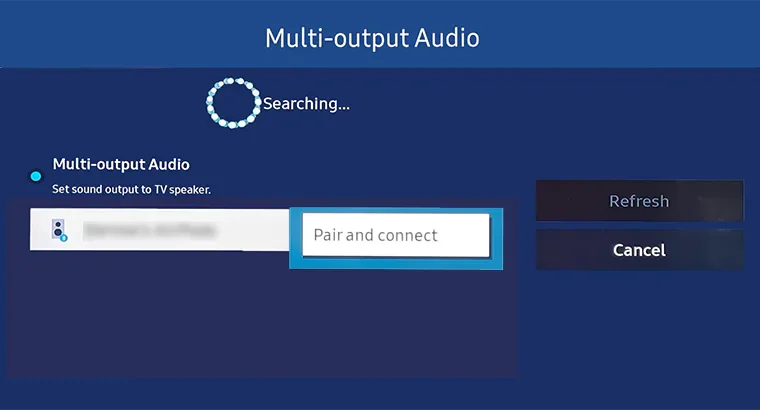 The TV will search for nearby Bluetooth devices.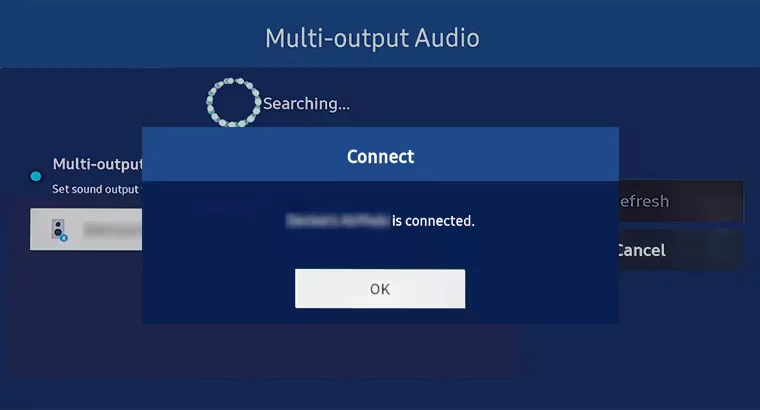 Bluetooth device is connected.
You can now enjoy sound from the TV speakers and headphones at the same time. 
Other solutions for the hearing-impaired
If your Samsung TV lacks the Multi-output Audio feature, consider buying headphones that come with a charging and connectivity dock. This dock can be linked to the TV using the EXT port or the TV's RCA audio output. Since these ports consistently provide analog audio, you'll be able to receive sound through both the headphones and the TV speakers simultaneously.
The second option is to purchase Dual Wireless Headphones for TV. These headphones also have a station that connects to the TV. The headphones are wireless and connect to the station. They have individual volume controls. There are options available with more headphones.