You've recently acquired a soundbar aiming to elevate your TV's audio experience. As you set it up, you're faced with a decision: should you connect it using HDMI, optical, or perhaps even Bluetooth?
HDMI ARC or HDMI eARC is recommended for optimal sound performance. Here's a succinct explanation for this preference.
The best soundbar connection to a TV uses HDMI.
Connecting your soundbar to your TV via HDMI is preferable. You will get some more benefits besides sound:
Using HDMI, you can fine-tune and adjust the audio synchronization to match the lip movements
You can control the soundbar with the TV remote control.
You can transmit sound formats 5.1 and more without compression without losing quality.
But it would help if you met a few conditions to connect the soundbar to the TV via HDMI.
The TV must have an HDMI ARC port or the newer eARC standard.
The HDMI cable must support ARC (eARC), and the sound from the TV is transmitted through the HDMI cable over a pair of wires. An HDMI cable is usually included with the soundbar.
The soundbar must support HDMI ARC (eARC).
All you need to do is find the correct port on the TV and soundbar; it should be labeled ARC, connect an HDMI cable to it, and configure the TV to output sound via HDMI ARC; make the settings on the soundbar. For more detailed instructions, refer to the user's manual of the TV and sound bar.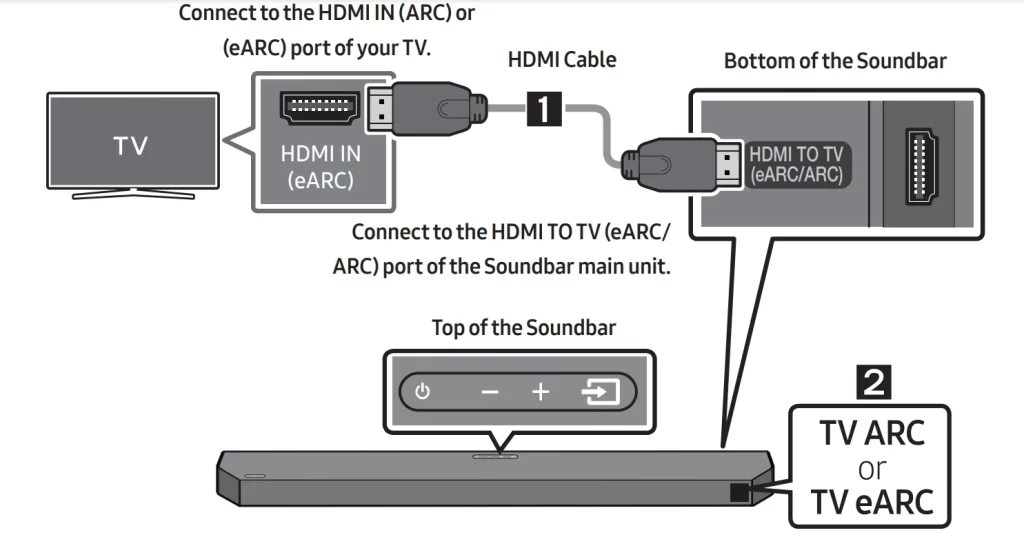 Connecting the soundbar via SPDIF (Toslink) optics
Optical connections were among the earliest choices for digital audio transmission. Your TV's optical audio output offers a way to send sound to audio devices without any interference. While optical connectivity was considered highly advanced when it was first introduced, it does come with several disadvantages due to its aging audio transmission format:
The maximum supported audio format is 5.1.
There is no lip motion and audio synchronization setting.
5.1 sound can only be transmitted in compressed form (with loss of quality).
You cannot control the soundbar with the TV remote control.
However, this connection is indispensable if you have a TV that does not support HDMI ARC. In this case, an optical connection is the only way to get high-quality sound.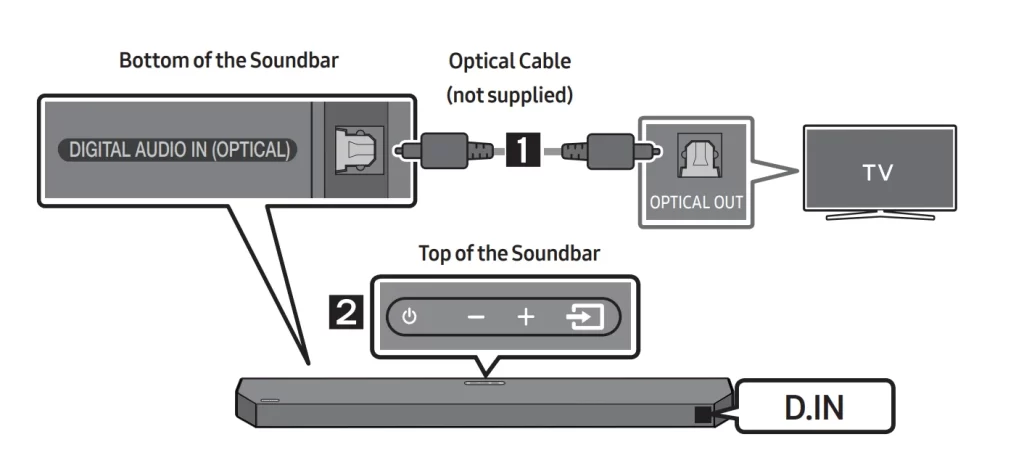 Optical connection between the TV and soundbar is not considered a priority. The soundbar manufacturers do not include an optical cable; you must buy it separately. The good news is that optical cables are inexpensive.
Connecting soundbar via Bluetooth optics

Connecting a soundbar via Bluetooth has the advantage of eliminating the need for additional cables. However, it's important to note that Bluetooth, being a wireless connection with a relatively long signal processing delay, introduces a noticeable audio delay. This delay occurs because the audio stream undergoes several transformations during Bluetooth transmission.
Modern TVs come equipped with automatic sound and picture correction features. When you select a Bluetooth audio output source, the TV automatically introduces a delay of approximately 100 milliseconds to synchronize the video and audio more effectively. This adjustment is absent in cheaper TVs. Therefore, connecting your soundbar via Bluetooth should work seamlessly if you own a new high-end TV.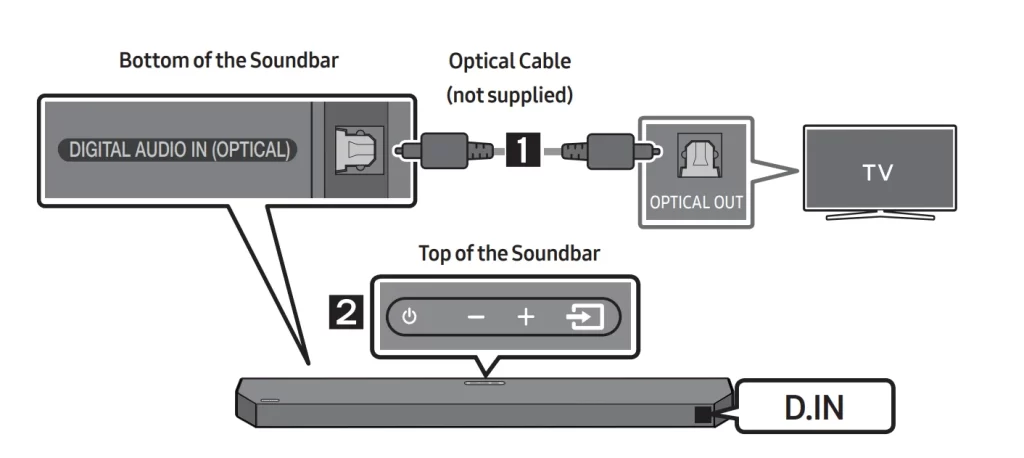 Connecting a soundbar to a TV: HDMI vs Toslink vs Bluetooth
I've opted to create a concise table outlining the various capabilities of different soundbar connections to your TV.
| | | | |
| --- | --- | --- | --- |
| Function | HDMI ARC (eARC) | Toslink (Optics) | Bluetooth |
| Cable Used | Yes | Yes | No |
| Stereo | Yes | Yes | Yes |
| Compressed 5.1 audio | Yes | Yes | Yes |
| Uncompressed audio 5.1 | No | Yes | Yes |
| Uncompressed audio 7.1 | No | Yes | Yes |
| Dolby Atmos | No | Yes (only eARC) | Yes |
| Lip Sync Correction | No | Yes | No |
| TV Mutes & Controls Volume | No | Yes (CEC) | No |
What is the best connection method for a soundbar?
We can summarize the comparison of different options for connecting the soundbar to the TV:
The best connection of a soundbar to a TV is via HDMI; with this connection, you will get quality sound, and most importantly, you can adjust the sound delay. You will be able to synchronize your lips and sound perfectly. 
In second place is Bluetooth, primarily because of the support of modern audio formats such as Dolby Atmos. The disadvantage is the lack of ability to synchronize clips with sound. 
In third place is Toslink (optical), an outdated format that does not support Dolby Atmos.