The Messages app on Apple devices has quite a few different features. Its most important advantage is the presence of the iMessage service. It is a built-in messenger that allows you to communicate with other Apple device users without problems. It has quite a few features that not everyone knows about. For example, not every user knows you can play different minigames directly with your friends in iMessage.
It is straightforward to do this. In short, you need to download a third-party addon, which will allow you to play different games and challenge your friends. And there are both single-player games, such as Filler, and games for group chats. Let's take a closer look at how to use this function in iMessage.
How to add Filler to your iMessage
As I described above, playing minigames in iMessage is pretty straightforward. For this, you will need to install a particular GamePigeon addon. It contains several good games that you can play together with your friends. However, installing it can be pretty non-obvious. Let me show you step-by-step how to do it:
First, open iMessage and go to any chat room.
After that, click on the button with the AppStore icon to open the toolbar.
On the toolbar, select AppStore.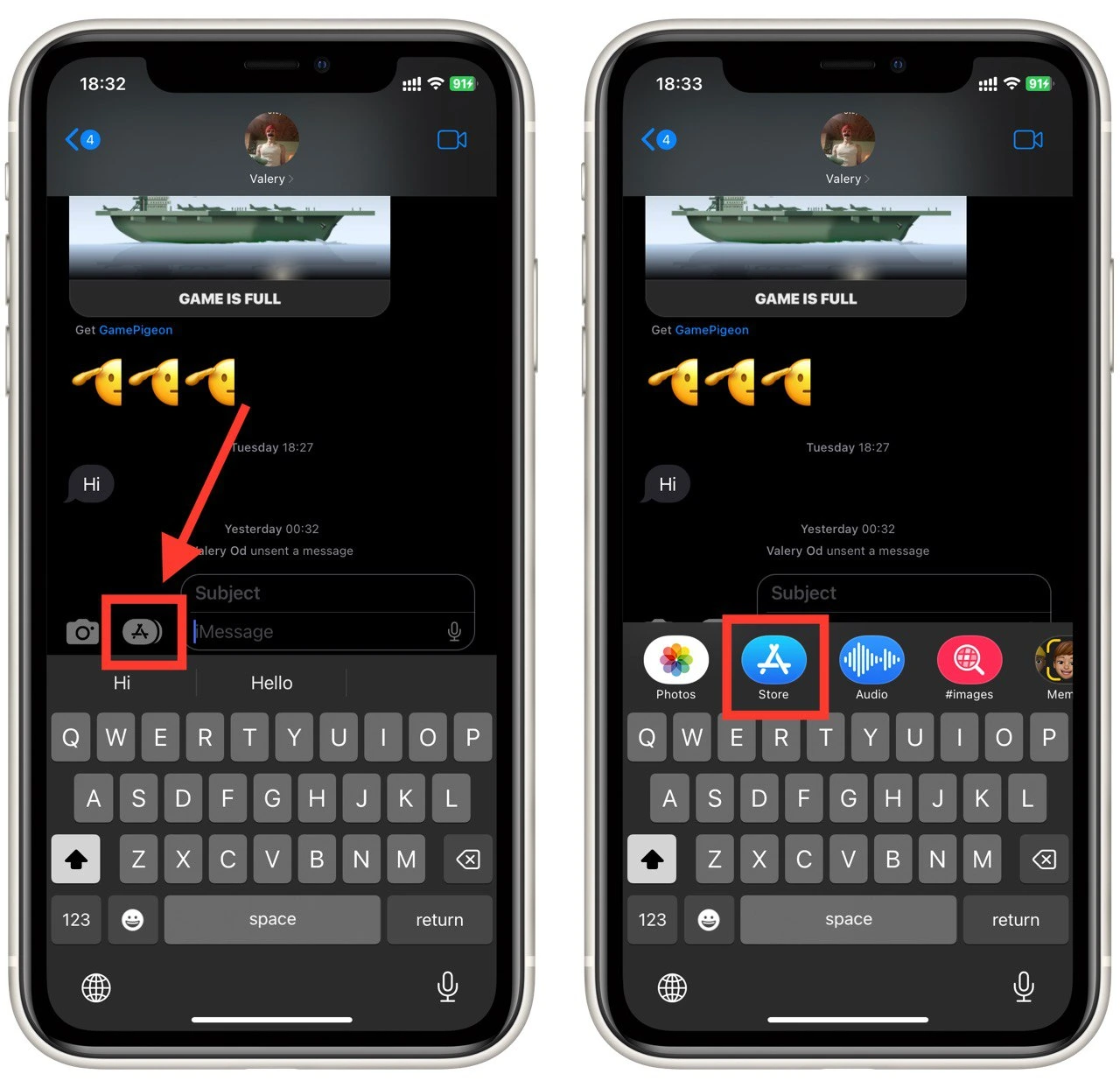 You will see a list of available add-ons for iMessage. It would be best if you found GamePigeon.
Click on Get.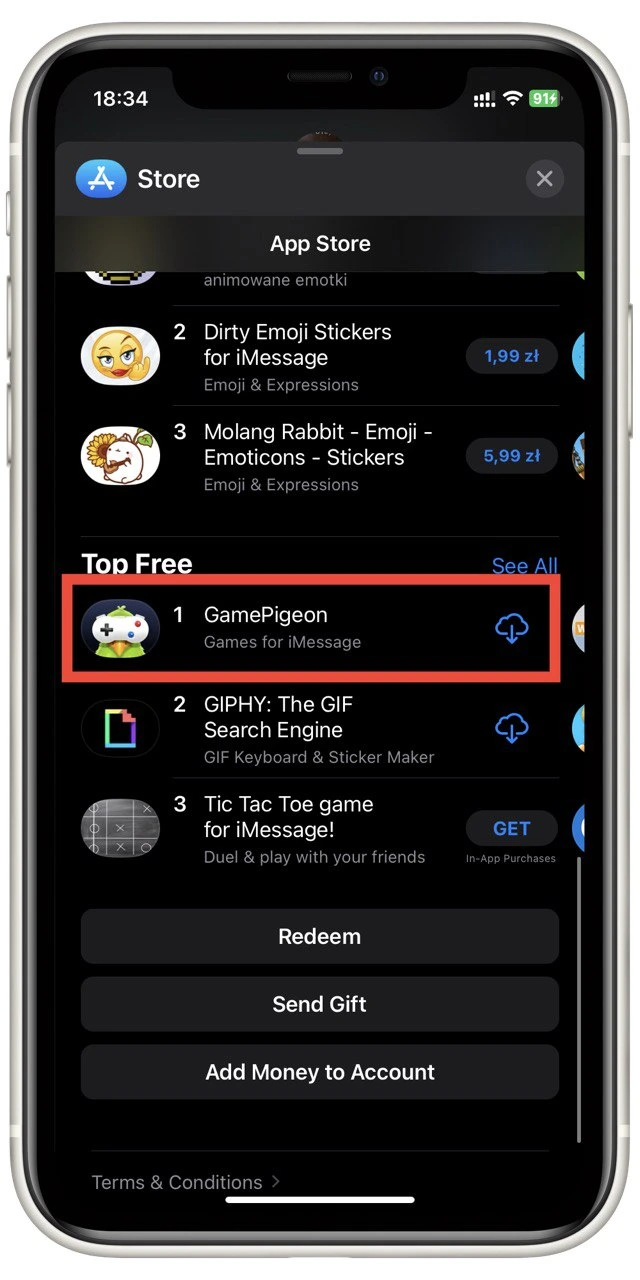 Once installed, you must go to the desired chat and select GamePigeon in the toolbar.
Next, find Filler in the list and send a challenge to your friend.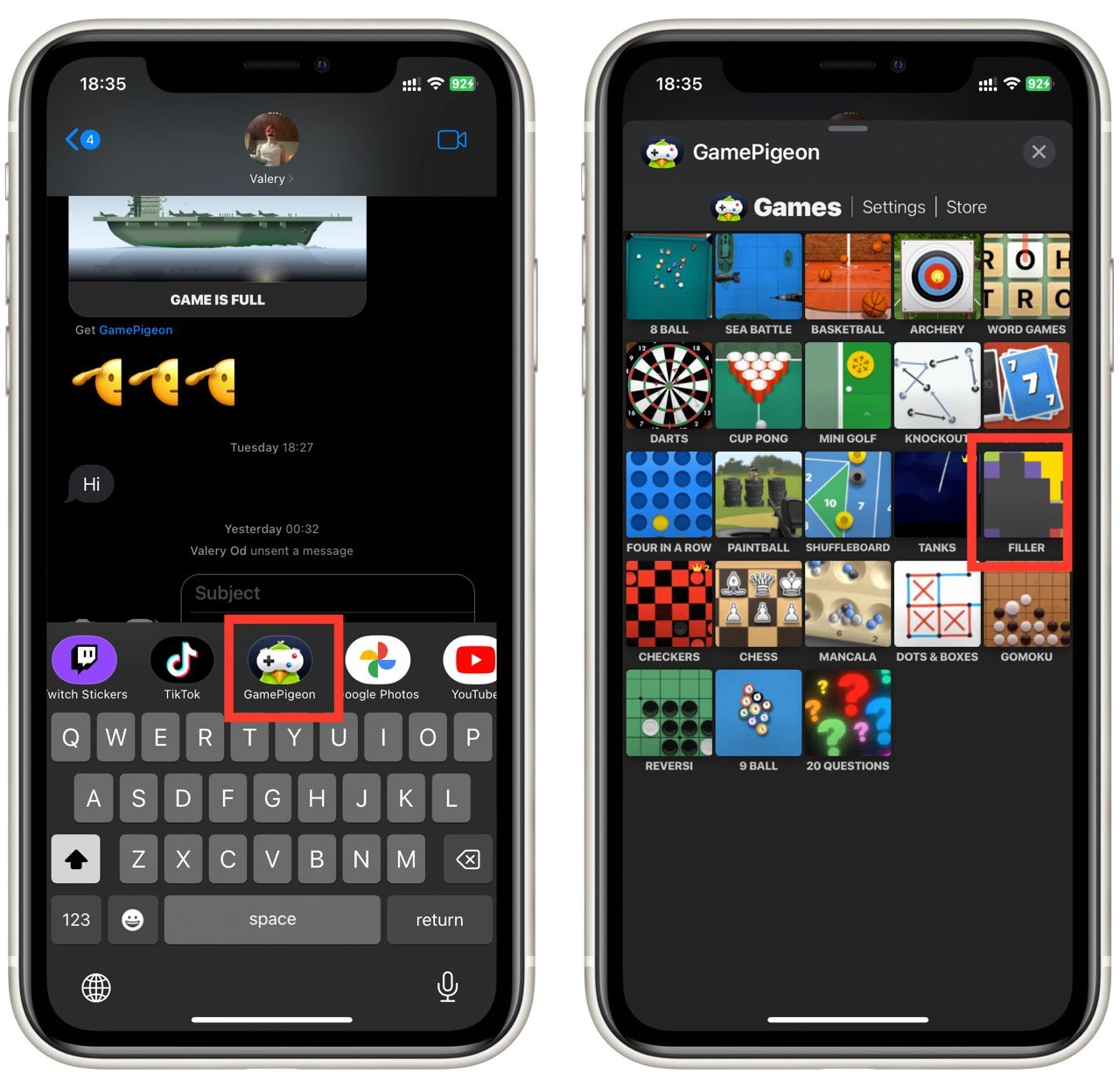 Since it's an add-on for the iMessage, it will not appear on your desktop as a separate application and will not appear in the settings. It can only be found through the AppStore page or directly through iMessage. In addition, you also need to understand that the person you challenge must also download the GamePigeon. If the other user does not have this addon, then instead of a challenge person will see an invitation to download.
What are Filler rules on iMessage
Let's briefly go over what the rules are in Filler and how you can quickly defeat your opponents. The game is quite simple but interesting, and the games are fast. Your main goal is to capture territory and, at the end of the game, get more squares than your opponent. To do this, you will have to change the color of your field.
At the beginning of the game, you and your opponent have a field of 1 square. Around you, there are other squares. When you change the color to that of the neighboring square, it automatically becomes yours and changes color in the next turn. You and your opponent take turns moving. By the end of the game, your goal is to occupy more squares with your color than your opponent.
To win, you need to think ahead. Take your time to get one square and look at your opponent's color. You can't have two of the same color in two adjacent rounds, and you can't choose the same color as your opponent. See what color you can use to occupy the most squares, and you can outplay almost anyone.
How to delete games from iMessage
As I mentioned above, you won't be able to find the GamePigeon app on your iPhone or iPad's home screen. However, in this case, many users wonder how they can uninstall the addon if they don't need it anymore. It's straightforward, and you can delete it from chat iMessage.
Go to any chat and open the toolbar using the AppStore icon.
Swipe the toolbar to the rightmost corner and select the More button with three dots.
You'll see a menu with all the addons available in iMessage on your device. Find GamePigeon and swipe it to the left.
Press Delete.
Note that the score of already passed games is saved in the correspondence history. However, to play again or continue an unfinished game, you will need to download GamePigeon again. You can do this using the instructions above or clicking on any game message.
What other games are available in iMessage
I wouldn't recommend that you limit yourself to just playing Filler. As GamePigeon provides access to many different minigames. And most of them are fascinating. Although there are some very annoying ones, like Tanks. Let me list them all:
Sea Battle
Basketball
Archery
Word Games
Darts
Cup Pong
Mini Golf
Knockout
Crazy 8
Four in Row
Paintball
Shuffleboard
Tanks
Filler
Checkers
Chess
Mancala
Dots & Boxes
Reversi
9 Ball
20 Questions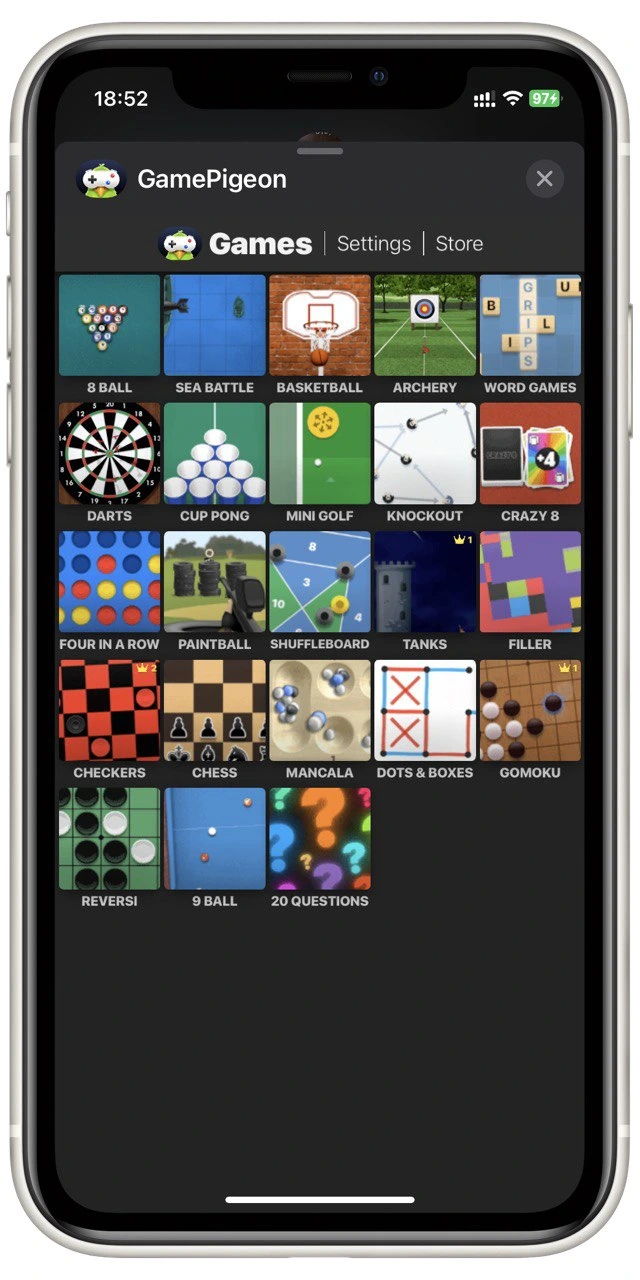 Among the most interesting that I found this nine balls and eight balls, as well as a fascinating 20 questions, and I especially liked the Sea Battle. I advise you to try these games first. I am sure you get a lot of pleasure from them.