Apparently, you've seen a special and unique melee accessorize that is specifically made for every Legend (character) in-game? These are called Heirlooms and the reason lies in a simple rule – you get super rare Heirloom Shards and buy awesome melee stuff for your Legend with them.
What do Heirloom Shards mean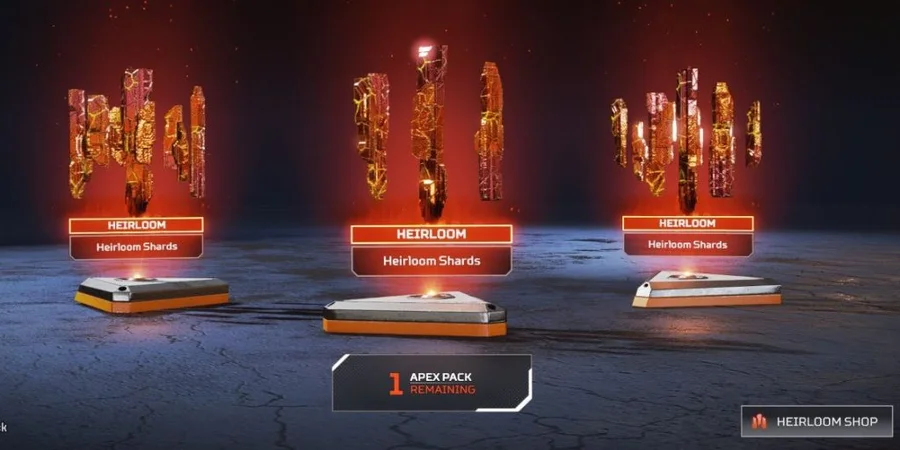 Many Apex Legends fans play a lot and look forward to the moment when they can see red when opening an Apex Pack. In case you don't know what we're talking about, we're talking about Apex Legends Heirlooms. These desirable cosmetic items are almost impossible to find, so we'll tell you how to get Heirloom shards in Apex Legends.
Heirloom shards are perfect for getting a head start on the Apex Legends ranking ladder, and while they won't help you in any way in the game, they can be used to create Heirlooms. These incredibly sought-after items change the look of melee attacks so that they look even cooler than usual. Heirloom shards can be used to create Heirlooms for about half of the Apex Legends lineup. They will also give you plenty of cosmetic upgrades.
Many who have been playing since launch are still waiting for the long-awaited item to drop. While new players are snapping them up quickly, and some players manage to get an Heirloom after the very first games. Of course, it seems unfair.
In this article, we are going to tell you how to get Heirloom shards in Apex Legends.
How can Heirloom shards be used in Apex Legends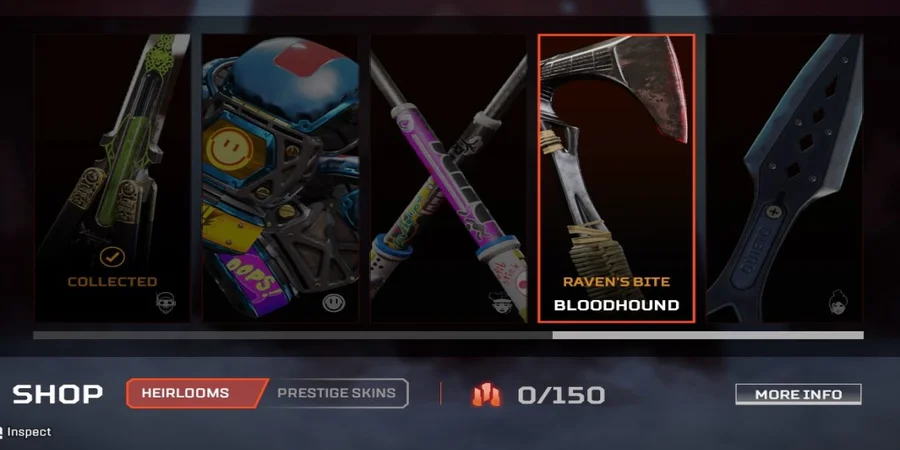 Heirloom shards can be used to create Heirlooms. These are extremely rare items that contain individual dialogues and banners. Also, they include melee weapons designed to reflect the Legend for which they were created. With the exception of character skins, you might consider them the most beautiful items for each Legend, but they are much more difficult to get.
Heirloom shards can be found in Apex Packs, which players get by upgrading their rank or buying them. Shards can also be obtained as part of a Battle Pass.
If you're one of the lucky ones, after you get the Heirloom shards, you can create the Heirloom of your choice. At the moment there are 13 Heirlooms, and each season there are more, so if your main character doesn't have an Heirloom yet, be patient, and your day will surely come.
How to get Heirloom shards in Apex Legends
You can get Heirlooms shards in any Apex Pack, free or otherwise. You will get closer to the Heirlooms if you will progress through the Battle Pass and redeem Apex Packs.
If you want to get Heirloom shards as quickly as possible, you can purchase Apex Packs and open them. But it's not that simple. The fact is that the chance of getting an Apex Pack containing Heirloom shards is only 1 in 500, which means that it can take up to the 500th Apex Pack to get an Heirloom. Those who are tired of waiting can buy 500 packs at once just because of the frustration of waiting.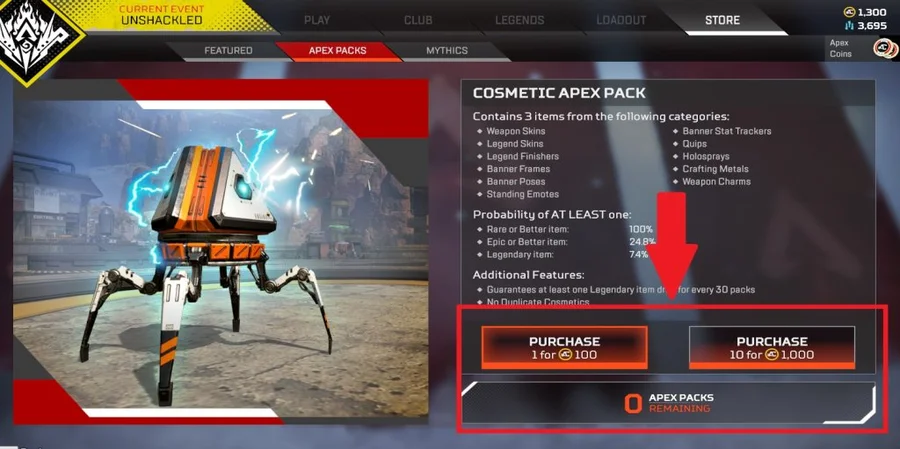 Each Apex Pack costs about a dollar depending on the currency, so if you want to get an Heirloom, you'll have to spend about half a thousand dollars.
What about Heirloom Skins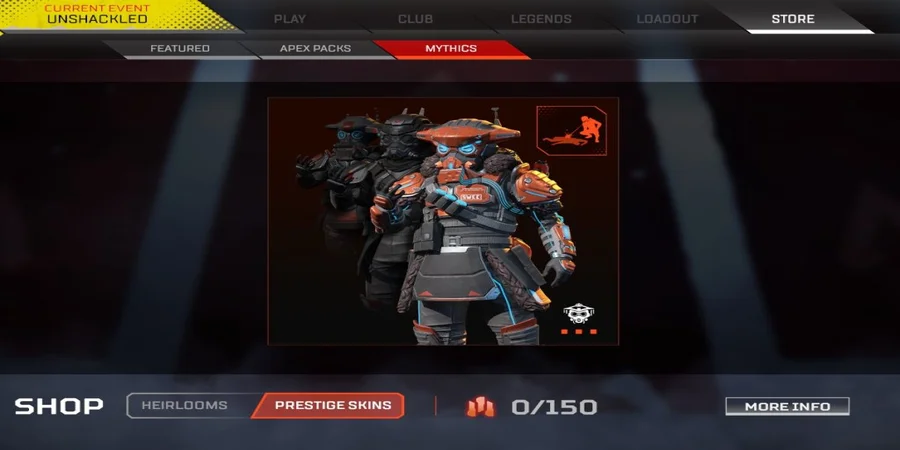 So, you are already familiar with the unique items created specifically for each legend, but have you carefully examined the relics store and did not accidentally miss Heirloom skins (Prestige skins)?
Well, this kind of cosmetics has the same principle as special each Legend's items, banners, and replicas – you just get heirloom shards and buy the Prestige skins for specific Legend with them.
Prestige Skins is a recent innovation in the game and cosmetics. Its originality lies in the fact that, unlike the general character skins, the Prestige Skin has an "evolution mode". This author's term implies a change in the appearance of the character's skin depending on the player's activity in the game.
In order to understand the system of evolution, you need to look closely at the variations of the skin – there are three of them. Three tiers – three different skins. The first one is the basic, starting one. The second and third players will receive only when completing special quests, which have no time limit.
Moreover, specifically for the character Bloodhound, in addition to the three types of skins (which players can change at any time if they unlock them all), the third level also offers a unique finisher for the character called Piercing Plasma.
This type of skin can only be purchased as in the case of Heirlooms, only through Heirloom Shards in the Mythics tab. Similarly, Prestige Skins are sold together with event cosmetic items during specific events. Follow the news of the game, so you won't miss such events and buy all the event items and get either a new Heirloom or Prestige Skin for a particular character (Legend).