Not everyone knows this, but Google has its messenger called Google Chat. In it, you can communicate with anyone whose email address or phone number you have. Of course, the other user has to have a Google account, or the message will be sent to email. But sometimes, users of Google Chat have different problems with the service.
The most common error message is "Unable to connect to chat." Most often, it occurs in the desktop version of chat. There are a few ways to help you deal with this error. They rely on you cleaning up your temporary files because it's usually a cookie or cache conflict if you have a good Internet connection.
Why Unable to connect to chat error appear in Google Chat
As I wrote, the error "Unable to connect to chat" occurs mainly in computer browsers. There are several common reasons why it happens. Most often, it's only two reasons, but sometimes it's also because your Google Account has been blocked or there was a system failure, which does not work. In that case, you should contact Google Support.
However, the leading two reasons are lousy Internet connection and software conflicts. Suppose you have been using Google Chat before, and suddenly, this error occurs, and you cannot open another page. In that case, you probably have a problem with your Internet connection, and your device cannot connect to the service.
On the other hand, if you have just opened Google Chat, you may receive an error connecting to the compatibility problems of temporary files. The point is that your browser constantly uses Cookies and other temporary files, especially when working with Google Services. From time to time, they conflict and may cause errors in connecting such services as Google Chat.
How to fix Unable to connect to chat error in desktop Google Chat
There are several ways that you can use to fix this error. All of them will have to do with your browser settings. I would highlight four main ways that should help you.
Use Incognito Mode
Incognito mode disables all unnecessary cookies and settings. You can enter this mode and see if Google Chat will work for you. But remember that you need to re-login to your Google account.
Clear the Google Chat cache and reset your settings
Your connection problem is often caused by destructive temporary files or your privacy settings preventing Google Chat from functioning correctly. You need to reset these settings and delete the cache to fix it. To do this, you will need to:
On the Google Chat homepage, click on the lock near the address bar.
Select Site Settings.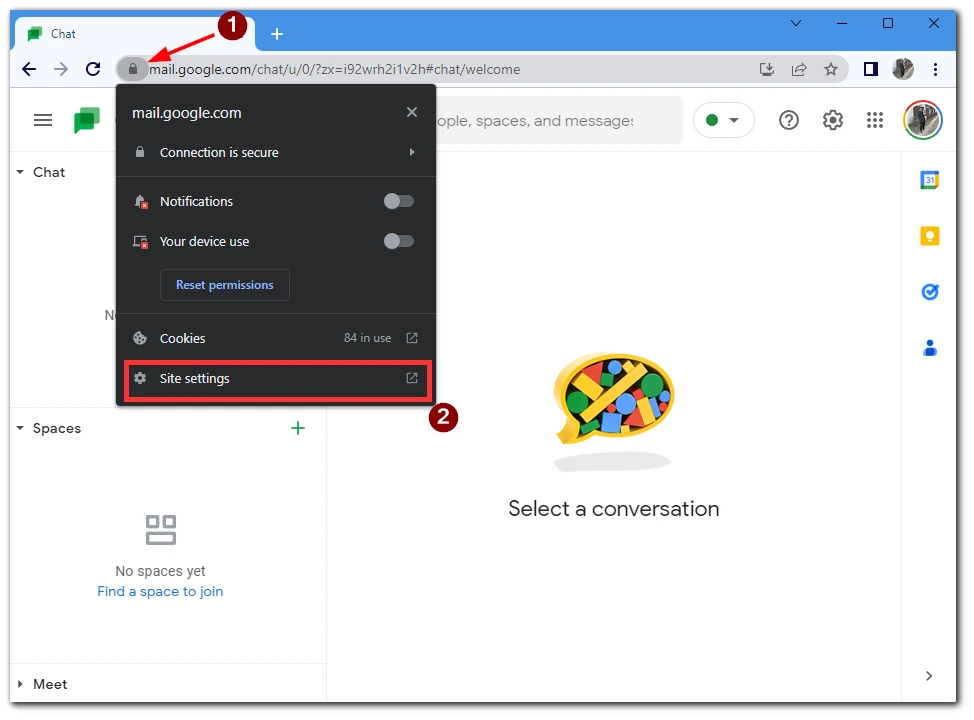 Here, click Clear Data and then Reset Permissions.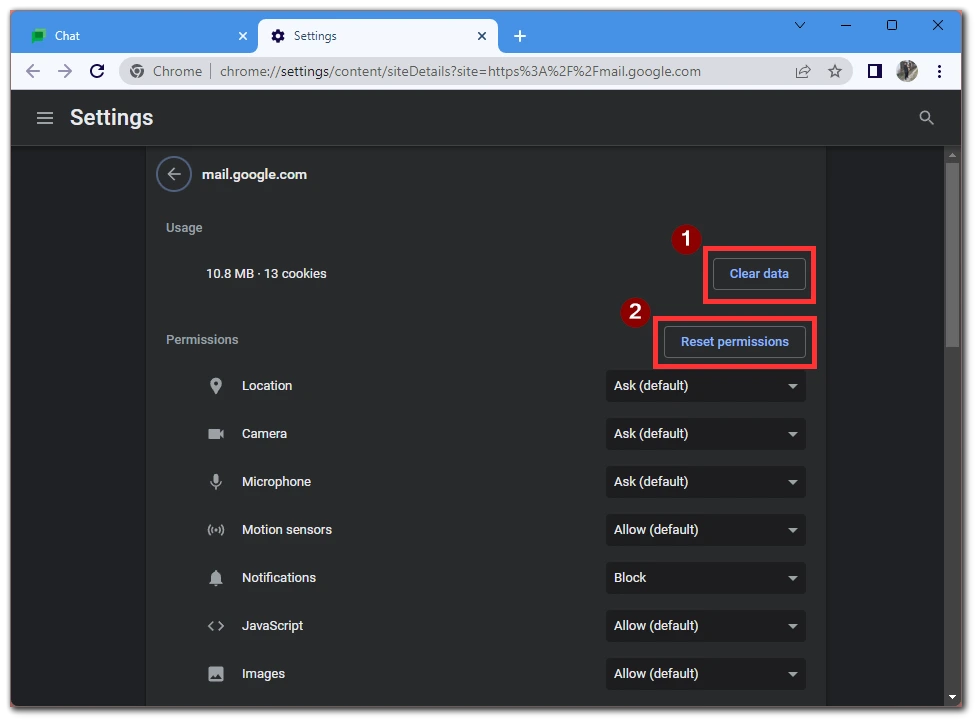 This will reset the site to its default settings. However, please note that after this, you will most likely have to re-enter your Google Account. Also, after logging in, the service will again ask for permission to access various functions. I suggest allowing access.
Refresh your browser
To update your browser, you need to update it, and it will be updated automatically. You can read more about it here. It will fix system bugs in your browser, which also cause this problem. I advise using Google Chrome because it usually has minor issues.
Check your Internet connection
You should also check the connection on your device. Because your internet connection is weak or nonexistent, you may not be able to use Google Chat. So try downloading other websites or playing YouTube videos to see how your connection is doing.
Is Google Chat safe?
Since Google requests permission to track your location and access your information, many people wonder how safe Google Chat is. I can tell you that you don't have to worry about that.
Google Chat is as safe as any other service from Google because they are united in one ecosystem to get access to your Google Chat. The hackers will need access to your Google Account, which is quite tricky because, in Google Accounts, two-factor authentication is enabled by default.
In addition, in Google Chat, users cannot see your number or email unless you tell them yourself. But they most likely know it anyway because if you communicate in Google Chat, most likely you are in each other's phonebook.