If you've recently purchased your first iPhone, you probably don't yet know about the Apple ecosystem's intricacies. The fact is that the company has created a closed system that supports only Apple-certified apps. In addition, many of Apple's applications and services are available on Apple devices. For example, messenger iMessage is the most popular messenger on iPhones.
However, despite its popularity, users sometimes face various problems. If you're reading this article, you've most likely encountered that iMessage began to send messages using your Email instead of your phone number. You can fix this problem in three steps through your iPhone's settings. Let's take a closer look at this problem.
Why is iMessage using your Email instead of your phone number?
Many users think that iMessage and the Messages app on your iPhone are the same. It's not so clear-cut. The fact is that iMessage is one of the services that come with Messages. It allows you to send messages using the Internet.
Because iMessage is an independent service, it is not attached to your phone number. Of course, your iPhone will default to use your "Primary" phone number for iMessage. However, if there is a problem with your phone number, the service may automatically switch to using your email address.
If this happens, it won't make much difference. People will need your email address instead of your phone number to write you an iMessage. Most of the time, this happens if you take out the SIM card and decide to write a message via wi-fi. Your iPhone doesn't see the number you need and switches to sending messages from your verified email address, which is tied to your Apple ID. This is pretty easy to change.
How to change Email to a phone number in iMessage
As I described above, changing the Email in iMessage to your phone number is very easy. Note that you must have a SIM or eSIM installed with that phone number to expose the phone number. You will not be able to put any random phone number. If everything is ready, you need to:
Tap Messages in your iPhone Settings.
Here, just under the iMessages button, click on Send & Receive.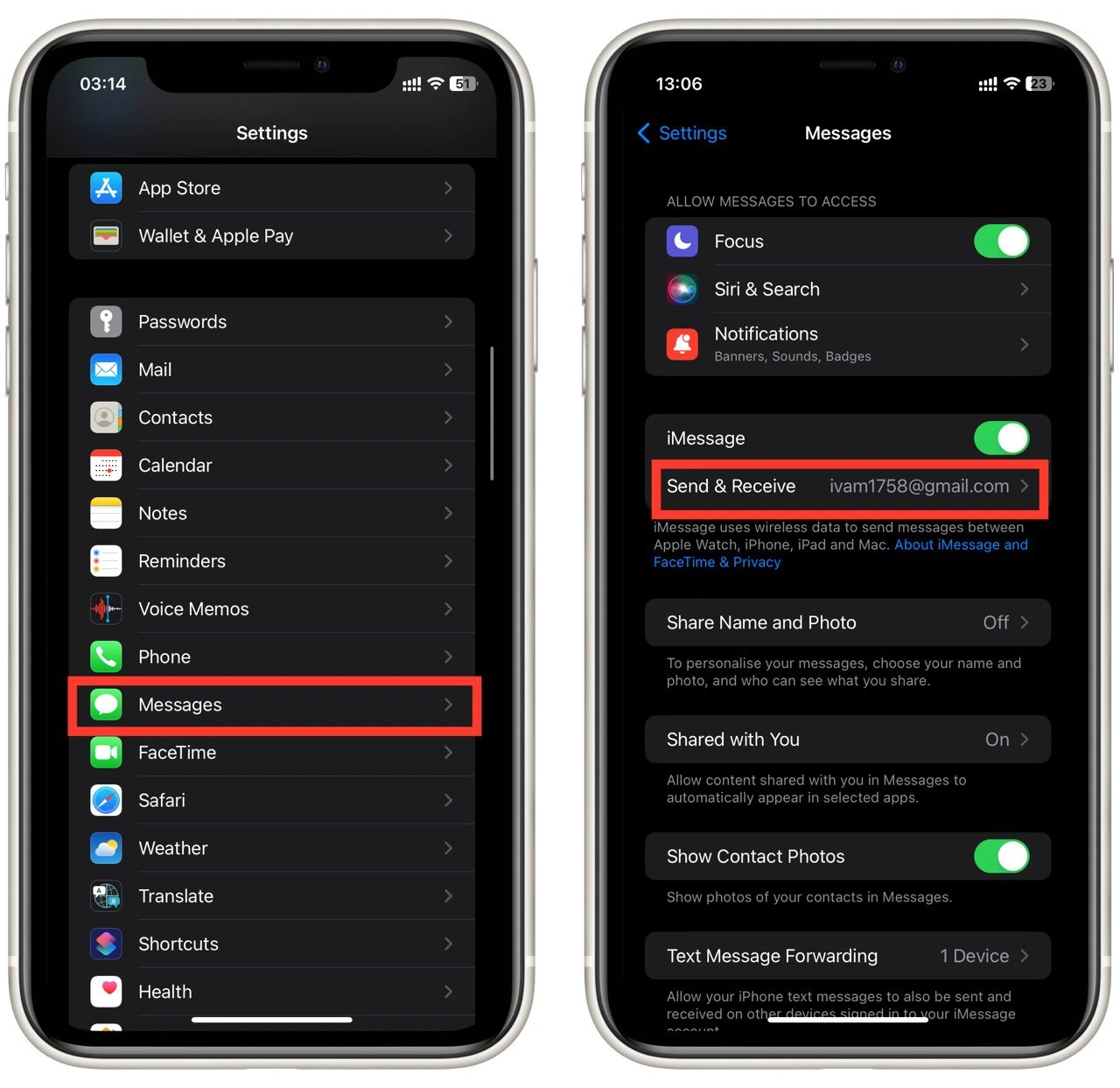 Select your phone number from the list instead of Email.
Done, but note that users who email you may be forced to create a new chat. You may also lose access to group chats where you've been added by Emails. You can say you've switched to another account. However, your chat history will be saved in the Messages app.
Does iMessage free?
Let's deal with the most popular question about iMessage once and for all. Is it free? This question arises for many people because iMessage is sent directly from Messages, where you can also send regular SMS. The answer, of course, is yes. IMessage is free as long as you have an Internet connection.
However, you should pay attention to the color of the messages in Messages. If the color of a message is blue, it means that IMMessage sent it. On the other hand, if you received or sent a green message, it is an ordinary text message.
Also, please note that you can send an iMessage only to other users who have activated the iMessage. Even if another user has an iPhone but has disabled the IMessage, you will not be able to send a free message using the network.
How to send SMS instead of iMessage
If you need to send a text message to another user of iMessage, you will need to disable this service. This can be quickly done through the settings. You can understand what message will be sent by the inscription in the text line of the Messages application. If in a text line of a chat it is written iMessage, it means the message is sent through it. On the other hand, if you write Text Message, then a plain text message will be sent. To turn off iMessage, do the following:
In your iPhone Settings, go to the Messages tab.
Turn off the switch next to iMessage.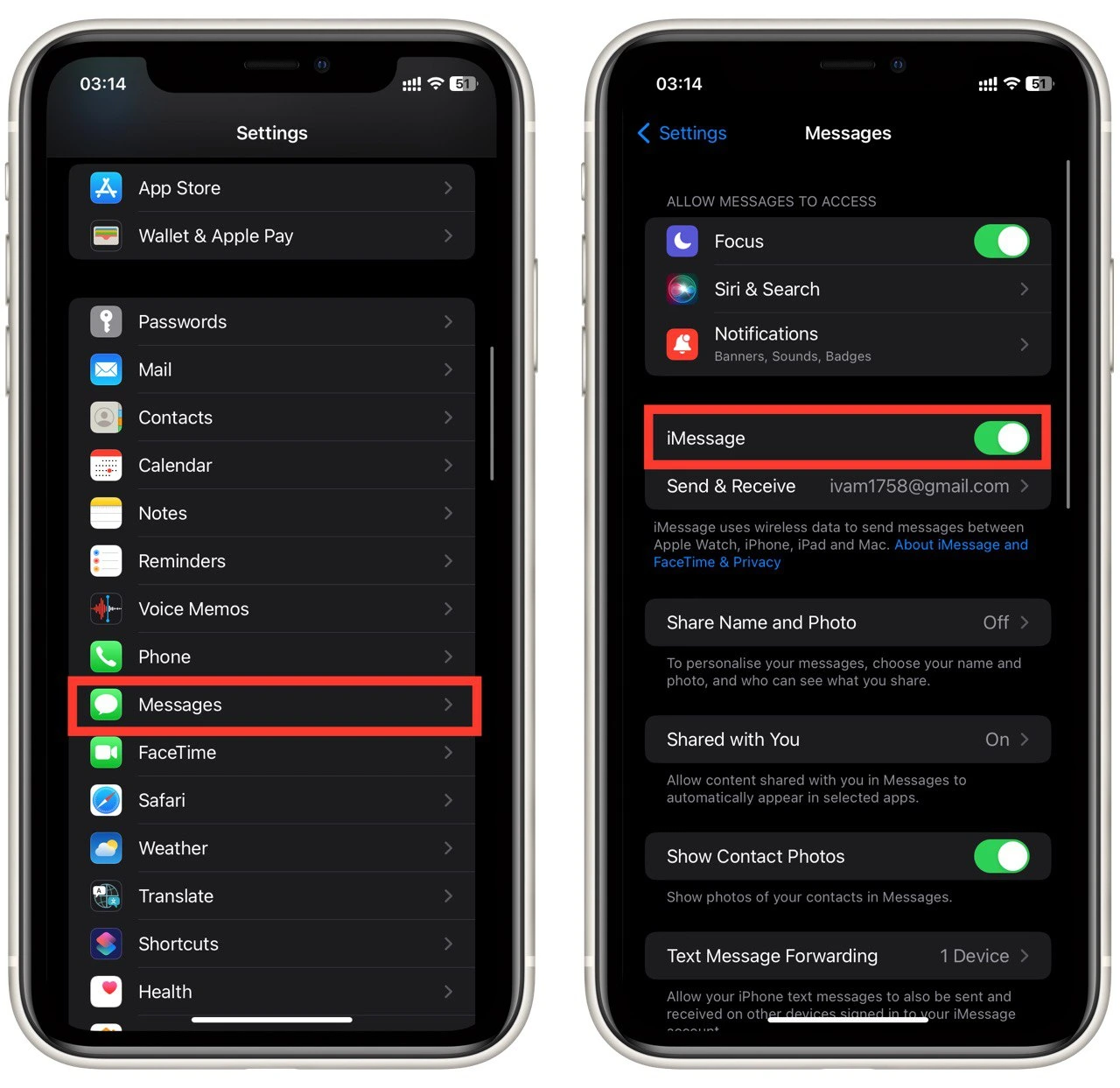 Done, but note that all messages will now be sent from your phone number, and you will have to pay for them according to your operator's tariffs. In addition, you will not be able to use group chats assigned to your iMessage account.