In today's digital world, messengers are becoming increasingly popular. This is because many users have concluded that it is much more convenient to correspond with the help of complimentary short messages than calling a person or writing long emails. It is for this reason that more and more companies are releasing their messengers. Not so long ago, Google released Google Chat, which is based on your Google Account and allows you to communicate with other users using their phone numbers or email, which is tied to the Google Account. However, many users have faced the problem of not understanding how to delete a message.
Deleting messages on Google Chat is not quite an obvious process. Because the service's policy is that you can't delete a single message, you can delete only the whole dialogue with that user. And also, Google Chat has a handy feature that allows you to set up the automatic deletion of conversational messages. I would say it's more of an advantage because this service's policy does not allow users to delete some messages and then rip others from the content. Let's see how you can do this and what you need to do to do it.
How can you delete messages in Google chat?
As mentioned above, you cannot delete a single message in a chat room. However, you always have the option to delete an entire conversation to clean up all the messages in it. You can do this in the Desktop version of Google Chat using the browser or desktop application. You can also manage your chats using the mobile app on your android smartphone or iPhone.
Let's start with how you can delete a dialog in the Desktop version of the Google Chat app. It's pretty easy to do, and in this case, the interface is quite user-friendly. No matter if you are using the browser or desktop version, you need to hover over the chat window on the left side of the window and click on the pop-up button with three dots. After clicking on it, you will see a pop-up list where you need to click on Delete conversation.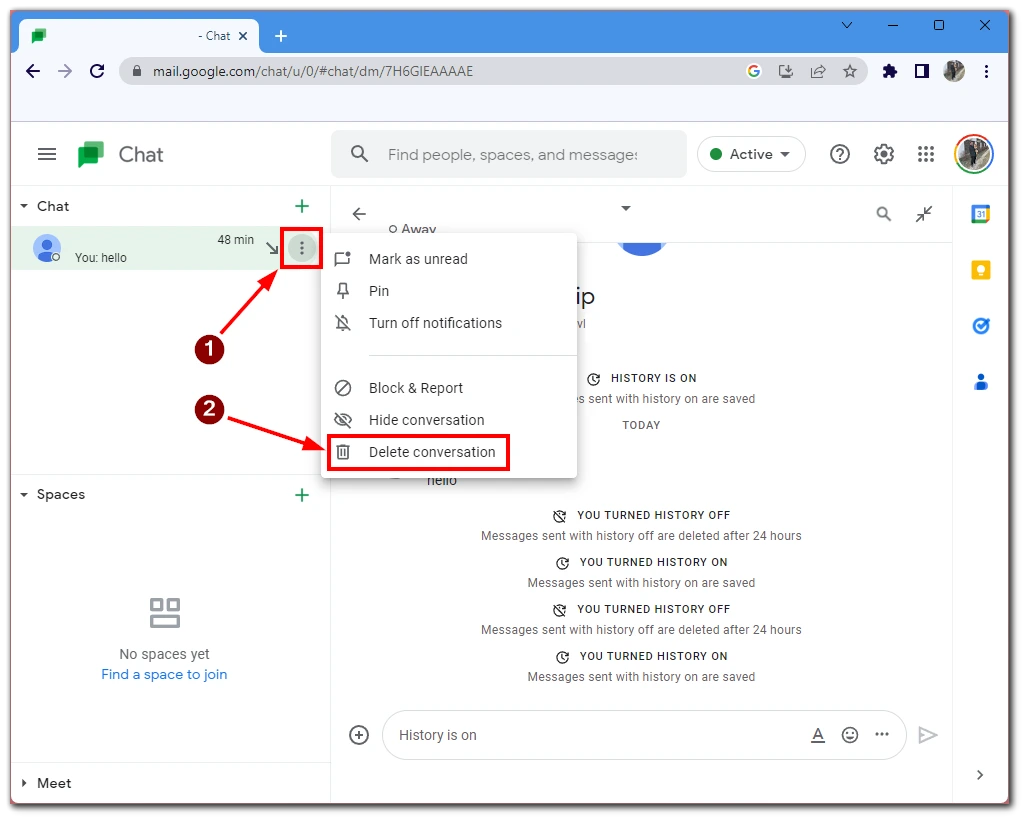 You can also delete the conversation using a mobile application on your smartphone or tablet. The instructions here are not as evident as in the case of the desktop version. However, the instructions are the same for both Android and iOS devices. To do this, you need the following:
Navigate to the chat room you want.
Click on the name of your chat partner at the top of the chat window.
In the drop-down menu, click on Delete conversation. This button is marked with a trash can icon.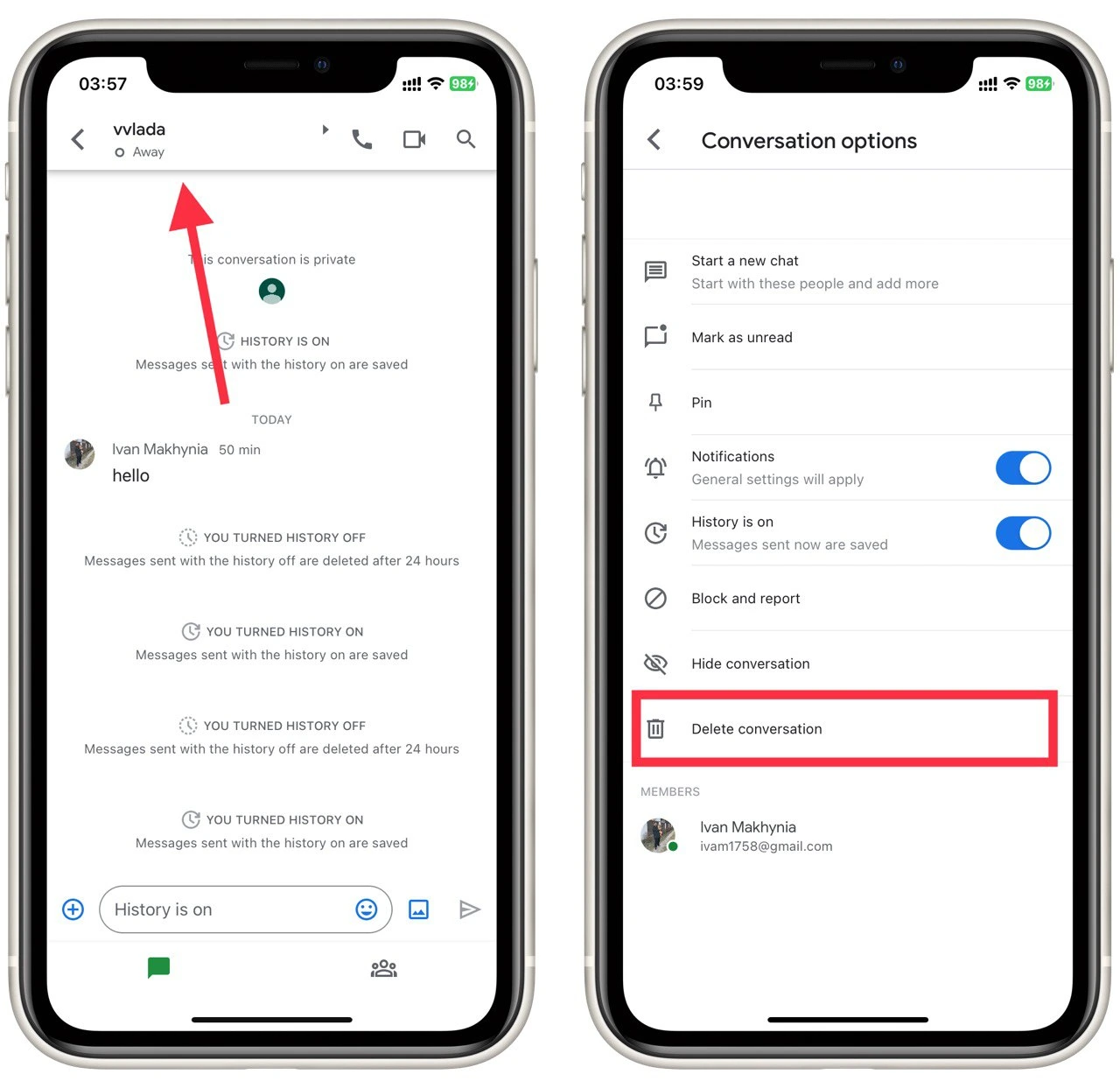 Note that once you delete a conversation, you cannot restore messages. So you should make sure that you have already saved all the necessary information (e.g., with screenshots) before you delete the conversation. This action will be irreversible.
How to set auto-deletion messages in Google Chat
One of the rather exciting and handy features of Google Chat is the ability to set up auto-delete messages. However, there is one unpleasant limitation here. Your chat history, in this case, will exist only for 24 hours. You will not be able to change this parameter and set the auto-delete to a custom time interval. You can do it both with the desktop application and the mobile version of Google Chat. To do this, you need to:
In the Google Chat desktop:
Pay attention that here also, the instructions will be identical both for the browser version and desktop application on your computer. You can do this quickly and easily by configuring the desired chat. To do this, you need the following:
Go to the chat room where you want to enable auto-delete.
Click on the name of your chat partner.
In the drop-down menu, you will need to select Turn Off History.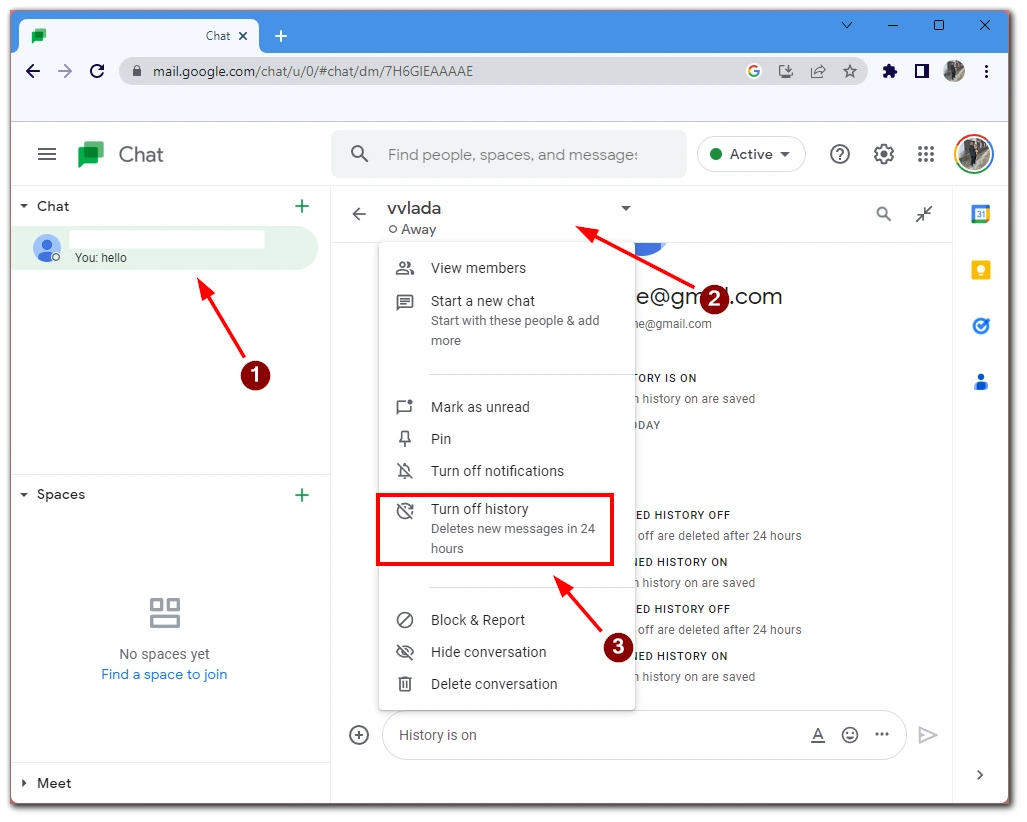 This option allows you to disable chat history, in which case all messages will be lost 24 hours after they were sent. This will allow you to avoid cluttering your chat list and automatically delete messages in conversations that are unimportant to you.
In the Google Chat mobile:
Since the mobile version of Google Chat for Android and iOS devices is identical, the instructions will also be identical. In general, you will need to do almost the same thing as in the previous instructions for deleting a conversation from Google Chat. To disable the history, you need the following:
Navigate to the desired chat.
Tap on the person name with whom you are communicating at the top of the screen (or on the name of the Group)
Then in the drop-down list, disable the History function.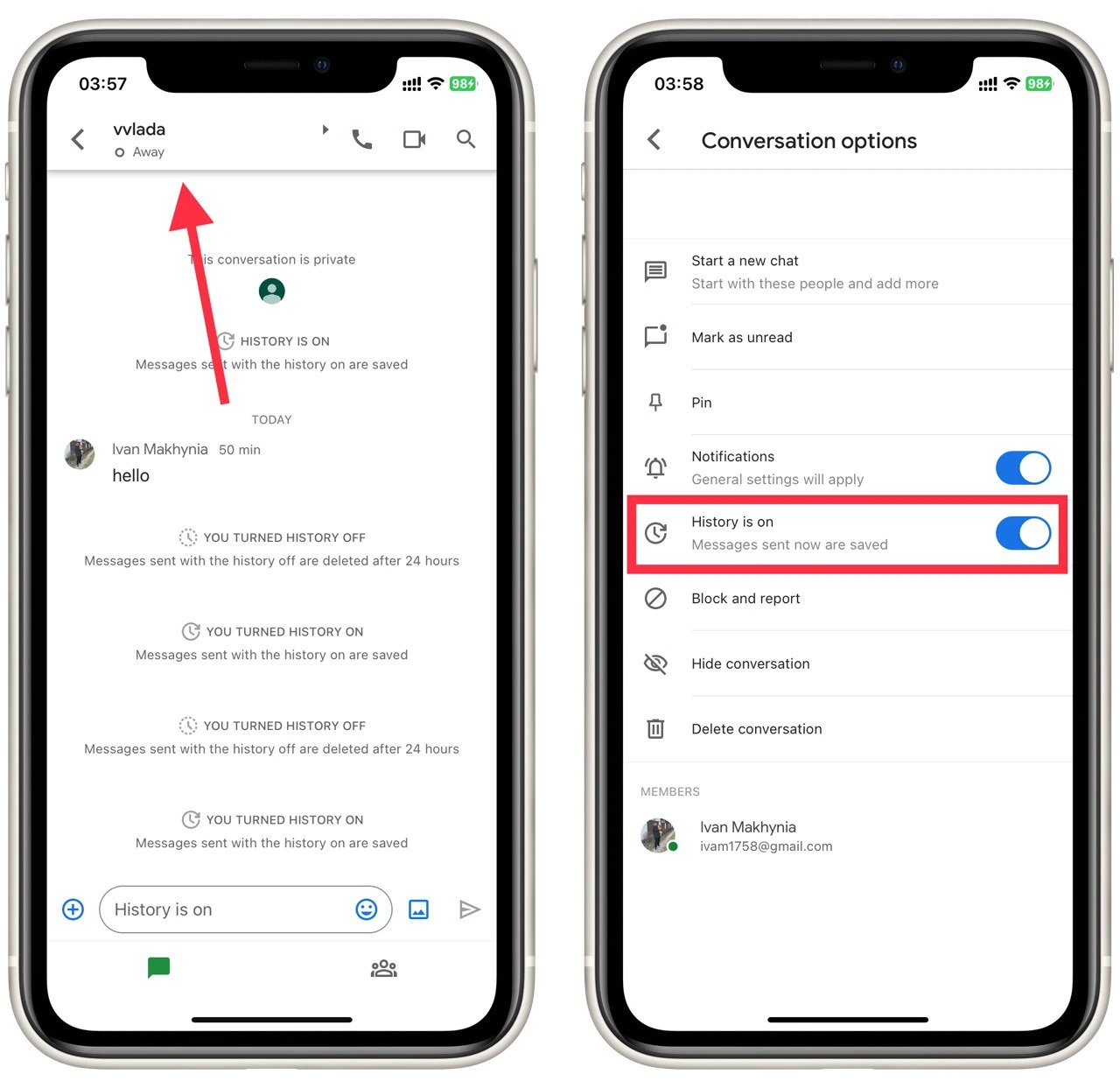 Note that this function does not work only on your device but applies to chat on your account. If you disable history and messages are deleted, they will be automatically deleted on your computer and any other device with your Google Chat account.