Garena is a prominent online gaming platform that provides access to various popular games, including League of Legends, Free Fire, and many others. If you play one of these games on your computer, you've obviously encountered the need to create your Garena account. Among other things, when creating your account, you must specify your email address and optionally link your account to Facebook or add a phone number.
I've had questions from former Garena games players about removing their accounts and deleting their personal information so Garena can't use it. After a little research, I came up with a solution, and it's not the most convenient. To completely delete your account, you must not log in for 6 months or personally contact Garena Support with a request to delete the account and all the personal data attached. Let's take a deeper look at these processes.
What to do to delete your Garena account
As I mentioned, you have two ways to delete a Garena account. You can do it simply by leaving your account inactive for 6 months (but there are still a few things to do), and you can also contact Garena Support to have them manually delete your account. Let me tell you more about each method.
Deleting the account and leaving it for 6 months
When leaving your Garena account inactive for an extended period, it is crucial to take necessary precautions to prevent unauthorized access or data breaches. Following the steps below, you can secure your personal information and ensure a smooth transition from your Garena account.
Open your web browser and navigate to the official Garena website (https://www.garena.com/).
Once on the Garena website, locate the login section and enter your account credentials to log in. Double-check that you log in to the correct account to avoid errors or confusion.
After logging in, look for the "Account" option, typically in the screen's upper right corner. Click on it to access your account settings.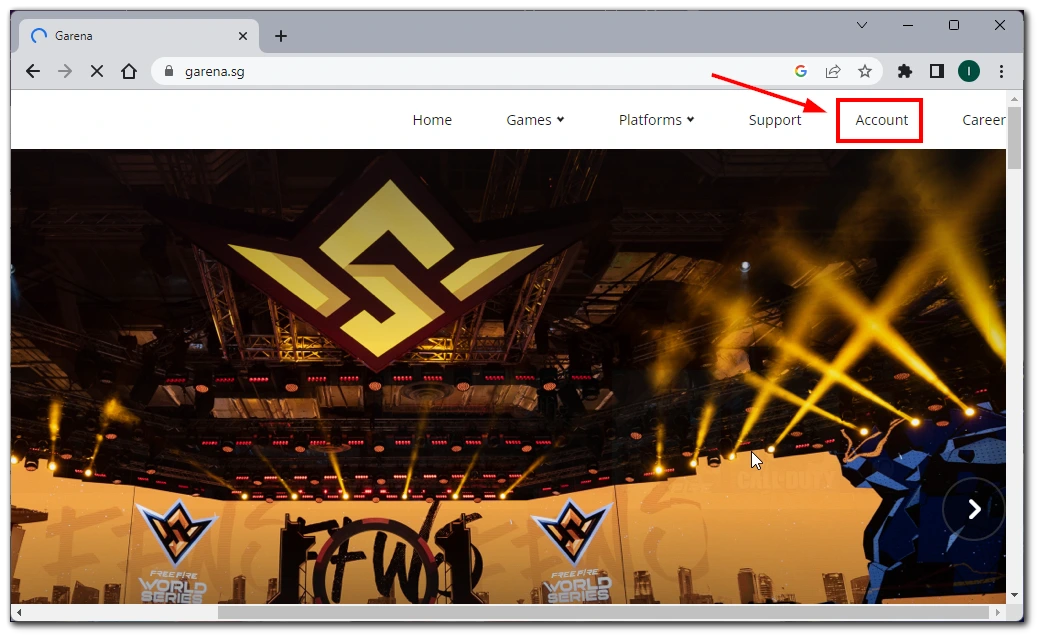 Within the account settings, find the "Security" tab. It is usually located in a sidebar or menu on the left-hand side of the screen. Click on it to proceed.
On the "Security" tab, you will find various options for securing your account. For example, you can delete a phone number from your account or change your email. Or select the most secure privacy settings available. This step ensures that your personal information remains protected during inactivity.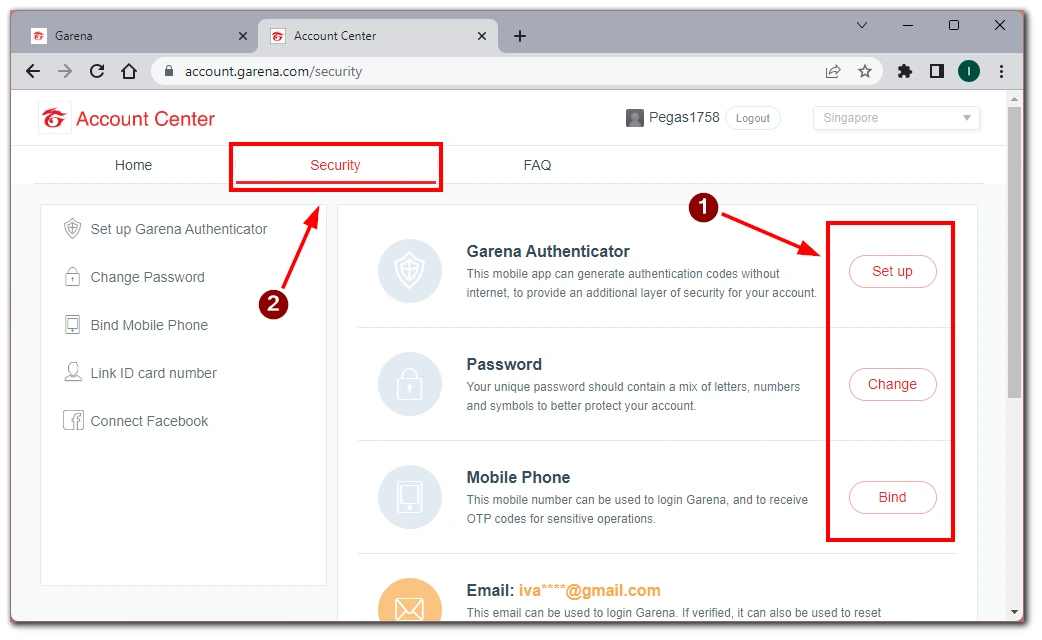 To initiate the automatic deletion process, refrain from using your Garena account for at least six months. Ensure no one else can access your account during this time to prevent unwanted activity or security breaches.
To further enhance the security of your Garena account, sign out from all devices that may have been previously logged in. This step ensures that no one can access your account, even if they have physical access to your device.
Deleting the account asking Garena Support
If you don't want to wait 6 months before your account is automatically deleted, you can request deletion manually. To do this, go to the Garena Support page (https://sg.support.garena.com).
There you can choose the appropriate topic and contact customer support directly. Be prepared that you may be asked to verify your identity by email or phone number linked to your Garena account. Usually, there is no problem with this, and you need to follow the steps provided to you by the Garena staff.
How to remove the Garena account from your Facebook account
In your Garena account, you have the option to link it to Facebook. You can get various additional rewards for this; some games may require it for cloud saving. To remove your Garena account from Facebook, you must remove it from the Facebook profile settings. To do this:
Once logged in to your Facebook account, click the downward-facing arrow in the top-right corner of the Facebook homepage.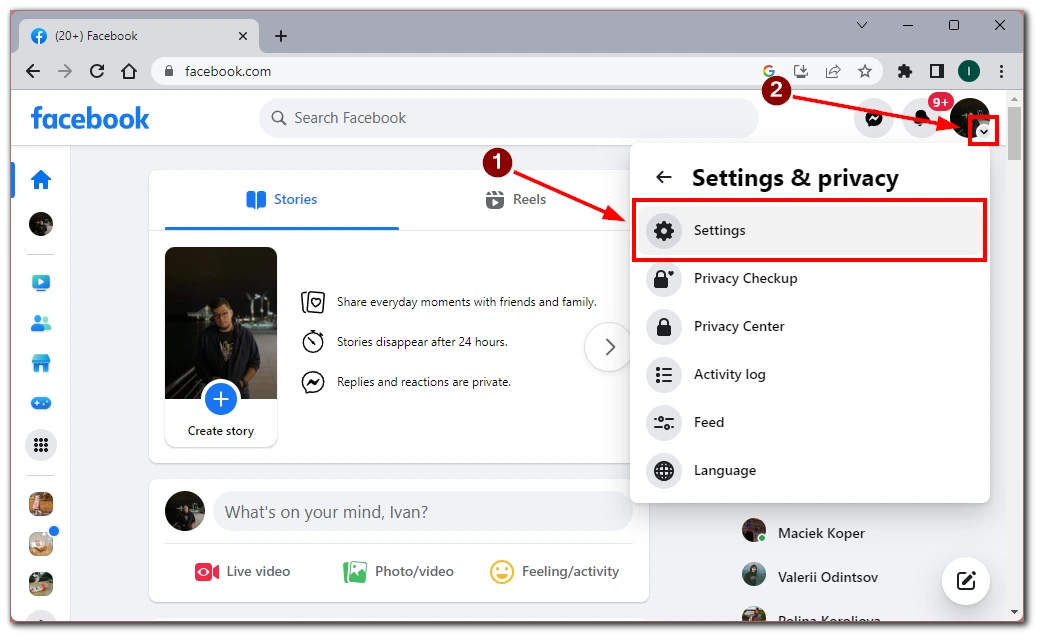 Select " Settings " from the dropdown menu to access your Facebook account settings.
In the left-hand sidebar of the Settings page, click on the "Apps and Websites" option. This section manages the external applications and websites linked to your Facebook account.
Under the "Apps and Websites" section, you will see a list of apps and websites connected to your Facebook account. Scroll through the list or use the search bar to find the Garena app. Click the "Remove" option to initiate the removal process.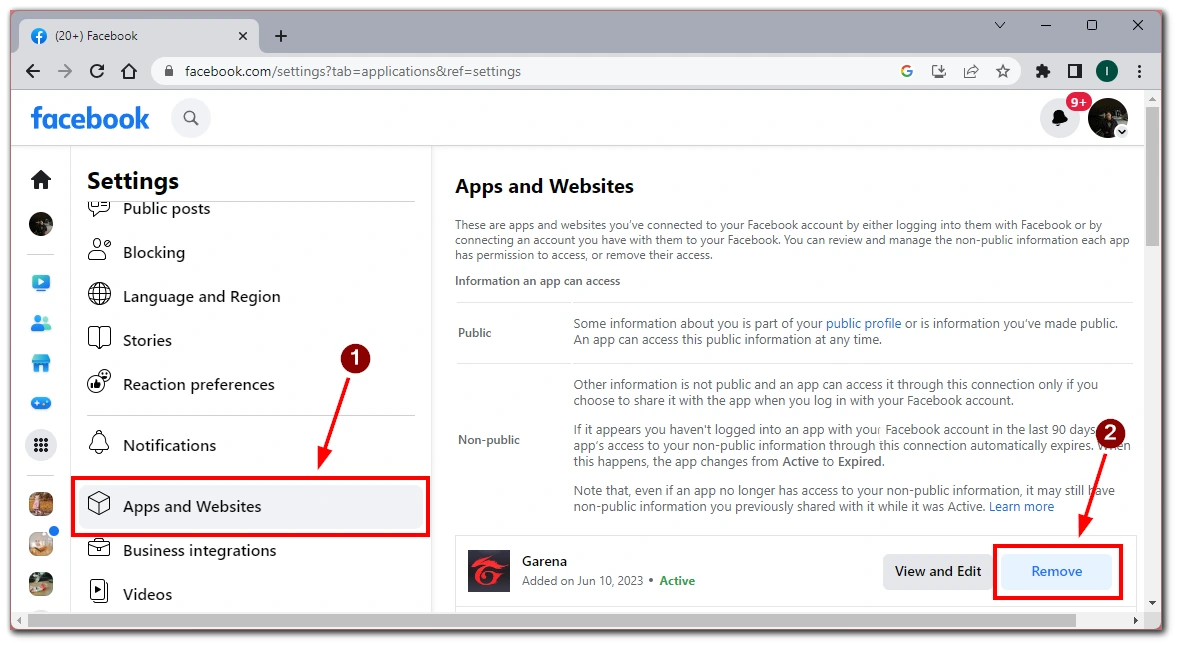 A confirmation dialog box will appear, asking if you want to remove the Garena app from your Facebook account. Review the information presented, and if you're sure about removing the app, click "Remove" or "Confirm" to proceed.
Remember that removing the Garena app from your Facebook account does not delete your Garena account entirely. If you want to delete your Garena account permanently, you'll need to follow the specific account deletion steps.
Things to remember when deleting Garena account
Since deleting a Garena account is a permanent and rather lengthy process, I recommend you keep a few things in mind before you finally decide to delete your account.
Outstanding Dues: Make sure to settle any outstanding payments or invoices related to your Garena account. This will prevent any issues or complications during the deletion process. Review your payment history and ensure all financial obligations are met.
Communication with Friends: Inform your gaming friends about your decision to delete your Garena account. Exchange alternative contact details, such as social media accounts or gaming-specific platforms, to stay connected and continue gaming together. This will help maintain your gaming community and ensure a smooth transition.
Revoke Third-Party Access: If you have granted any third-party applications or services access to your Garena account, revoke those permissions. Review the connected apps section in your Garena account settings and remove any unnecessary integrations. This step ensures the security of your data and prevents any unauthorized access.
Secure Account Closure: Ensure you log out from your Garena account on all devices. This step prevents any potential unauthorized access to your account after deletion. Double-check that you are not logged on to computers, mobile devices, or gaming consoles. Remember that if you log into your Garena account at least once in a 6-month period, you will have to wait 6 months from that day until your account is deleted.
Account Deletion Reversal: Once you delete your Garena account, it is generally irreversible. Therefore, carefully consider the decision before proceeding. Take the time to review Garena's terms and conditions regarding account deletion to understand the implications fully.
Seek Support if Needed: If you encounter any difficulties or have specific questions regarding the deletion process, consider contacting Garena's support team. They can provide assistance, clarify any concerns, and guide you through the account deletion process.
Account deletion is a permanent action, and it is important to consider all aspects before proceeding. By following these additional tips, you can ensure a secure and well-informed deletion of your Garena account.