Walmart has been gaining a lot of fans for quite some time. People appreciate one place where they can buy everything. In today's world, everyone is always short on time. Therefore, the leaders of such a large business, even more, create a comfortable environment.
In today's world without E-Commerce, it's difficult to retain a customer and win their heart for the brand. Just because hundreds of thousands of shoppers a day use Walmart, someone may need to return an item or cancel an order. In order to do this successfully, there are many things you need to know. So I recommend that you start reading.
Is it possible to cancel an order at Walmart
Walmart has been at the forefront of commerce for quite some time now. It used to be that, years ago, Walmart customers could only order an item online and come to the pickup point, the store itself, to pick up the ordered item at the 'Site to Store' counter. It wasn't 100% convenient for the customer, but still, this service was used by many people.
As it wasn't necessary to walk a lot in such a big hypermarket. Instead of coming only to the counter to pay and receive their goods. Anyone would agree that it was convenient. Now Walmart has become even more customer-oriented. Nowadays, it's easy to place an order for pickup or delivery.
Most likely, the next step for this multimillion-dollar company will be to expand worldwide delivery in countries where Walmart doesn't yet exist, so that there will be even more fans of this big chain. Walmart provides its customers with several ways to easily cancel or return their Walmart orders. Since there are several of these ways you need to choose the right one for you and start the return procedure.
Since there's really nothing complicated about it. In addition to convenient logistics and a variety of products, Walmart provides many services. Such as Auto Care Center, Health Services, Custom Cakes, Photo Services, Support Your Community, and much more. So this chain of hypermarkets really does its job well. Also if you're a frequent Walmart shopper adding money to your Cash App Card at Walmart would be convenient for you.
Read also:
What is a Walmart and what is the principle of their work
Walmart is one of the largest and most influential retailers in the United States. The corporation owns thousands of stores worldwide. It's the largest employer in the world. The main business of Walmart is a chain of supermarkets in the United States. Currently, there's a huge online store Walmart.com, where you can buy literally everything, food, appliances, clothing, car parts, and much more.
Many people will tell you that they often buy clothes there. In general, the prices for all goods at Walmart are initially quite low, and during the holiday sales, there's an opportunity to save even more. Often things of famous brands in Walmart are cheaper than in the official brand stores. Therefore, in order not to get lost on the site and find the right product, it's desirable to use the line search.
Since the goods in Walmart are unrealistically large numbers. Walmart is the company that says that they stand for the fact that their customers would save their money. This is the basis of this hypermarket. The core values also include living a better life.
As far as I'm concerned, this company is up to the task. When it comes to services that do their job well, immediately comes to mind Wish app. If you want to discover more opportunities, you can learn how to buy products from Wish App.
What steps to take to cancel a Walmart order
Walmart provides its customers with several ways to easily cancel or return their Walmart orders. Also, if you suddenly encounter any difficulties, you can contact Walmart customer service to get help and solve the issue together much faster. Due to the fact that Walmart is one of the largest supermarkets, obviously, there should be no problems with returns, neither online nor in physical supermarkets.
Walmart starts processing your order as soon as you place your order. Therefore, the earlier you cancel your order, the better your chances are of canceling your order. Check also in your personal cabinet to make sure your order is 'Processing'. So if it's already 'Sent', you will have to receive it or issue a refund. To cancel your order you need to follow these steps:
The first step to canceling an order is to log in to your account.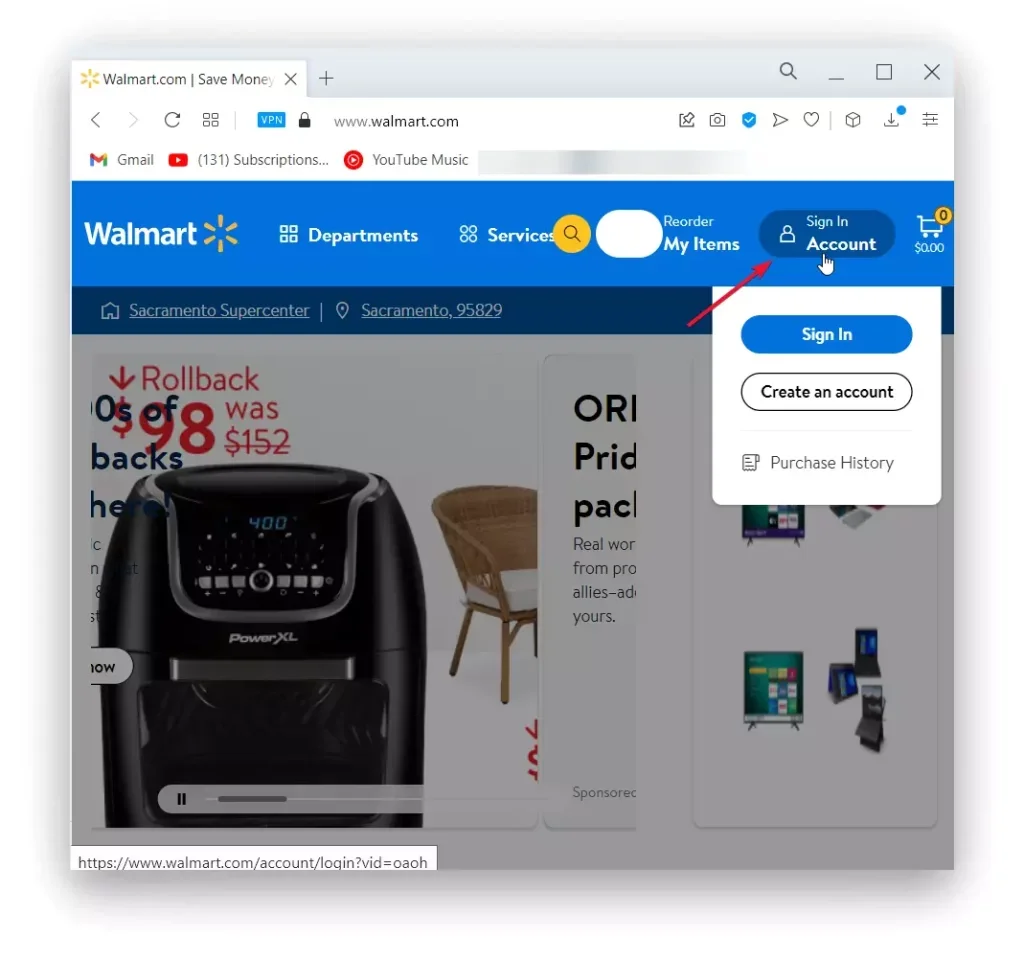 In your personal account on the home page, find the order you want to cancel.
After that, click the 'Track Order' link. This is to make sure the order can still be canceled. The order status should be 'Processing'.
If it's, click the 'Cancel Request' button on the 'Order Details' page.
Once your Walmart.com order is successfully canceled, you will get a cancellation email from Walmart.com
Read also:
What you need to do to return a Walmart order
If your order that you want to cancel isn't displayed in the 'Processing' status but has already been shipped, the refund procedure is a little different. Alternatively, if you received your order and it's not what you expected or doesn't fit at all, you can return it. You can return the order in the store or by mail.
To return by mail, you need to find the 'Start Returns' button in your personal account and select 'Return or Replace' in the order details. Also, mark which product you want to return and fill in all the information. If you need to return an item in the store come to the return counter or check with any consultant.
If you're a person who uses to the maximum all opportunities of online shopping. Also are an active user of the service StockX you may find yourself in a situation where you need to return an order to StockX. It may happen, but it's not nice when something doesn't fit and you need to return or exchange the selected item. However, all people when using online shopping realize that there's always a small risk.
For life, you don't see the product that you pay for and this can happen in different situations. If you order clothes and shoes can at least not sit on the body correctly man. When you order more serious goods such as appliances may also happen an unpleasant adventure, up to damage during transportation. Of course, I wish that this didn't happen to anyone, but still, it's better that you know how to act, so I recommend reading how to cancel an order on StockX.