StockX is an online marketplace that's aimed primarily at sneakers, but also at other clothes and even electronics, like gaming consoles. If you want to cancel the order, you probably know how the service works. But here's a brief: it works like an auction, and the seller sends their items to the StockX team for inspection, so the company takes charge to make sure the item is okay.
The system sounds like a dream, as the company is in charge of inspecting what you're buying (and therefore it's much less likely that you will meet items of poor quality or scam). But there's a reverse side, as such a system makes it difficult to implement a refund or cancellation policy. And, as you may know, there are no refund regulations on the federal level, so each company is free to determine its own.
Can you cancel an order on StockX?
Basically, yes. You can cancel the order on StockX. But here's what you should know: there's no straightforward process like a "Cancel" button. Because the company doesn't expect you to cancel the order.
And that makes sense, as the company verifies items and when you buy them, you can see the description. However, there may be myriads of situations when you need to cancel it. For example, if you have ordered the wrong item's size.
And there are other considerations why StockX doesn't have an open cancellation policy:
Taking into account that StockX has an auction system, free cancellation may lead to abuse when the lot winner just cancels the order.
Free cancellation would cause additional spending for sellers.
And that makes sense. Until you face the need to cancel an order. If you have purchased an item of the wrong size, you want to return it and make the right order. And here's what you can do.
How to cancel your StockX order
And now let's back to the cancellation process. If you're from Europe or the United Kingdom, you have 14 days to cancel an order. But if you're from the US, you need to talk with StockX support and explain your issue. If the support would find it reasonable enough, you will get your order canceled.
Here's how to reach StockX support.
Go to StockX and log in to your account.
Click on Help at the top-right corner of the screen.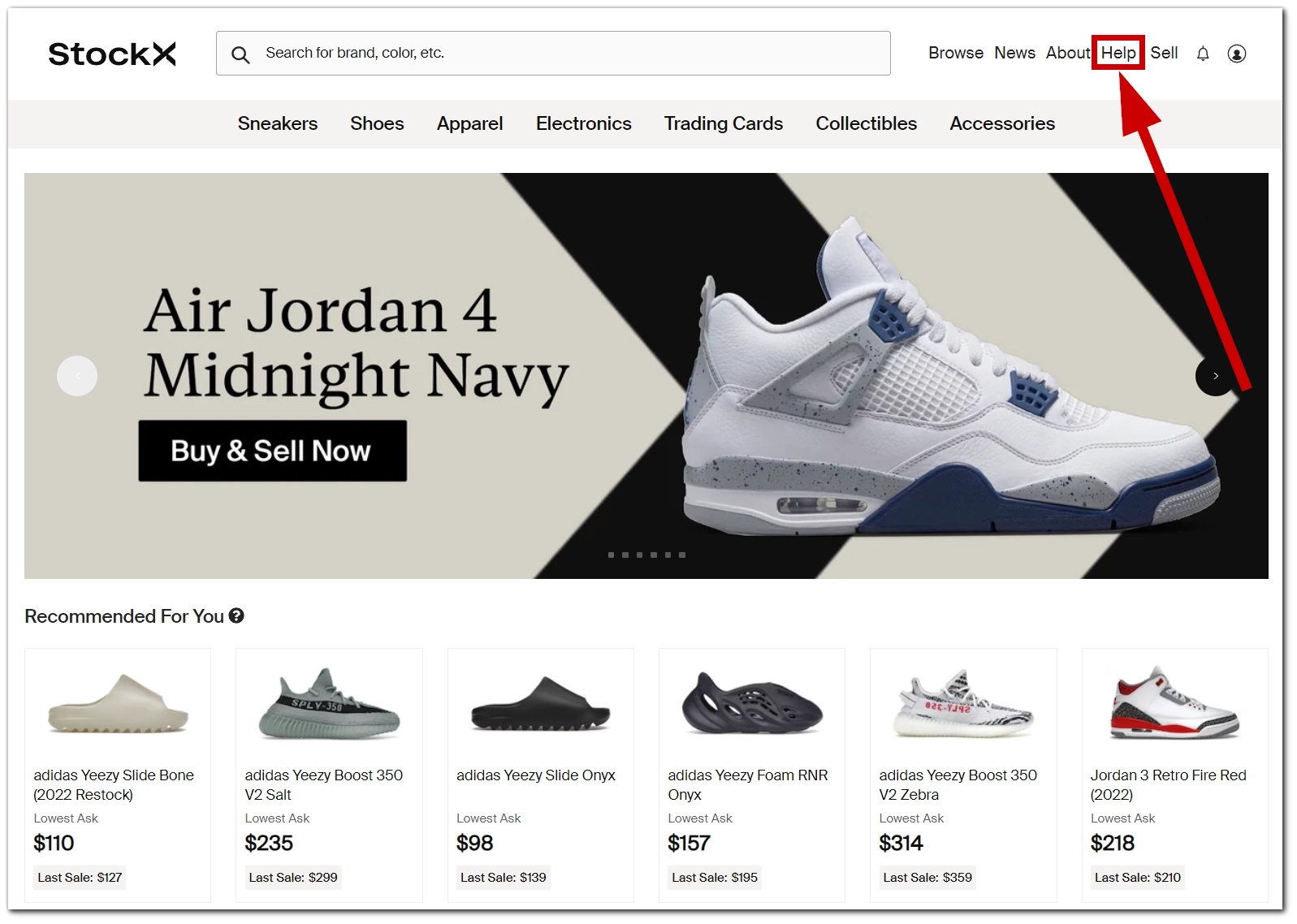 In the Help Center, scroll down and find the Contact us button.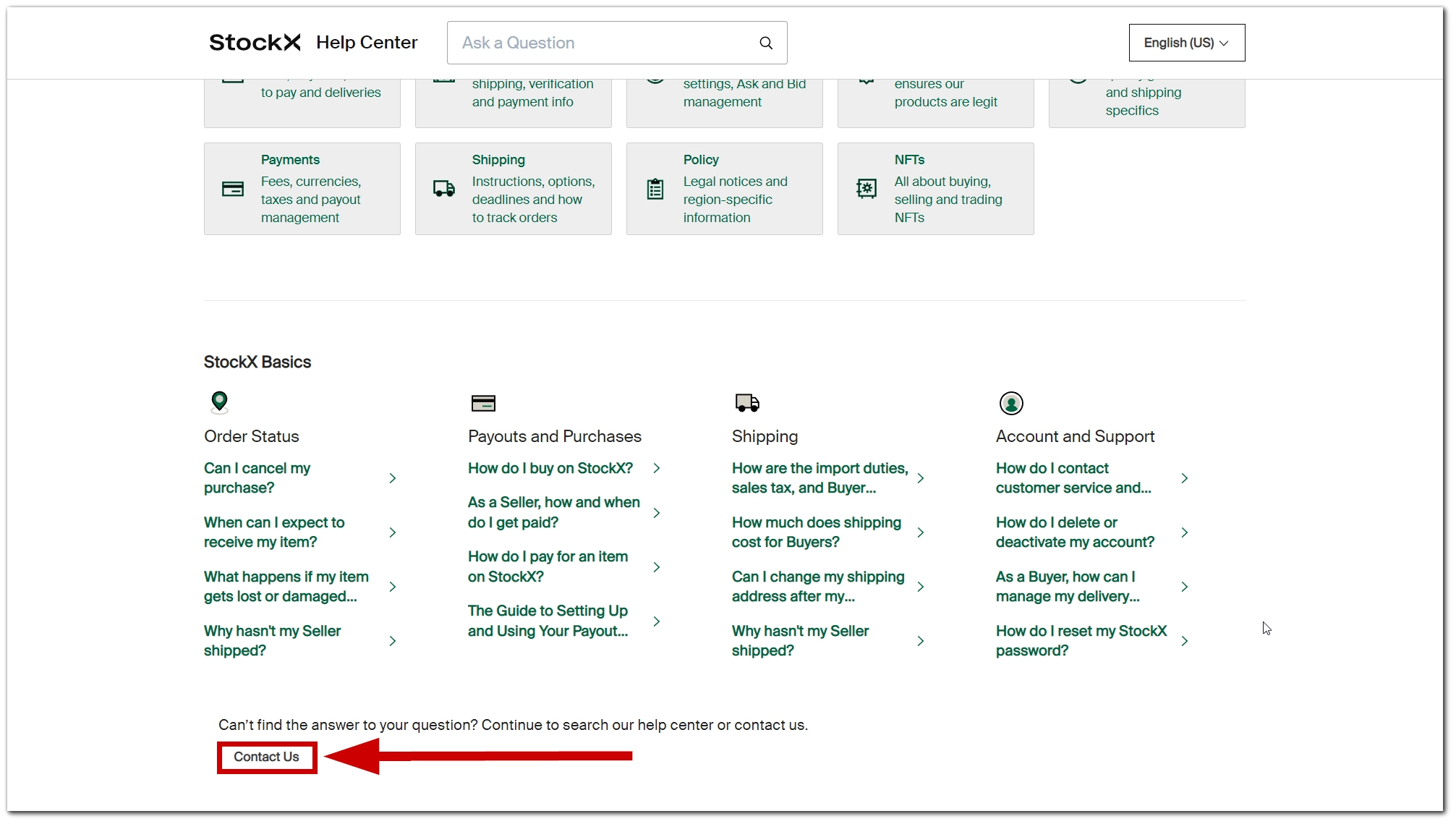 In the window in the left-bottom corner, select Issue with purchased item.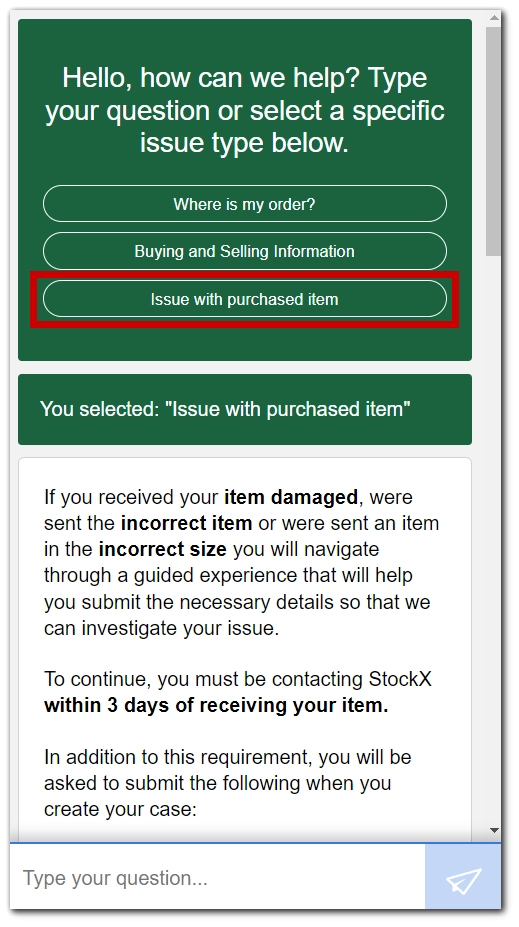 You need to provide customer service with your order number and your item should have a verification tag (if you want to return an already received item).
Then, click on Meet requirements.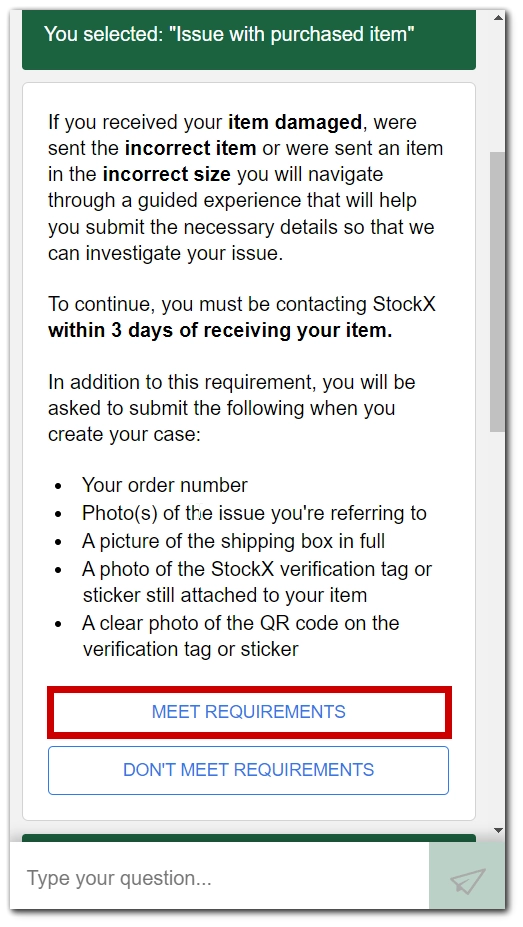 Then you would need to choose whether you're an EU or UK resident or not. If you're from Europe, you can return any item within 14 days.
But if you're from the US, you will need to explain what's wrong with your order and why you need to cancel it.
If your arguments are convincing enough, your chances of getting a refund significantly increase. However, if you try this, you will most likely be rejected. Agree that it's possible that a person made a mistake once and picked the wrong size, but that can't happen all the time.
If you want to bypass filling out the form, you can email StockX (support@stockx.com) and explain your reasons to cancel or return the order. I've talked to 6 people that are buying on StockX and they confirmed that if you aren't abusing the cancellation frequently and have reasons to ask for it, StockX will help you to solve the issue.
What to do if the seller fails to send the purchase
However, what if the seller failed to proceed and fulfill your purchase? In this case, you should also contact the support service. StockX points out that usually, the delivery should be made within 2 working days. If not, that's a good enough reason to ask to cancel your order.
Of course, there's no guarantee in this case either, but the chance that StockX will agree to it is quite high.
In this case, the seller will receive a penalty, and if they violate the shipping lines often enough, StockX can even freeze their account.
What to pay attention to when buying online
To avoid problems with your orders, you should keep in mind a few basic things that you should always check when buying online.
It's better to spend an extra 10 minutes checking an item than get stuck with canceling it and risking losing your money.
Check the price
When shopping online, always pay attention to the price. Compare it to the prices of similar items in other services. If you see that the price is significantly different, try asking yourself, "Why? If you can't answer that question for yourself, you may want to consider buying from another seller or other service.
Ask for more pictures.
This tip will not be as relevant when buying from StockX because they usually take full responsibility for the quality of the goods they sell.
However, in the case of other services, it's always better to ask the seller for additional photos to ensure your purchase's quality.
Check the seller's rating.
Make sure you are dealing with an honest seller before you buy. Look at his other items, and check other buyers' ratings and reviews. This will help you filter out scammers.
Carefully estimate the size.
This tip applies to buying clothes. You should double-check the size of the clothing you buy to ensure you do not buy something that is too big or too small for you.
It's also worth paying attention to the fact that different sizes may be for different regions. For example, the same size for Europe and America may be different.
Using these simple tips, you can protect yourself from having to cancel orders and waste your time and money on them.