Your PS4 can become a gaming console and a true streaming device. To do this, you can install Hulu. To install Hulu, you need to go to the PS Store from the home screen, search for Hulu with the search bar and click "Download."
Specifically, in the case of Hulu, you need to be in the United States. This is because Hulu has a regional limit and can only work in the US. If you cannot find it in your PS Store, you are in the incorrect country, or your PSN account is registered in a region other than the USA. You can try using VPN services to bypass regional restrictions.
At first glance, everything looks pretty simple. Let's understand this process in more detail below.
How to install Hulu on PS4
To download Hulu, you only need a valid PSN account and access to the network via Wi-Fi or a wire. After that, you need the following:
Before you start installing Hulu, log in to your PlayStation Network account on PS4.
Use your PS4 controller to select the PlayStation Store icon on the PlayStation main menu.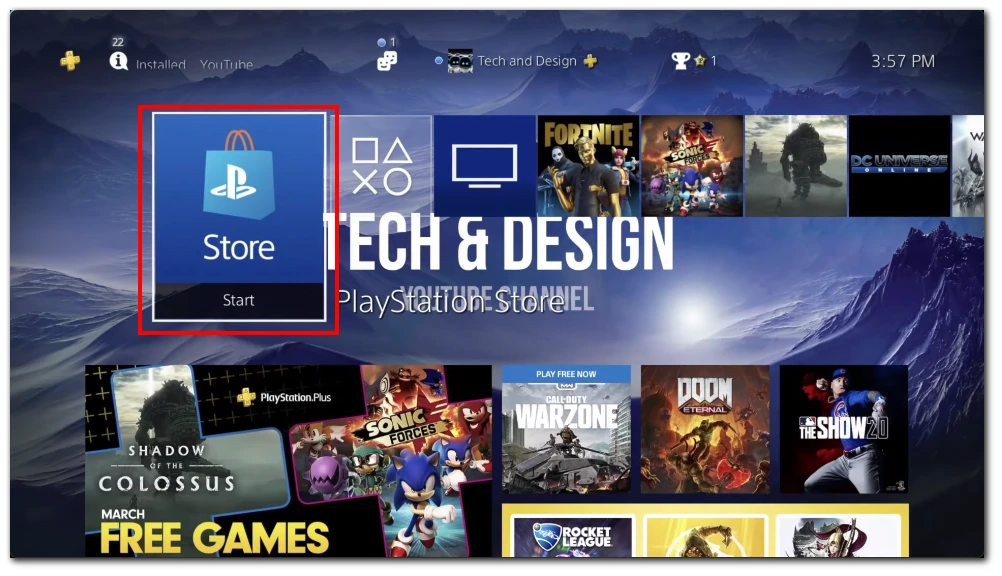 Type "Hulu" in the search bar at the top of the screen.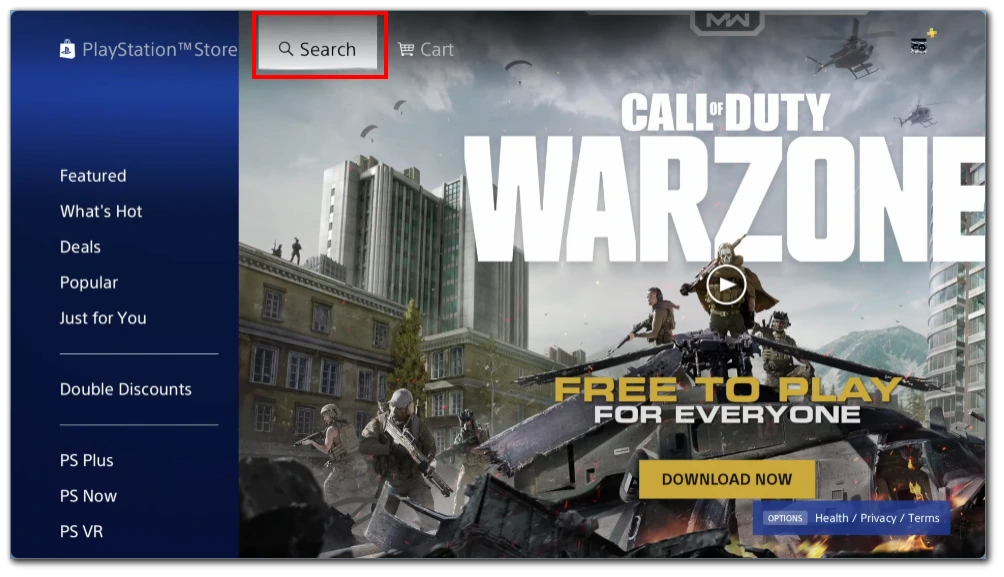 Find an app in the search results, and select it. Then navigate to the app page in the store.
Once on the app page, select the "Download" option on the app page below the Hulu logo.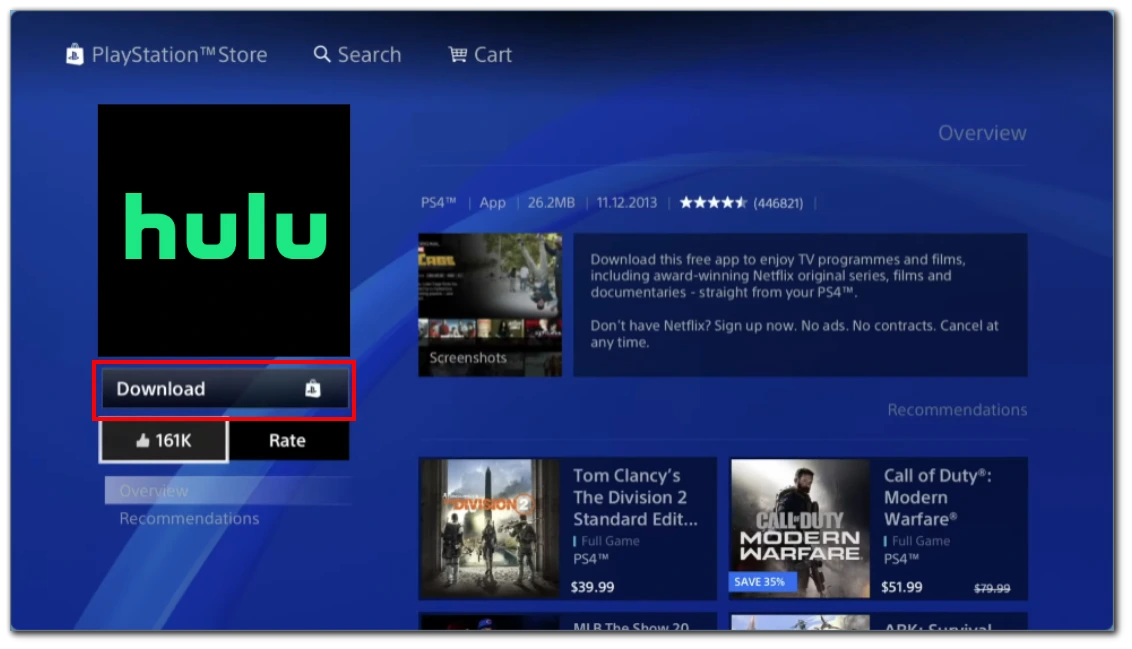 Once the download process is complete, select "Start," which will take you to the app.
Log in to the Hulu app.
As I mentioned earlier, in some cases, users cannot find Hulu on the PS Store. This is most often due to regional restrictions. So if you're in the US, you should check which region your PSN account is registered in.
Why can't you find Hulu on PS Store?
The Hulu streaming platform operates exclusively in the United States. If you can't find Hulu on the PlayStation Store, your account region may not be in the United States.
This exclusivity is due to specific license and content distribution agreements. Accordingly, the PlayStation Store tailors its offerings to regional specifics, ensuring that only relevant apps appear.
If you're outside of the US and Hulu doesn't appear on your PlayStation Store, it means that Hulu is not supported in your region. You should use VPN services for those who want to access Hulu from such regions. With their help, you can bypass regional barriers, register an account in the US region and access the streaming service.
Can you watch Hulu outside of the US on PS4?
To bypass these geographic restrictions and access Hulu from outside the US., some users have successfully used Virtual Private Network (VPN) services. A VPN allows you to route your internet connection through a server in a different country, effectively masking your actual location and making it appear as if you are accessing the internet from the VPN server's location.
By connecting to a VPN server in the United States, you can make it seem like you are accessing Hulu from within the country and potentially gain access to its content. However, it's important to note that Hulu actively tries to detect and block VPN usage to comply with licensing agreements and content distribution rights.
It's also worth noting that simply using a VPN won't be enough for you. You won't be able to change the region of your PSN account. This means you must register a new account in the US region to download Hulu. After that, you'll also have to use a VPN to open the app and start streaming. If Hulu notices that your console is not in the US, it will refuse to work until you "go back" there.
What other streaming services are available on PS4?
On the PS4, several streaming services are available in addition to Hulu. Here are some popular ones:
Netflix: Netflix is a widely known streaming service offering a vast library of TV shows, movies, documentaries, and original content.
Amazon Prime Video: Amazon Prime Video provides a collection of movies, TV series, and exclusive Amazon Originals. It is available to Amazon Prime subscribers.
Disney+: Disney+ offers a wide range of content from Disney, Pixar, Marvel, Star Wars, and National Geographic, including movies, TV series, and exclusive originals.
YouTube: YouTube is a popular video-sharing platform that offers a wide variety of content, including user-generated videos, music, live streams, and more.
HBO Max: HBO Max features an extensive selection of movies, series, and exclusive HBO content, including popular shows like Game of Thrones and Westworld.
Spotify: While not a traditional streaming service for TV shows and movies, Spotify is a popular music streaming platform available on the PS4, providing access to millions of songs and podcasts.
Please note that availability may vary based on your region and subscription requirements. Other streaming services may also be available on the PlayStation Store, so it's always a good idea to explore the store and browse the available apps to discover additional options.
What devices support the Hulu app?
The Hulu app is available on a wide range of devices. Here is a list of all compatible Hulu devices:
Device Type
Specific Devices
Smartphones
Android 5.0 or later
iPhone with iOS 13.4 or later
Tablets
Android 5.0 or later
iPad with iPadOS 13.4 or later
Amazon Fire tablets
Echo Show (8, 10, and 15)
Smart TVs
Amazon Fire TV (Fire OS 5.0 and later)
Android TV
LG TV with WebOS 3.5 or later
Samsung TV from year 2016 and later
Vizio SmartCast TVs released in 2016 or later

Game consoles
Nintendo Switch (R1 and Lite)
Playstation 4 and 5
Xbox Series S|X or Xbox One
Computers
Windows or Mac with any browser
Streaming Devices
FireStick (Fire OS 5.0 and later)
Roku updated to 11 version or higher
Apple TV 4th gen or later
Contour 2 and Stream Player Boxes
Xfinity Flex and X1 TV Boxes
Chromecast

It's worth noting that while the Hulu app is available on numerous devices, the specific features and functionality may vary depending on the device and Hulu subscription plan. It's always recommended to check Hulu's official website or the device manufacturer's website for the most up-to-date information on device compatibility.
How to register on Hulu
If you don't have an account, you'll need to register on Hulu before using it. To sign up, do the following:
First, open a browser on any device you like and go to Hulu.com/welcome.
Next, click on the login of sign in button. A window will appear with fields to fill in.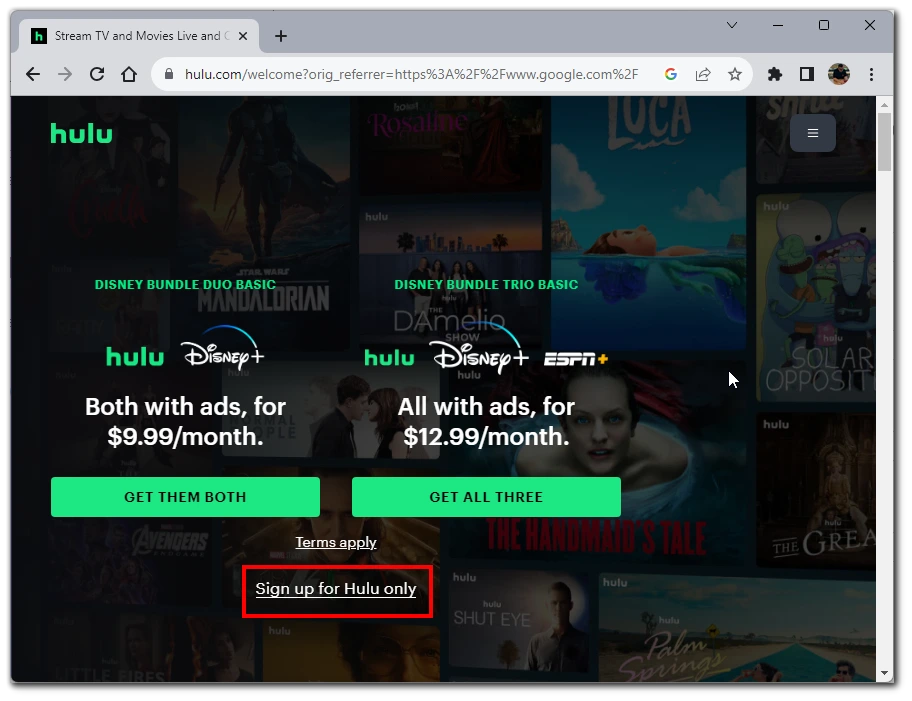 There, click on "Start your free trial".
After that, select your Hulu plan. Among the available ones, you can choose from the following: (ad-supported), Hulu (ad-free), Hulu + Live TV now with Disney+ and ESPN+* or Disney Bundle.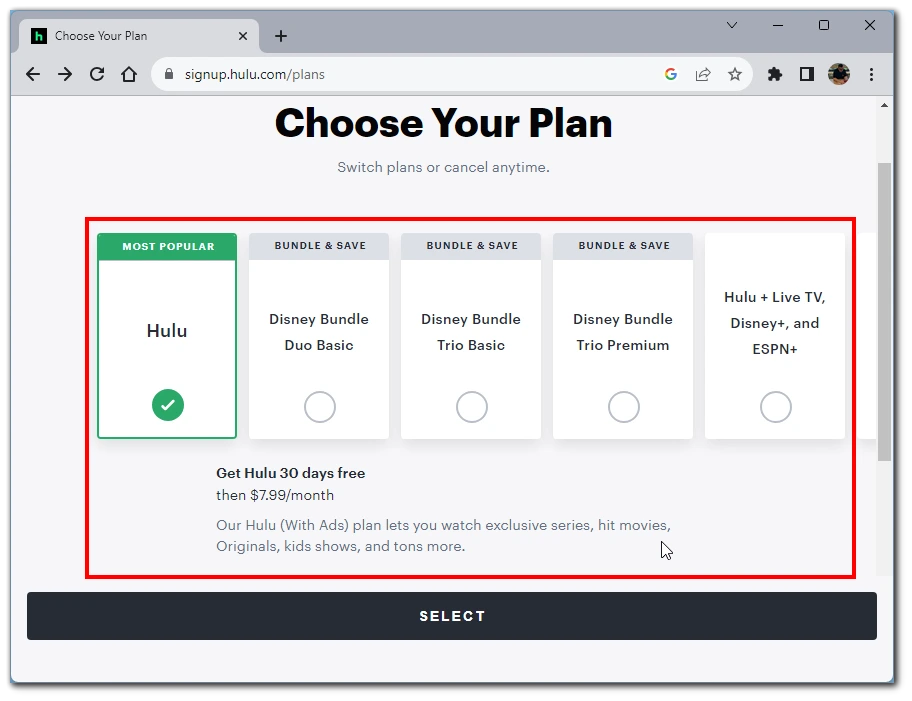 Enter your email address, password, and personal information in the appropriate fields to complete.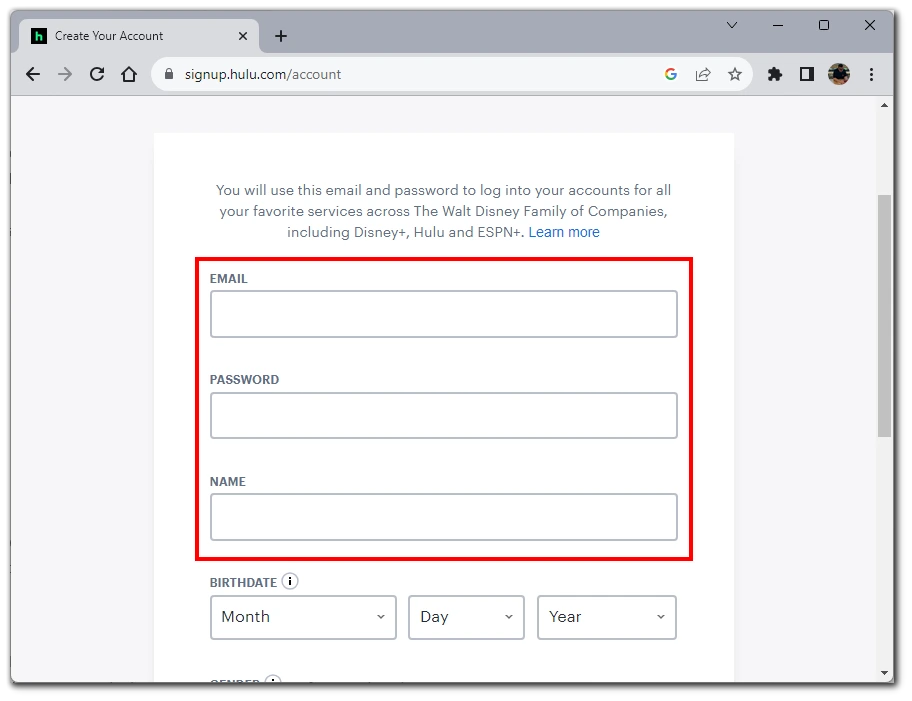 Select payment method and add billing information
Click "Submit" to complete the registration process and begin the connection process, where you can personalize your recommendations before you start streaming.
If you are using a free trial of the selected plan/supplement, you will be charged at the end of all applicable trial periods. Hulu does not require you to pay in advance, which makes it easier to switch to a paid plan if you decide to stay with the company after your free trial ends.
Keep in mind that if you decide to switch to another plan during your free trial, you will automatically be charged, and if you cancel the service during your trial, you will immediately lose access to Hulu. To cancel the service without a fee, do so within seven days of activation.
How much does Hulu cost?
Hulu offers a range of pricing options to cater to different user preferences:
Hulu (with ads): Priced at $7.99 per month or $79.99 annually, this plan provides access to Hulu's extensive streaming library encompassing TV shows, movies, and Hulu Originals. However, be prepared for occasional ad interruptions.
Hulu (no ads): For those keen on an ad-free experience, this plan comes at $14.99 per month. You'll enjoy the same expansive library as the plan above, sans advertisements.
Hulu + Live TV: At $69.99 per month, subscribers gain access to Hulu's streaming library and live TV channels. This encompasses major broadcast and cable networks such as ABC, CBS, Fox, NBC, and ESPN. However, this plan is also where the commercial breaks come in.
Hulu (no ads) + Live TV: For a comprehensive experience, this plan, priced at $82.99 per month, combines the benefits of the ad-free Hulu library and live TV channels.
Choose a plan that aligns best with your viewing habits and budget. Remember to switch to a cheaper option. You must wait until the end of the billing period. However, if you want to upgrade your service plan, you can do so anytime by paying the difference.