If you own a Nintendo Switch console, you can watch Hulu streaming on your gaming device. To do so, simply go to the Nintendo eShop, search for "Hulu," and once found, click the download button to install the app.
However, it's important to note that an active Hulu subscription is required to view content. Existing subscribers can simply activate their accounts on Nintendo Switch, while newcomers will have to sign up and choose a plan that suits them. It's also worth remembering that Hulu is currently only available in the US and US military bases around the world.
Let's take a closer look at how you can install Hulu on your Nintendo Switch.
How to install Hulu on Nintendo Switch
As I mentioned, to install Hulu, you need to be in the US and have an internet connection on the Nintendo Switch. If these requirements are satisfied, then you need to:
Turn on your Nintendo Switch and go to the home screen.
From the home screen, scroll down and locate the eShop icon. The eShop icon looks like a shopping bag with the letter "N" on it.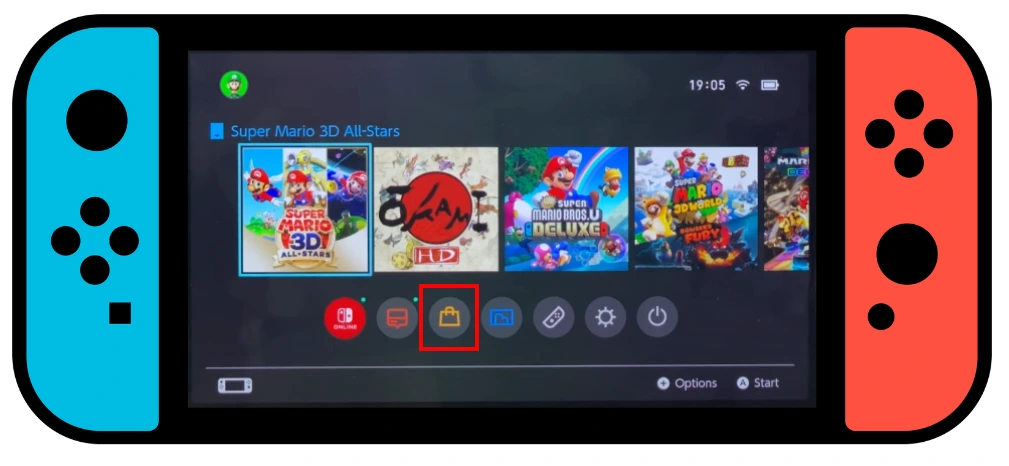 In the eShop, navigate to the search bar at the top of the screen.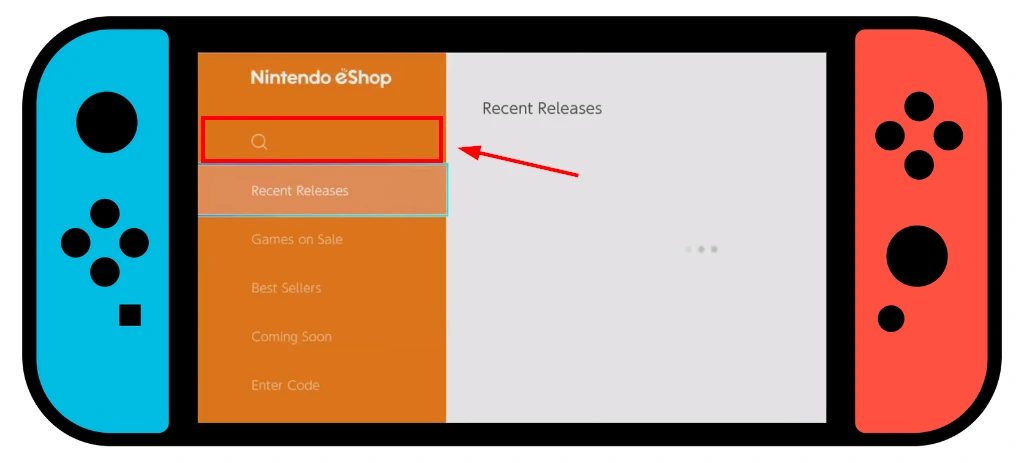 Using the on-screen keyboard, type "Hulu" and hit the search button.
A list of search results will appear on the screen. Locate the Hulu app and click on it.
To download the Hulu app, click the "Download" button on the app's details page.
You will be prompted to confirm your download. Click "Download" again to confirm.
Wait for the download to complete. The download progress will be displayed on the screen, and a small icon will appear on the home screen to indicate that the app is downloading.
Once the download is complete, you can launch the Hulu app from the home screen by tapping the app icon. You will be prompted to sign in with your Hulu credentials when you launch the Hulu app for the first time. If you do not have a Hulu account, you can sign up for one directly within the app.
How to remotely install Hulu on Nintendo Switch
Using the My Nintendo Store from a computer or mobile device:
Log in to the My Nintendo Store with your Nintendo Account.
Search for the Hulu app using the search bar at the top left side of the page.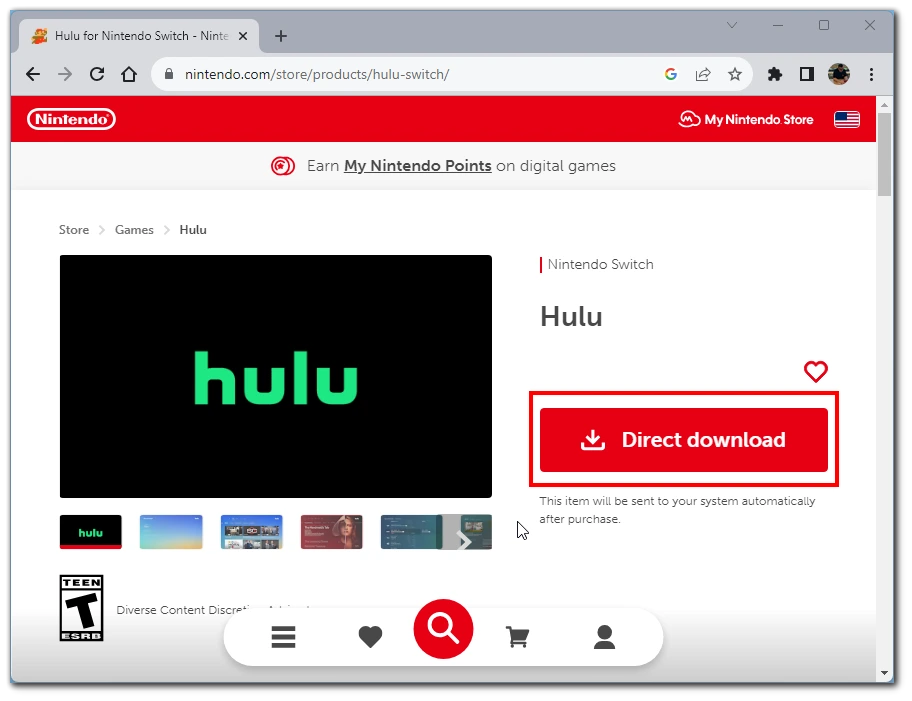 Next, choose Hulu from the search results and purchase it by clicking on the "Direct Download" button. (it's free but requires a 'purchase' action for download).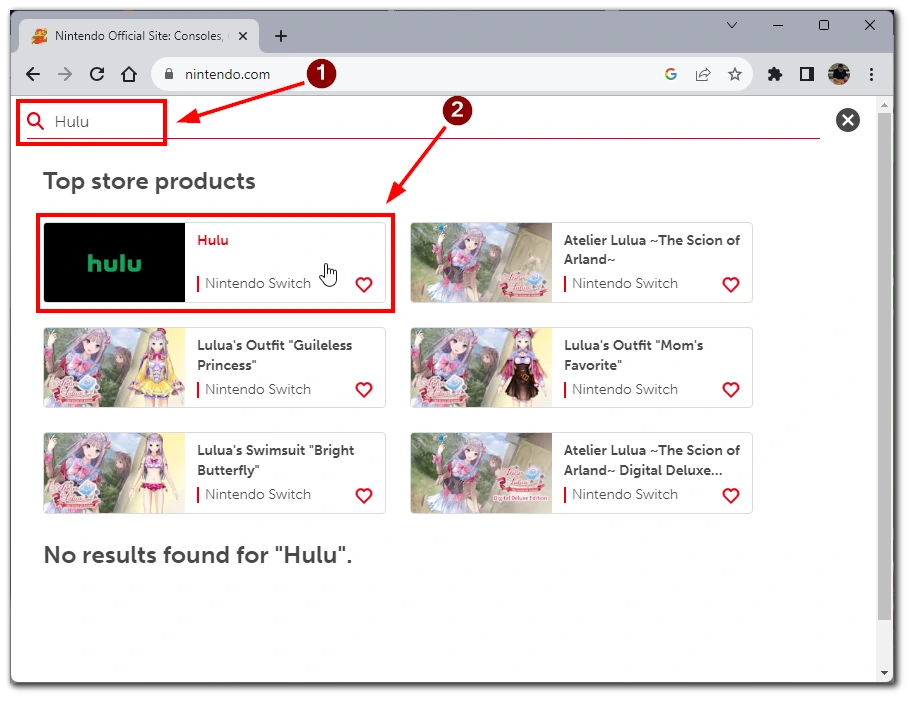 If your Nintendo Switch is connected to the Internet and set to download items automatically, the Hulu app will download onto your Switch remotely.
What are the requirements to watch Hulu on Nintendo Switch
Hulu is supported on all versions of the Nintendo Switch. You can download it on any revision of the standard Switch and on the OLED Switch and Switch Lite. However, there are a few other things you will need to watch Hulu on the Switch:
Nintendo Account: It's your key to the Nintendo eShop, where the Hulu app can be downloaded.
Internet Connection: A stable connection is crucial. While you can download the app on any connection, Hulu recommends speeds of 1.5 Mbps for standard definition, 3.0 Mbps for high-definition, and 8 Mbps for Hulu with Live TV for smooth playback.
Hulu Subscription: You'll need an active Hulu subscription, which can range from ad-supported plans to premium options with live TV. New users often have the option for a free trial.
US Location: Hulu on Nintendo Switch is currently available only for users located in the United States. You won't find the app on the eShop if you're outside the US.
With the right account, connection, subscription, and US location, you can unlock the vast world of Hulu content on your Nintendo Switch.
Is it possible to watch Hulu on Nintendo Switch outside of the US?
Hulu, primarily tailored for the United States audience, poses challenges for Nintendo Switch users attempting access outside the US. The Hulu app is not directly available in non-US Nintendo eShops, but a potential workaround involves using a US-based Nintendo account to download the app. However, even with the app installed, Hulu's content remains geo-restricted.
Some users turn to VPN services to bypass these geo-restrictions, making it appear like they're accessing the internet from the US. While VPNs can provide a solution, it's important to note that using them might breach Hulu's and Nintendo's terms of service. Additionally, Hulu has measures to detect and block many VPNs, so not all VPN services guarantee access. Users should weigh the implications and potential risks when considering this method.
Why you can't find Hulu in Nintendo eShop
The availability of Hulu on the Nintendo eShop is subject to geographic restrictions. Specifically, Hulu is a service designed primarily for the US market. Due to these regional restrictions, if you use Nintendo Switch outside of the United States, the Hulu app will not be visible or available for download on the Nintendo eShop.
If you are in the US but can't see Hulu in the eShop, you likely have the wrong region set in your Nintendo account. You need to change the region or create a new account and select the US region. After that, the app will be available for download.
Can you control the Hulu app with a touch on Nintendo Switch
Controlling the Hulu app using the touchscreen is activated when the on-screen keyboard is displayed. This means that for text input – such as searching for a show, or movie, or logging into an account – the touchscreen comes into play, providing faster and more intuitive text input.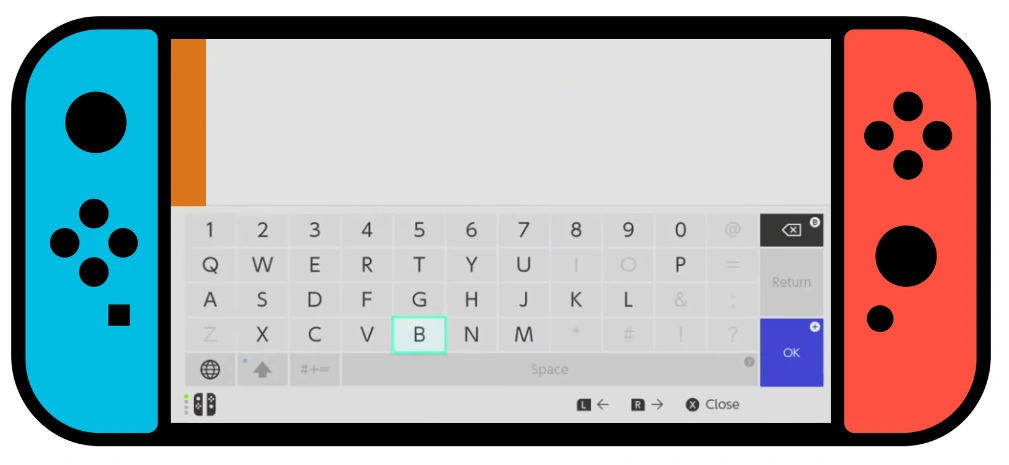 However, physical console buttons or connected Joy-Con controllers are typically used for general navigation, such as scrolling through content libraries, selecting episodes, or accessing different sections of the app.
This combination of touch and traditional controls is designed to provide users with a seamless and efficient interaction with the Hulu app. While this may seem like a limitation at first glance, this design choice can be seen as a way to prevent accidental taps when viewing content, especially in portable mode.
What other devices support Hulu
In addition to the Nintendo Switch, you can also install Hulu on your other devices. Below you will find a list of all devices that support Hulu.
Device Type
Specific Devices
Smartphones
Android 5.0 or later
iPhone with iOS 13.4 or later
Tablets
Android 5.0 or later
iPad with iPadOS 13.4 or later
Amazon Fire tablets
Echo Show (8, 10, and 15)
Smart TVs
Amazon Fire TV (Fire OS 5.0 and later)
Android TV
LG TV with WebOS 3.5 or later
Samsung TV from year 2016 and later
Vizio SmartCast TVs released in 2016 or later

Game consoles
Nintendo Switch (R1 and Lite)
Playstation 4 and 5
Xbox Series S|X or Xbox One
Computers
Windows or Mac with any browser
Streaming Devices
FireStick (Fire OS 5.0 and later)
Roku updated to 11 version or higher
Apple TV 4th gen or later
Contour 2 and Stream Player Boxes
Xfinity Flex and X1 TV Boxes
Chromecast

How much does Hulu cost?
After you have installed Hulu on your Nintendo Switch, you will have to pay a subscription. Hulu offers a variety of subscription plans with different benefits and prices. The pricing for Hulu's subscription plans is as follows:
Hulu (with ads): This plan costs $7.99/month (or $79.99/year) and includes access to Hulu's entire streaming library of TV shows, movies, and Hulu Originals. However, users will see ads during the shows.
Hulu (no ads): This plan costs $14.99/month and includes access to the same streaming library as the plan with ads but without any ads during playback.
Hulu + Live TV: This plan costs $69.99/month and includes access to Hulu's entire streaming library and live TV channels. Users can stream live TV channels from major broadcast and cable networks, including ABC, CBS, Fox, NBC, and ESPN.
Hulu (no ads) + Live TV: This plan costs $82.99/month and includes access to the same streaming library and live TV channels as the Hulu + Live TV plan but without any ads during playback.
In addition to these plans, Hulu also offers several add-on options. For example, users can add on premium channels like HBO, Showtime, and Starz for an additional monthly fee.