If you're wondering what devices Hulu is available on, the answer is pretty much on all of them. You can find it on iPhones, iPads, Android smartphones or tablets, Smart TVs, PC or Mac browsers, game consoles, and most TV set-top boxes.
However, it's worth noting that Hulu is no longer available on older game consoles and Smart TVs. Also, if you want to use it on multiple devices, you should know that Hulu has a limit on the number of simultaneous streams users can watch from one account.
Let's take a closer look at how it works in Hulu.
What devices is Hulu available on?
Hulu is available on just about every modern device you can use for streaming. Below is the table with the full list of devices where Hulu is available.
Device Type
Specific Devices
Smartphones
Android 5.0 or later
iPhone with iOS 13.4 or later
Tablets
Android 5.0 or later
iPad with iPadOS 13.4 or later
Amazon Fire tablets
Echo Show (8, 10, and 15)
Smart TVs
Amazon Fire TV (Fire OS 5.0 and later)
Android TV
LG TV with WebOS 3.5 or later
Samsung TV from year 2016 and later
Vizio SmartCast TVs released in 2016 or later

Game consoles
Nintendo Switch (R1 and Lite)
Playstation 4 and 5
Xbox Series S|X or Xbox One
Computers
Windows or Mac with any browser
Streaming Devices
FireStick (Fire OS 5.0 and later)
Roku updated to 11 version or higher
Apple TV 4th gen or later
Contour 2 and Stream Player Boxes
Xfinity Flex and X1 TV Boxes
Chromecast

Please note that as Hulu is constantly evolving and new devices are introduced, this list may be updated over time.
What devices no longer support Hulu?
Older devices may lose their compatibility with streaming services like Hulu as technology progresses. Here's a list of devices that once supported Hulu but no longer do:
Older gaming consoles such as PS3 and Xbox 360.
Older Apple TV models (3rd generation and earlier).
Non-SmartCast VIZIO TVs.
Certain older models of Samsung TVs (before the 2016 year) and LG TVs (before webOS 3.5).
Remember, Hulu, like other streaming services, constantly evolves. Regularly checking Hulu's official support site for the most up-to-date device compatibility list is always a good idea.
What to do if your device doesn't support Hulu
If your device doesn't support Hulu, it can be disappointing, but there are several workarounds and solutions you can consider. Here's what to do:
Use screen mirroring or AirPlay:
Chromecast: If a device supports the Hulu app, like an Android phone, you can broadcast the content to a TV using Google Chromecast.
AirPlay: For Apple devices, use AirPlay to stream content from your iPhone or iPad to an Apple TV.
Screen Mirroring: Some devices support direct screen mirroring, allowing you to replicate the content of one screen on another.
External streaming devices
If you don't already own one, consider investing in a dedicated streaming device. Devices like Roku, Amazon Fire TV, and Apple TV support Hulu and can be connected to your TV.
Switch to a Different Streaming Service
If you ca unable to access Hulu and aren't keen on purchasing new equipment, you might consider switching to another streaming service compatible with your device.
It's always essential to research device compatibility, especially when buying new tech, to ensure it meets all your entertainment and productivity needs.
Does Hulu have device restrictions?
Hulu does not limit the number of devices you can register or log into with your account. You can add as many as you want, whether it's your smartphone, tablet, TV, or desktop. This provides flexibility for households with multiple devices.
While you can log in to as many devices as you like, if a particular device remains inactive for a certain period (e.g., 30 days), Hulu might unregister it. You can always log back in on that device, but this system helps keep your list of devices more manageable.
Hulu might monitor account activity to detect any suspicious behavior, such as logging in from various geographical locations in a short span. Such behavior might be perceived as account sharing on a large scale, which violates Hulu's terms of service. If suspicious activity is detected, Hulu might reach out to the account holder or take action to secure the account.
It's essential to differentiate between device registration (logging in to a device) and simultaneous streaming (watching content at the same time on different devices). While Hulu is quite lenient with the number of devices you can log into, they are stricter about simultaneous streaming to adhere to licensing agreements and prevent misuse of their service.
How many simultaneous streams can you watch on Hulu?
Hulu offers subscribers the flexibility to stream on two different screens simultaneously. This ensures that while one individual catches up on a series in the living room, another can indulge in a film in the bedroom, eliminating potential disagreements over content choices. Despite the ability to register the Hulu app on numerous devices, the streaming service has set a cap, ensuring only two devices can stream content at once. Overstepping this boundary results in an error message, alerting the user of the exceeded limit.
For larger households or those with more extensive streaming needs, Hulu provides the "Unlimited Screens Add-on" for Live TV subscribers. This add-on drastically enhances streaming capabilities, allowing content viewing on all devices within a home network simultaneously.
Hulu is also extending its services to three mobile devices for users on the move. However, for users of premium content from networks like Max, Cinemax, SHOWTIME, and STARZ. Despite the "unlimited" appeal, there's a simultaneous streaming restriction on these premium channels – limited to five screens, three of which can be mobile and outside the household.
In what countries is Hulu available?
Hulu primarily serves the US market, including US military bases overseas and US territories such as Puerto Rico, Guam, and the US Virgin Islands. Its content rights, licensing agreements, and infrastructure largely cater to the American audience. This limited availability is one of the main differences between Hulu and some other global streaming platforms.
Please note that if you enter areas outside of the US where Hulu should be available (e.g. a US military base), you can contact support if the service is down. They will help you get access to the streaming service. In other cases, you can use a VPN to move your virtual location to the US.
How many profiles can you have in one Hulu account?
Hulu offers subscribers the flexibility to create up to seven individual profiles (one primary profile and six additional) under one account, allowing for a tailored streaming experience for each member of the household. Each profile maintains its distinct viewing history, recommendations, and Watchlist, ensuring personalized content recommendations. Special kid-friendly profiles can be established for households with children, ensuring they access only age-appropriate content. The initial profile set up during account creation is designated as the primary profile, housing the account's email and billing details.
While multiple profiles offer individualized viewing experiences, it's essential to note that the number of simultaneous streams is governed by the subscription type and any add-ons, not by the number of profiles. Checking Hulu's official resources periodically is recommended for the most current features and policies.
How to add a profile on Hulu
To add a new profile to your account, you will need to:
Go to the Account page from the main screen.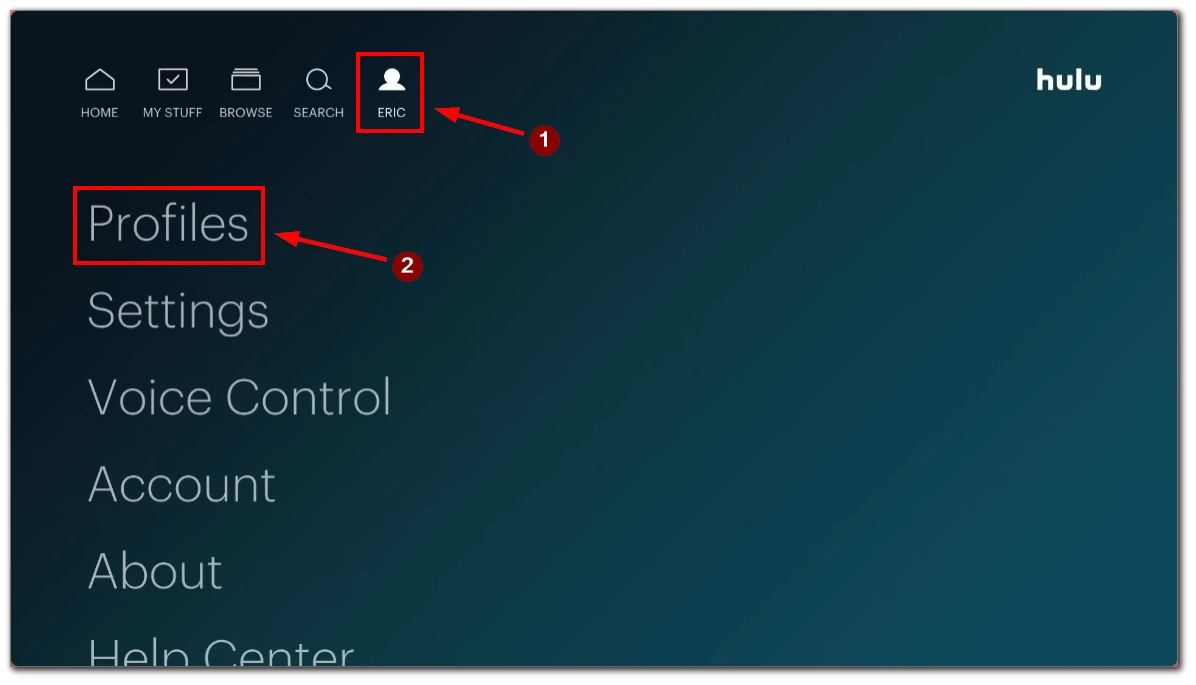 Navigate to "Profiles" and then "Add Profile."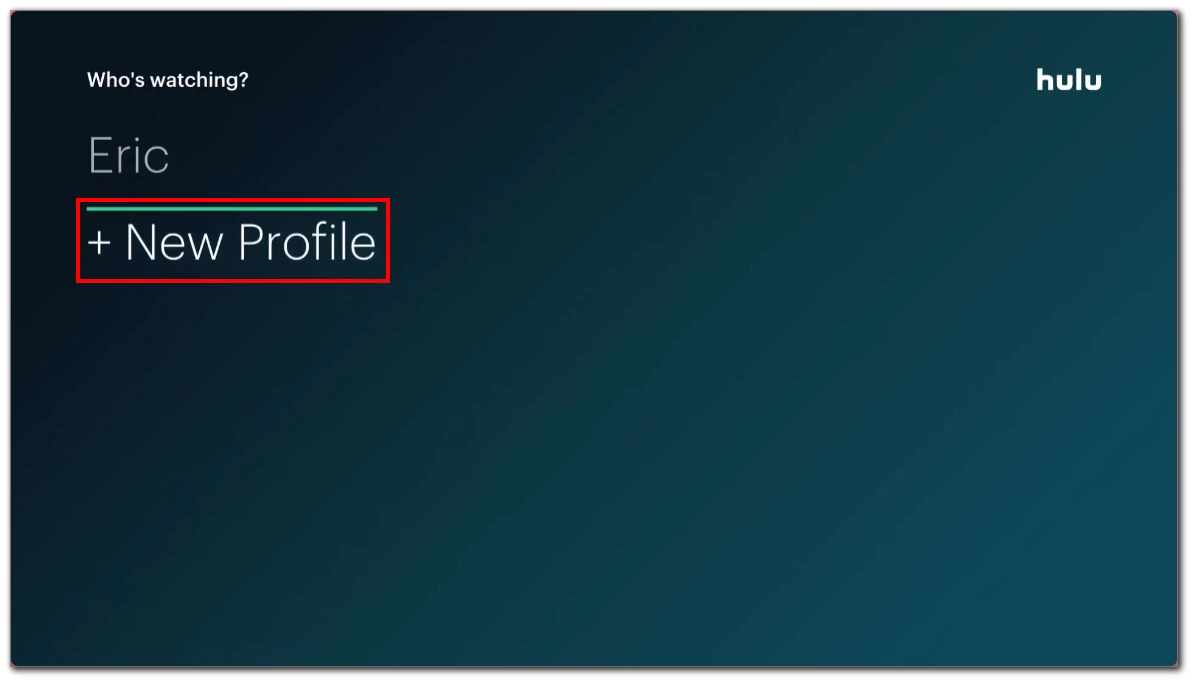 Fill in the necessary details and specify the profile type.

Don't forget to add the information that this is a kid's account if you need to.

Save and exit.
Remember that the new profile will have its own recommendations, browsing history, and watch list. You can also delete or modify the profile at any time.