One of the valuable features of Google Docs is the ability to recover deleted documents from the trash folder. If you have accidentally deleted a document in Google Docs, you can quickly restore it from the trash folder. The Google Docs trash folder is like a recycle bin on your computer. It holds deleted documents for 30 days. You can recover your deleted documents within this period, provided they haven't been permanently deleted.
Accessing the Google Docs trash folder is straightforward and can be done in just a few clicks. However, you will need to sign in to the Google Drive service because the stung files associated with your Google Account are automatically transferred to the Google Drive feed. This guide will help you retrieve your important documents that have been accidentally deleted.
How to open trash bin in Google Docs via PC
Google Docs trash is where all your Google Docs documents that you deleted go. It is also where they are stored for another 30 days in case you change your mind and want to get them back. During this time, you still have the option to return your files to the Google Docs library. You can open the Google Docs trash on your PC by following just three steps:
To open your Google Drive account and click on the three vertical lines on the left side of Google Docs main page.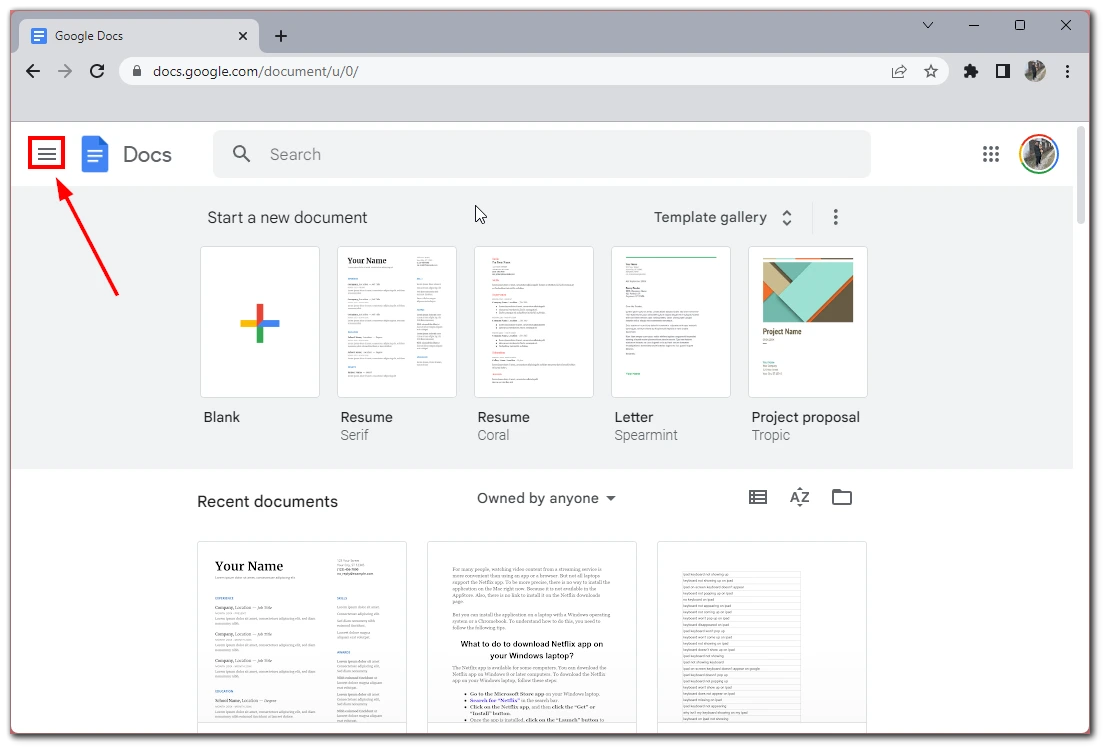 In the side menu, choose Google Drive.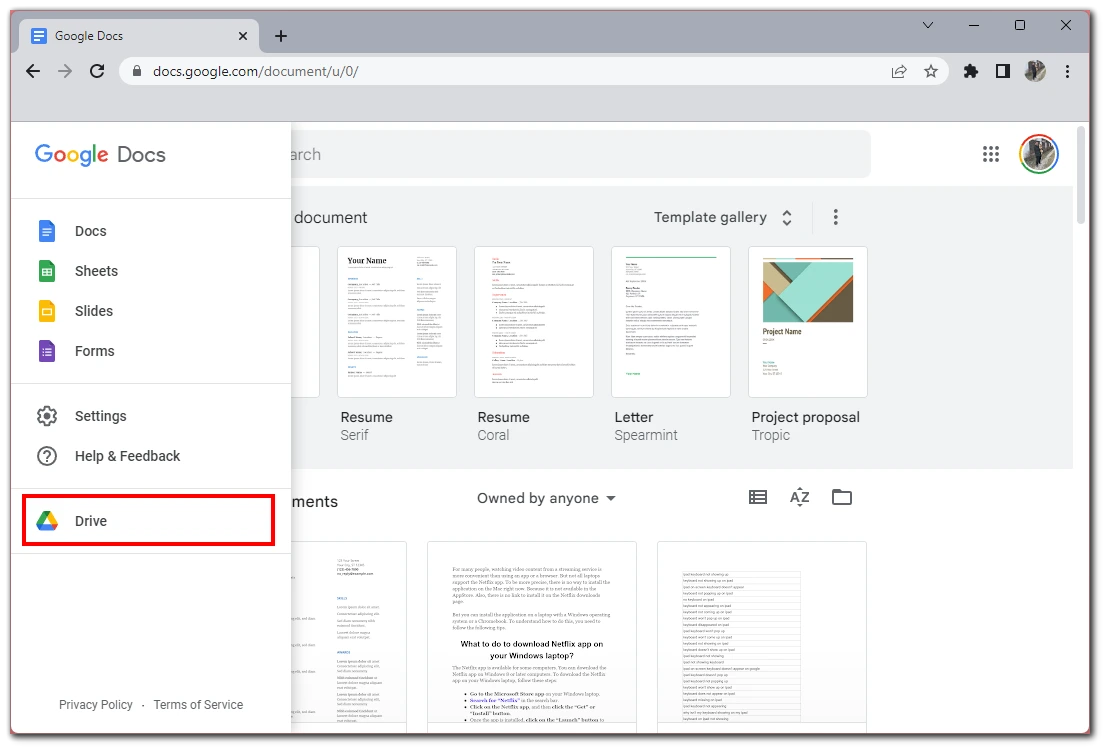 Next, click on the Trash icon on the left side.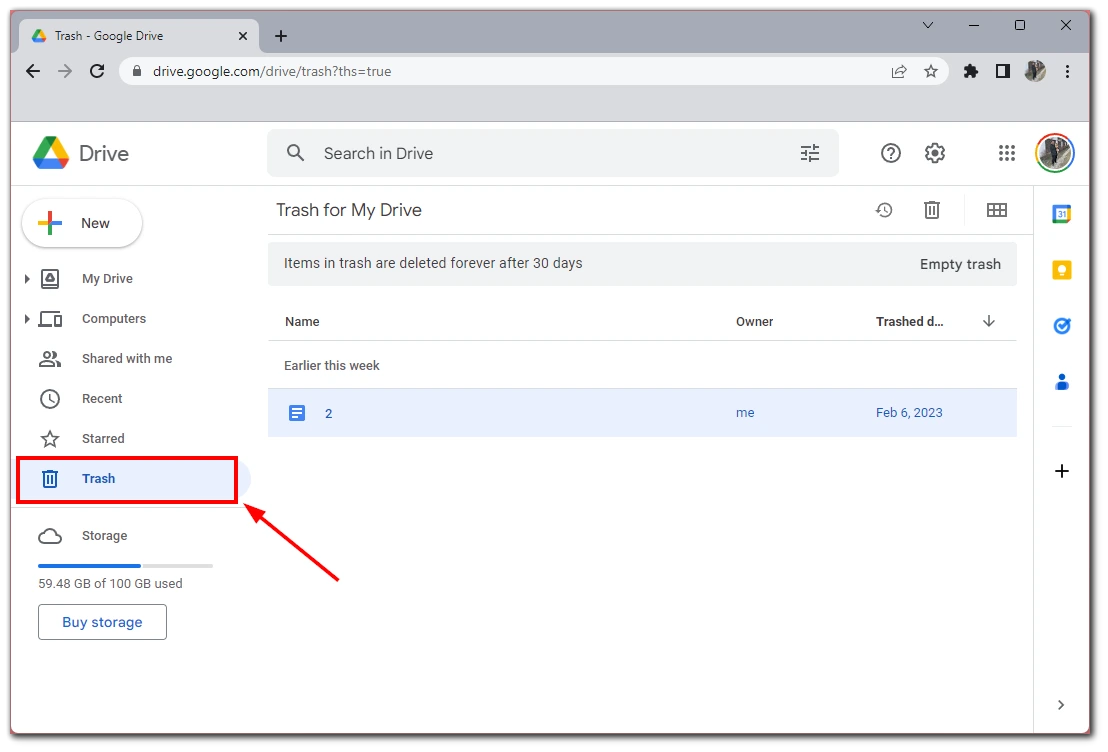 You will see a list of all files you have deleted in the last 30 days. Note that the timer for complete deletion starts precisely at the moment when you delete the files. This means you will have exactly 30 days to complete deletion, not 30 calendar days.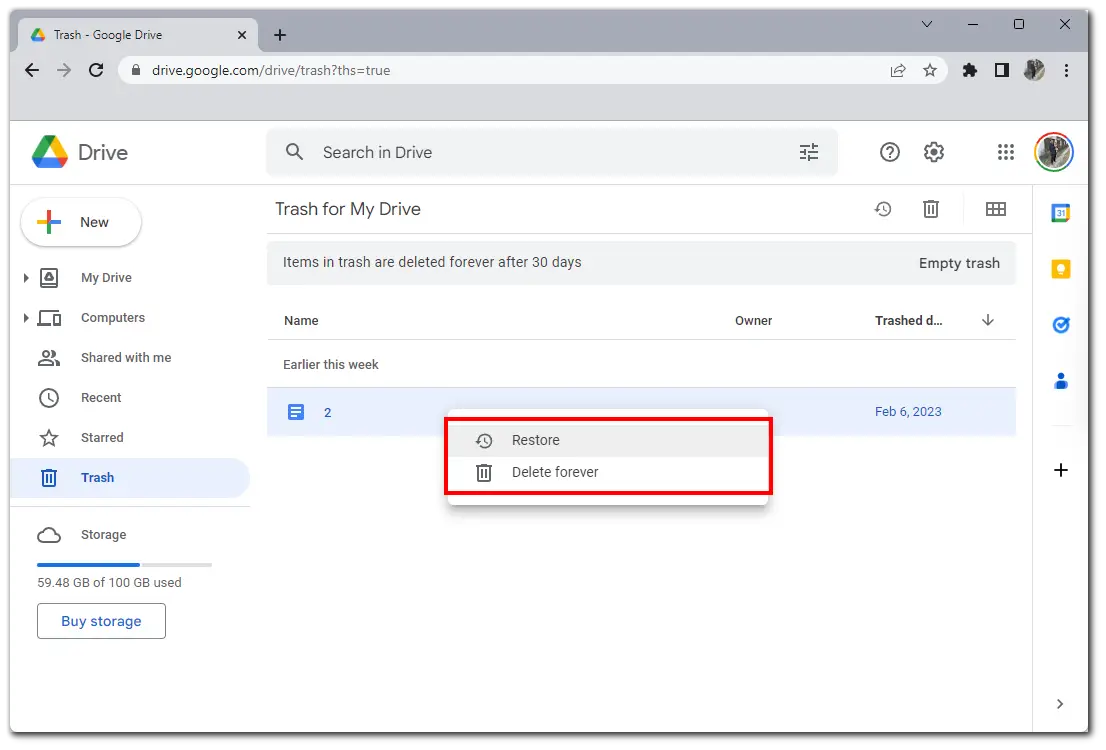 You can restore your files directly from this menu. To do this, right-click on the desired file and select Restore. If you click on Delete Forever instead, it will allow you to instantly and permanently delete the file without waiting 30 days.
How to access Google Docs trash via mobile device
You can also use Google Docs trash on mobile, and it is pretty easy via the Google Docs app itself and even more accessible than on PC. You don't need to download the Google Drive app and can access the trash directly from Google Docs. Here are the instructions on how to do so:
Tap on the three horizontal lines in the top left corner
Make sure you select Bin from the left tab.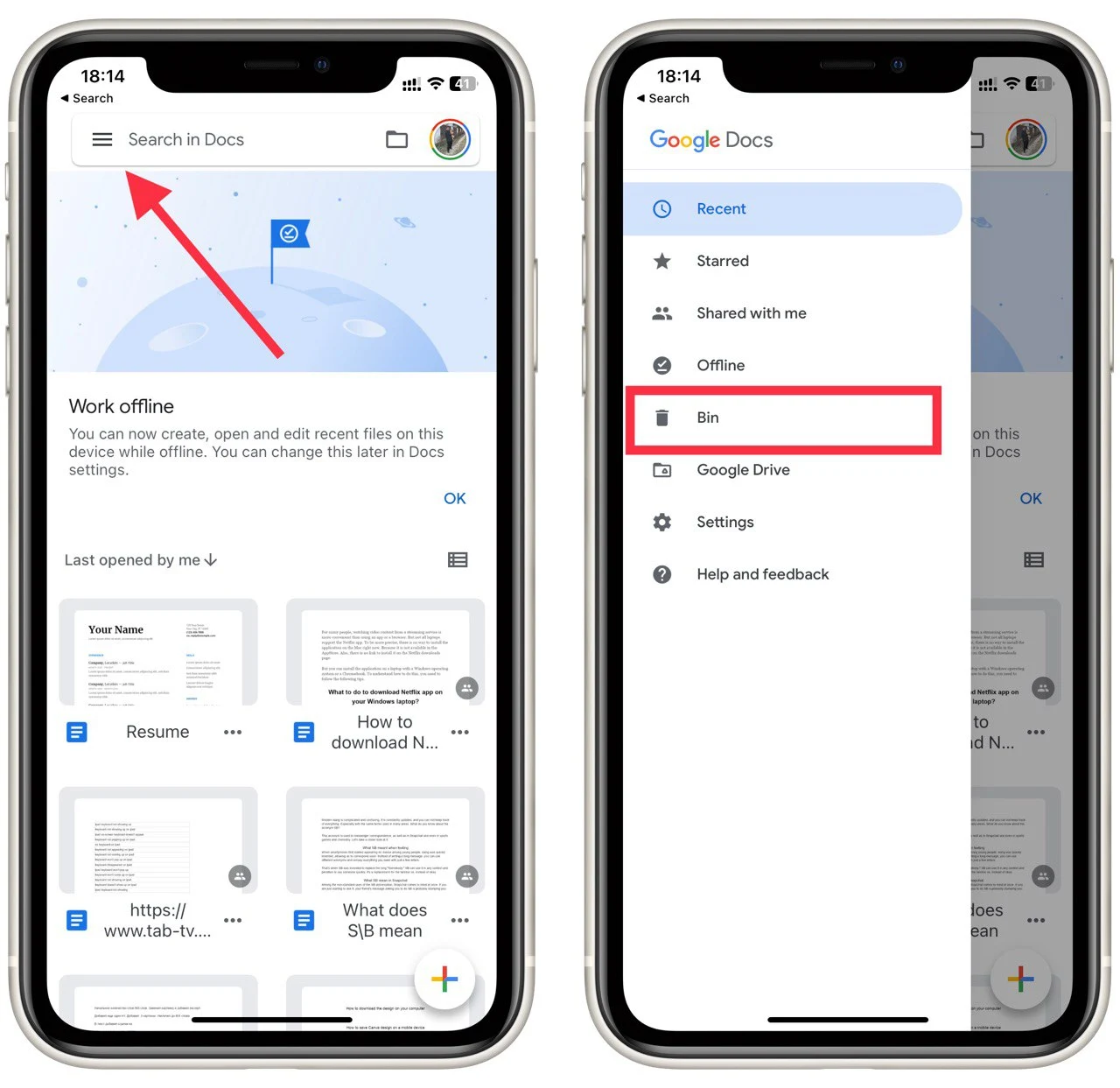 If you need to delete a file permanently, select the three vertical dots and tap on Delete forever. You can also recover a file here using the Restore button.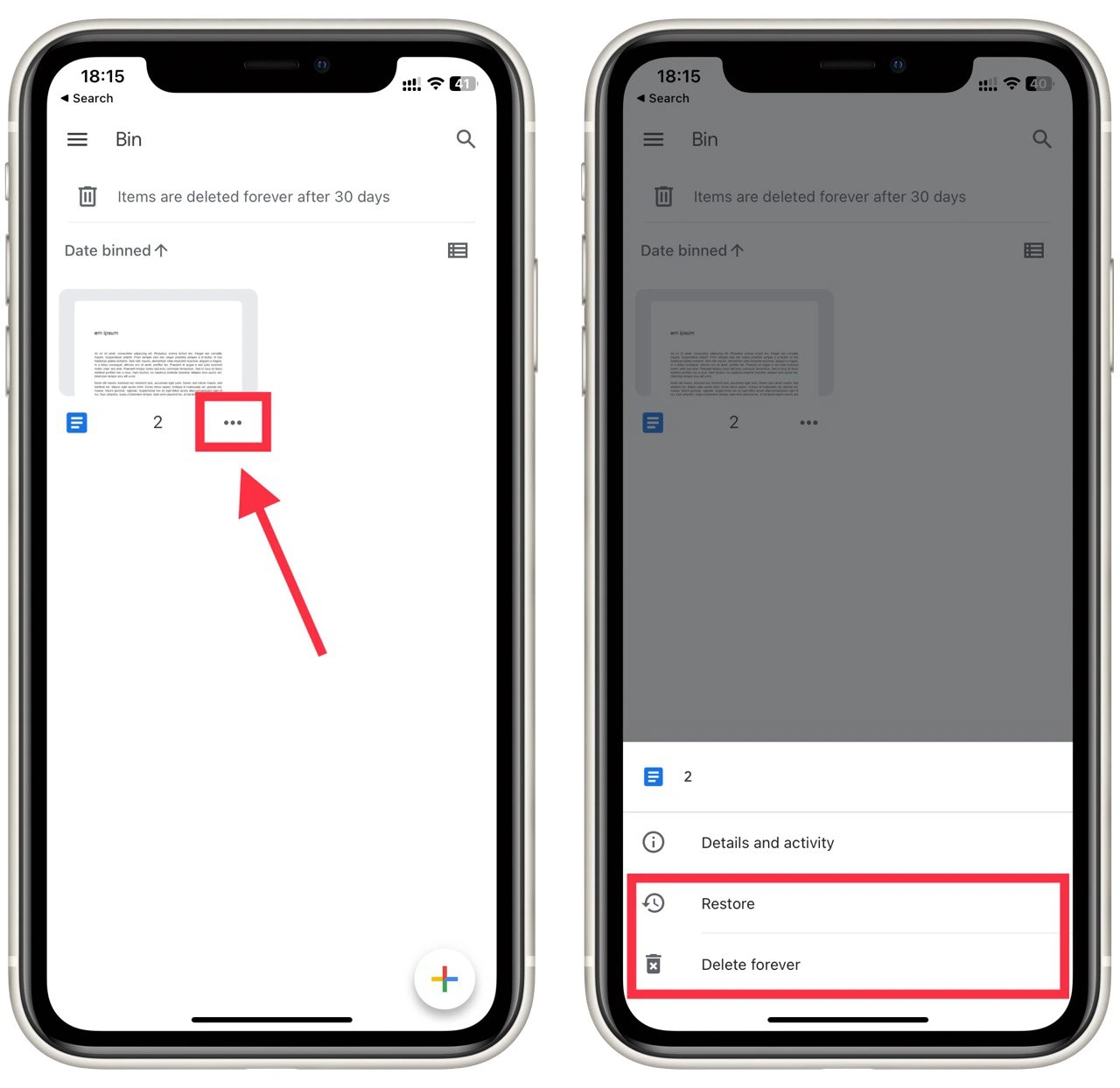 It is impossible to empty the entire trash at once, as on a desktop. You can only permanently delete files manually one by one if you do not have access to a PC or laptop at the time. Note that this guide will work the same for iOS and Android devices.
Where restored files go, and how to find it
When you restore a document from the Google Docs trash folder, it will be returned to its original location in Google Drive. Locate the original folder stored before it was deleted to find the restored document. If you have trouble finding it, you can use the search bar in Google Drive to search for it by name. Restoring a document from the trash folder does not affect any version history or comments associated with the document. All previous versions and comments will remain intact, and the restored document will be treated as a new one.
If you can't find the one you want in your Google Docs library, you can use some tricks to sort your files and find the one you want. There are several ways to find documents in Google Docs:
Search: Use the search bar at the top of the Google Drive page to search for a document by its name or contents.
Browse Folders: Navigate through the different folders in Google Drive to find your document. If you have organized your documents into folders, this can be a quick way to find what you're looking for.
Filter by Type: Use the Type filter on the left-side menu to show only Google Docs, Sheets, Slides, or other types of documents. This can help narrow down your search results.
Sort by Date: Sort your documents by date to see the most recently modified or created documents. This can be done by clicking on the Modified or Created column in Google Drive.
Use the Document Info Panel: If you have a document open, you can find related documents by clicking on the Info panel on the right side of the screen. This panel displays information about the document, including related files and any comments.
Try combining these methods to find your document in Google Docs. If you still can't find it, it may be helpful to check the trash folder to see if it was accidentally deleted.