Over the years, YouTube has evolved from a simple video hosting platform into a small social network. No, it's far from Facebook, but YouTube users tend to pour their hearts out in the comments section.
Comments on the Youtube channel are an important indicator of content quality. They also help promote videos. Videos with a large number of comments have priority in ranking. If you're an avid YouTube user, you should be aware of the different types of comments and their meanings on the platform.
On YouTube, highlighted comments serve many purposes. At a basic level, however, they are meant to get your attention so that you can interact with the comment. And, to clarify, only you can see them, because they aren't public.
Well, here's more about highlighted comments on YouTube.
What does highlighted comment mean on YouTube
Highlighting is essentially an automatic YouTube feature that tries to make browsing easier. Whether you are the creator of a video or a regular subscriber to a channel, you can highlight a comment by clicking the timestamp next to it.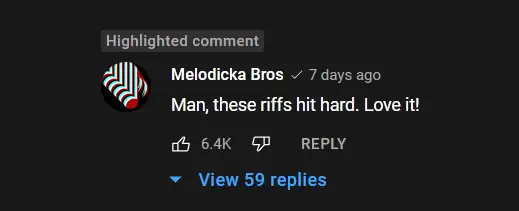 In addition, if you comment on a video and someone replies, you'll get a notification, either in your Gmail inbox or via YouTube, that someone has replied to your comment. When you click on the notification, the comment will appear as a highlighted comment. The logic is true for replies as well.
If you are a creator, highlighting can make it easier to respond to individual comments. Highlighted comments take precedence over pinned comments, meaning that they appear even above pinned comments. All things considered, highlighted comments are only intended to make browsing easier, nothing more.
How to delete highlighted comments on YouTube
By highlighting a comment, you will see it even above a pinned comment. However, as you have already guessed, this feature doesn't affect how others perceive the comment section. So, if you highlight a comment, it won't appear on other people's machines. YouTube implements this locally by creating a special URL. And no one but those who have access to that URL will be able to see your highlighted comment.
YouTube creates a special URL for you every time you highlight a comment. Thus, to cancel the highlighting, you only need to restore the URL to its original state.
To delete your highlighted comment, simply delete the part starting with "&lc".

The remaining bit will be the original video URL. Press "Enter" to reload the page.

When someone clicks the comment timestamp and highlights it, the creator of said comment will be notified that their comment is highlighted. So, if someone finds your comment valuable and decides to highlight it, you will get a "Highlighted reply" message.
How to sort comments on YouTube
If you're a frequent visitor, you must have seen that some comments get an insane amount of likes and are displayed at the top. That's it. The "Top comments" on YouTube are basically the ones that get a bunch of likes.
If you want to see the newest comments instead, just click the "Sort by" button and select "Newest first".
What is a pinned comment on YouTube
If the video creator attaches your comment to their video, it means they found your contribution invaluable and want viewers to see it first. Likewise, if you're a creator yourself, you can leave a comment – perhaps promoting your other videos – and pin it.
Once a comment is pinned, it appears as the first comment in the comments section.
How to work with comments on YouTube
When you promote a blog or a company's YouTube account, there are certain limits to how you deal with comments. For example, you can't delete all negative comments and leave only positive ones – it's suspicious.
At the same time, too much negativity can damage the image of the company or the blogger. Here are some tips for working with comments on YouTube:
Don't leave questions unanswered. People don't want to ask questions or write comments when they are ignored.
Don't delay in answering if the question is about the company's work.
Reply to all comments, not just positive ones.
Try to give detailed answers, don't write by using templates.
Check your replies for literacy.
Learn how to deal with negative comments.
Communicate with your audience in a language they understand.
Make a pinned commentary.
That's all you need to know about how to work with comments on YouTube.