The best color for your iMac depends on your tastes and on what you think the beauty is. And a little bit on the way you will use your Mac. Like, if you want to place it in your office, it's better to look into more calm colors to fit the interior and atmosphere.
Each iMac color has a unique appeal, and currently, there are 7 of them: yellow, orange, pink, purple, blue, green, and silver.
The keyboard and mouse that goes with the iMac would have the same shade as your iMac, so the color you choose will also affect them.
That's not so easy to choose an iMac color, especially when staying in the Apple Store. I spent like an hour deciding, not taking into account my considerations before I got into Store.
And here's a pain; there are 7 of them, so your brain and eyes just go wild, and it's going hard to choose the only one you will place in your home or office.
First, you should decide whether you want something more vivid or calm. If you're looking for something that reflects the standard aesthetic but a simple old iMac, then you should look into a silver iMac.
That's a classic, and silver is always relevant and will fit any interior. In this category, I can also include both blue and green. Blue is bright but not so vibrant to attract too much attention; it looks restrained and elegant. I have a blue one, and I like it.
The same works for the green iMac; it looks calm and will fit almost any surrounding, thanks to the dark-green back side.
Other iMac colors are bright and vibrant and look excellent. But they're definitely not the pick-n-go choice. Not everyone will buy purple, pink, orange, or yellow.
They may not fit your interior, and they make look strange if you want to, let's say, bring your own iMac into your office. Some people even say that it's hard to interact with such colorful things for several hours a day, even despite on the front, the color is always more calm than on the back.
But others say that the bright iMac is what they were waiting for, so they want to choose the most vivid iMac ever.
Blue iMac
Blue iMac is one of the popular cause it's the one that would fit any place and will be okay for almost anyone. And it's elegant and looks stylish.
The back is in a rich blue shade and gives the device a unique look. The size emphasizes modernity and innovation and looks fresh and sophisticated in any place.
After long consideration, I've chosen this Mac and am almost satisfied. I recently moved it from the office to my home apartment, and it still looks like a perfect fit.
But I would be fair; sometimes, I want something more vivid and bright.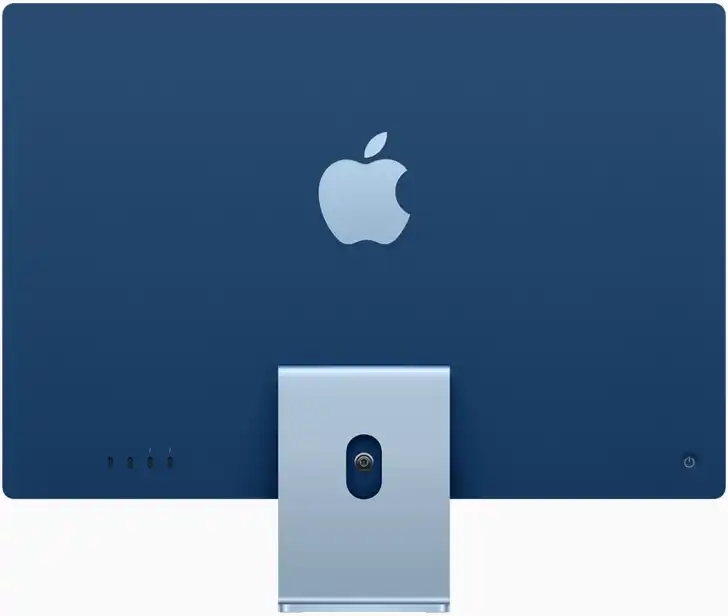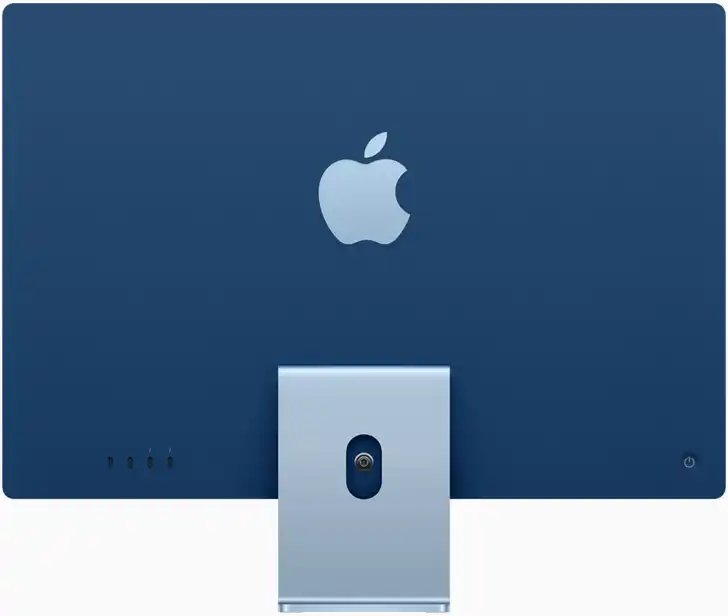 The keyboard and mouse that come with the Blue iMac also have a stylish and modern design to match the device's overall look.
The top of the mouse is white, while the bottom is blue, the color of the Mac's body. The keyboard is also blue in tone, while the keys are white.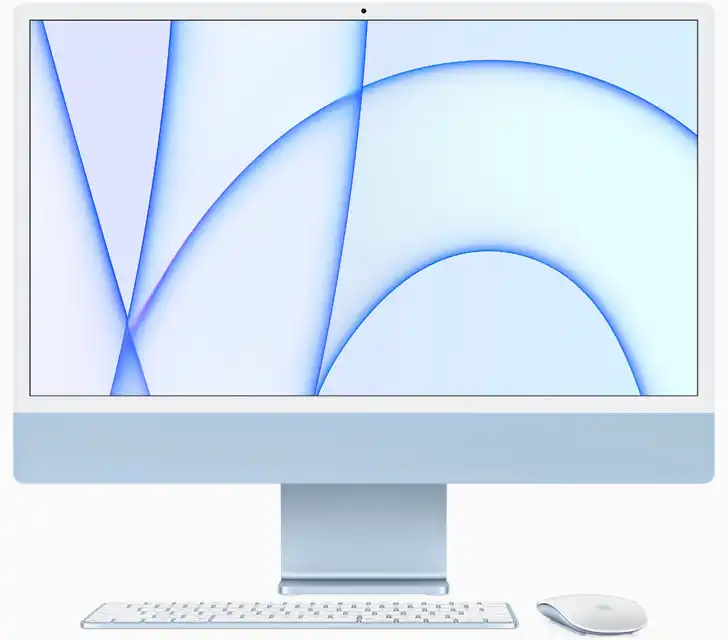 Overall, the Blue iMac is an attractive and popular choice among users who want a modern and stylish computer that blends well with their workspace and emphasizes individuality.
Purple iMac
The Purple iMac is associated with creativity. Artists, designers, photographers and other creative professionals may like the Purple iMac as it can inspire and support their creative processes.
The body looks bright in a dark purple shade. The front of the Mac is a bit lighter in color. In fact, Purple iMac is a bold decision, and it won't fit every interior.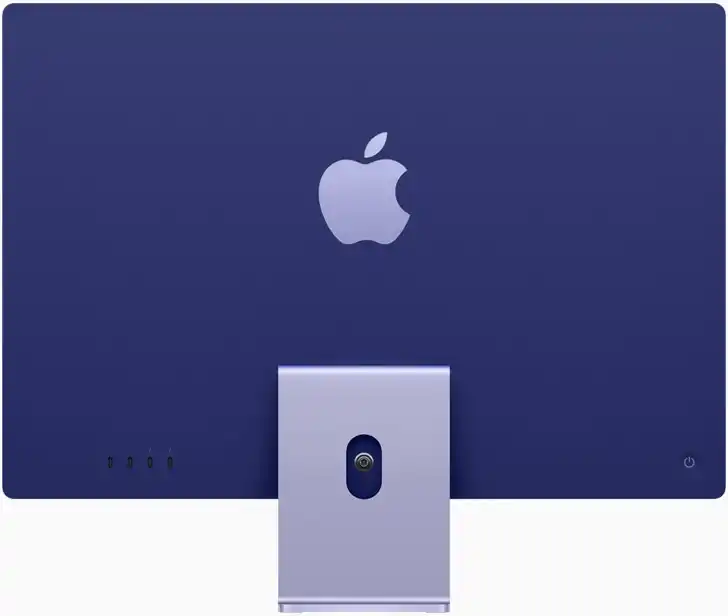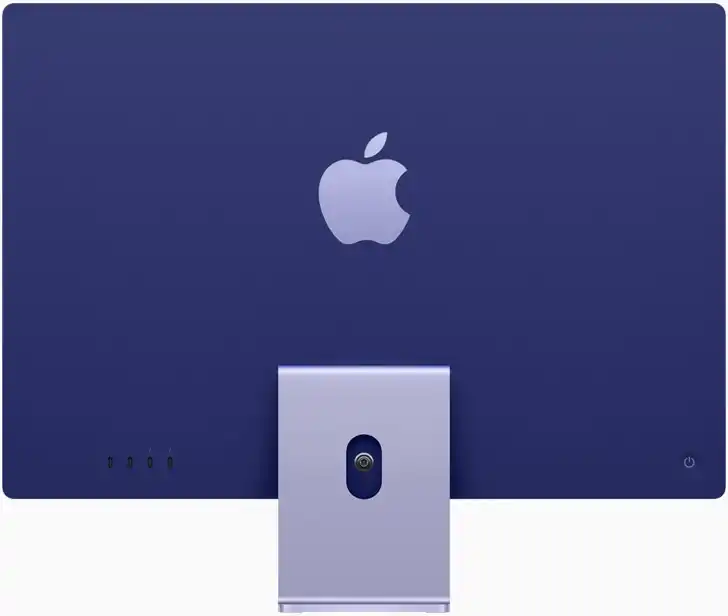 The keyboards and mouse for the Purple iMac are also purple in color. The bottom part of the mouse is purple, as well as the keyboard.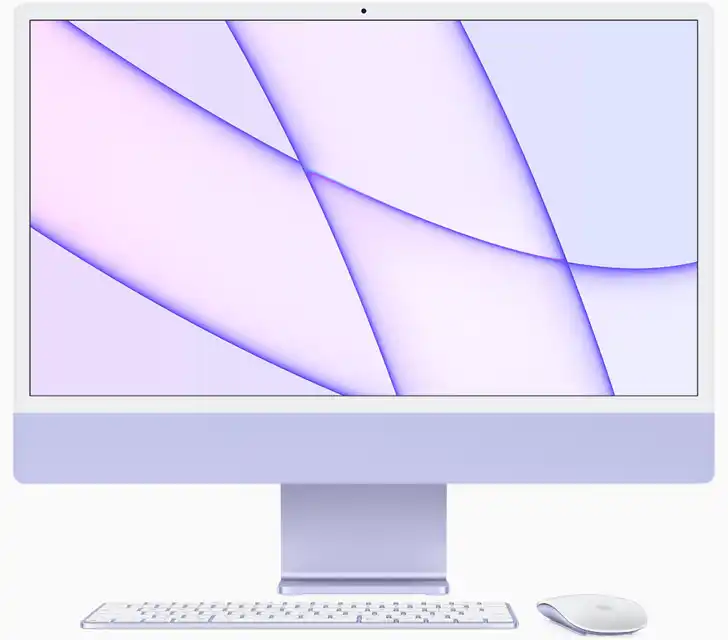 The Purple iMac may appeal to those who are looking to create a luxurious and sophisticated environment in their workspace.
Pink iMac
Pink iMac is my favorite. After the Barbie movie comes out, it's likely that Pink iMac will show up in many homes.
Pink iMac is colorful, expressive and cool. It's for those people who appreciate soft and gentle hues, and want to add an element of playfulness and femininity to their workspace. Pink is often associated with femininity and delicacy, and so the Pink iMac may be popular with women and girls who are looking for a stylish and colorful device that matches their personal style.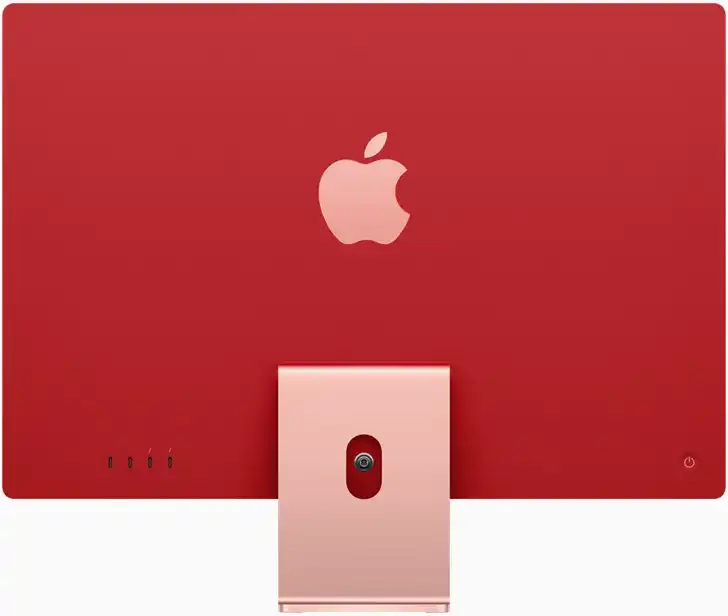 What I like most about the Pink iMac body is that it is colorful and memorable. To me it looks much nicer than the Purple iMac.
The keyboard and mouse are also pink in color, which is also a cool combination.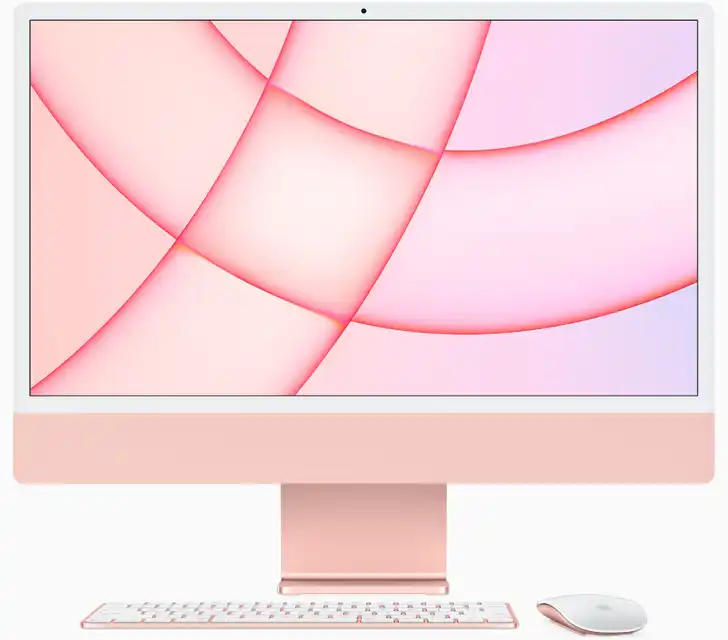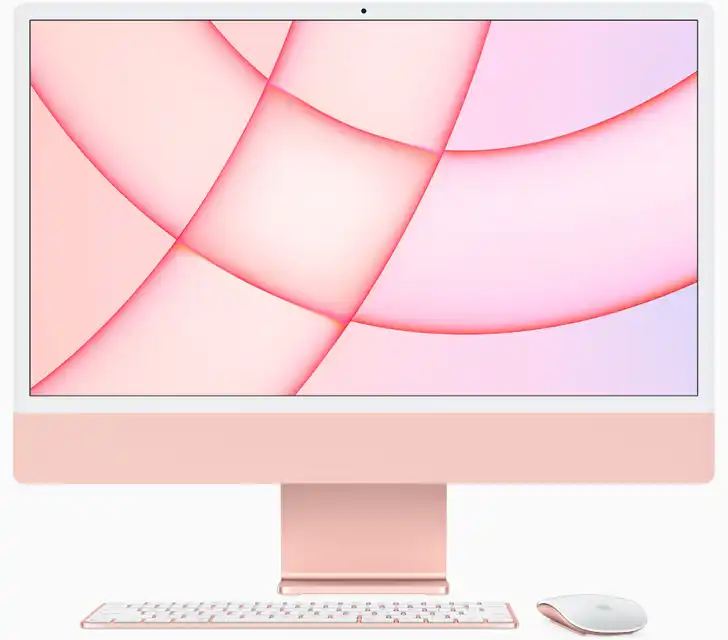 Pink color can conjure up associations with joy, optimism and positive emotions. Users who want to create an atmosphere of joy and inspiration in their workspace can appreciate the pink iMac.
Green iMac
Green iMac is lightness, style and simplicity. That's exactly what I can say about it. Green iMac will fit perfectly into most interiors.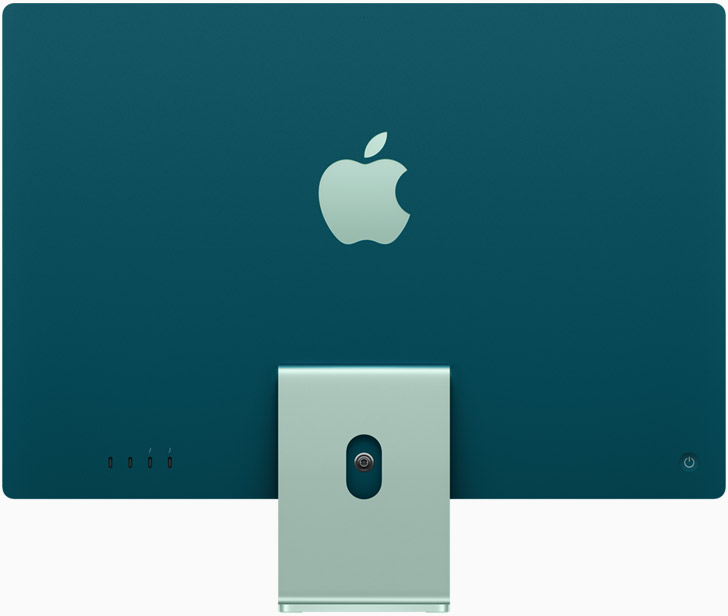 Green iMac may appeal to people who appreciate nature and want to create a workspace close to natural surroundings. It may be popular with creative professionals and anyone who wants to add an element of freshness and tranquility to their work environment.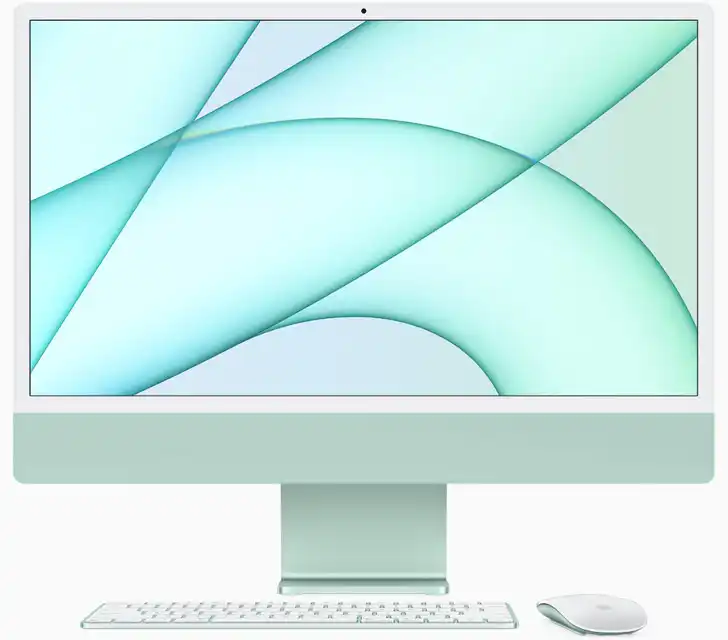 The Green iMac looks original and unconventional when compared to the silver iMac. But at the same time, it is not as bright and flashy as Purple or Pink.
Orange iMac
Orange iMac is associated with energy, joy and creativity. It can add dynamism and positive emotions to a workspace or home office.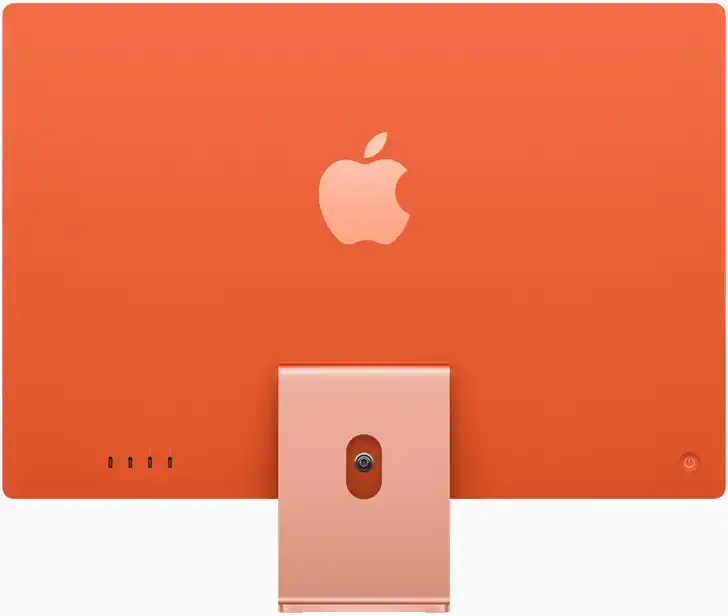 In fact, Orange iMac is the most colorful and shoutiest. It can also be of interest to those who appreciate bright and energetic shades and want to make their workspace stand out among standard computers.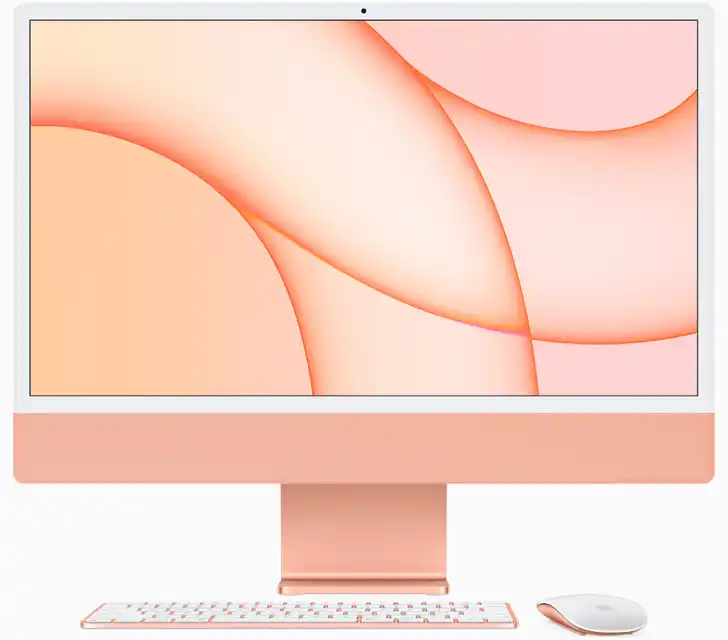 The keyboard, mouse, and body of the iMac are really bright. But there's something to it. It can become a bright and unusual element in the interior, giving a special character to the workplace.
Yellow iMac
Yellow iMac has become a favorite of many. Yellow is associated with sunshine, joy, optimism and energy.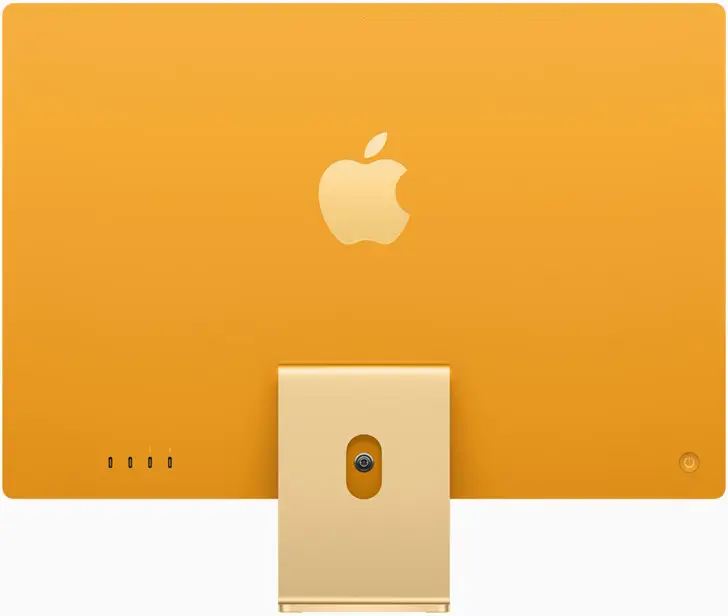 It can be popular with creative professionals and anyone who wants an inspiring workspace. But at the same time Yellow iMac is too bright in the interior, so it will not suit everyone.
The yellow shades of the keyboard and mouse blend well with the white top.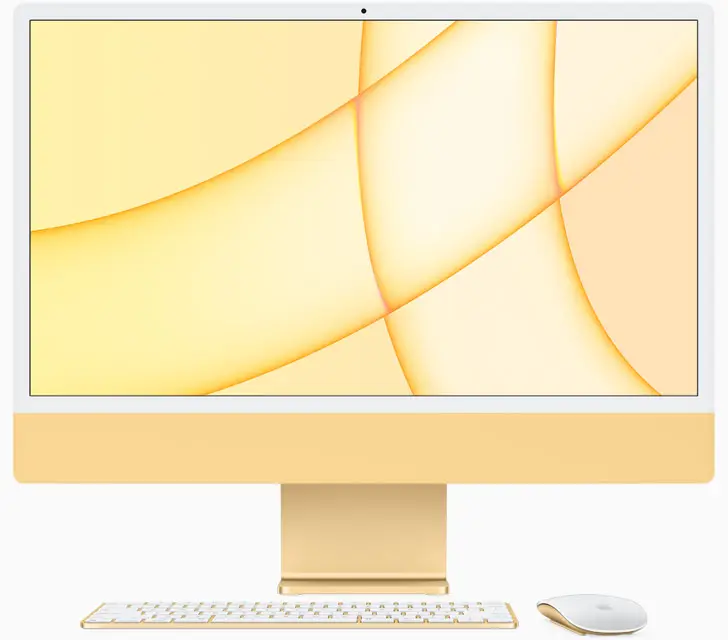 Yellow iMac can be a bright and unusual choice among traditional computers. Those who want to make their workplace stand out and give it a personalized touch can pay attention to the yellow iMac.
Silver iMac
The Silver iMac is the classic color variant of the iMac, it has a stylish and modern design. But with the number of different shades of Mac – Silver looks boring.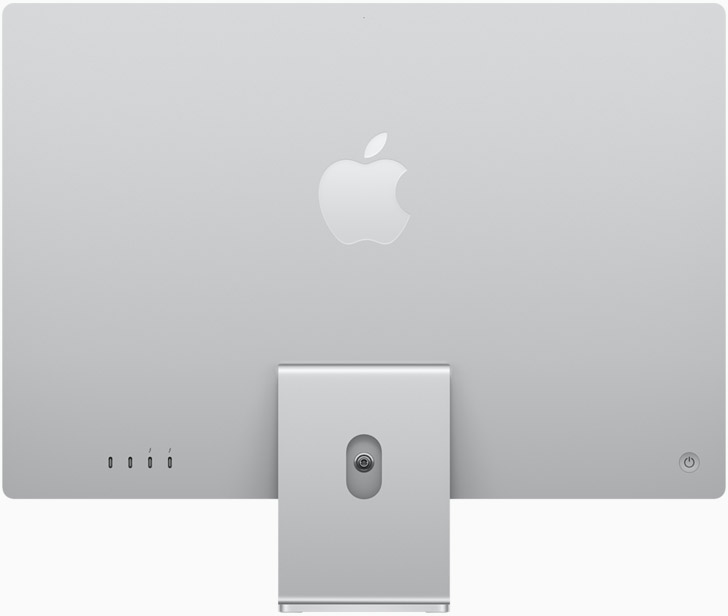 But many people choose the Silver iMac precisely because of its simplicity. Silver iMac looks professional and elegant, making it an attractive choice for office environments and workspaces. It can be preferred by businessmen who are looking for a stylish and high-quality device for their work.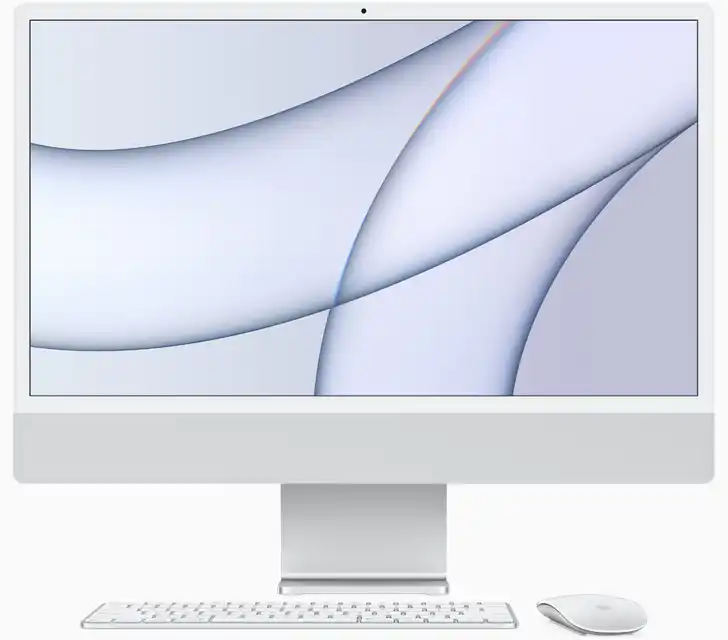 The silver color is considered versatile and blends well with various interior styles. Silver iMac can be a choice for those who want a device that will harmonize with different designs and color schemes.
Does color factor into the price of an iMac?
No, the price doesn't change from the color choice of the iMac.
The price will change if you want to choose the best iMac hardware. For example, if you want to buy an iMac with 16GB unified memory instead of 8GB, you have to pay $200 extra. And it doesn't matter what color iMac will be. It works the same way with other options.
So choosing the color option will not change the price.