Q70C-Q77C are Samsung's mid-segment TV models. Here's what you should know about this TV model: the main technical specifications and features. The TV is equipped with a display made using classic LED technology but is slightly improved. Backlighting with dual diodes is nothing special, but as they say, it's better. EDGE screen backlighting, two lines of backlighting are located at the bottom. Due to the peculiarities of the manufacturing design, there is no local dimming in the TV; the declared Supreme UHD Dimming is just a name, and there is no accurate dimming in such displays. What else can be said? The display is 8-bit with dithering technology (8-bit +FRC), and the declared color of 1 billion shades is very conditional. The display has 16.7 million colors, but the shades increase visually thanks to the flashing backlight. The undoubted advantage of the TV is support for a playback frequency of 120 Hz. Or, in other words, 120 frames per second.
The Q70C is the basic model of the TV that is sold in all countries. However, the TVs can also be modified.
Samsung Q70C-Q77C TV model list by country
Here's what modifications Samsung's seventh QLED series TVs come in.
Depending on the country, there may be different modifications to the TVs. These are the Q70C modifications available in some countries.
| | | | | | | |
| --- | --- | --- | --- | --- | --- | --- |
| US, Canada | Q70C | | | | | |
| UK | Q70C | | | | Q75C | |
| Mexico | Q70C | | | | | |
| Germany | Q70C | Q72C | Q73C | Q74C | | |
| France | Q70C | | | | | |
| Spain | Q70C | | | | | Q77C |
| Italy | Q70C | | | | Q75C | |
| Netherlands | Q70C | | | Q74C | Q75C | Q77C |
| Poland | Q70C | | | | | Q77C |
| Korea | QC70 | | | | | |
| China | Q70C | | | | | |
QLED Series 7 TVs are in North America, the USA, Canada, and Mexico.
For these countries, the TVs are assembled in Mexico, and the models are usually identical for these countries. Therefore, you can only find the Q70C in 55, 65, 75, and 85-inch sizes in the USA, Canada, and Mexico. Here are the models you can buy.
QN55Q70CAF
QN65Q70CAF
QN75Q70CAF
QN85Q70CAF
Seventh Series QLED TVs in Europe
Although the TVs are assembled in a factory in Poland, the variety of models is significant. In addition to the primary model of the TVs, there are five other modifications. Let's find out what the differences between these modifications are.
QLED TVs of the seventh series in the UK: Q70C and Q75C
In the UK, you can find two models of TVs: the Q70C basic model and the Q75C, another affordable model. In terms of technical specifications, they are the identical TVs. You can notice the difference in design; the TVs have different stands, as shown in the picture below. You can also notice that the Q75C model does not have a model with a screen diagonal of 85 inches. Here are the TV models available in the UK
QE55Q70CATXXU
QE65Q70CATXXU
QE75Q70CATXXU
QE85Q70CATXXU
QE55Q75CATXXU
QE65Q75CATXXU
QE75Q75CATXXU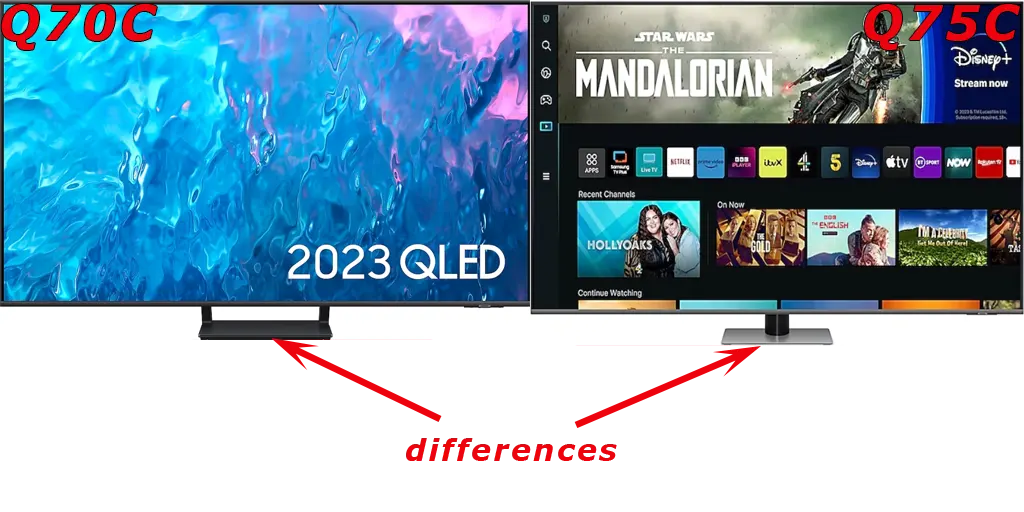 QLED TVs of the seventh series in Germany: Q70C, Q72C, Q73C, Q74C
In Germany there are four modifications, but in fact there are many more, to better understand the differences and make the right choice when buying, I have compiled a small table with model numbers and screen size to make it easier to understand the differences
model code
size inch
differences
GQ55Q70CATXZG
GQ65Q70CATXZG
GQ75Q70CATXZG
GQ85Q70CATXZG
55, 65, 75, 85
basic model, one remote, Refresh rate 100 Hz
F-DE65Q70CQ6GC
F-DE75Q70CQ6GC
65, 75
Q70C+sounbar HW-Q610GC
GQ43Q72CAUXZG
GQ50Q72CAUXZG
43, 50
one tuner, HDM1 3, USB 2, two remotes, Refresh rate 50 Hz
GQ55Q72CATXZG
GQ65Q72CATXZG
GQ75Q72CATXZG
55, 65, 75
two tuner, HDMI 4, USB 2, two remotes, Refresh rate 100 Hz
GQ43Q73CAUXZG
GQ50Q73CAUXZG
43, 50
one tuner, HDM1 3, USB 2, two remotes, Refresh rate 50 Hz
GQ55Q73CATXZG
GQ65Q73CATXZG
GQ75Q73CATXZG
55, 65, 75
two tuner, HDMI 4, USB 2, two remotes, Refresh rate 100 Hz
GQ43Q74CAUXZG
GQ50Q74CAUXZG
43, 50
one tuner, HDM1 3, USB 2, two remotes, Refresh rate 50 Hz
GQ55Q74CATXZG
GQ65Q74CATXZG
GQ75Q74CATXZG
55, 65, 75
two tuner, HDMI 4, USB 2, two remotes, Refresh rate 100 Hz
Now for the differences between the TV models in Germany. There is the basic model Q70C, which comes with one remote control and four screen sizes. All other models have two One Remote remotes – a smart remote and a universal infrared remote.
Then there are the different ranges of TVs with 43 and 50-inch screens, which are featured in all Q72C, Q73C, and Q74C models: these are entirely different models compared to the 55, 65, 75-inch, Q72C, Q73C, and Q74C TVs.
TVs with 43 and 50-inch screens: these TVs have worse screens than larger TVs, support 50 Hz screen frequency, and have only 3 HDM ports.
TVs with 55, 65, and 75-inch screens have better screens, support 100 Hz screen frequency, and have 4 HDMI ports.
So, if you choose a TV, buy one with a higher frequency; it is better for watching quality video and certainly better for gaming.
Differences in design: if you're wondering what the difference is between TVs with a diagonal of 55 inches and more Q70C-Q74C, they differ only in the color of the frame and stand. Which is almost invisible in modern TVs.
The seventh series of QLED TVs in Spain: Q70C and Q77C
In Spain, Samsung offers two TV models, the Q70C and the Q77C. The TVs are the same regarding technical specifications but differ in stand design and color. Thus, the Q70C model is offered in titanium gray, and the Q77C model in silver.
The model numbers of the TVs for Spain and Portugal are also different; the model numbers are listed below.
TQ55Q70CATXXC
TQ65Q70CATXXC
TQ75Q70CATXXC
TQ85Q70CATXXC
TQ55Q77CATXXC
TQ65Q77CATXXC
TQ75Q77CATXXC
Seventh series QLED TVs in other European countries, Netherlands: Q70C, Q74C, Q75C, Q77C
I'll take the Netherlands as an example, as it has the most extensive variety of QLED TV models in the seventh series. As in other countries, the base model Q70C with 55, 65, 75, and 85-inch screens is joined by three more models: Q74C, Q75C, and Q77C. There are no 85-inch TVs in these models. The model numbers are standard for most European countries, e.g.
QE65Q70CATXXN
QE65Q74CATXXN
QE65Q75CATXXN
QE65Q77CATXXN
There are design differences between the base model Q70C and the others, but the differences in the Q74C, Q75C, and Q77C models are not listed on Samsung's website. Although all TVs have identical technical specifications, there may be differences in some design elements that need to be listed on the Samsung website.
How does the base model Q70C differ from the other Q72C-Q77C TVs?
Given that Samsung no longer produces QLED screens but purchases them from other manufacturers, we can assume that several reasons account for the variety of TV models.
The desire to bring more TV models to the market, marketing.
TVs have different suppliers of components such as screens and mainboards. The screens for the Q72C – Q77C series are supplied by different manufacturers, in which case this separation is logical because it allows better tracking of failures and a clear distinction between suppliers.