Now that TV sets have become more complex and the soundbar has become a necessary device if you want to fully experience all sound details. Samsung isn't staying aside and, of course, is engaged in this area as well.
First of all, let's understand what the soundbar is. Soundbar is an external speaker system with its own sound processor and special placement of speakers (and their number), the total power of speakers is 5-6 times more than the power of speakers in the TV set. Soundbars process sound on their own, the sound passes through the TV set in transit. But some models of soundbars, such as the Q series, work in conjunction with the TV set. The TV speakers also work to create high-quality surround sound.
A brief overview of Samsung soundbars by year of manufacture
2023: The 2023 range of soundbars has also been expanded with new models Q990C, Q910C, Q900C, Q800C, Q700, Q600C, Q60C as well as the C400. As before, the soundbars mainly support Q-symphony and will work best with TVs that also support Q-symphony.
2022: Samsung is putting more focus on the Q series in 2022, understandably so, thanks to its proprietary technology that allows TVs and soundbars to work together. Samsung has also paid attention to traditional soundbars and audio towers, with several models coming out in 2022.
2021: Samsung offers several types of soundbars in 2021. These are the A, S, Q series soundbars, The Terrace, Subwoofers, and speaker sets. Depending on the series, the soundbars have different features, different equipment, and different functionality. So in this article, I will tell you the difference between the different Samsung soundbar series.
Samsung soundbar series
A series is a simplified soundbar serie that supports Dolby Audio, Dolby 5.1 / DTS Virtual:X formats. The system consists of a center console that's placed near the TV and a subwoofer. You can connect the soundbar to your TV using Wi-Fi, Bluetooth or HDMI connections. Keep in mind, that your TV must support the appropriate type of connection, sound transmission via HDMI is supported in any model of modern TV. The main purpose of a soundbar is to increase sound power.
S series are soundbars without a subwoofer. Such soundbar consists of one central console (all in one), depending on the model, it can also support Alexa Soundbars, that can be connected to the TV using connections such as Wi-Fi, Bluetooth or HDMI. Some models support connecting a wireless subwoofer. Dolby Audio, Dolby 5.1 / DTS Virtual:X formats are supported. The main purpose is to increase the sound quality.
Q series is a series of soundbars that can work not only as a speaker system, but they also support Samsung Q-Symphony surround sound system. Depending on the model, such soundbar can support up to 15 sound channels. That means that these soundbars work with Dolby Atmos / DTS:X sound format. Such soundbars also support the volumetric sound for rooms. Also, keep in mind, that Dolby Atmo/ DTS:X is only supported when the soundbar is connected to a TV or other device via HDMI.
The Terrace is a damp-proof soundbar designed for outdoor use with The Terrace TV.
Subwoofers and speaker kits are optional devices, a subwoofer or rear speakers that can be added to the soundbar in order to enhance the sound quality.
Samsung soundbar model number mean explained
Let's take as an example the model number of the HW-Q950A soundbar.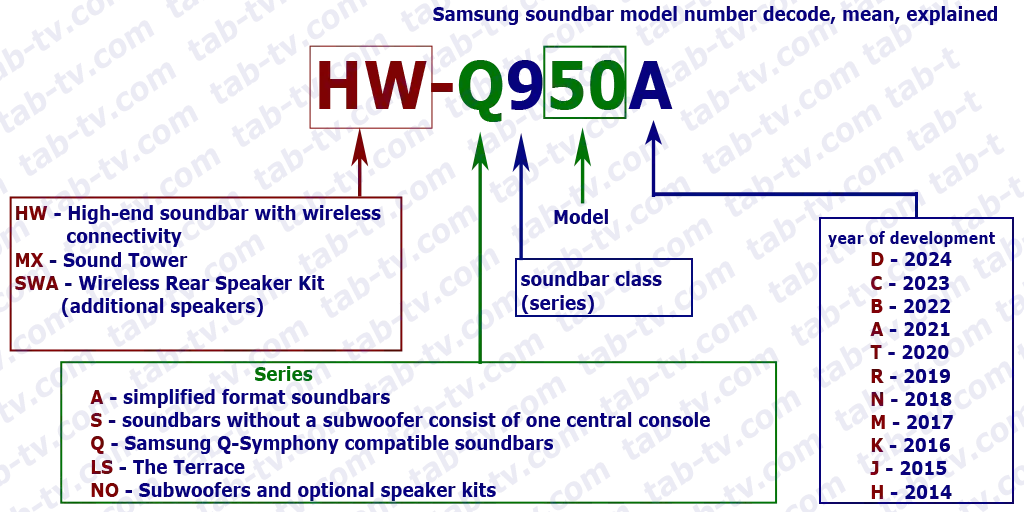 HW – type of soundbar, it means:

H – the type of equipment produced by Samsung high-end soundbars.
W – wireless connection.

Q – soundbar series.
9 – soundbar class.
50 – soundbar model.
A – the year the soundbar model was developed

D – 2024
С – 2023
B – 2022
A – 2021
T – 2020
R – 2019
N – 2018
M – 2017
K – 2016
J – 2015
H – 2014
Samsung soundbar series differences
hat are the differences between the soundbar series? The series differ in sound quality and the number of speakers. For example, premium soundbars can have multiple speakers per channel, designed for different frequencies, ultimately allowing you to get high-quality sound. For example, to get great sound on one channel, you ideally need three speakers; one is the largest for low frequencies, not to be confused with a subwoofer; a subwoofer is designed for ultra-low frequencies. The second speaker is for the mids, and the third for the highs. Working together, which, with proper sound propagation, allows you to get studio-quality sound
The HW-Q990C (2023) soundbar consists of three parts
The central unit of the soundbar
Subwoofer
Surround Sound Speakers (Left/Right) 2 pcs.
The total number of speakers is 22 pieces, and such a soundbar costs more than 1000$.
And the model HW – Q600C is more straightforward; it has only nine speakers, and this speaker system consists of only two parts.
The central unit of the soundbar
The subwoofer
Of course, the cost of such a soundbar is much less.
And, of course, they differ in terms of sound output power
656W – Q990C
360W – Q600C
Compatibility of Samsung soundbars with Samsung TV models of different years
Also, you may be interested in the compatibility of Samsung soundbars with TVs. Yes, soundbars are compatible in their basic parameters with every TV, as they process sound on their own. However, some features may not be supported, for example, not all soundbars will support Q-Symphony.
That means you can use any soundbar with any TV, but some of the features may be not supported.
Compatibility of Samsung soundbars with other TVs
Samsung soundbars are compatible with other TV models and can support basic sound standards. The soundbar plays the sound from any TV set. Since the sound doesn't depend on the TV but on the original source.
However, keep in mind that there's no sense to buy a Q-series soundbar to use with a TV made by another company, as such soundbars wouldn't support Samsung Q-Symphony.
Image Archive