Since Apple decided to abandon the "old-fashioned" iPad design with the home button, they released the new iPad 10 and left the iPad 9 on sale for classic fans. I think that with the release of the new basic version of iPads, we will say goodbye to "button" iPads forever. So now may be the last chance to get yourself a new iPad 9.
However, which of these two current iPads is better? Let's go through each of their major differences and identify the strengths and weaknesses of each iPad. After that, you can decide for yourself which one suits you better.
If you just want my opinion on which iPad to buy now, I'll give it in the very last section of this article. You can scroll through there.
Quick view on iPad 9th Gen vs iPad 10th Gen
iPad 9th Gen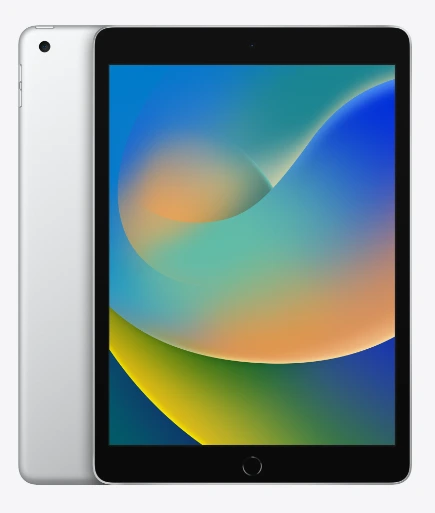 Price: From $329
Advantages:
Price
Support Smart connectors keyboards
Classic design
Disadvantages
Camera
Home button
Screen size
Where to buy
iPad 9th Gen vs iPad 10th Gen Tech Specs comparison
Both of these iPads are considered "basic" models and don't have advanced technology or much power. Especially since they both run on "iPhone" chips. Let's start by comparing their specifications below:
Specification
iPad 9th Gen
iPad 10th Gen
Screen size
10.2″
10.9″
Screen type
Retina display
Retina display
Resolution
2160x1620 resolution at 264 ppi
2360x1640 resolution at 264 ppi
Brightness
500 nits max (typical)
500 nits max (typical)
CPU
A13 Bionic
A14 Bionic
Capacity
64GB or 256GB
64GB or 256GB
Main camera
8MP Wide camera with 1080p video
12MP Wide camera with 4K video
Charging port
Lightning port
USB‑C port
Security
Touch-ID in Home button
Touch-ID in Power button
Wi-Fi
Wi-Fi 5 (up to 866 Mbps)
Wi-Fi 6 (up to 1.2 Gbps)
Cellular
4G LTE
5G
Apple Pencil support
Apple Pencil (1st generation)
Apple Pencil (1st generation)
Keyboard
Smart Keyboard
Magic Keyboard Folio
Size
9.8 inch (250.6 mm) x 6.8 inches (174.1 mm) x 0.29 inch (7.5 mm)
9.79 inch (248.6 mm) x 7.07 inches (179.5 mm) x 0.28 inch (7 mm)
Weight
Wi-Fi 1.07 pounds (487 grams)
LTE 1.09 pounds (498 grams)
Wi-Fi 1.05 pounds (477 grams)
LTE 1.06 pounds (481 grams)
Colors
Space Gray
Silver
Silver
Pink
Blue
Yellow
Battery
Up to 10 hours of surfing the web on Wi-Fi
Up to 10 hours of surfing the web on Wi-Fi
Audio
Stereo speakers
Landscape stereo speakers
SIM Card
Nano-SIM or eSIM
Nano-SIM or eSIM
As you can see, the differences between them are much more than an iPad 10 and iPad Air 2022. Let's look at each of the important areas one by one.
iPad 9th Gen vs iPad 10th Gen Design Comparison
I want to start with the design. While many people like the iPad's classic "button" design, I prefer the newer one. The thing is that classic iPads haven't changed their style for a long time, and you can't recognize the difference between iPad 7 and iPad 8 or iPad 9 at a glance.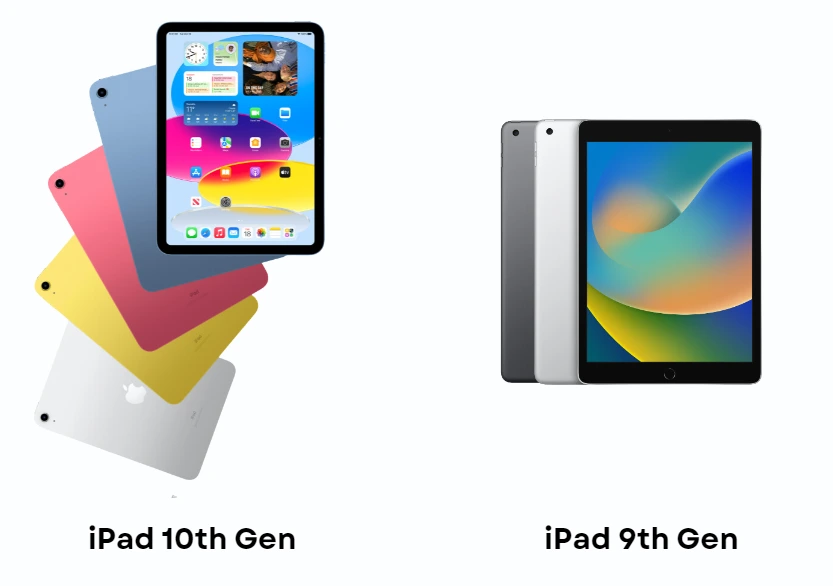 The iPad 10 clearly wins in design. It's more stylish, has a slightly larger screen, and looks more like the current iPad Pro and iPad Air. I definitely like this design better than the outdated "button" version. It's also worth noting that the iPad 9 only comes in Space Gray and Silver colors. At the same time, the iPad 10 comes in Silver, Yellow, Pink, and Blue colors.
I'd also like to point out that the decision to put the Touch ID in the lock button is probably Apple's worst decision. It's very inconvenient, and I almost never use it. I wake up my iPad by double tapping on the sleeping screen or simply opening the case.
iPad 9th Gen vs iPad 10th Gen Hardware comparison
Next, I would like to discuss the hardware of both iPads. Among the notable differences, the iPad 10 has a more powerful A14 bionic and a more advanced main camera. However, at the same time, the front camera of both iPads is identical. Also, the differences are in internet connectivity. The iPad 10 has Wi-Fi 6 and 5G. Meanwhile, the iPad 9 has just 4G and Wi-Fi 5.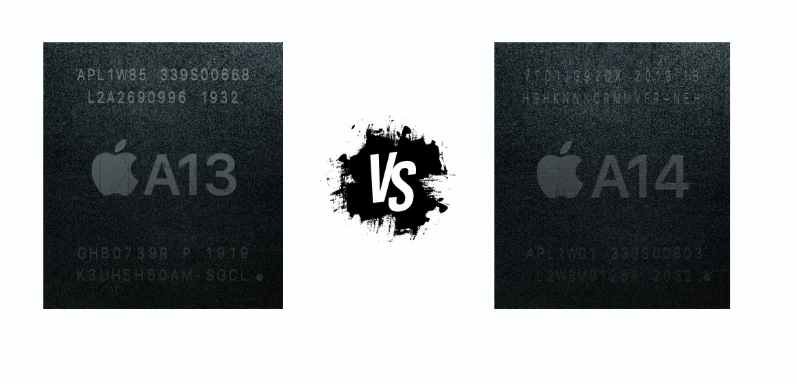 I think that if we talk about the iPad's hardware and power, the iPad 9 has the advantage for the reason that it's cheaper. The thing is that A13 and A14 are not much different in performance, especially on iPads. They're still smartphone chips.
Also, I wouldn't run for a better main camera, as you won't use it much anyway. Just like 5G, these networks are too little spread at the moment. What remains is the Wi-Fi 6 technology, which is really cool and gives a significant increase in data transfer speeds. But how often do you need "that" fast internet on your iPad? I don't think it's worth the $100+ overpayment. The iPad 9 is definitely better than the iPad 10 in the price-to-power ratio.
iPad 9th Gen vs iPad 10th Gen Screen comparison
Now about the screen. Both iPads have Retina Display. The screen has sRGB color space and TrueTone technology. Both iPads have high-quality pictures and true colors with brightness up to 500 nits at maximum peak. The differences start with the screen size.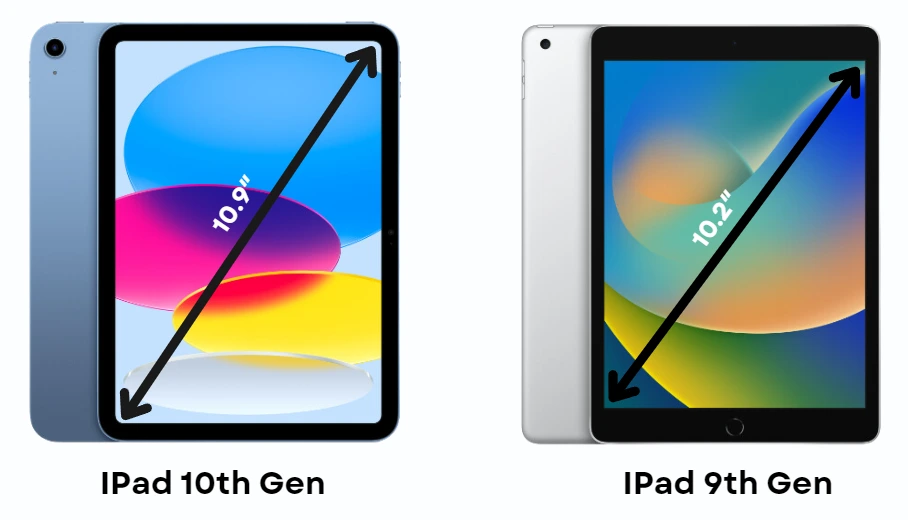 Since the iPad 10 has a different design and no Home button, the screen size is 10.9″. The iPad 9 is only 10.2″. I will say that this is a noticeable difference, and the iPad 10 screen is much bigger. They also have different resolutions: 2160-by-1620 at 264 ppi on iPad 9 and 2360-by-1640 at 264 ppi on iPad 10.
The iPad 10 has the advantage in terms of screen. This iPad has a larger screen with a slightly higher resolution. Watching movies on it or surfing the net will be much more comfortable.
iPad 9th Gen vs iPad 10th Gen Keyboard comparison
Another difference that may be important to you if you use a keyboard with your iPad is a keyboard case. With iPad 9, you can purchase a proprietary Smart Keyboard that attaches to your iPad using a special port on the side of the iPad. It costs $159.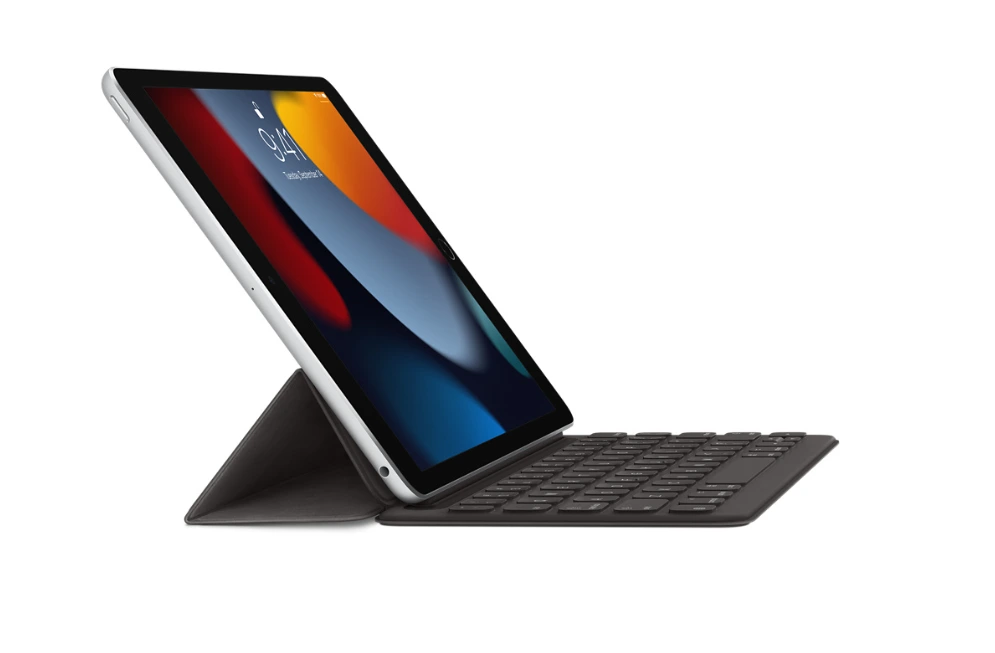 The iPad 10 also has a special connector. However, Apple has made an exclusive Magic Keyboard Folio instead of the usual Smart Keyboard. It costs about $249. It works only with the iPad 10 generation at the moment, and it's probably the best keyboard for iPads that Apple has ever made. Not only because it can split into two parts with the case, but it's also equipped with a Trackpad that allows you to control your iPad from a distance.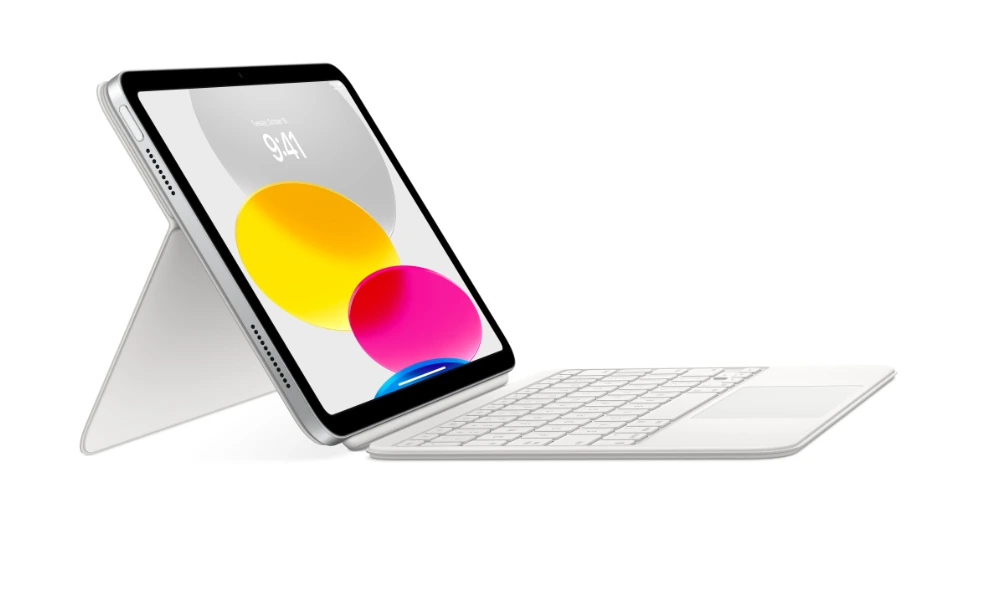 For example, you can transfer the iPad's screen to an external monitor and work with text as you would on a regular computer, while the iPad will stand on the side and not interfere with you. This is an incredibly good accessory. When it comes to the keyboard, the iPad 10 also wins.
iPad 9th Gen vs iPad 10th Gen Front camera comparison
As I mentioned, the front camera in both iPads is the same. It has 12MP Ultra Wide with Center Stage technology. The difference is that the iPad 9 has the camera at the top in portrait mode, and the iPad 10 has the camera at the top in landscape mode.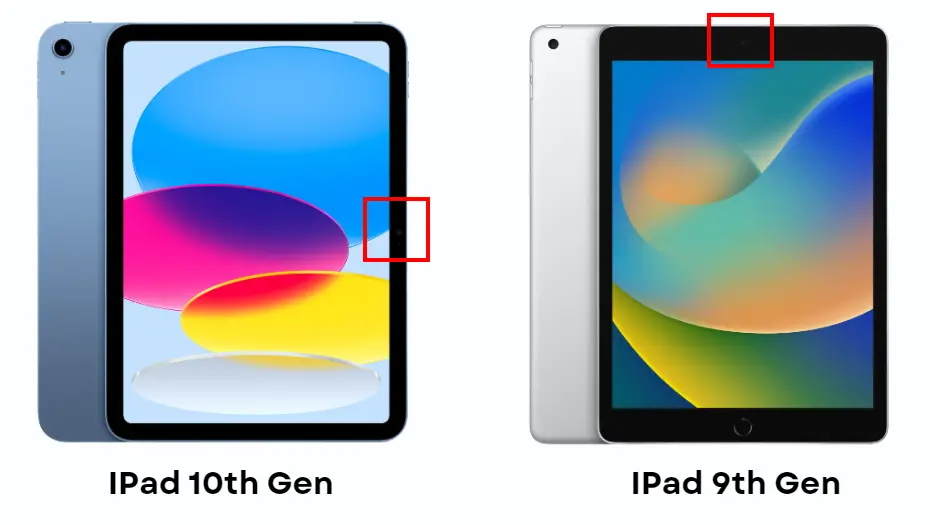 I can't say which is better; they are just two different arrangements. Think about which position you use the camera in more often, and you can decide which one suits you better.
iPad 9th Gen vs iPad 10th Gen Sound Comparison
Since the iPad is often used for watching movies or YouTube videos, I think the sound is very important. In iPad 9, the stereo speakers are only on one side, at the bottom of the iPad, in a vertical position (see the picture below).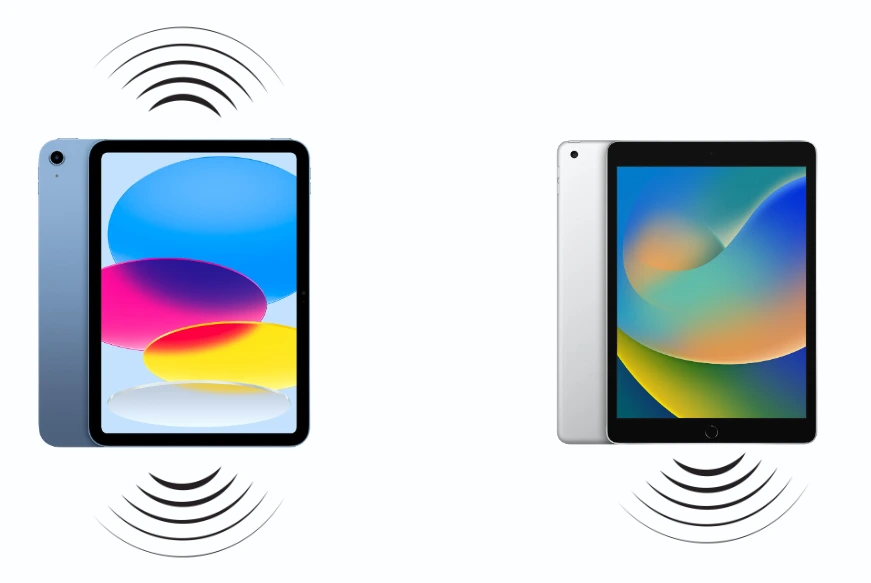 The iPad 10 has two stereo speakers built in instead of one. Top and bottom in the vertical position (see picture above). So the iPad 10 has a much louder and better sound than the iPad 9.
iPad 9th Gen vs iPad 10th Gen Lightning VS USB-C
The 9th generation iPad has a Lightning port, as all basic iPads before it (except the first ones). This port is already morally and technically obsolete. In addition, you will need to buy adapters to connect external devices, such as a memory card or a wired keyboard. However, the iPad 9 still has a 3.5mm jack if you're a fan of wired headphones.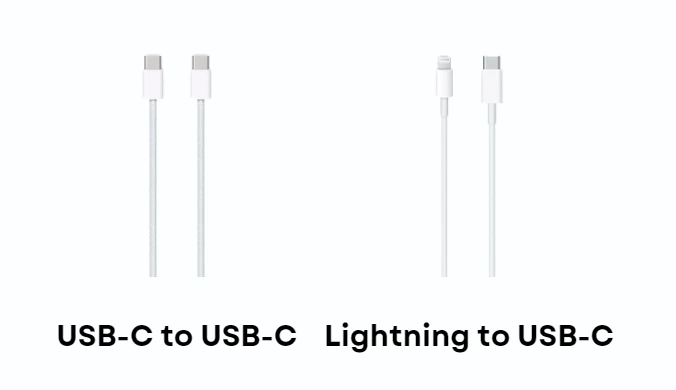 The iPad 10, on the other hand, has a USB-C port, which is much better than the Lightning. This port has faster data transfer speeds, faster charging, and you can easily connect external accessories to your iPad. The iPad 10 wins this round.
iPad 9th Gen vs iPad 10th Gen Apple Pencil Comparison
The first-generation Apple Pencil is used in both the iPad 9 and iPad 10. However, it's worth noting that in iPad 9, you can plug it directly into the Lightning port to charge and connect it to the iPad.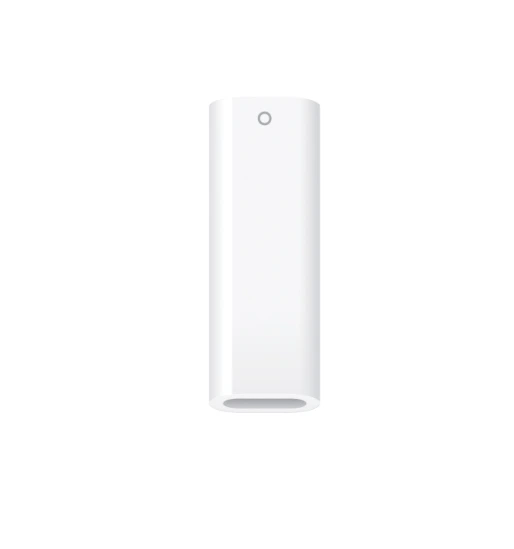 With the iPad 10, you'll have to use a special USB-C to Lightning adapter. It comes with the new first-generation Apple Pencil revisions or you can buy it separately for $9. I think the iPad 9 is better suited for the Apple Pencil, as third-party adapters just get in the way.
iPad 9th Gen vs iPad 10th Gen Battery life Comparison
Battery life is the same on both devices. The iPad 10 has a slightly longer battery life, but since the screen is larger and the processor is a bit more powerful, there is not much difference.
Both tablets can handle up to 10 hours of surfing the web on Wi-Fi or watching video or up to 9 hours using a cellular data network. Of course, if you use demanding apps or play a lot of games, the number will decrease.
Price comparison
The iPad 9 costs the same as all the basic iPads before it. However, with the release of the iPad 10, Apple has raised the prices of the new base version by almost 25 percent. Below you will find a table with all the prices for the different versions of iPad 9 and iPad 10.
| Capacity | iPad 9 (Wi-Fi) | iPad 9 (Wi-Fi + LTE) | iPad 10 (Wi-Fi + LTE) | iPad 10 (Wi-Fi + LTE) |
| --- | --- | --- | --- | --- |
| 64GB | $329 | $459 | $449 | $599 |
| 256GB | $479 | $609 | $599 | $749 |
The prices are taken from Apple's official website. Of course, you can buy these iPads a bit cheaper on Amazon or BestBuy. However, I recommend Apple's website because there, you can add a free engraving of your choice to your iPad, which is pretty cool.
Who needs an iPad 9th Gen?
The iPad 9 is more suitable for those who are not sure if they like the iPad and are not ready to spend a lot of money on it. This iPad will be a good choice as the first iPad for your child or older relatives.
It is not particularly powerful, but it does a great job with all the necessary functions and has the most pleasant price tag among other iPads. I recommend considering it if you want a budget version of the iPad and like a more classic design.
Who needs an iPad 10th Gen?
The iPad 10 is a choice for those who already have an iPad and don't mind paying a little extra for it. It's a great choice for those who like the iPad Pro and iPad Air but think they're too expensive.
The 10th generation iPad has an attractive design, and for the money, it meets all the requirements. You can play games on it, watch movies, and even draw with Apple Pencil or type with Apple's excellent keyboard.
Which is the best one to buy, in my opinion?
I promised that at the end, I would let you know which iPad is the best in my opinion. I think the best thing to buy today is the iPad 10. It is a bit more powerful and has a more attractive design. Plus, the buttonless screen allows you to get an even larger screen diagonal and resolution.
If you don't mind spending an extra 100 dollars, you should look at the iPad 10, as it has quite a few advantages over the 9 version. Just look at all the sections above. Almost everywhere, the iPad 10 proved to be better and more user-friendly.