Most of us know how easy it is to insert an image into a document. However, not everyone knows how to make the text and the image look harmonious. In other words, to ensure that everything is in its perfect place. Fortunately, Google took the trouble to add a text-wrapping feature to Google Docs, making things easier for users.
If you want to put the image where you want it and make the text wrap around it, you can change the text wrap settings and how it behaves when it collides with text.
By default, Google Docs sets the text wrapping to Inline. With this setup, the web app handles the image the same way it handles other text in the file. But you can change this setting.
So here's how it works.
How to wrap text around a picture in Google Docs
If you want to wrap text around the image in Google Docs, you can follow these steps:
First, open the Google Docs document you wish to edit.
Then add a photo to your document.
After that, right-click on the image and select Image options.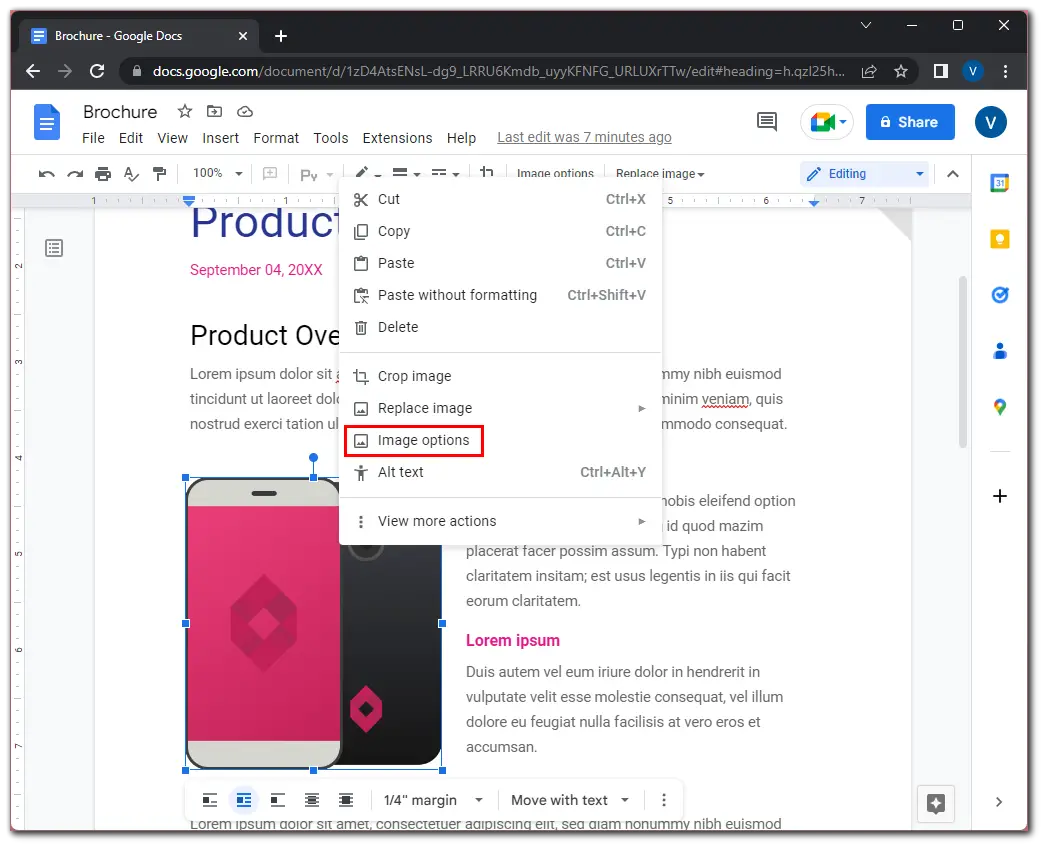 Expand the Text Wrapping section and choose the Wrap text style.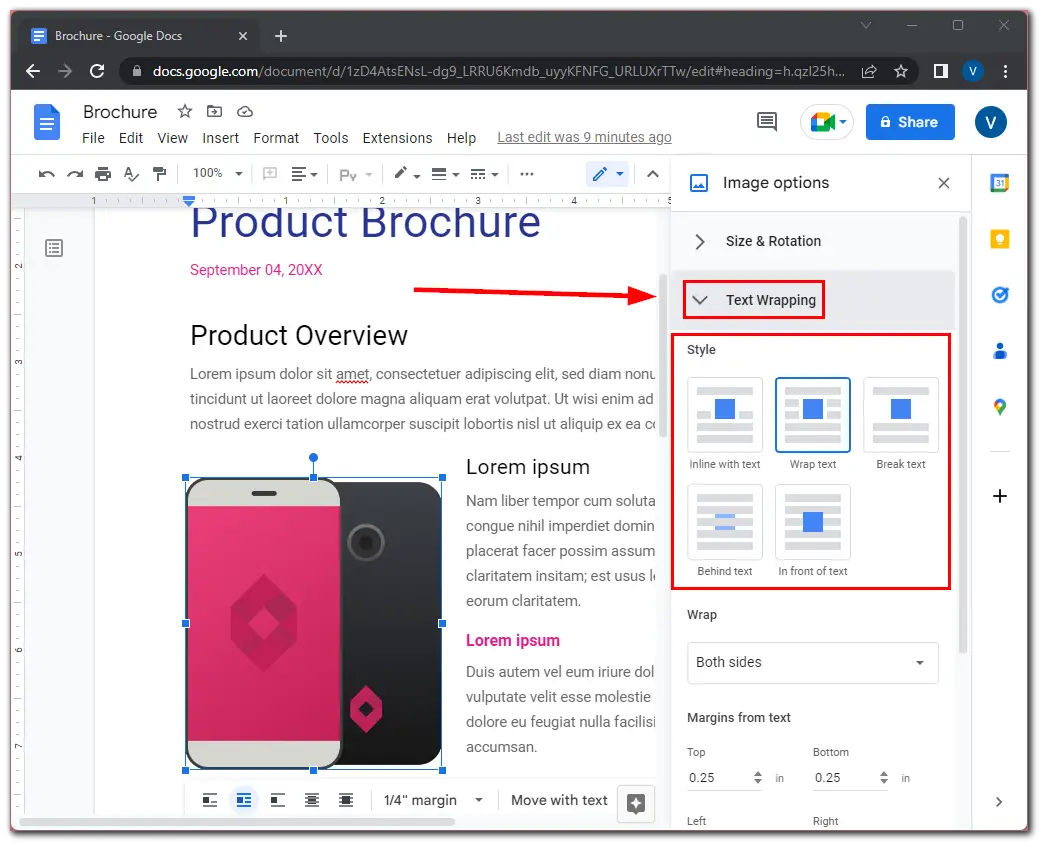 Now you need to select the image, hold it down, and move it to where you want.
You can show it at the beginning, middle of a paragraph, or wherever you want. After that, resize the image to suit your needs and the appearance of your document. Hover your mouse over the corner after selecting the image and use the double-sided arrow icon.
How to work with drawings in Google Docs
Drawing is a tool that can be used to create clear diagrams and explanatory mind maps and add captions and arrows to images. It's a minor graphical editor inside Google Docs.
To create a new object, open the Insert tab and select Drawing.
Then click New.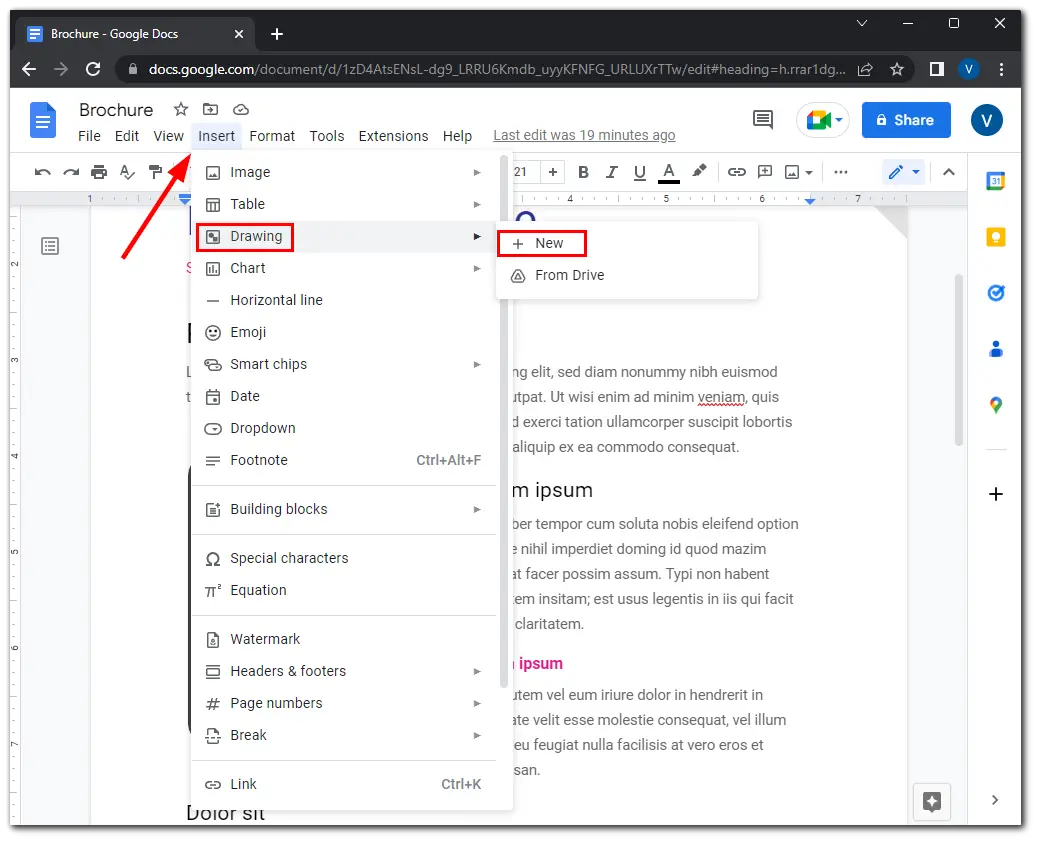 In the window that opens, you can draw shapes, write text and add images.
There are some functions you need to know to use this feature:
Select. It allows you to select objects to move, edit, and delete them.
Line. It draws straight and curved lines, arrows, and dividers.

If you choose an already drawn line, you can change its thickness, color, and style (solid, dashed) and add marks at the ends (e.g., arrows).

Shape. Draws geometric shapes, arrows, callouts, and mathematical symbols. There are a lot of blanks.
Text box. Creates an area in which you can write text.

The text parameters are set in the Advanced tab.

Image. Uploads a picture to the editor. You can use images from your PC or Google Drive, take a picture from a webcam, specify a URL, or use the search engine.
Actions. A tab with useful tools: grouping, aligning, rotating, and saving.
There's also the WordArt tool, which creates text with fill and outlines.
By the way, Google Docs is set to Impact font. That means you can create memes in a couple of clicks to liven up boring content. Upload a picture, add WordArt text, and save. It's very convenient.
If you want to save the drawing on your local disk, open Actions, click Download and select the desired format.
If you need the picture in the document itself, click the Save and Close button in the upper right corner.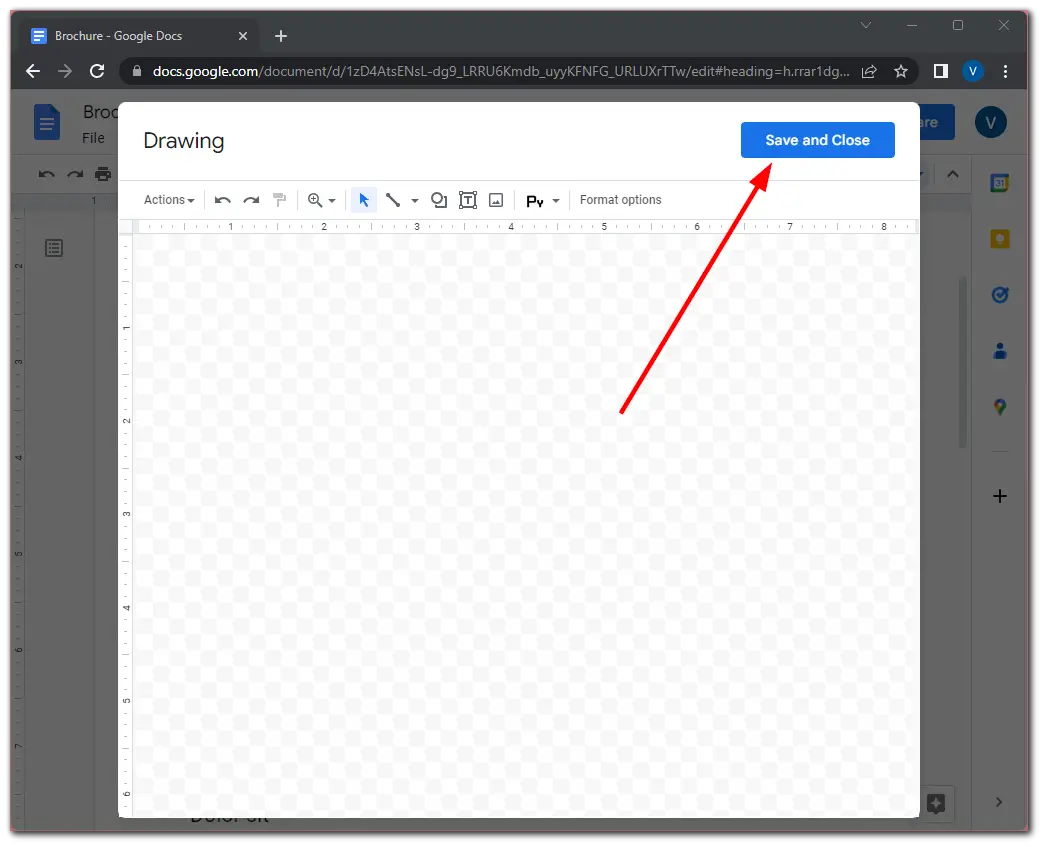 To edit a picture you've already created, select it and click Edit.
Perhaps it's easier to answer what Google Docs can't be helpful for. You can do almost everything in it that you can do in MS Word: prepare articles for your blog, write reports, and make to-do lists. You can create a basket document in which you can dump everything valuable that you find on the Internet.
With the built-in graphical editor, you can quickly create captioned pictures without needing an online meme editor.
Google Docs saves you from constantly sending files to colleagues and clients. You send a link or an invoice, and that's it. Anyone who needs a Docx or PDF document can download it themselves.