These days, more and more companies are moving to remote work, so conference software has become in demand. One of the most popular online meeting programs, Microsoft Teams, allows its users to participate in meetings even without an account.
This is convenient because all you need is a computer with a microphone and a web browser or a smartphone with the Microsoft Teams application so that you can join a meeting via a link and participate on the same basis as other participants.
How to join a Microsoft Teams meeting using the desktop without an account
When creating a meeting in Microsoft Teams, you have the option of inviting people from your contact list, or you can invite users with a special link to your meeting. If in the case of the contact list, only users with an account will be available here, with a link you can invite a user who does not have a Microsoft account. To do this you need to:
Send the user an Invite.
As soon as you click on the link you will be taken to a page where you will have a choice to download the app\ or continue with the web version. Click on continue with the web version.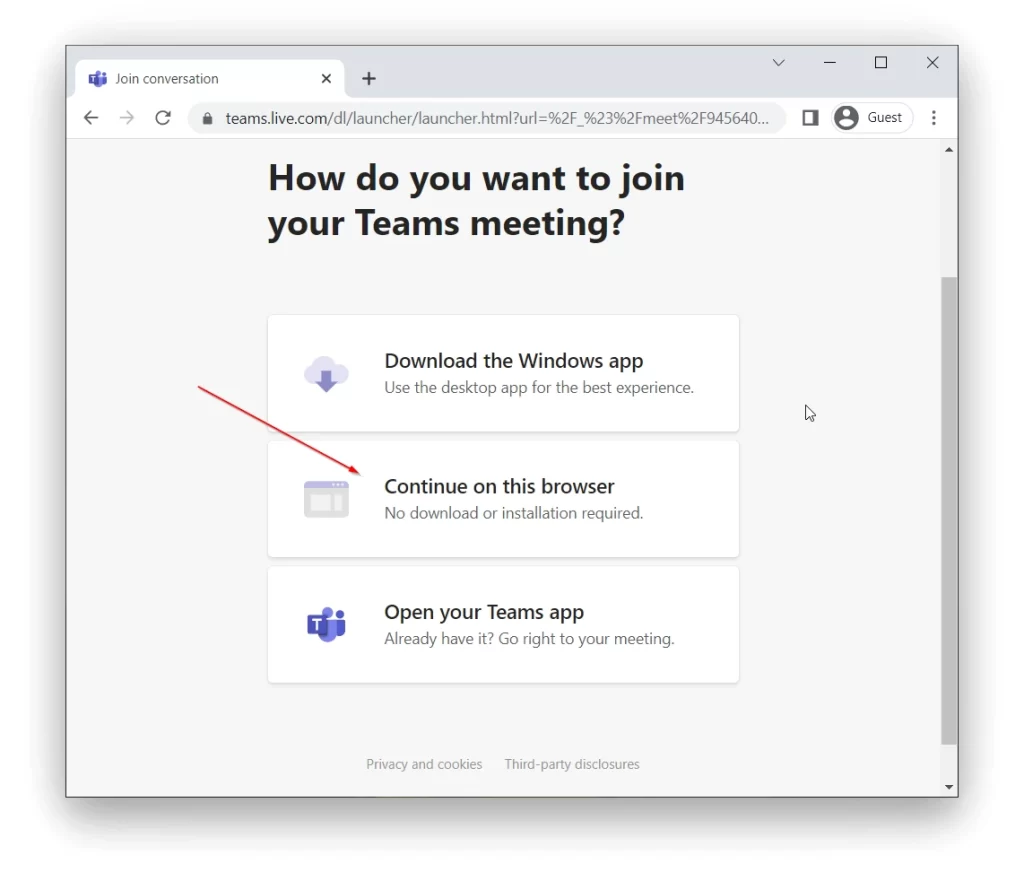 Next, you will need to enter your name and turn on your camera and microphone. Then click Join Now.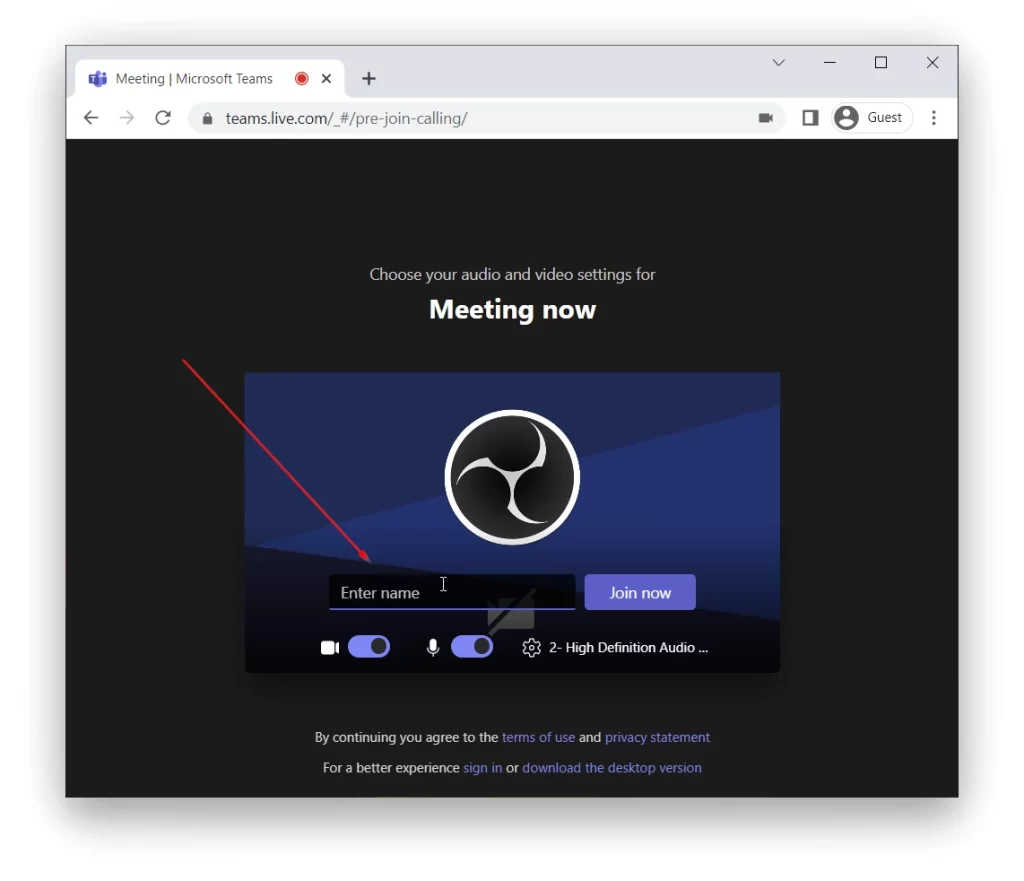 You will then be taken to the waiting list. The meeting organizer will receive a notification and once they approve you, you will get into the meeting.
This will get you into the meeting and allow you to use the camera and microphone. Of course, in this case, you will not have all the functions available to you. For example, you won't be able to set a custom wallpaper instead of a background. Also, if you exit a meeting, you will have to enter your name again when you sign in again.
How to join a meeting as a guest in the mobile version of Microsoft Teams
You also have the ability to connect to the call with your smartphone or tablet. In this case, however, you will have to download the Microsoft Teams app. It's still not necessary to create an account, once you receive the invitation you need:
Click on the link in the invitation.
Select Join as Guest.
Then enter your username in the Name field and click Join Meeting.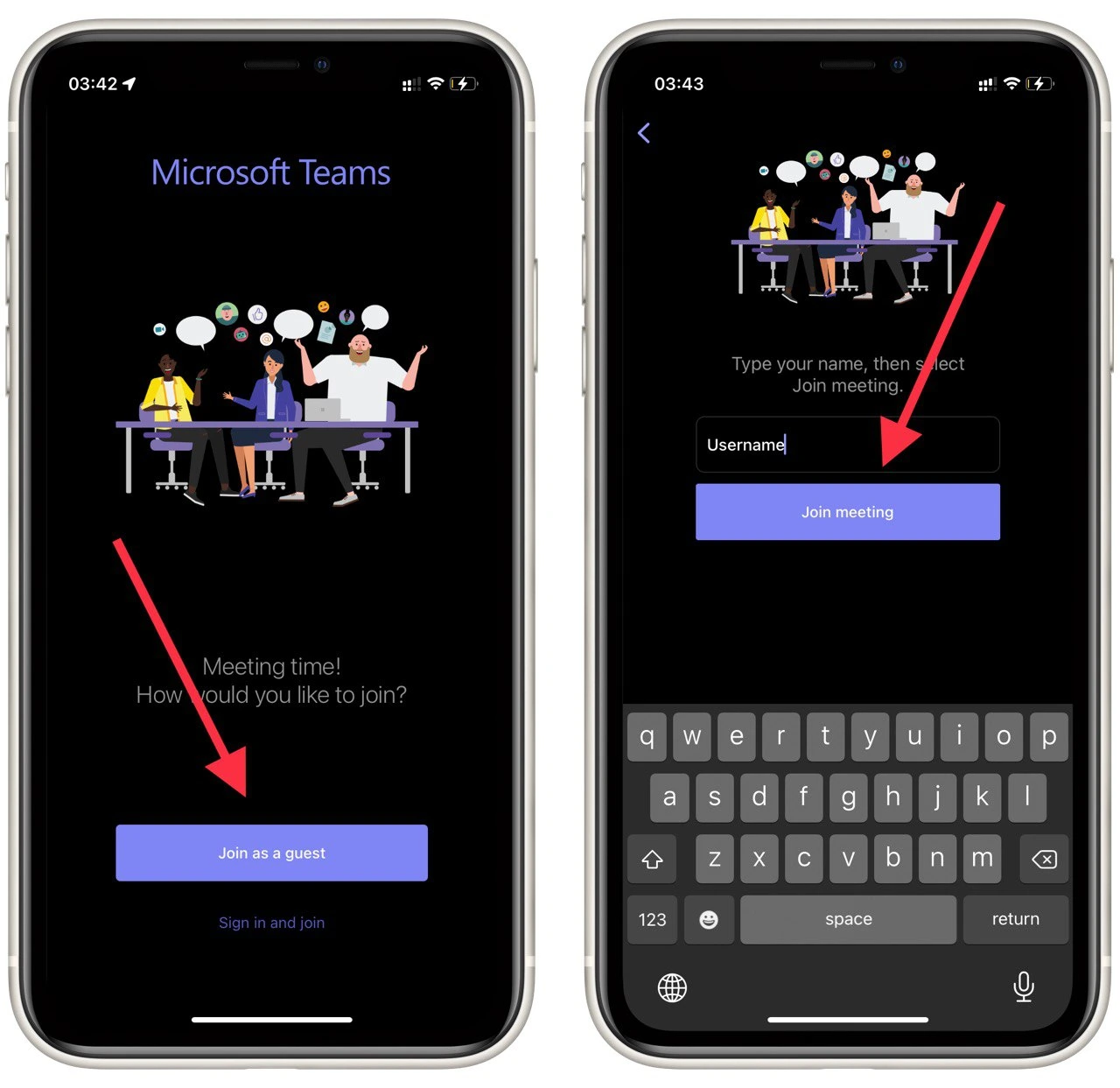 As with the PC, you will be put on a waiting list. Once you've been accepted by an organizer, you'll join the meeting.
The downside to using a smartphone for Microsoft Teams for many people is that you will need to use the app. You should also understand that if you register as a guest you can not use some of the features of the app. For example, you will not be accessible to your call history or call record in the chat. Also, after leaving the meeting, all correspondence will disappear and you will have to repeat the process of registering for the meeting again.
How to organize a meeting in Microsoft Teams
In case you want to create a meeting in Microsoft Teams, you can't do without an account. In order to register with Microsoft, you only need to have an active email account with any email service. After registering, you need to:
Similarly, for both desktop and mobile versions of Microsoft Teams click on the Meet tab.
Here you will have a Meet Now button.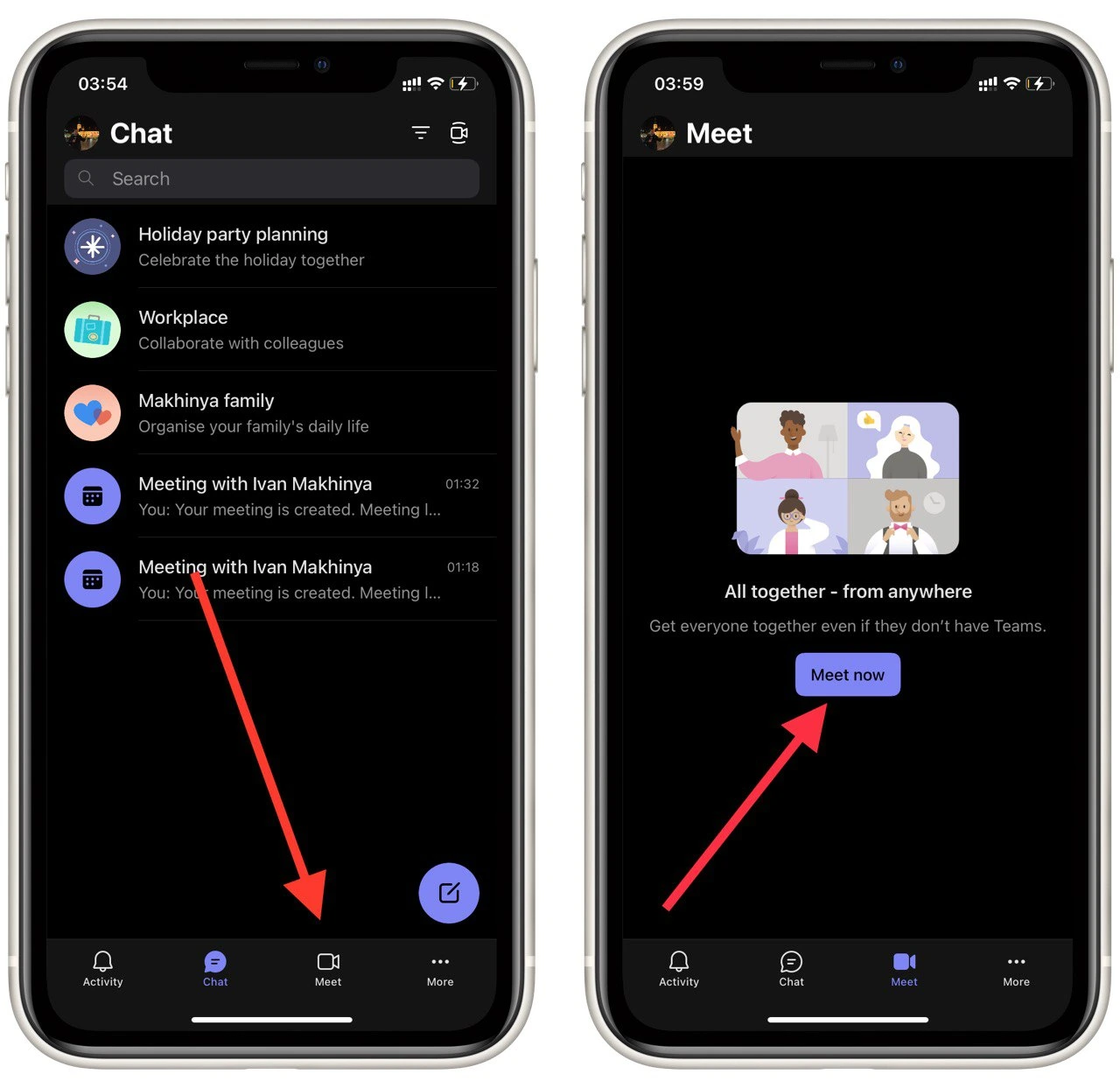 Choose a name for your meeting and click Start Meeting.
To invite people to your meeting, you can use the Add Participants button (to add people from your contacts) or the Share meeting Invite button.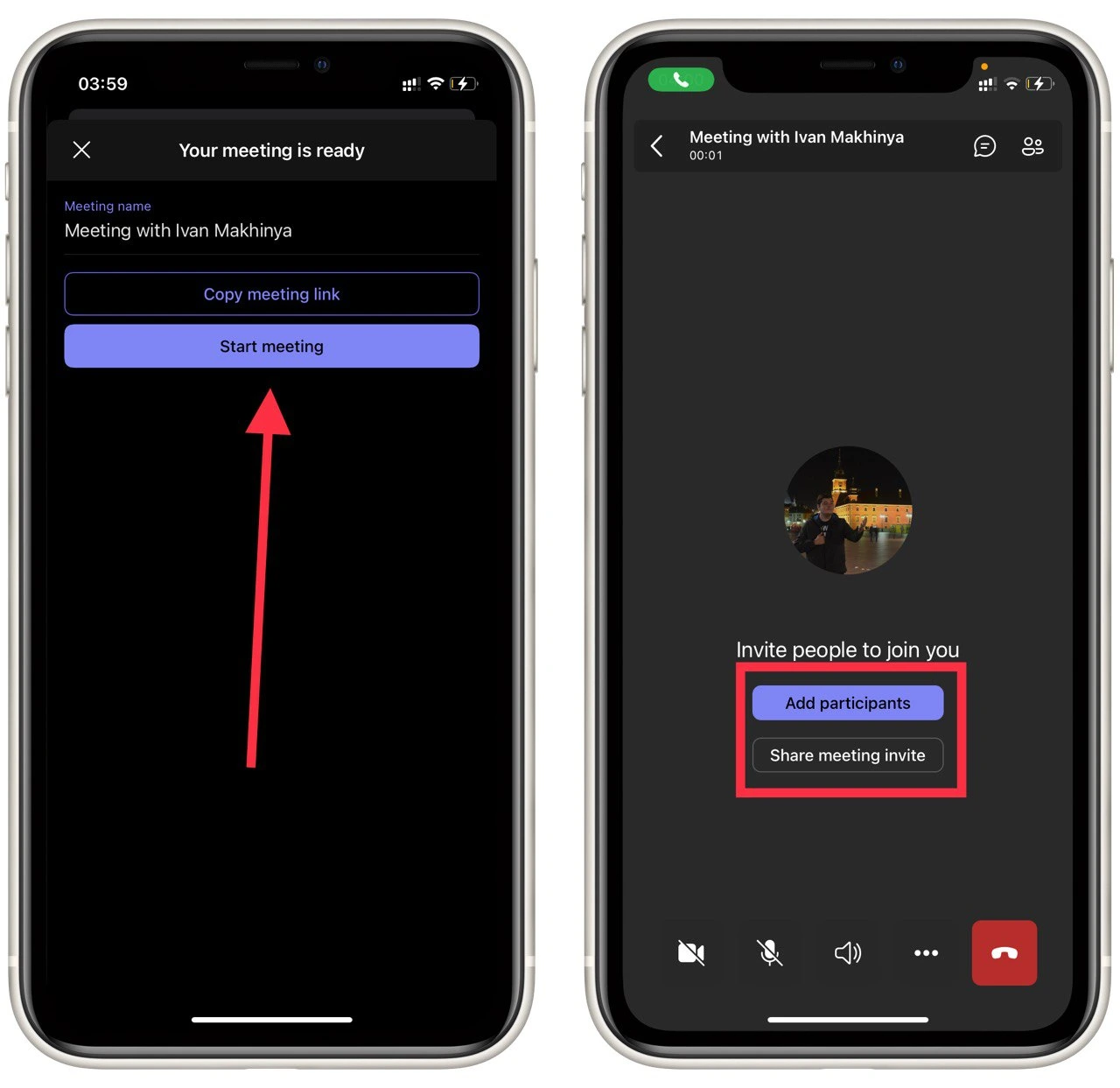 After that, people will join your meeting by invitation. You can accept participants from the list of meeting participants. You can also show everyone your smartphone or PC screen, connect a camera, or show an online presentation. I would say that today Microsoft Teams is one of the most convenient services for online meetings.
Read also:
What alternatives you can use instead of Microsoft Teams
If you have any problems with Microsoft Teams, you can find quite a few alternatives for this service today. Since the start of the Сovid19 pandemic, remote work has become the new standard in working relationships. Now the pandemic is almost over, but many companies and workers are still in remote work.
If you are interested in alternatives to Microsoft Teams, there are many options. I would highlight a service like Zoom. This service also allows you to use it without an account. Here you can add multiple users to your meeting, show your screen, make online presentations, change your backgrounds and use different masks. Overall, this is a very convenient and easy to use service.
Another good option is Google Meet – this will be handy because most people today use the email service Gmail. This means that many meeting participants will already have accounts in this service.