After we learned what Covid-19 was, the world took a big step toward moving to remote work. Therefore, applications and services for communication and networking have become very popular. One of the most popular of these services is Microsoft Teams. It allows for large conferences where dozens of participants can discuss ideas or projects. It also became trendy because it was included in Microsoft Office applications and had multiple integrations with other Microsoft services. However, its interface leaves much to be desired, and many users get confused even when doing simple things like unhide chat.
If you already have a lot of different chats and messages from colleagues or your clients, it is a good idea to clean your Microsoft Teams from unnecessary garbage. You can use the tool to hide chats to avoid accidentally deleting something important. However, to show the chat again later, you must manually find this user and enter the chat with him. This can be a bit awkward, but there is no handy feature in Microsoft Teams to access the list of hidden chats or users quickly.
How to unhide chat in Microsoft Teams desktop
Since Microsoft Teams is available on most platforms, I will show you ways to unhide chat on different devices. First, you should understand how to do this from your desktop computer. Whether you use a particular application or the web version of Microsoft Teams does not matter. The instructions are the same. To do this, you need the following:
Go to the Chats tab.
Then enter the hidden chat user nickname or the group chat name search box at the top.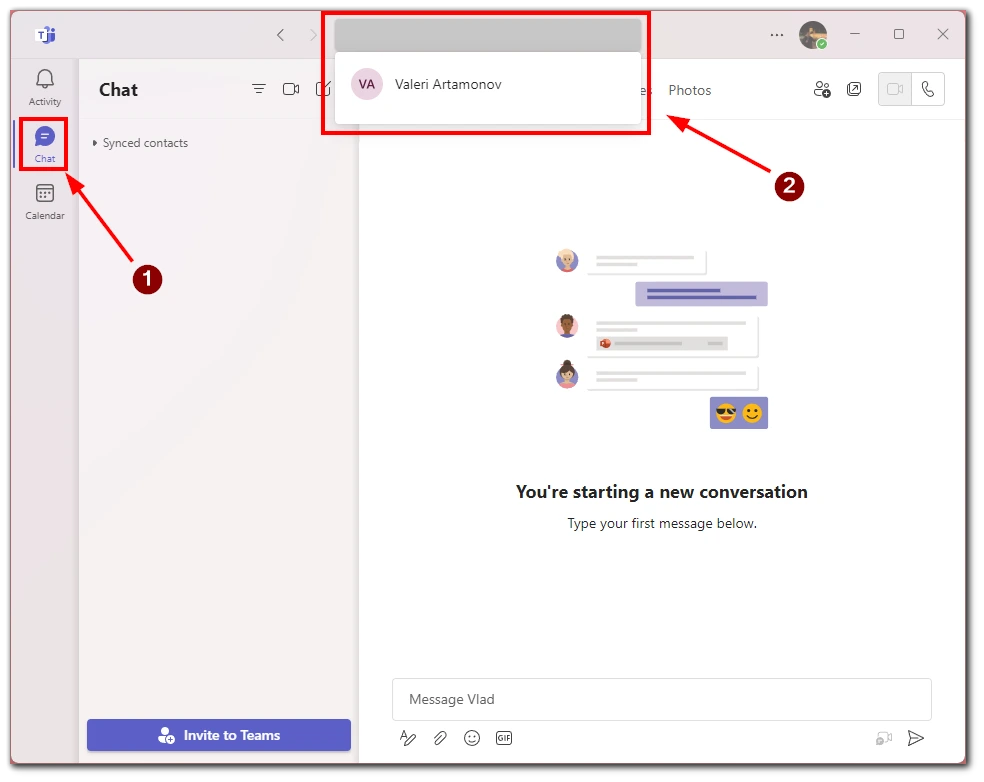 The chat window with this user will open in front of you. You need to click on the Show hidden chat history button so that it will start showing in the list of chats again.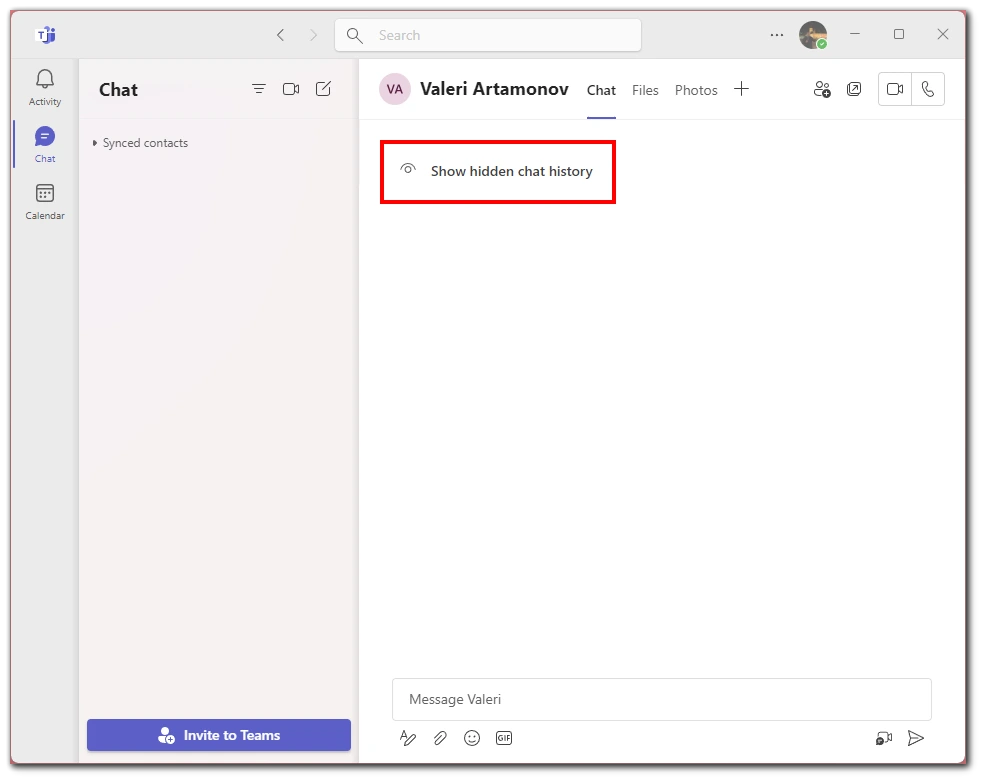 Then the chat will automatically return to the general list of chats, and you can see it in the Chats tab. Note that all messages in such a chat should be saved and not deleted after you hide or open this chat. Also note that if you write a new message, then chat will be displayed in the Chat tab, but the chat history will still be hidden; you will need to click on the button Show hidden chat history to view it.
How to unhide chat in Microsoft Teams mobile app
This is a little different in the case of mobile applications. Microsoft Teams is available for both Android and iOS devices. In both cases, the application has the same interface and functionality. However, in the mobile versions, you can only hide chats but not disclose them. To bring them back to the chats section and quickly access them, you can use a little Liphook and send a reaction or message as a dot to the chat so that it will move to the recent tab. To do this, you need to:
In the mobile app, go to the Chats tab.
After that, in the Search line, enter the name of the person or group chatting with whom you have hidden.
Their profile will open in front of you. Tap on the chat icon on the left.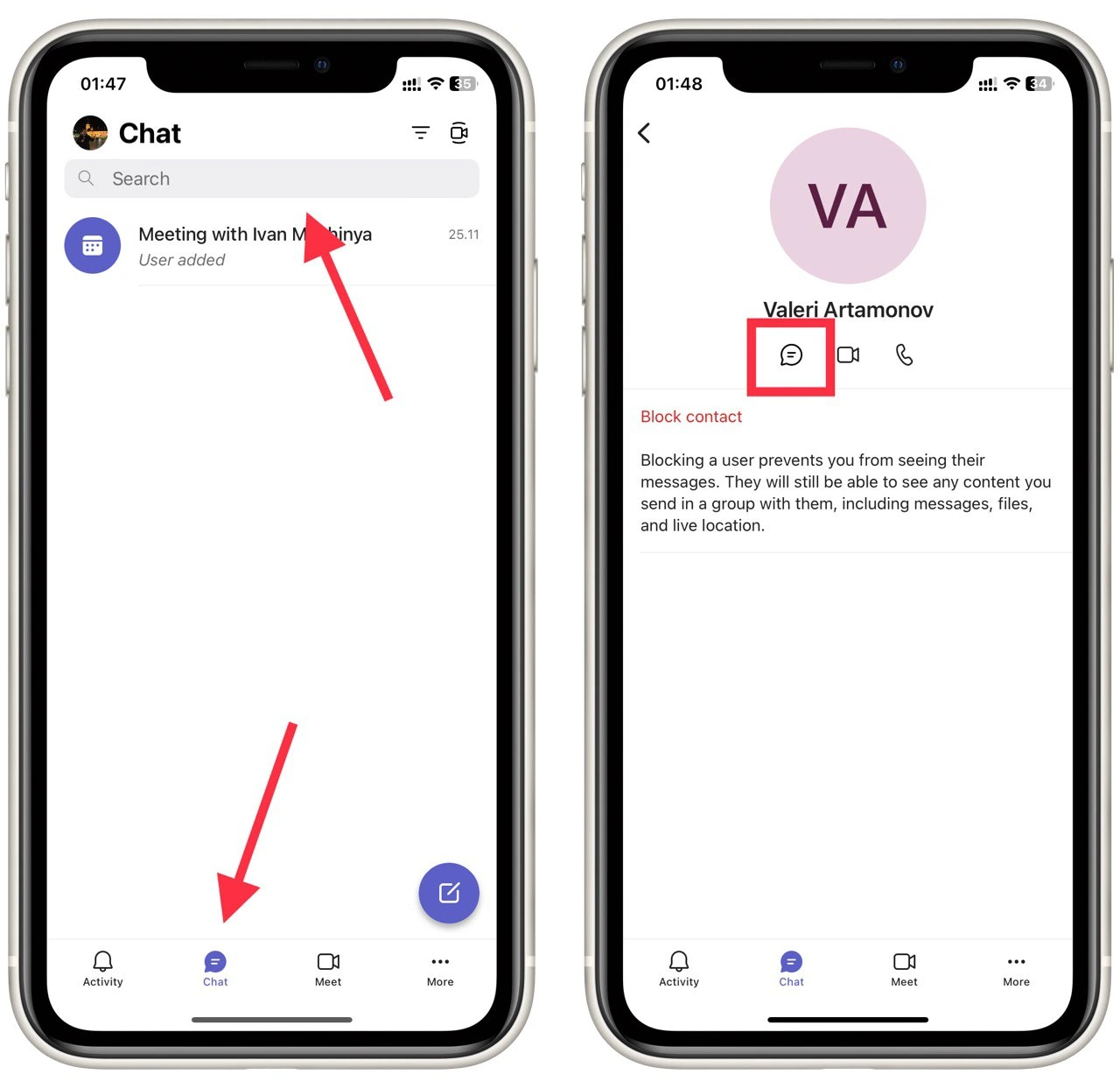 In the end, send any message or reaction to the chat to move it to the active chats tab.
Of course, it's not an ideal way, and that way, the other person might guess that you're just trying to get your chat from hidden, but it works, and you can get the chat back that way. If that does not work for you, then you have to find a computer and use the desktop version of Microsoft Teams to unhide chat rooms.
Do Microsoft Teams notify users when you hide their chat?
One popular question interests everyone who will use hidden chats in Microsoft Teams – will the other chat participant be notified that you have hidden the chat? Agree that it would look bad if you hide an important chat and showed that you are not interested in further communication.
However, with the hidden chat feature in Microsoft Teams, you can have peace of mind. The service does not send notifications to other users that you have hidden chats or marked them unread or any other action on your part. You can even delete messages or the whole chat; other users will not know about it.
Also, note that Microsoft Teams sends notifications when messages are read. So here, to be stealthy, you will not work. However, you can always read the message in the preview on the lock screen and not send the chat itself. This will go unnoticed by anyone.