Google's G Suite has always helped billions of people in their projects and creativity – so customizing the app plays a very big role in usage. So it's easy to change from light to dark mode.
How to switch modes in Google Sheets
Dark mode has been gaining popularity in many apps for a very long time. The fact is that reading text and information with a more subdued color makes it much easier than reading from a pure white background. Not all people prefer this dark mode, but most people agree that the dark theme is much more comfortable and doesn't strain the eyesight.
Google's G Suite has also launched the ability to create your own workspace in dark mode. So you can work with documents online/offline with your own customization preferences – Google Docs, Slides, and Sheets can all now be switched to a dark theme.
Now we just need to figure out how to do it. It's actually very simple, just below you'll see a few guides on how to do it easily and without wasting time.
Is there any option to enable dark mode in Google Sheets via browser
If you work with Google Sheets mainly through the desktop version of Chrome – then you must be confused by the fact that such a basic option as to change the theme from light to dark – no. The fact is that this option is there, but it's hidden. Moreover, the desktop version is a bit unlucky with the customization of these apps – the dark theme here works only halfway. However, you can try it and maybe you will be satisfied with it.
Here's how to do it:
Open Google Chrome and paste the following address in a new tab: chrome://flags
You'll see a tab same as below
In the search bar, type Auto Dark Mode and you will get the result as Auto Dark Mode for Web Contents
Here, right-click on the Default option. Select Enabled.
You will see the following result when Chrome relaunches
Now, here's how sheets will look like
You can see it implemented only partially on a sample worksheet
Is there any option to enable dark mode in Google Sheets via Android
Next, if you have Android and you mostly work through it, you shouldn't have any problems with customization at all. First of all, if you have Android version 10 and above, then you don't need to manually set a dark theme – because if you have the dark theme mode enabled in the system itself – then all apps will be exclusively in dark mode.
There is also a mode when Android automatically changes the day mode to night mode (i.e. a dark theme) in all apps that support this.
Make sure that your apps are updated to the latest version, including Google Sheets. Then there is a way to change the theme manually and here's how to do it:
First, open Google Sheets on your Android device. Click on the three horizontal lines icon at the top-right corner
This will open a sidebar with settings. Click on Settings
Navigate to Choose theme under Theme on settings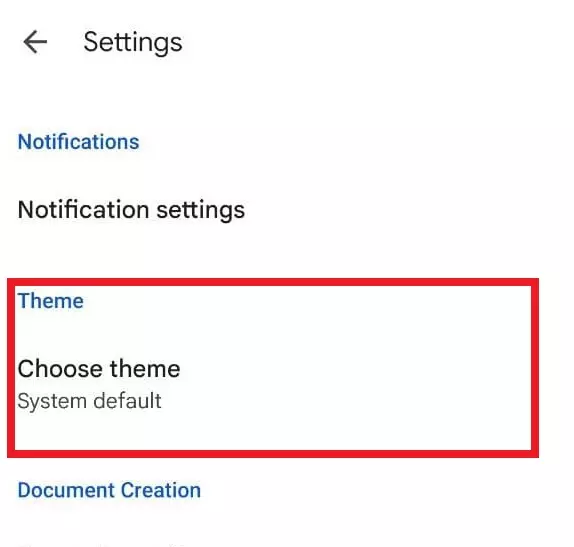 Click on Dark in the pop-up tab that opens up
You will see the dark theme implemented instantaneously
If you want to view the individual sheets with a light theme, you can. Open your worksheet. Click on the three dots to the top right on your phone screen
Click on View in light theme option. You will get the following result
That's how you can change the theme from light to dark and give your eyes a little rest. Moreover, in addition to giving your eyes a break, you will have less stress on your brain. That's why many doctors recommend that if you don't sit on monitors before you go to sleep, you should at least reduce their brightness and change the topic to a darker one. All in order to reduce the load on the nervous system and allow the body to relax.
Don't forget that the dark theme is also good for your devices – it saves battery power and helps prevent burned-in screens. Take care of your health and your devices!