If you have already tired your eyes from constant super brightness when browsing Google Maps or web pages on your device, it's time to figure out how to reduce the brightness with dark mode, which is easy enough to set. It is with this option the application will be set to work comfortably and will not overload your eyesight.
What is dark mode in Google Maps and is it worth a try
When Google users need to get somewhere or just find a place to eat out, Google Maps comes to the rescue, with all the features to explore the map of the area and even the whole world. Wherever you are, Google Maps will be an indispensable assistant. With it, you will not get lost and always find the right way. The program is designed for walking, for motorists as a navigator, and even if you go by public transport – for you algorithms will find the best and fastest option of the route.
However, when you are looking for your way home late at night or in a dark room, a standard theme with a light interface can strain your eyesight and you might get tired of searching for the right route quickly. But Google has taken care of this, and you can comfortably work with the application in night mode or just in a dark theme. In this article, you will learn how to make Google Maps in a dark theme or enable night mode.
Where to find a dark mode for Google Maps
Google Maps has Dark Mode and is only available for Android 10 and later. In case if your device supports it, you need to upgrade it to the latest version of Android. After that, you'll see Dark Mode options the first time you open Google Maps after installing the necessary update. What is handy is that Dark Mode reduces battery usage and alleviates strain on your eyes.
How to turn on Dark Mode in Google Maps
If you want to change your experience while using Google Maps, follow these steps to enable Dark Mode on Android:
Tap your profile icon in the upper-right corner of Google Maps
Tap Settings
Tap Theme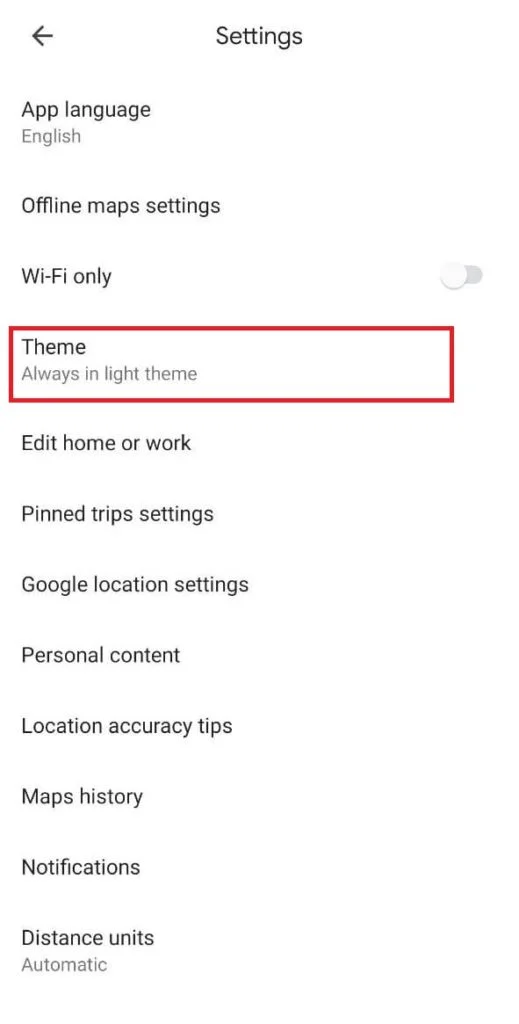 Choose Always in dark theme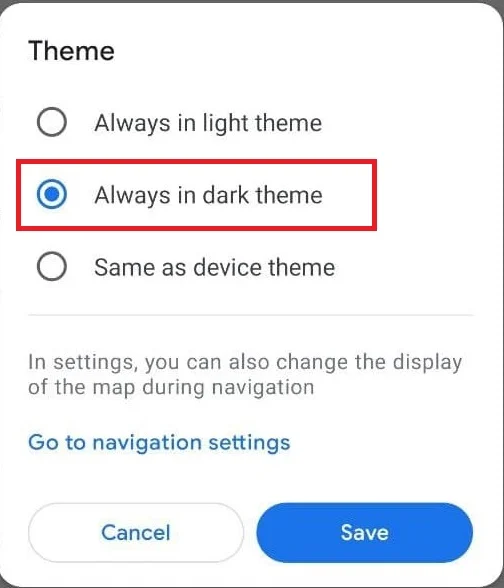 How to Change to Light Mode on Maps
In case you decided to switch back to light mode, follow the steps above, then choose Always in light theme and tap Save. Dark Mode will be disabled for Google Maps even if you have Android Dark Mode enabled.
How to enable Dark Mode on older Android versions
If your version of Google Maps doesn't support Dark Mode, follow these steps to enable Night Mode for turn-by-turn directions only:
Tap your profile icon in the upper-right corner of Google Maps
Tap Settings
Tap Navigation settings
Scroll down to the Map Display section and tap Night under Color scheme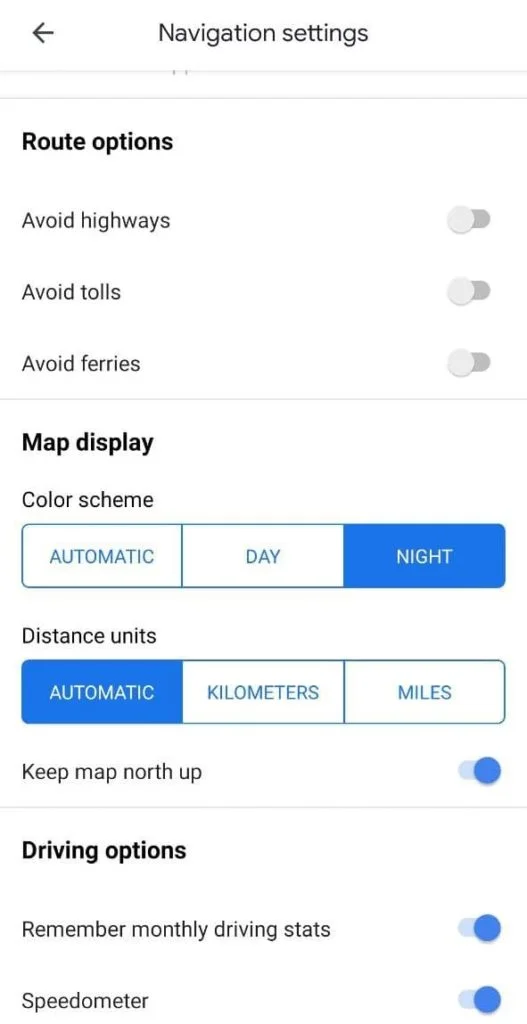 How to change the color of Google Maps on Android
Moreover, you are able to switch between Dark Mode and Light Mode. In addition, you can also change the pin and marker colors on Google Maps. You can even add your custom skins to Google Maps with the Android SDK.
How to make Google dark on Android
Whether you prefer Dark Mode as a custom mode while using your device it is a nice touch from the developers to change it anytime via Settings > Display > Dark Mode or Night Mode. On some versions of Android, you need to go to Settings > Display > Advanced > Device Theme > Dark.
Is there an option to enable dark mode on Android in overall
After you have learned more about how to make dark mode in Google Maps and Google Chrome browser, it is time to get acquainted with another Android feature, which in principle should be the default on all devices from the moment of its purchase. However, maybe you have the wrong case and the interface does not change automatically when it is dark. It sounds strange, but it is – the interface of the Android system can switch to night mode (dark mode) with the onset of evening.
This is done to save battery power and better perception of information from the screen during the night. With a super bright screen, it is probably not always convenient for you to read and scroll through websites, so Android automatically, by reading the clock, changes the interface mode and brightness level.
Here's how to do it: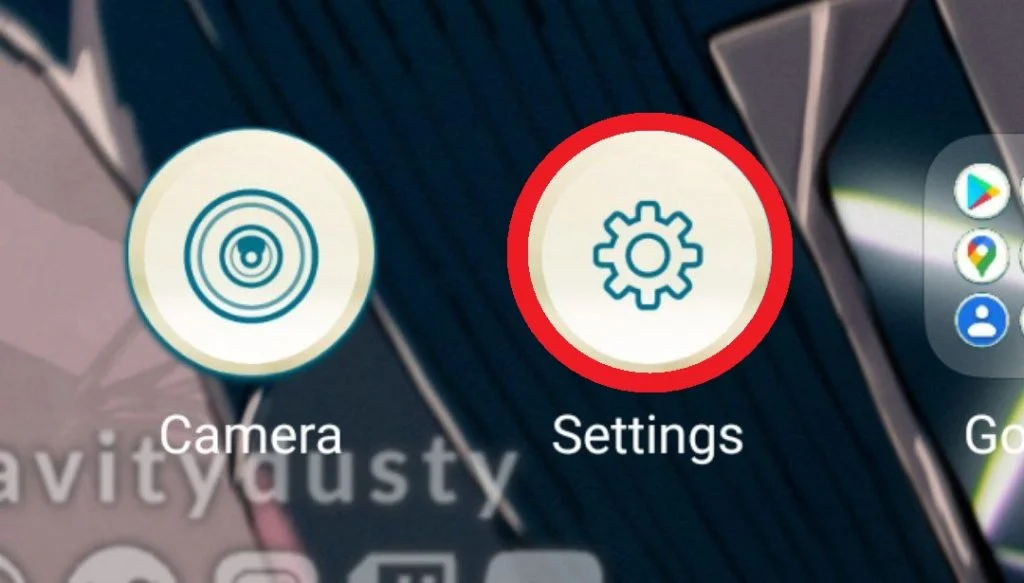 Scroll down and tap on "Display & Brightness"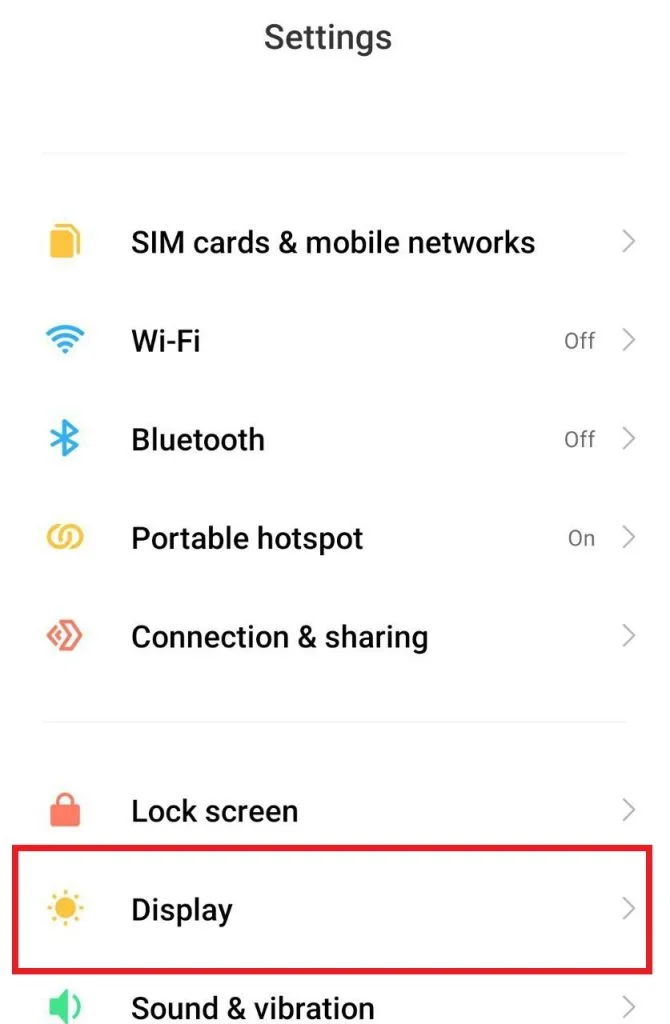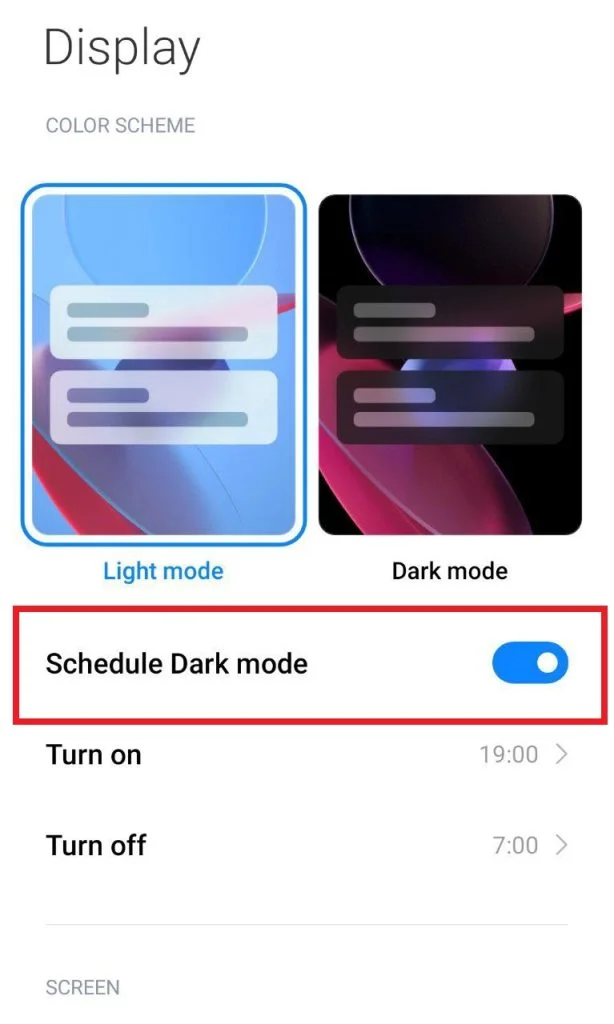 And that is all for now on how to change Dark Mode on Google Maps on your Android device. With this knowledge, you can now adjust your workspace and customize it to suit you. Take care of your eyesight and protect the screen of your device from burning in.